By Parke Shall
While gold may have just extended its run to nearly $1300 per ounce and then pulled back, we don't necessarily think the flight to the precious metal is going to be over anytime soon, and we consider gold a great buy here for the course of the long term, but especially over the course of the next 5 to 10 years.
We admit that we like holding gold in basically any and all circumstances. We also like holding other precious metals like silver and platinum, mostly for the same reasons that we like to hold gold. We like gold because it is a hedge against many things. It is a hedge against owning securities, it is a hedge against inflation, it is a hedge against all different asset classes and it is the number one go to for investors when equity markets begin to capitulate. We also enjoy silver and platinum, not only because they are similarly situated hedges, but also because they each have manufacturing purposes which help contribute to their demand.
The reason that we think gold is a good asset to own right now is because we are coming to the end of a seven or eight year debt cycle that started at the end of the 2008 financial crisis. We are seeing it everywhere. Equity markets have momentarily stalled after getting a boost since November, credit card and auto loan defaults and delinquencies are rising and we have a massive debt bubble in student loans. One of two things will happen with this debt as it starts to get out of control again. Either consumers will start to default and companies will take large hits to their earnings or the government will somehow wind up stepping in again and bailing out whatever entities are in trouble. Both of these situations are positives for gold.
In an event where equity markets start to pull back, gold will undoubtedly catch a bid and likely wind up over $1300 an ounce. One only needs to look at a longer-term chart of gold to understand why we have such a bullish longer-term outlook on the commodity.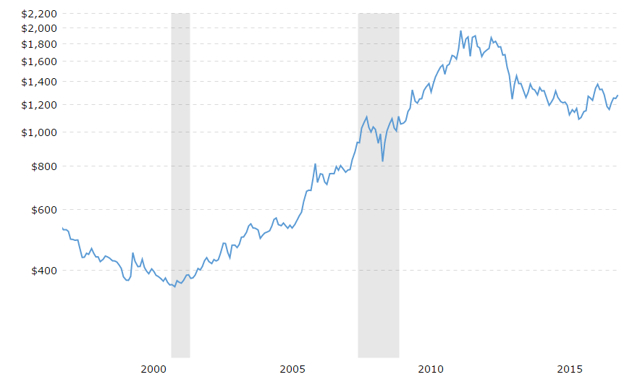 There are several ways to get exposure to gold and we want to talk about a few of them.
First, you can do the easy thing and buy one of the securitized exchange traded funds that give you exposure to gold. SPDR Gold Shares (NYSEARCA:GLD) gives you exposure to a gold trust and simply rises and falls with the price of gold. It tracks the price of gold bullion.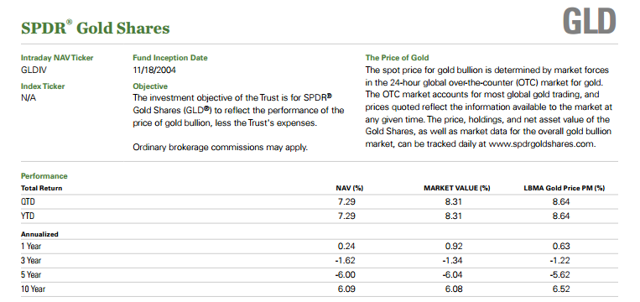 An ETF like the VanEck Vectors Gold Miners ETF (NYSEARCA:GDX), also generally rises and falls with the price of the commodity but can also be impacted by individual company performance. Here is a partial list of the weighting of the GDX.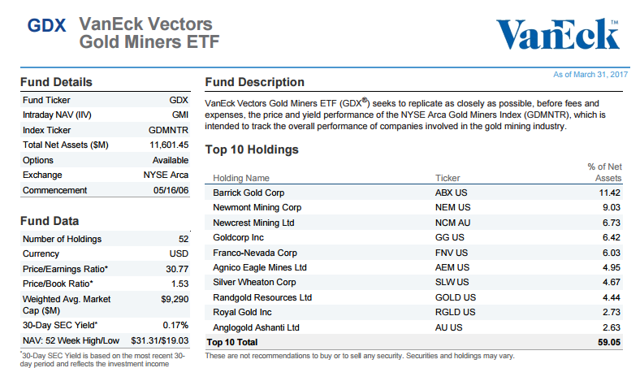 The Van Eck Junior Gold Miners ETF (NYSEARCA:GDXJ) has fallen significantly of recent due to its ever-expanding size, which is actually a result of dramatic cash inflows to the ETF. Zerohedge wrote a great article about the GDXJ a couple days ago which talks about why it is falling and why its cash inflows may be tough to invest in such a niche market,
Can an exchange-traded fund get too big for its index? That's the question investors in one popular gold miner ETF are grappling with after rapid asset growth pushed it to significantly deviate from its underlying index.

The ETF in question is the VanEck Junior Gold Miners ETF, which tracks the MVIS Global Junior Gold Miners Index. Since early 2016, assets in the fund ballooned from a little more than $1 billion to $5.4 billion currently. Some of that was due to rising share prices?GDXJ nearly doubled from $19.80 at the start of 2016 to $36.71 today, an 85% gain, thanks to the rebound in gold.

But a lot of it had to do with the enormous amount of new money that came into the fund. Since Jan. 1, 2016, inflows into the ETF have totaled $3.3 billion. For almost any ETF, that's a big amount, but especially for one that targets a relatively niche area like junior gold miners.
And it also talks about its composition and weighting,
In an attempt to try to ameliorate the concentration issues it's facing, the ETF now has five holdings that aren't index constituents, representing 25% of GDXJ's portfolio, according to BMO Capital Markets. One of those holdings is the VanEck Vectors Gold Miners ETF, another product from the same issuer, which focuses on much larger gold companies.

Chris Kwan, mining specialist at BMO, believes GDXJ has simply gotten too big for its benchmark now that it is a $5 billion ETF 'attempting to invest in a ~$30B gold universe.'

In Kwan's view, there are three ways forward for the ETF. It could continue with the status quo, creating uncertain and volatile quarterly rebalances; it could sell its nonindex gold stocks and increase its position in GDX; or it could expand the allowable market-cap size of the ETF.
So we would avoid the GDXJ for the time being, but would look to the GDX if you absolutely have to invest in an ETF to get exposure to gold. We still prefer owning physical gold.
Then there are other various levered ETFs like JNUG that we do not recommend owning. These, like any other levered ETFs, are short-term trading vehicles and not assets to be held for the long term.
Finally, we really are advocates for just owning at least some physical bullion in a safe spot at your home or a safe place. The point of being diversified across asset classes is to protect against all situations. While gold bulls usually get made fun of for recommending owning the commodity at all times, even when the stock market is booming, there still runs a small risk of a chance where the market crashes or everything that is electronic winds up going down for one reason or another. It's the situations where you don't even have to log onto your trading account, but rather simply look at your physical holdings which will, at that point, have no doubt risen significantly in value.
If you want to be diversified across asset classes and you want to protect your wealth, you absolutely must own at least a little gold. At this point in the credit cycle and because we believe the market and the economy are both about to turn, we think there is even more of a reason to own the metal heading into the second half of 2017 and into 2018.
Disclosure: I am/we are long PHYSICAL GOLD, GDX.
I wrote this article myself, and it expresses my own opinions. I am not receiving compensation for it (other than from Seeking Alpha). I have no business relationship with any company whose stock is mentioned in this article.