Philip Morris International (NYSE:PM) reported first quarter earnings and the stock went on a slide. I'm holding a significant position (to my portfolio, not the company) in PM and don't feel concerned. The earnings release came in underneath analyst expectations, but it was still pretty good. Think of it this way, the market was pricing for a 10/10 and PM delivered around an 8.5/10. That send shares lower, but the fundamental investment opportunity is still intact. Q1 2017 EPS was $.98, forecast was $1.03.
My Outlook
Despite being long PM, perhaps I pulled my buy rating a little too early (transitioning to hold, not sell). We all make mistakes from time to time, and that was one of mine. While shares tumbled from around $115 to around $110, that doesn't put it back into my buy range. I'd still feel much better with buying opportunities around $105. I've been on the record as very bullish when shares were under $96. I doubt we will see it under $96 again, but I would look to raise my position materially if we did.
What You Need to Know About Earnings
Philip Morris has a great page for compiling their earnings presentations, transcripts, and so on. The following slides from that presentation: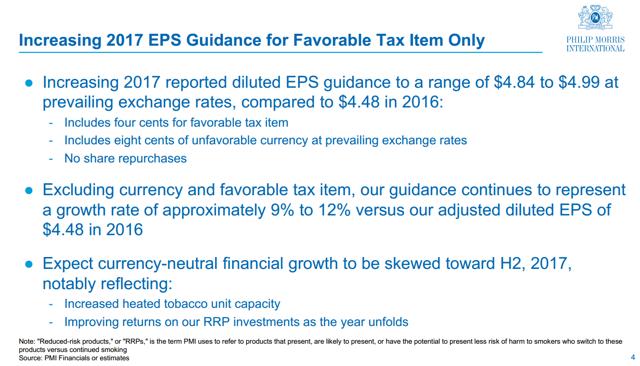 The company increased guidance, but only for the expectation of a favorable tax item. Not a major issue. The continued guidance range for adjusted diluted EPS looks great. The annual dividend rate is $4.16. I expect them to continue growing the dividend, but I expect relatively small increases. Perhaps $.02 per quarter ($.08 per year). That would still be effectively covered by adjusted diluted EPS and so long as we don't see any major negative currency impacts, it would probably be covered under GAAP EPS.
Quick Note on Terminology
I'll be referring to IQOS and "HeatSticks". You may also see the term "Heet Sticks" or "HEETS" used in some locations. Neither term is inaccurate. Philip Morris actually uses all of these terms. You'll find different names on listings for their products. I'll be using the term "HeatSticks".
To understand the terms, I refer you to this photo: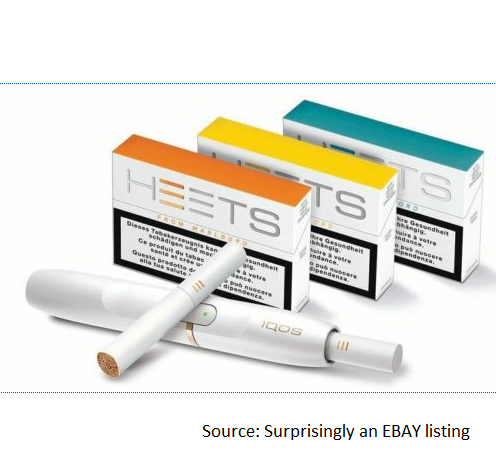 You've got the brand here shown as HEETS and the IQOS device laying on its side. Disclosure: I have no relationship with the ebay listing. It was simply the best image I could find for demonstrating why we have multiple terms.
Back to the Presentation
The more interesting point is the bottom one. Management is guiding for earnings to pick up in the second half of the year because of an increase in heated tobacco unit capacity. Specifically, we are looking for new factories to come online that allow Philip Morris to produce more of their IQOS and HeatSticks products. The future of the company lies in that technology, not in the traditional cigarettes.
Further, they are expecting the returns on those investments to improve. That makes sense because each IQOS product they sell (the electronic device) is providing more consumers with the necessary hardware to consume HeatSticks (or HEETS).
Allow me to provide a simple example for consumers who have not witnessed the product in action. Imagine if all tennis racquets came from one company and they produced the racquets at a relatively low margin so they could players to pick up the game. As more people began to play, they would be able to expand sales of the tennis balls with a higher margin. Simple enough, right? Now imagine that the game is highly addictive and that the company has patents covering both the racquets and the balls.
That is the current situation. Consumers love the product, but Philip Morris can't produce the either the IQOS device or HeatSticks fast enough to meet demand. Each IQOS device they sell consumers opens the gateway for that consumer to buy more of their HeatSticks.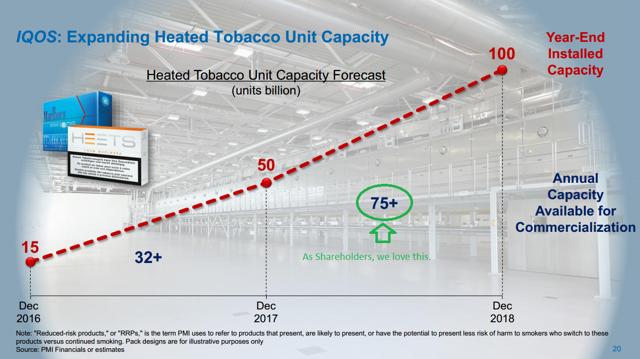 Economists will tell you that the imbalance between supply and demand will naturally balance due to price. However, Philip Morris isn't stupid. If they jacked up the prices on their products, it could reduce the rate of adoption for the new technology. Since the product remains highly addictive and Philip Morris controls all production for HeatSticks, they don't want to jeopardize the growth by pushing for higher margins on the new technology. The company is already on pace to grow adjusted operating earnings by 9% to 12%. Their earnings growth looks lackluster under GAAP, but this has been a period where the dollar rallied substantially over the last few years. Currency neutral performance has been exceptionally strong and this comes from a company that is returning most of their cash flows to shareholders through dividends. The dream scenario for dividend growth investors is a strong yield plus solid growth. While the dividend rate has been growing slowly due to currency impacts and some significant capital expenditures to bring this new productive capacity to market, the growth in adjusted earnings tells the tale.
Same As Altria Group
This is the same IQOS technology Altria Group (NYSE:MO) wants to sell in the United States. I believe it has the potential for similar strong performance in the United States, but again the price doesn't leave enough margin of safety for a fresh buy rating.
Conclusion
The market reacted harshly because it was priced for perfection. Guidance increased, but only for non-recurring items. The long-term fundamentals all remain intact and look great. My goal for prices to buy under starts around $105. By $96, I become very heavily bullish. My only major concern about the company is the potential for share prices to come back down towards the buy range if investors start to sell off the market or if the dollar goes into another strong rally. With the last transaction price around $110, I can't come out with a fresh buy rating. Great company, but a bullish market is pushing them above the margin of safety.
Disclosure: I am/we are long PM, MO.
I wrote this article myself, and it expresses my own opinions. I am not receiving compensation for it (other than from Seeking Alpha). I have no business relationship with any company whose stock is mentioned in this article.
Additional disclosure: No financial advice. For tipranks, no ratings in this article. PM is still above the range where I want to issue fresh ratings.