Reintroduction to the E-Commerce Juggernaut MercadoLibre
Not much has transpired to change my opinion from 11 months ago that MercadoLibre (NASDAQ:MELI) is "the most compelling growth story available in the market right now." Since then, the stock has surged 62% from $135 to $219 as of this writing. Fueling this strong run has been improved business performance by the Latin American e-commerce juggernaut, which has reached all-time highs in key growth metrics in spite of - or perhaps aided by - ongoing economic turmoil in its key markets. And the prospects of the business appear to be as promising as ever. Let's explore this accelerating growth, opportunities, and challenges in its Brazilian market and a possible valuation target for the shares today.
MercadoLibre in Brazil
The nation of Brazil makes a key market for MercadoLibre, from which it derives more than 50% of its total revenue as of the end of 2016. The following table shows total revenue and the percentage derived from Brazil over the past five years.
| | | | | | |
| --- | --- | --- | --- | --- | --- |
| MELI Revenue | 2016 | 2015 | 2014 | 2013 | 2012 |
| Total Revenue | 844,396 | 651,790 | 556,536 | 472,595 | 373,601 |
| Revenue - Brazil | 455,024 | 290,602 | 273,638 | 206,394 | 179,640 |
| Brazil Percent of Total | 53.9% | 44.6% | 49.2% | 43.7% | 48.1% |
The country also makes up 58% of the company's profit before allocation of indirect costs, as indicated in the segment information of its annual report. These factors punctuate the importance of Brazil to the growth prospects of MercadoLibre.
Indeed, the growing presence of connected consumers makes the country an attractive destination. Consider that internet penetration totals just 61% in Latin America, a much lower share than the 89% in the U.S., and also consider that e-commerce as a percentage of total retail sales reaches only 4% in Brazil. In this context, the potential of this untapped market comes into clearer focus.
What's more is that Morningstar estimates that 100 million new internet users in Latin America will come online within the next five years, a 26% increase from the current total of 380 million. Brazil, in particular, is expected to grow e-commerce sales from $18 billion in 2014 to $41 billion in 2019, a cumulative annual growth rate of 18%. Supporting this growth will be an increase in the population of online shoppers from 33.5 million in 2014 to 61.8 million in 2019, according to Forrester Research.
In the Shadow of the Mighty Amazon
Such figures create an opportunity but also a glaring vulnerability for the company, as its Brazilian market is quickly growing beyond the niche status of the other geographies where MercadoLibre dominates e-commerce. The vulnerability exists because of the increasing attractiveness of the market to new competitors.
Numerous commentators have noted that the inevitable entrance by Amazon.com (NASDAQ:AMZN) will spell the death of MercadoLibre's successful stock run. Barron's featured this impending risk in an article in May 2012. Similar sentiments were quick to be shared on Seeking Alpha as well. The strength of Amazon is well known and not something to be overlooked by shareholders of MercadoLibre. But thus far, any such challenges from Amazon have been relatively muted. A quick visit to the Amazon.com.br website highlights the meager product offerings of the American e-commerce titan in that region, where only the Kindle, physical and digital books, and some apps are listed for sale.
The expectations for Amazon to take over the country from which it derives its name and to lay waste to all competition have not yet come to fruition. So, what's tamed this vicious predator? There are significant challenges for international e-commerce companies entering Brazil; challenges which directly undermine some of the key competitive advantages Amazon holds in the U.S.: distribution capabilities and pricing.
Investor's Business Daily has noted higher labor costs and a lack of transportation infrastructure among the problems, with only 20% of all roads paved. Export.gov reports that Brazil has some of the "highest logistics costs in the world." And numerous sources have noted the onerous Brazilian tariffs which can make competitive pricing more of a challenge. So, while Amazon has made an entrance into the Brazilian market, its physical infrastructure is not yet solidly in place to duplicate its North American segment's warehousing capabilities and overall efficiency, which make for fast deliveries, low pricing, and a wide network of happy customers.
While Amazon delays by venturing timidly into the Brazilian fray, its competition is making strides to capture market share prior to its arrival. Alibaba's (NYSE:BABA) AliExpress has taken initiative to become one of the most highly frequented international websites. Bloomberg chalks up the popularity of Chinese sites among Brazilians to cost advantages, even after allowing for high import taxes. Likewise, MercadoLibre is using the opportunity to expand its network of consumers and sellers, with a chance to fortify its brand recognition and customer loyalty while also driving its growth rate to levels never before seen in the region.
Explosive Growth
Stepping back from Brazil for a brief moment, MercadoLibre's company-wide growth reaccelerated in 2016 after currency woes constrained reported revenue in 2014 and 2015. Since 2010, however, the company has grown revenue at 17% or more every single year, and frequently exceeded 25%. Growth in registered users has consistently been 20% or above, while growth in total units sold in the marketplace reached 41% in 2016. The graph below displays the trend in key growth metrics of revenue and units sold over the last seven years, both of which are at or near their highest growth rates since 2010.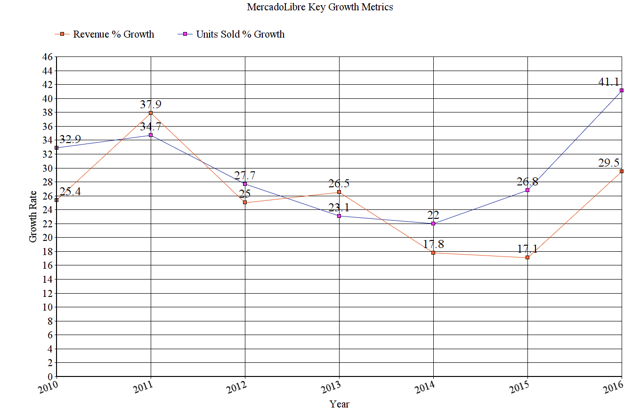 Now, looking at Brazil, in particular, some have noted the remarkable nature of MercadoLibre's growth surge in the past 12 months, given the economic turmoil it's experiencing in Brazil and other key markets. While this is a worthwhile note, there may be a less-than-intuitive explanation for what's happening behind the scenes. In fact, Morningstar analyst R.J. Hottovy may even turn this notion on its head with his understanding that:
Recessions and economic downturns can often be a springboard for e-commerce adoption.
Hottovy refers to the 2008 and 2009 time frame for Amazon as being a key period in the growth of its user base as more "consumers gravitate towards e-commerce players during these periods of economic hardship as they look for greater value and convenience." Hottovy cites this observation to argue that this is how we might expect to see online commerce evolve in other geographic regions.
Perhaps these insights help to explain the explosive revenue growth experienced by MercadoLibre of 57% in Brazil in 2016, even as GDP declined 3.4% as illustrated below.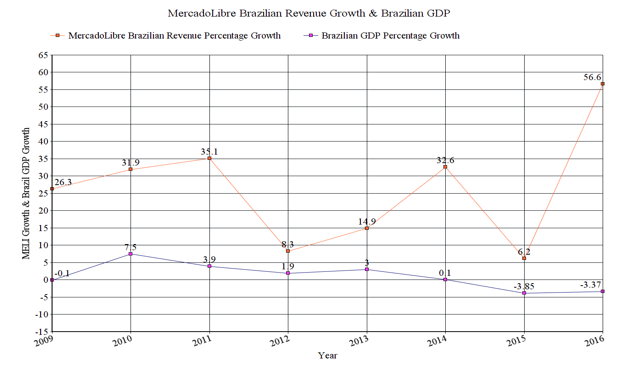 The chart also indicates slower growth during a period of declining GDP in 2015, although currency exchange plays a big role as constant currency revenue growth has been steadily solid in both years. But whether Brazilian consumers are searching for "value and convenience" amid trying economic times or merely participating in the continued growth in internet penetration and e-commerce acceptance, they are finding MercadoLibre in ever-increasing numbers and the company and its shareholders stand to benefit as a result.
Valuing Explosive Growth
What's the value of this explosive growth? By building a model using earnings growth, valuation, and time horizon assumptions, investors can develop expectations for future performance by MercadoLibre. Morningstar, Zacks, and Yahoo Finance show that analysts expect five-year earnings growth for the company to range between 25% and 30% per year. Using these numbers for the next five years and projecting a future earnings multiple, the possible annualized return for MELI stock over this period is modeled in the chart below: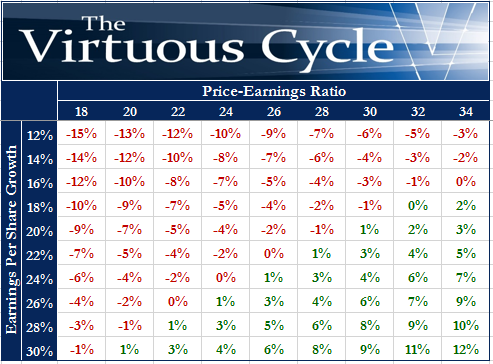 MELI Five-Year Projected Annualized Return
What constrains these return projections is the current high valuation of MELI stock at 71 times trailing earnings of $3.08 per share. It's clear from the chart above that investors in MELI stock must rely on some combination of higher earnings growth and premium future valuation to justify a long-term investment thesis in MELI stock. Any failure by the company to achieve these optimistic targets would leave shareholders exposed to substantial downside risk in the near term if the stock is repriced to reflect diminished growth expectations.
However, as the time horizon increases, the prospects become much more favorable, as indicated in the chart below which uses the same earnings growth and valuation assumptions, but stretches the investment holding period to 10 years.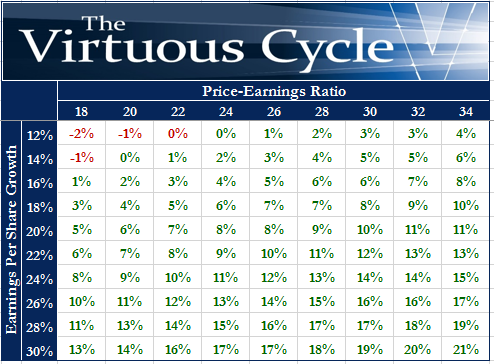 MELI 10-Year Projected Annualized Return
The 10-year chart shows how powerful long-term outsized growth can be. Although such growth can be very fleeting, the rare companies able to achieve it can reward their shareholders greatly. If MercadoLibre can stretch the 25-30% growth that analysts expect in the coming five years to a period of 10 years or more, annualized shareholder returns will likely be in the 12% to 20% range. So, with all of those possibilities in mind, what is a price that would make MELI stock a bargain for new investors today?
Initiation Price Target
To answer that question, it's necessary to determine what one expects the company to do over a longer-term investment time horizon. Different investors will certainly come down on different sides of the issue. Some may expect Amazon and Alibaba to outperform MercadoLibre in its largest market of Brazil and leave it to gradually fade away into anonymity. Others may expect MercadoLibre to maintain an edge against these rivals even if Amazon makes a stronger push into Brazil and builds capabilities more like those it possesses in the U.S. market. Still, others may view the market as large enough to support multiple successful competitors in an outcome that isn't winner take all.
While an exact price can't be pinpointed, it is possible to determine a range of values depending on the growth expectations and required return for an investor. The table below displays the price an investor should consider paying for MELI stock in order to achieve a 12% annualized return over a five- or 10-year period, depending on their expected time horizon:
Five-Year Period

10-Year Period

Initiation Price Target

$130.50

$220.60

$95.60

$217.40

Premium (Discount) to Current Price

-41%

0%

-57%

-1%

Assumptions:

Annual Earnings Growth Rate

20%

30%

14%

22%

Ending Price-Earnings Ratio

30

34

26

30

Target Annualized Return

12%

12%

12%

12%
The Future for MercadoLibre
While MercadoLibre shares may be a great investment even at these elevated levels, the company could well face a growth scare or intensified competition at some point which will affect market sentiment and its valuation, which could lead to a better buying opportunity in the future. Even so, anyone who subscribes to the expectation for outsized earnings growth in the range of 30% over the next five years or 22% in the next 10 years will find the stock to be fairly valued at its current price today, though with very little margin of safety.
While I was eager to recommend the shares 11 months ago, shareholders considering any new commitments should first make themselves well aware of the associated risks of investing in a highly-valued, fast-growing company in turbulent markets and with the threat of robust new competition on the horizon. In any case, MercadoLibre remains a high-performing growth stock in an exciting industry and in a market that is far from maturity.
If you are a shareholder or interested observer, feel free to drop a line in the comments section about your expectations for the future of MercadoLibre. How do you foresee the e-commerce marketplace evolving in Brazil in the future and which companies stand to be the winners and losers?
Author's Note: Investors who valued this analysis and wish to receive future articles and ideas from The Virtuous Cycle can do so by clicking the "Follow" button at the top of the article and selecting real-time alerts.
Disclosure: I am/we are long MELI.
I wrote this article myself, and it expresses my own opinions. I am not receiving compensation for it (other than from Seeking Alpha). I have no business relationship with any company whose stock is mentioned in this article.
Additional disclosure: All investments involve risks. This article is only general analysis, and is neither financial or investment advice nor a recommendation to buy or sell any security based on an individual's specific investment goals or financial situation. Individuals are encouraged to do their own due diligence and determine how each investment fits into their own investment and financial plans prior to making their own investment decisions.