In March, I posted my debut article for Seeking Alpha on my investment thesis for Qualcomm (NASDAQ:QCOM). It was well received and I especially appreciate the high-quality comments from my readers. The article can be found here. Since my last post, QCOM shares fell almost 10%, made the headlines with a lost BlackBerry (NASDAQ:BBRY) arbitration, raised its dividends by 7.5% and released its Q1 earnings Today.
QCOM reported a beat on revenues and a huge beat on earnings for its Q2 2017 earnings. However, the Apple (NASDAQ:AAPL) dispute has taken a new turn, depressing short-term guidance quite a bit. Time to update the investment thesis: is QCOM a buy?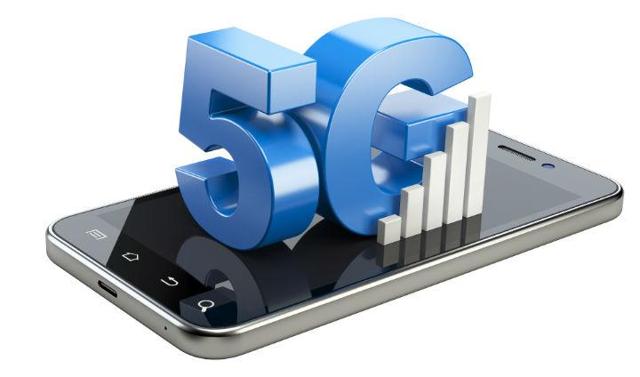 Q1 report
QCOM reported its Q2 2017 earnings and it was a blowout beat. Results were adjusted for the lost arbitration to BlackBerry, which had an impact of USD 974mln from top line through net earnings (or USD 0.48 per share). I find this a sensible adjustment (see below) as I consider this truly a one-off event. The EPS adjusted for the Arbitration effect came in at USD 1.34 (vs. 1.19 consensus, i.e. 20% beat) which is a big 28% yoy increase. Revenues were at USD 6.0bln (beat by USD 90mln).
However, most notable was QCOM's announcement of Apple's contract manufacturers' underpaying royalties. The contract manufacturers acknowledged the amounts are due, but AAPL stopped paying the contract manufacturers, and in turn, they stopped paying QCOM. The unpaid amounts match the amount due under the Cooperation Agreement, which is currently in dispute (approximately USD 1bln).
The agreement itself expired at the end of 2016; thus, it has no relevance for the sales going forward nor did the situation affect Q2 revenues (as the amounts were acknowledged). However, several scenarios are possible for the unpaid amounts and the uncertainty about the outcome results in a very wide and conservative guidance, revenue for Q3 is at $5.3B-$6.1B (ranging from a 12% decline to a 1% gain YoY) and non-GAAP EPS of $0.90-$1.15 (22% decline to 1% gain). Analyst consensus is for revenues of $5.91B and EPS of $1.10.
What I make from this is that we're looking at a one-time USD 1bln dispute, which is part of the lawsuits with AAPL. Hence, it is essentially no new information, and in the end, all part of a very tough business negotiation. Fundamentally, QCOM's performance is still very sound, which is indicative for the situation. The business grows and expands at a very healthy pace and operates in an accelerating market, but worries over the impact of lawsuits hold back shareholders. I'm invested in QCOM with a mid to long-term horizon, and less worried by this new page in the AAPL dispute book.

NXP Bid
Cornerstone of my investment thesis is the envisaged NXP (NASDAQ:NXPI) acquisition. In my view, it is a complex transaction, but a strategically important and economically very attractive one. CEO Mollenkopf restated that the acquisition is on track and actually added to it that integration planning continues across both companies. I find this a very strong and good sign that from all sides the expectation is to close the deal and work towards synergies asap.
I expect a successful bid to be a major catalyst to close the gap from undervaluation to fair value. A share price over 70$ and double-digit total returns for shareholders over the next 5 years seem very realistic based on i) great entrance in the fast growing automotive end market, ii) dividend yield of 4.3% in combination with a rich share buyback program and iii) attractive valuations. To achieve double-digit returns, without assuming multiple expansion, the earnings growth should be at 5.7% over the next years. Considering the market growth of smartphones, wireless devices and applications ((IoT)), synergies and new product opportunities, and Wall Street growth estimates around the 9% area over the next 5 years, I find 6-8% earnings growth very realistic. This sets investors up for 10-12% annual total return.
Key in the NXP bid is the regulatory approval process, it is the reason why investors are not tendering their shares yet (only 16.3% has been tendered so far). The company reported the approval process is advancing according plan and the deal is expected to close at the end of 2017.
Last week, QCOM announced it received approval from U.S. antitrust regulators for the NXP acquisition. The waiting period required for companies under the Hart-Scott-Rodino Antitrust Improvements Act has expired, the company said. The required regulatory approvals are now down to the Chinese and several European authorities. FWIW, as I am Dutch I get to read a lot about the sentiment around the failed take-over attempts by 3G Capital (Unilever, (UNA.AS)) and PPG (Akzo Nobel, (AKZO.AS)). The government and corporate leaders have been very outspoken in their objections to these deals; in these discussions, NXP is never mentioned.
Lawsuits
QCOM faces numerous lawsuits, multiple lawsuits filed by Apple and antitrust litigation. BBRY announced it won an arbitration over an existing cap clause on royalties. As BBRY does no longer sell smartphones, it was in their interest to pursue the argument. The amount awarded to BBRY is USD 815mln. Although the headlines look scary, this is actually a very immaterial event for QCOM. The USD 815mln is actually less than 1% of its EV and really is a one-off event revolving around a single issue in a specific contract for subscriber units between 2010 and 2015. QCOM restated that each license agreement is unique.
That brings us to the AAPL lawsuits. Steve Rasher posted a really nice view on these dynamics in the comments of my last article. I fully agree with Steve, his key point is that the real danger of the lawsuits are their possible disruption of the royalty model for essential patents based upon the value of the entire device rather than a royalty based upon the incremental value the use of the patents bring to the device.
It is to be expected that QCOM will defend this model at all costs and rather agree on a formula that lowers the rate of the royalty. This is what QCOM did when the Chinese regulators challenged them. In a way, this adds to the price pressure and competitive dynamics of the fragmented and high-tech smartphone and smartphone components market. QCOM is doing the one thing that really helps them, i.e. diversifying towards other end markets (automotive) and positioning for future technologies (5G, (IOT), connected cars).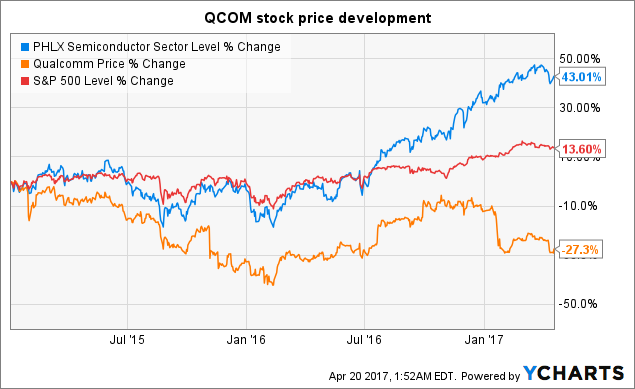 Valuation
In my previous article, I stated that QCOM is undervalued by at least 20%. The earnings beat underpins the sound underlying fundamentals. If the NXP bid comes through, I expect the stock to close this gap rapidly to grow to 70-80$ per share (35%-50% upside from now). Investors seem to have to climb a wall of worry with QCOM, a very obvious positive event could turn sentiment quickly. I actually bought extra shares last week around $53. The 4.3% forward dividend yield; 16.1 P/E (TTM) compared to a median P/E of 19x over the last 10 years and 11.5 forward P/E are too attractive to pass on while waiting for the sentiment to turn.
To put the QCOM valuation in perspective, I made a selection of its peers (Samsung (OTC:SSNLF) and Sky Hynix don't have a USD listing, so I left them out) to see how the valuation is holding up. Of course, the selected peers all have their own products, markets and dynamics. However, it does give some sense how QCOM is doing compared to its industry.

Although it is hard to see any company outscore on all metrics, three things should be noted.
i) The acquisition of NXP (USD 9.2bln sales, USD 38bln EV) puts QCOM in a lot better competitive position, closing a large part of the gap to Intel (NASDAQ:INTC), TSM and Samsung Electronics (USD 40bln sales)
ii) Cash conversion and profitability are very good. This shows how much profits can be made from every USD sales, and how well the company is able to turn these revenues into free cash flow. QCOM is one of the most cash generative company amongst its peers; it is turning every dollar of EBITDA into USD .67 of cash. This can largely be attributed to its license business model and is something that gives QCOM an edge over its competitors. It earns 11% on each USD re-invested in the company (ROIC) whilst it is able to pay out a handsome dividend to the investors.
iii) Valuation, in my opinion the EV/EBITDA and EV/FCF are the two best ones to go on, because these give the best indication for the price you pay for the future cash flows. The high cash conversion in combination with the above average growth prospects for QCOM, explain why QCOM is trading at a slightly higher EV/EBITDA multiple compared to Taiwan Semiconductor (NYSE:TSM) and Intel. Both valuation metrics look very healthy for QCOM, considering the high cash conversion and high single-digit estimated growth. Please keep in mind that a company like IBM (with a lot less historic and forecasted growth) is trading around 12x EV/EBITDA and Coca-Cola (NYSE:KO) trades around 19x EV/EBITDA.
Conclusion
QCOM clearly has to climb a wall of worry and investor sentiment is pushing QCOM to 52-week lows. This, however, is an excellent opportunity to enter or top up on QCOM shares if you have a 3-5 year investment horizon. The QCOM business is fundamentally sound and growing, but the company will need time to show it can handle the competitive dynamics and can diversify into new markets whilst advancing its already great IP portfolio into new wireless technologies.
The NXP bid is strategically and economically very important, and uncertainty regarding the approval process surrounds the deal. However, the approval process appears to be advancing well and shareholders are rewarded for their patience by a handsome 4.3% dividend yield in the meanwhile.
I am looking forward to your reactions!
Disclosure: I am/we are long QCOM.
I wrote this article myself, and it expresses my own opinions. I am not receiving compensation for it (other than from Seeking Alpha). I have no business relationship with any company whose stock is mentioned in this article.