Rigel Pharmaceuticals (NASDAQ:RIGL) is a clinical stage biotech company with the potential to have one drug approved for marketing in the next 12 months. The market cap is approximately $400 million and I estimate cash at $100 million (see below).
RIGL has finally submitted an NDA to the FDA
When I last wrote about RIGL the company was awaiting data from the first of two phase 3 trials testing a drug called fostamatinib in idiopathic thrombocytopenic purpura or ITP. The data from the first trial in 76 patients were positive with the drug achieving a statistically significant response rate relative to placebo. Data from the second trial, released October 20, 2016, were similar but due to a single placebo treated patient achieving a response the result was not statistically significant (Figure 1). This result caused concern for investors since it is believed that the drug would need to achieve the primary endpoint with statistical significance in two phase 3 studies for approval. RIGL has suggested instead that the data from the two studies can be pooled since the design of the two phase 3 studies is identical. When pooled the result achieves statistical significance, but it is unclear whether the FDA will accept this reasoning and approve the drug for marketing.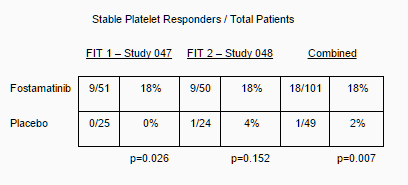 Figure 1: Comparison of the results from two phase 3 studies of fostamatinib in ITP.
Source: October 20, 2016 press release.
While RIGL also ran the drug in a phase 2 trial for ITP, this trial was not placebo controlled. RIGL also ran a long term extension study using the patients from the FIT 1 and FIT 2 studies, where all patients were treated with fostamatinib. This long term extension study also included patients from the placebo group who did not respond to placebo (placebo non-responders) and these patients went on to achieve a 17% response rate (similar to what was seen in the first two phase 3 studies). The results from extension study can be seen here in slides 14, 15 and 16 from a slide deck from November 2016. They are convincing as to the efficacy of RIGL's fostamatinib in ITP.
On April 17 RIGL announced it had submitted an NDA (New Drug Application) to the FDA for fostamatinib in chronic ITP. Approval of the NDA would allow RIGL to begin launch and marketing activities for fostamatinib so it is understandable investors have been eagerly awaiting this news. While the news seemed to provide a boost of a few percent for the stock, it also signals the beginning of another long wait for RIGL investors as I expect much of the year to be devoid of catalysts. RIGL expects to hear back from the FDA in June 2017 regarding the acceptance of the NDA. This is not the date however, at which the FDA will release its decision regarding approval or otherwise of the NDA. RIGL had previously aimed to submit the NDA by the end of Q1. RIGL is less than 20 days late in achieving this milestone so I feel the expected timeline laid out by RIGL previously should still serve as a reasonably accurate guide (Figure 2). Since a potential Advisory Committee Review is not expected until Q4'17 (the Advisory Committee might be skipped altogether), there will be little stimulus for the stock between now and Q4.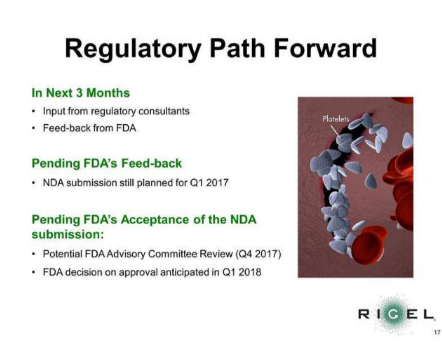 Figure 2: Potential regulatory timeline for fostamatinib in the ITP indication.
Source: The November 2016 slide deck presented at the Jefferies 2016 London Healthcare Conference.
While I believe the drug certainly works, because there are already multiple drugs on the market for patients with ITP, it is certainly possible the FDA will ask RIGL to run another study, just to be thorough. Thrombopoietin receptor agonists represent one such class of drugs approved for ITP already and they provide the slam dunk combination of high efficacy and low toxicity. RIGL has suggested that fostamatinib was effective even in patients previously treated with thrombopoietin receptor agonists (see slide 13 of the November slide deck). As such RIGL might argue the drug meets an unmet need (treatment of patients not responding to thrombopoietin receptor agonists) for the ITP patient population. I can certainly support this reasoning and perhaps see conditional approval of fostamatinib as a possibility. The condition being that RIGL will have to run another study within some time frame (often many years).
RIGL has the cash to continue other operations throughout 2017
In a recent 10-K filing RIGL noted cash, cash equivalents and short-term investments of $74.8 million as of December 31, 2016. On February 3, 2017, RIGL announced its offering of common stock (announced on Jan 30, 2017) had closed, bringing in $46 million in gross proceeds. Net proceeds were said to be $43 million in the recent 10-K. Net losses for RIGL were 15.6 million in Q4'16, consistent with a net loss of $69.2 million for 2016 as a whole. We can use this to estimate a burn rate going forward of $15 to 17.5 million per quarter in 2017, this accounts for milestones such as the $3.3 million from BerGenBio AS mentioned below since these milestones also occurred in 2016. I would suggest cash at the end of Q1 then was approximately $100 million (74.8 + 43 - 15 = 102.8; numbers in millions of USD). Assuming the cash burn continues at around $15 million per quarter, RIGL might have around $55 million on hand at the end of Q4'17. RIGL suggested in the recent 10-K that cash was expected to last "at least the next 12 months."
RIGL's year end 2017 cash is important because it is around the time of the potential advisory committee. If the committee votes against approval of fostamatinib in ITP I can't see RIGL trading at more than 2 times cash ($55 million x 2 = $110 million). In fact, I think 2 times cash would be generous for a company which has no other drugs in phase 3 (that is, no other drugs close to generating revenues). RIGL had approximately 122 million shares outstanding as of March 1, 2017 (according to the recent 10-K). At a market cap of $110 million, RIGL would trade for $0.90, comparing this to the close on April 18, 2017 ($3.29), this would represent a 70 percent loss. The assumption that RIGL will burn $15 million or more per quarter may prove to be false, limiting the utility of my calculations. Nonetheless it easy to see how the FDA's rejection of the NDA might cause the stock to plummet. It is worth noting that although fostamatinib can be marketed to a restricted set of physicians (targeting hematologists for example) $55 million (my year end 2017 cash estimate) will not be sufficient to launch and market fostamatinib for very long, particularly when the company's other activities are considered. As such another offering seems likely should RIGL receive marketing approval for fostamatinib.
It is too early to tell if fostamatinib works in IgA nephropathy
RIGL has also been developing fostamatinib in IgA nephropathy and data from the first cohort of patients in a phase 2 trial were released January 5th, 2017, as part of a business update. The initial cohort from the IgA nephropathy trial included 12 patients treated with placebo and 26 patients treated with 100 mg of fostamatinib twice a day which RIGL refers to as a "low dose." Indeed we have seen previously that fostamatinib offers greater efficacy in other diseases above 100 mg twice a day but the toxicity increases above 125 mg twice a day where GI reactions are seen. RIGL can get away with this toxicity of fostamatinib in IgA nephropathy since there are currently no approved therapies for IgA nephropathy, although several drugs see off-label use in this indication.
The initial PR of the IgA nephropathy data noted a reduction in proteinuria (protein in the urine) at 24 weeks, relative to baseline. This reduction was greater than the reduction seen in the placebo group. There was also a difference or imbalance in the baseline proteinuria in the two groups. Note that the data points represent the median of each group. This is acceptable and has been used by other researchers because the protein content of urine is not often normally distributed (this means that the average would not reflect the group as a whole so well). Although this representation of the data is acceptable it makes the data challenging to interpret. This is not RIGL's fault and is an issue with all trials using proteinuria as an endpoint. More complex analysis than that seen in figure 3 is probably needed to determine if the drug has any efficacy.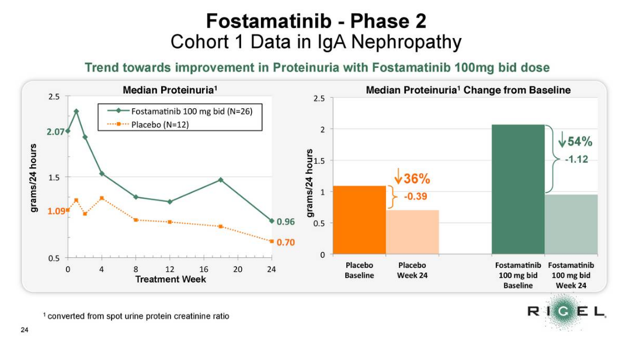 Figure 3: Change in proteinuria in the fostamatinib and placebo groups.
Source: Slide 24 from the slide deck associated with Q4'16 earnings call.
In the future, with data in hand from the second cohort and a table showing the baseline characteristics of the patients in the placebo and fostamatinib groups, it may become possible to predict the results of subsequent trials of fostamatinib in IgA nephropathy. Imbalances in baseline characteristics across the arms of a trial (placebo arm and drug arm in this case) frequently occur in small trials. This is the result of randomizing a small number of patients, it is very easy just by chance to end up with one arm of the study which is "sicker" than the other arm. When you have one arm of the study full of patients with (on average) moderate to severe disease and the other arm full of patients who have moderate disease, it is hard to trust any statistically significant results arising from that study.
The importance of baseline characteristics: A lesson from Celladon
One example of baseline imbalance occurred with a company called Celladon, formerly CLDN, now Eiger Biopharmaceuticals (NASDAQ:EIGR). CLDN was developing a gene therapy called Mydicar which aimed to increase the amount of a protein called SERCA2a in the heart. This therapy would supposedly be useful in patients with heart failure where the activity of SERCA2a falls. Initial data with Mydicar was positive. In the diagram below each line represents a patient (there are 14 patients in the placebo group, for example). Each dot represents an event such as worsening heart failure, myocardial infarction or even death. Essentially a lot of dots is a bad thing. You can see that the high dose Mydicar works better than lower doses and certainly better than placebo.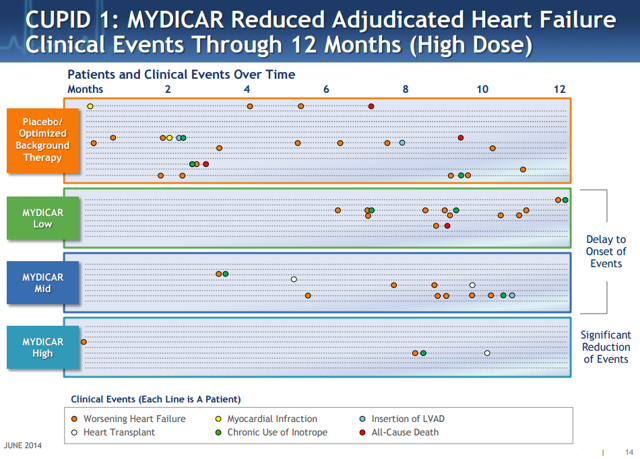 Figure 4: Celladon's Mydicar looked to be a promising gene therapy at first glance.
Source: June 2014 corporate overview.
Investors soon became concerned however, that the difference between groups was simply due to baseline imbalance in the health of the patients in each arm or group of the study. It turned out that patients in the placebo group had worse heart and lung function (before dosing of Mydicar even began).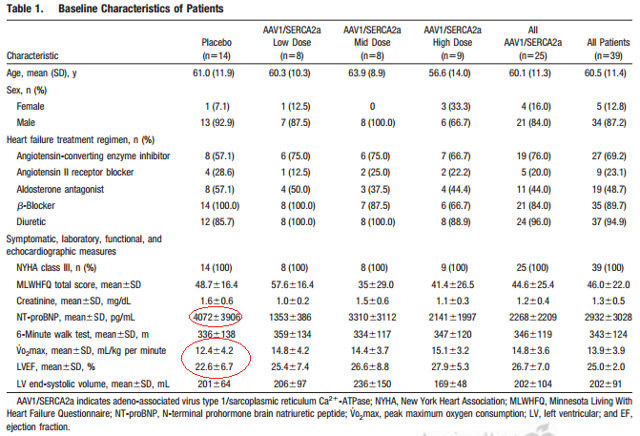 Figure 5: Baseline characteristics of patients in CLDN's CUPID 1 study (figure 4). Note that NT-proBNP is a prognostic marker of heart failure, higher levels predict worse outcomes. VO2 max and LVEF reflect lung function and the effectiveness with which the left ventricle ejects blood, lower numbers reflect lower function.
Source: Publication in the journal Circulation.
Essentially, the placebo group in CLDN's CUPID 1 trial was just "sicker" which made the results challenging to trust. The study was confounded due to baseline imbalance. A baseline imbalance of this magnitude would be unlikely if a large number of patients had been randomized. In a later study (CUPID 2) which did enroll more patients, the drug failed causing the stock to plummet. Full credit to this SA contributor and his sources for predicting the failure of CUPID 2 (the article remains informative to this day in my opinion).
Of course larger trials cost more money but even small exploratory studies should include enough patients so that the results might actually be informative as to whether or not a drug company should proceed with a phase 3 program for a drug. The same baseline imbalance which confounded the data from the CLDN trial could just as easily confound the results from RIGL's phase 2 study of fostamatinib in IgA nephropathy. To trust the results of a small study, it is nice to see the baseline characteristics are equal across each group and that the drug actually achieved statistical significance or near to it. What is worse for RIGL investors is that data from a second cohort in IgA nephropathy which will use the higher 150 mg dose will not be on hand until 2018 according to the Jan 5, 2017, business update. For this reason it does not look like we will be able to judge if fostamatinib works in IgA nephropathy for a long time.
Fostamatinib in AIHA
So what else might provide a boost to RIGL in 2017? Data from fostamatinib in a phase 2 study of autoimmune hemolytic anemia or AIHA. RIGL expects results in 2017 but has offered little color as to when. The trial is still enrolling (as of April 19) and with the primary endpoint at 12 weeks data are at least 3 months away. The estimated date of completion for the study is September 2017 according to the clinicaltrials.gov entry. The estimated enrolment is 37 patients. The trial apparently does not include a placebo group which will limit the impact the results have on the share price. I have speculated previously that fostamatinib has a good chance of being effective in AIHA since the disease is similar in some ways to ITP. I will stand by this speculation but I am softening my expectations since I have seen the data from RIGL's phase 3 program in ITP where the response rate was much lower than in the phase 2 study.
RIGL's other drugs
RIGL has a license agreement with BerGenBio AS which resulted in a $3.3 million milestone payment in Q1'17 subsequent to BerGenBio AS beginning phase 2 trial on BGB324 (originally discovered by RIGL). BGB324 is RIGL's most advanced out-licensed compound and since it is only just beginning phase 2, I do not see it as likely that the compound will progress enough in 2017 to bring in additional substantial milestones for RIGL.
Summary and recommendation
I see 2017 for RIGL as a year where we won't see any more high impact data in IgA nephropathy, data in AIHA probably won't arrive until late Q3 or Q4 (and will not include a placebo group). The acceptance of the NDA filing could trigger a run up in the stock, but because of the potential that fostamatinib does not get approval and instead RIGL has to run another trial, I don't see much of a run-up occurring. I think that fostamatinib will get approval so I feel those who go long RIGL just prior to the advisory committee, or FDA decision on approval, have a reasonable chance of making a profit. I do not think it is worth going long RIGL in the interim, put your money elsewhere. Longs should consider closing out any position they have at the moment and considering coming back towards the end of the year.
Disclosure: I/we have no positions in any stocks mentioned, and no plans to initiate any positions within the next 72 hours.
I wrote this article myself, and it expresses my own opinions. I am not receiving compensation for it (other than from Seeking Alpha). I have no business relationship with any company whose stock is mentioned in this article.