GE (NYSE:GE) reports their calendar Q1 '17 before the opening bell Friday morning, April 21, '17.
Before getting into a brief review of the fundamentals and earnings data for GE, the longer-term chart paints an interesting story: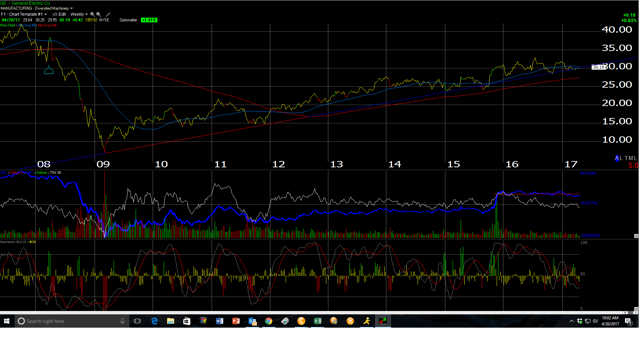 Readers can hopefully see that GE is sitting right on the longer-term trend-line connecting the March '09 low to the late, 2011 low and just below the 50-week moving average.
To be clear for readers not proficient at reading charts, GE is at a critical juncture from a technical analysis perspective.
Fundamentals:
Consensus Street expectation for GE's Q1 '17 are looking for $0.17 in EPS on $26.4 billion in revenue for expected year-over-year growth for drops of -19% and -5% respectively, however that is comparing "new GE" (ex GE Capital) to some of the Old GE, which included Capital.
Full-year 2017 consensus per Thomson Reuters I/B/E/S is expecting $1.63 in earnings per share on $125 billion in revenue for full-year y/y growth of 9% and 1%, respectively.
Frankly, as an analyst / portfolio manager that really likes to dig into the numbers and look at trends for every company followed fundamentally, looking at GE's financials, and even pro-forma Street sell-side models is like trying to read ancient Sanscrit.
GE is still a combination of Industrial and Capital, with some of what's left of Capital influencing the numbers, but I expect the distortion of Capital to diminish as we move through 2017.
However looking at "New GE" analyst models that have pulled out the ongoing Industrial businesses, from "Old GE" one sell-side model is looking for a 1% drop in full-year 2017 revenue but 13% pre-tax income growth for '17, and continued margin expansion for the next few years.
And therein lies the Trian influence.
GE recently raised the dividend slightly to $0.96 in 2017 from $0.92 in 2016, but GE repo'ed $21 bl of stock in 2016 per the 10-K.
GE's current dividend yield is 3.25%.
Analysis / conclusion:
Readers might think it overly simplistic, but I subscribe to Morningstar's investment research, and I thought Morningstar's Industrial analyst, Barbara Noverini, described GE perfectly when she wrote recently that "GE's wide-moat pivot largely complete; now we look for execution".
I thought that summed up the current state of GE perfectly.
This preview is short and sweet since I wanted readers to get a look at the GE chart - the stock is currently at a critical technical juncture so tomorrow's earnings report and the price action following tomorrow's earnings report could be telling.
Other Industrial's are followed fundamentally for clients but GE is currently client's largest Industrial position at 3.3%. It does worry me when looking at other large-cap "conglomerate" Industrial's like MMM and like Honeywell, where organic revenue growth is currently flat to negative and even in a hot economy, at best organic revenue growth reaches mid-single digits.
That tells me that one of the few levers to pulls is margin expansion, and that has its limits.
GE's valuation trading at 18(x) 2017 earnings with 9% growth expected on the combined GE does allow for a little upside if New GE can grow faster, although the consensus 2017 EPS growth rate has fallen from 15% in early '16 to just 9% today.
Watch Industrial margins tomorrow and guidance for full-year '17.
And watch that chart.
Disclosure: I am/we are long GE.
I wrote this article myself, and it expresses my own opinions. I am not receiving compensation for it. I have no business relationship with any company whose stock is mentioned in this article.