Snap Inc. (NYSE:SNAP) managed to drop even further. Though we acknowledge some of the risks, we still like the stock at its current valuation. Much of the concerns cited by bears isn't well substantiated, and the potential upside from monetizing the current installed base of users and attaching more users is not fully priced into shares.
Furthermore, we believe there's too much risk when selling short Snap Inc. going into the company's current earnings announcement as there's plenty of growth levers to pull. Because growth is priced at a premium, rather than earnings, we believe the broad spectrum of bullish scenarios will diminish uncertainty and reassert the momentum thesis given enough time.
Recent survey data was promising and reasserted the bullish case favoring Snap bulls. We believe conventional price action following the IPO will differ quite significantly in this case, as the mobile ad ecosystem is far more mature, and onboarding of users will stabilize following weakness in sequential DAU additions.
Weighing the survey data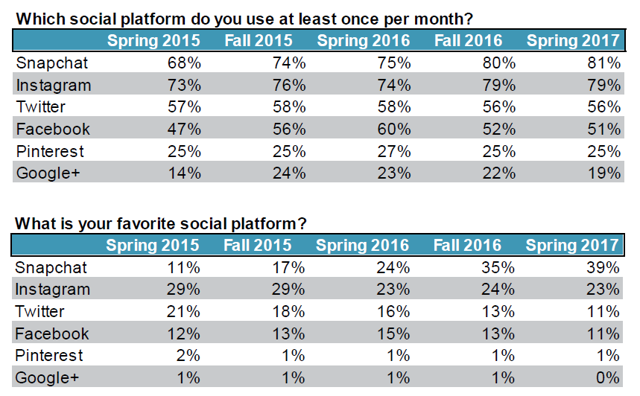 Source: PiperJaffray Taking Stock With Teens
The survey respondents were 16-years-old on average, and were born following the millennial generation, which has a date of birth cut-off date between 1993 or 1995. Therefore, when reviewing this survey data, we must keep in mind that these younger users are more sophisticated internet users, as they belong to an age cohort that grew up with the internet, i.e. post-millennial, or often defined as generation Z.
We believe the recent survey data reasserts a high likelihood of younger internet users will age-into the Snapchat user experience and ecosystem, while there are practical use cases for Facebook (NASDAQ:FB) Messenger and Instagram. The combined feature-set of Snapchat was rated higher than the competing social platforms from the most forward-thinking generation. I.E. there's more credibility in watching the behavior signals from younger internet users, because they're more sophisticated in general and adopt features based upon merit as they are less susceptible to advertising, or pre-existing social channels.
Recent survey data suggests that the post-millennial generation likes Snapchat by a 1.69 factor when compared to its nearest competitor, Instagram. The younger generation rated Snapchat their favorite app at 39% versus 23% when compared to Instagram, according to PJC survey data. We believe the younger base will age into Snap Inc. as opposed to Instagram or other social media apps. Though Snap has yet to take any timeshare away from its competitors, we view this eventuality as a matter of time.
Why is Snap Inc so appealing to the younger age cohorts?
We should anticipate adoption to expand among more internet users because the most reliable forward leaning indicator of mass market adoption are younger generational cohorts. We believe the younger cohorts are generally the initial adopters, with the remaining base of internet users following in the footsteps of more savvy internet celebrities that skew younger. Because various media influencers have adopted Snapchat, and are making various efforts to publish content on the platform, we're expecting an inflection in both social influencers and usage among non-celebrities to also increase.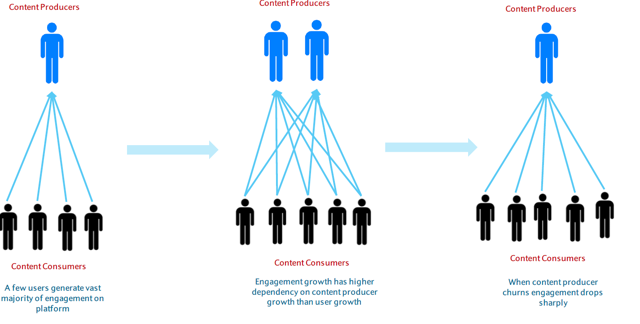 Source: Barclays America Research
Keep in mind, the number of content producers and content consumers is far more balanced on Snapchat. It reminds us of a time when Facebook was in its initial stages of ramping up its global audience base in 2007 or 2008, where people shared more personal stories and would interact within a more enclosed social network that's mostly inclusive of friends and family.
However, these days Facebook's content production is done primarily via publishers and various other social influencers. The number of events requiring the average user to update their status to announce major life events has diminished, and the degree to which users are engaged has declined.
Ross Sandler from Barclays (he no longer works at Deutsche Bank) mentioned in his Snap Inc. coverage initiation some salient points that shouldn't be ignored.
Here were the key highlights from his research note:
Social networks like Facebook are very distributed, with little value assigned to any individual node, and the strength and defensibility are around the overall scale. The percentage of nodes consuming content tends to exceed the percentage of nodes creating content. The engagement in a social network like Facebook often depend on how the nodes are related to one another in real life. Engagement can be very high among nodes that are in immediate circles, however nodes that are further distant from one another (friends 50-1,000 on Facebook) are unlikely to drive meaningful engagement.

As mentioned above, what tends to happen as the user extends beyond the "first 50" friends and family nodes, to 51-1,000 is the FB algorithm has many more content contributors and signals to choose from, and the newsfeed often times morphs into a product populated with less useful information from fringe users vs. core friends and family. As this pattern builds and users move further away from their core friends, the propensity to share and produce content for Facebook (original sharing) decreases -a thesis that stated to emerge publicly in 2016.
The analysis is really on point, and quite frankly, I've been worried about the media-centric shift Facebook has transitioned toward given the various negative reports from various news agencies and the continued emphasis on news/event driven coverage as opposed to social interaction among narrower social circles that are inclusive of friends and family.
Furthermore, Ross mentioned that the differentiating factor to Snapchat's success is the aggregated content contribution from the average Snapchat user. In other words, over 60% of Snap Inc's installed base publishes content on a regular basis, which has sustained a social experience that's more natural and replicative of real world interactions that gets further enhanced with technology/software.
The downside to the Snap Inc. thesis is the scope of advertising and whether publishers will take the microphone away from the average user. We think this is unlikely to occur, given Snap Inc's patience with monetizing the current installed base and continued experimentation of new digital ad formats. We believe that Snap Inc. can maintain a more intimate social experience, while improving ad-monetization via campaigns that are less intrusive and more targeted. Furthermore, given the initial data points we're working with, we think Snapchat is more likely to reach mass market adoption than any other app prior to it, with the exclusion of Facebook and Alphabet owned social properties (Facebook, Messenger, Instagram, WhatsApp, YouTube, and so forth).
But what about Instagram, it's a mighty competitor, right?
The issue with Instagram is its low frequency of published content and competition among users to generate the highest number of likes and social engagements. In other words, the social experience on Instagram has devolved from making meaningful social interactions to who can populate their feed with the most attention-grabbing content, amass a following, which showcases a person's "social currency."
Instagram penalizes those with fewer followers and less engagement, while incentivizing the creation of content to a minority of publishers that have the means to optimize visuals, story creation, and so forth. Hence, we don't view Instagram's value proposition as being more significant to the day-to-day user looking to regularly interact with closer friends or smaller network nodes. Instagram is certainly Pinterest on steroids, with a large user base, and an encyclopedia of photos to admire. It's not going away, but it's certainly not the most socially engaging platform either.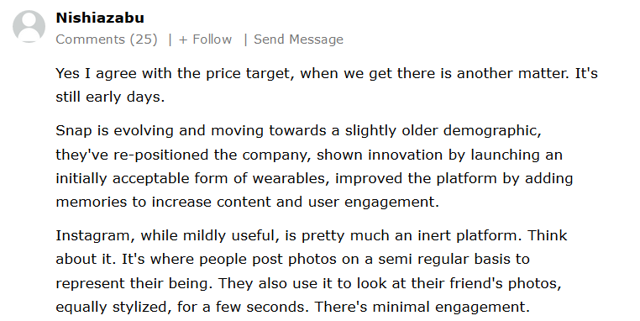 Source: Seeking Alpha
Also, one of my readers surfaced a very good point. Instagram's engagement is more minimal due to the nature in which the content is consumed. Facebook has attempted to address this by introducing video content and various other features that mimic Snapchat's key features. We don't think this is all that effective, because it would imply that these new features result in similar behavior/sharing patterns among the broad base of users, which is unlikely to occur. Furthermore, once a broad base of users has adapted to a specific usage pattern on a social network, this pattern is unlikely to change even upon the introduction of new features that could increase app engagement.
Instagram's efforts to be more Snapchat-like is in response to the differences in engagement between both platforms. It reminds us of Twitter's (NYSE:TWTR) effort to stir some excitement following its NFL licensing deal, which utterly failed.
Creating new software features or content is easy, but getting users to change their pattern of behavior at Instagram's current scale is impossible. Hence, the rate of adoption for "Stories" among Instagram's social elite was high, but the rate of usage among casual users - low. Instagram is more of an alternative TV-set than an actual network where people go to interact and share personal stories (divulging personal details).
In other words, friends are on Snapchat, whereas your favorite celebrity is killing it on Instagram.
What about advertising?
This is where every analyst concedes, as the ARPU ramp of Snapchat is more likely to ramp quicker than in the case of Facebook as the digital ad ecosystem for mobile monetization is well-established, and CPMs for video as opposed to banner is much higher. Hence, there's a long runway for heightened monetization.
The data supplied from Mark Mahaney over at RBC Capital Markets confirms that Snap's usage metrics is comparable to Facebook and Google Sites. Hence, the engagement rate on Snap Inc. already is comparable to larger social platforms, or internet utilities like Search. We must acknowledge that the minutes spent per user was much higher on Snapchat, at 25-30 minutes when compared to Instagram at 7 minutes and Twitter at 2 minutes. As such, we anticipate more opportunities to increase ad load, as Snap Inc. is nowhere near optimal ad allocation per user, or per session.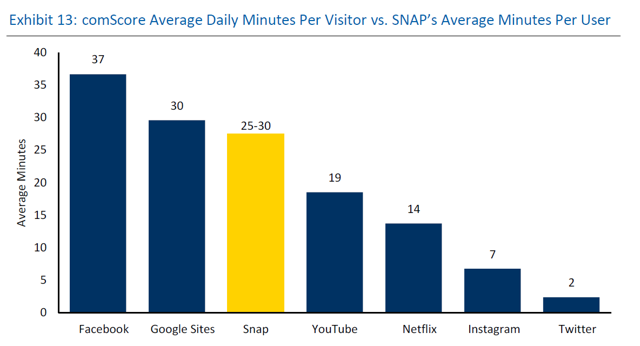 Source: RBC Capital Markets
Furthermore, it's worth noting that the willingness to spend more ad dollars on Snapchat has increased. Though, efforts are still somewhat experimental, the excitement among digital ad-agencies is trending higher, not lower.
Given the various efforts to introduce new geo filters, tags and less intrusive ad-units we think Snapchat is taking the right approach with regard to monetization. Furthermore, the introduction of features that better optimize targeting and increases in older/younger demos will increase the value proposition to advertisers over time. Hence, we're in the early stages of growth, and it's quite compelling folks.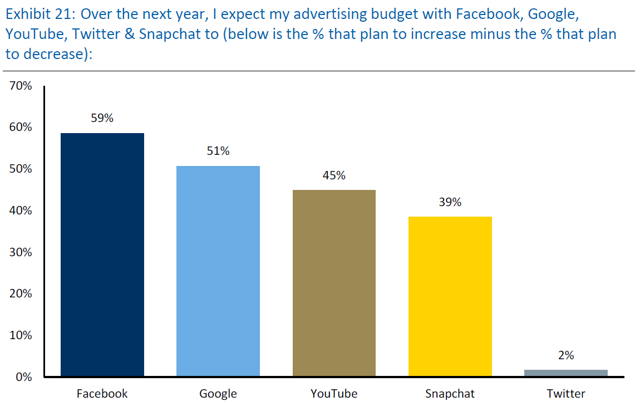 Source: RBC Capital Markets
The survey illustrates that 39% of advertisers plan to increase spend. Now, this is contingent on Snap's willingness to increase ad load or through organic growth because DAU expansion/time spent per user increases the aggregate volume of servable impressions. In other words, demand remains stable, but forecasting available supply remains difficult.
Furthermore, we haven't seen Snapchat introduce advertising that's more localized to small/medium businesses. Hence, the variables to growth are numerous. It's difficult to anticipate, which suggests Snap's management will pursue first.
Snap's management could increase its ad buyer pool by opening a self-serve platform. This would increase the addressable base of advertisers putting upward pressure on CPMs (cost per thousand impressions) or CPEs (cost per engagements). However, the other alternative is to increase the number of ad units displayed per user session, increasing ad load. Another situation, not accounted for, is the monetization of Snap's search functionality, which expands capacity to display ads in different areas of the mobile app, as opposed to the story feed.
The other growth driver? The adoption rate among new users and whether Snap Inc. makes a concentrated effort to expand into the emerging market. This is contingent on network bandwidth and whether the emerging markets can develop a denser mobile network, and low-end smartphone refresh drives functionality to a point where Snapchat's features become usable. We believe emerging market mobile users would adopt a service like this, though anticipating that eureka moment where users from the EM catch onto Snapchat remains difficult.
The emerging market is more of a 10-year narrative, and we'll be watching Snap Inc.'s efforts to expand into some of these markets closely. Currently, management is concentrating its efforts on the top 10 advertising markets, i.e. markets where digital ad spend is much higher.
Of course, we believe this makes sense for the immediate five-year timeframe, though we imagine the technological landscape shifting in favor of emerging markets over the same timeframe. Hence, we would not be surprised at all if Snap's strategy were to shift and move toward global mass market, as opposed to a concentrated effort into the top 10 internet geographies.
Final thoughts
The market prices in a high premium for rapid growth companies rather than earnings (value driven events). For example, Amazon (NASDAQ:AMZN) is a company that never rewards shareholders with earnings and always reinvests cash into operations and capex. Hence, it would not surprise us if Snap's valuation were to trade upwards on revenue CAGR expansion, as opposed to margin expansion.
We think Snap Inc. should and will make a reasonable effort to break-even in the next two fiscal years, but also invest as much cash necessary to introduce new features, launch new apps, and improve back-end monetization.
Furthermore, we believe the growth narrative is far more believable when compared to other tech IPOs as there's much less uncertainty. The scope of the opportunity is well defined, perception of risk less severe, and blue sky scenarios bountiful. Hence, we continue to pound the table on Snap because it's one of the most enticing momentum/growth stock we've come across since Facebook, Tesla (NASDAQ:TSLA), Netflix (NASDAQ:NFLX) and Amazon.
Snap Inc. remains on our top pick list, and we reiterate our 12-month $58.57 price target.
We value Snap by assigning a multiple of 69x dil. EPS on FY'20 estimates, which is conservative on both a peer comp and PEG basis. We then discount using the lower extremes of discount rate assumptions embedded into conventional VC (venture capital) models. As such, our discount rate is 20%, and doesn't conform to the firm's current WACC, which is approximately 11% to 12% currently.
Subscribers to Cho's Tech Research gain early access to our Snap Inc. financial model.
About Cho's Technology Research
Cho's Technology Research is SA's premier technology research package that gives investors and traders an additional edge when investing into tech companies. It's a trade publication, research service and an idea generator. Subscribers get an early preview on Cho's price target/recommendation changes.
This service comes at a low annual subscription cost of $20/month. The promotional price period will end on May 1st, 2017! For more information click here.
Disclosure: I/we have no positions in any stocks mentioned, and no plans to initiate any positions within the next 72 hours.
I wrote this article myself, and it expresses my own opinions. I am not receiving compensation for it (other than from Seeking Alpha). I have no business relationship with any company whose stock is mentioned in this article.