Things have not been good at StoneMor Partners (NYSE:STON). In October, the company reduced its hefty distribution by 50%. It has recently missed on revenues and earnings and has deferred the release of its Q4 and full-year results while revising its previously released filings. Employee turnover is also high. In the past eight months, the company has lost its CEO, COO, CFO, and more than 200 employees.
In August, David Meyers, the company's COO, stepped down. In January, the company's CFO, Sean McGrath, stepped down to "find opportunities outside the death care industry". Last month, the company announced that the CEO and co-founder Lawrence Miller was retiring.
In the past six months, the company's share price has fallen by more than 68% and is trading at its all-time low. It has a market capitalization of $234 million.
StoneMor Partners is the second largest company in the U.S. deathcare industry. The company has 316 cemeteries and about 100 funeral homes in 27 states and Puerto Rico. It generates revenue from cemetery and funeral home operations, and trust investments.
Although the company has not turned a profit in the past eight years, it has paid its shareholders handsomely (using borrowed funds). Last year, it reduced its distribution yield from 24% to 16%. Although this is a step in the right direction, it is not enough for a company with reducing cash flows and a payout ratio of -257%. A negative payout ratio means that the distribution is not included in the net income.
Red Flags
"Do you know the only thing that gives me pleasure? It's to see my dividends coming in." John D. Rockefeller.
When investing in a company, one of the things investors should look at is industry growth. The deathcare industry faces a difficult challenge going forward. While, of course, people are dying - as shown in the table below - many of them are opting for cremation. For a company like StoneMor that is directly involved in this industry this is a major trend that could affect its future profitability. According to StoneMor, a typical burial cost about $8,000 while cremation ranges between $5,000 and $7,000.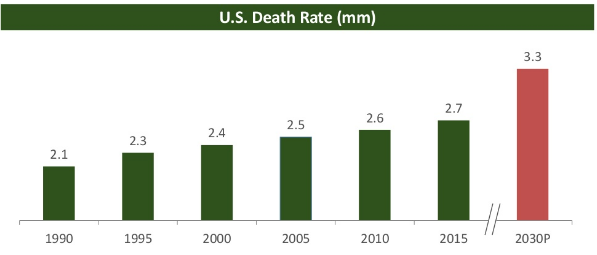 Source: StoneMor
I also find it difficult investing in a company whose senior managers are leaving. As mentioned, the company's CEO, CFO, and COO have left in the past eight months. As insiders, what do they know that ordinary investors don't know? The company's employee turnover is also high. In the past year, more than 200 employees left.
This week, the company announced Leo Pound as the acting COO. As per the statement, it seems that Mr. Pound will hold the position for a long time. He will earn $70,000 per month ($840,000 per year). This is significantly higher than the median pay for COOs. According to PayScale, the median pay for COOs with more than 20 years' experience is $180,000. Michael Webb, the COO of Service Corporation (NYSE:SCI), a similar (but bigger) company, earns $749,539 a year.
At a time when StoneMor needs a full-time COO and a person with experience in the deathcare industry, I don't believe Pound is the right person. Pound has been a director at the company for almost three years and has partly contributed to the current problems that it is facing.
He is the founder and president of Pound Consulting, a company that specializes in restructuring. He also serves as the director for three privately-owned companies: Alliance Holdings, Empire Petroleum Partners, and Nixon Medical. He is also an adjunct professor at Lehigh University. This means that a company that is struggling will have a COO who, on the side is running his consulting firm, is a director in multiple companies, and who teaches at a university.
The company has more than $316 million in debt. This might not be much for a company of its size, but based on its income, I doubt it will afford to honor its obligations. In March, S&P assigned the company a CCC+ rating. In November, Moody's (NYSE:MCO) downgraded the company from B2 to B3. This month, Moody's reaffirmed the B3 rating stating that:
The uncertainty, distraction and expense associated with the ongoing internal financial review, the delayed 2016 audit and sales force changes could lead to weaker than anticipated financial performance, driving the revision of the rating outlook to negative from stable.
The company stated this in its 2015 annual report:
Because we are obligated to dedicate a portion of our cash flow to service our debt obligations, our cash flow available for operations and for distribution to our unitholders will be reduced. The amount of indebtedness we have could limit our flexibility in planning for, or reacting to, changes in the markets in which we compete, limit our ability to obtain additional financing, if necessary, for working capital expenditures, acquisitions or other purposes, and require us to dedicate more cash flow to service our debt than we desire. Our ability to satisfy our indebtedness as required by the terms of our debt will be dependent on, among other things, the successful execution of our long-term strategic plan.
As the company undergoes a transition, there are doubts that it will manage to service its outstanding debt, distribute money to shareholders, hire and train new employees, and make acquisitions. Consider the following statement that the company made in its December presentation:

To remedy its cash cycle management and employee turnover, the company has promised to increase investment in hiring and training activities. This will likely increase operation expenses at a time when it needs to be saving.
Below is the company's profit history: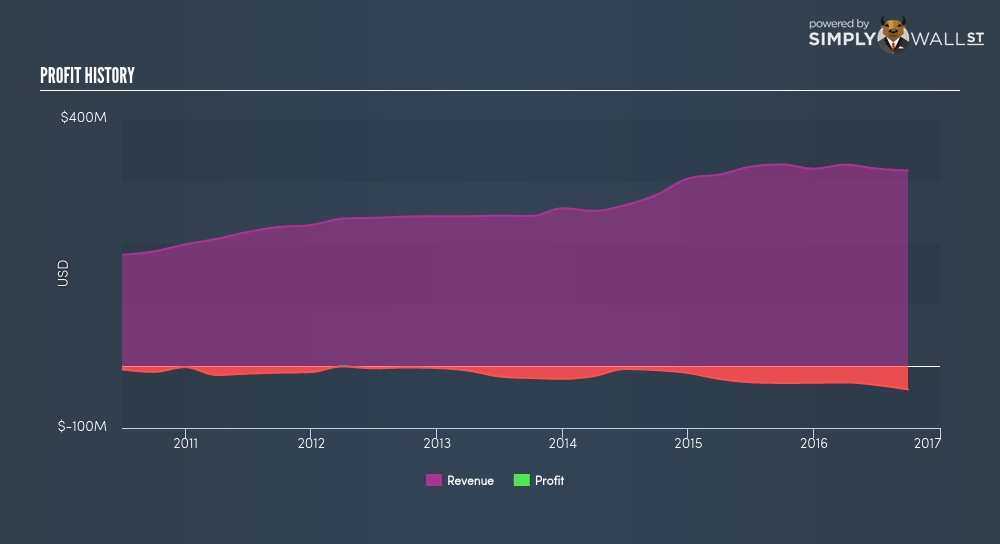 Source: Simply Wall St
The current share price might seem interesting to value investors. However, anyone thinking of buying the company as a long-term investment should consider the risks. Instead of investing in a cheap, unstable, high-yielding company, focus on stability.
Disclosure: I am/we are short STON.
I wrote this article myself, and it expresses my own opinions. I am not receiving compensation for it (other than from Seeking Alpha). I have no business relationship with any company whose stock is mentioned in this article.