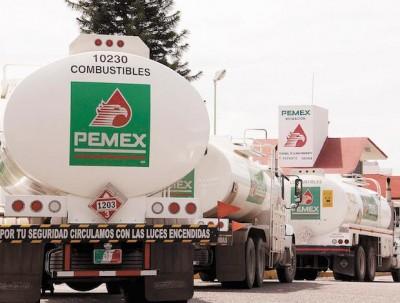 Investment theses:
The volatility in oil prices over the past decade has created plenty of concern for the business world and something tells me that it is not over.
One major topic often misunderstood by many investors, is the oil reserves and its impact on the future oil prices. A common misconception is about the reserves remaining. Worldwide reserves by the WorldAtlas, below: (click to enlarge).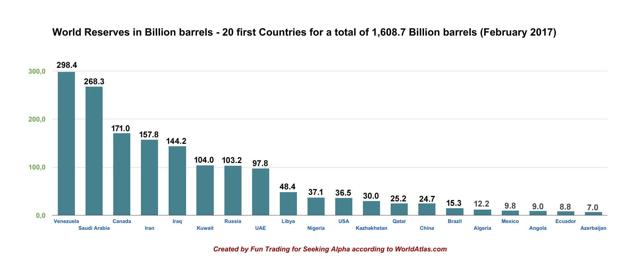 The main issue: Can we trust these numbers? And, unfortunately, the answer is no. Here is why?
Rystad Energy said in its report mid 2016, that Venezuela numbers are inflated estimates because much of those reserves are not "discovered". Rystad estimates that Venezuela only has about 95 billion barrels, which includes its estimate for undiscovered oil fields. The calculation used is not uniform and highly inaccurate. This is one Country and we can pick any of the 20 listed above and we can find inconsistencies as well (see Saudi Arabia case below).
A more logical approach (using similar metrics for all) to calculate and compare reserves worldwide is provided by Rystad Energy, which is an independent Norwegian consultancy firm.
Below is the Rystad reserves estimated Worldwide (2 PCX in 06/2016).
Total of 2,092 billion barrels (2PCX) and 652 billion barrels Proved and Probable (existing fields and discoveries).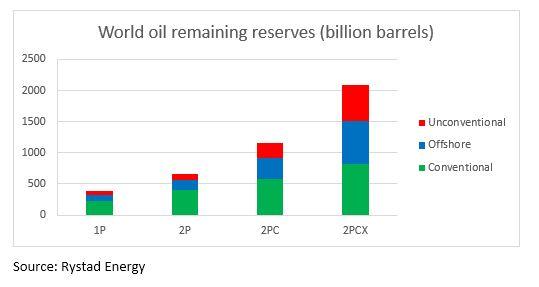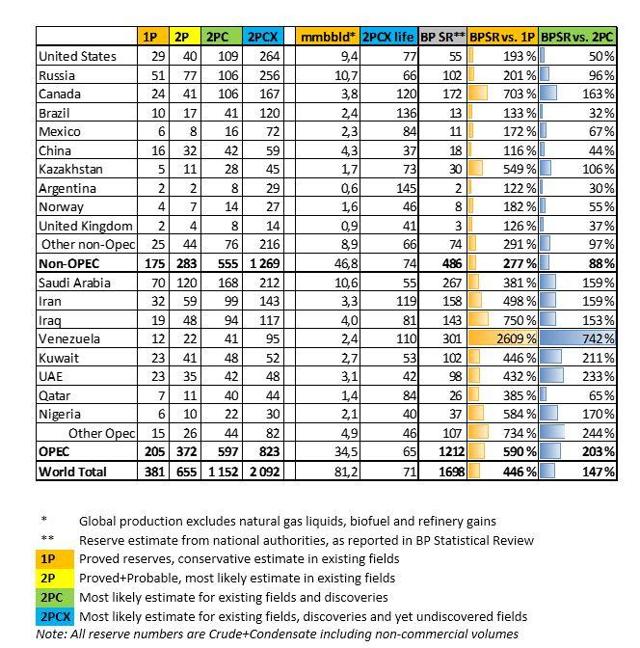 As we can see, OPEC represents 39.3% of the total 2PCX reserves. It is important also to understand the difference between the 2P reserves and 2 PC/2PCX which are much more subjective.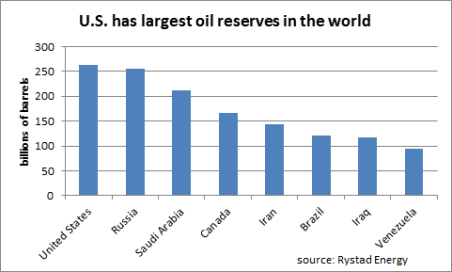 Surprisingly, the USA holds the most 2PCX reserves with Texas alone (Permian) who holds potentially 60 billion barrels according to Rystad. US Offshore reserves account for a little less than 50%.
A huge uncertainty is about the reserves indicated by Saudi Arabia.
Saudi government increased its oil reserves estimates, from 170 billion barrels in 1987 to 260 billion barrels in 1989, totally out of the blue and without explanation. Since then, Saudi Arabia has not changed its oil reserves -- for more than 25 years -- which stand at 260 billion barrels raising serious doubt about the true value of the reserves (the real numbers are closely guarded state secret).
As we can see above, a large part of the 2PCX is about "yet undiscovered fields", and this is the problem. Undiscovered means investment, a lot of it. To find new discoveries the oil majors must invest in exploration CapEx and it has not been the case at all. How can we expect to get the
Let's talk about Mexico as an example.
A recent article published on Bloomberg indicated the following:
Mexico's existing oil reserves are dwindling so fast the country could go dry within nine years without new discoveries.

That's the message from the National Hydrocarbons Commission, which said Friday that the reserves fell 10.6 percent to 9.16 billion barrels in 2016, from 10.24 billion barrels a year earlier. Once the world's third largest crude producer, Mexico's proven reserves have declined 34 percent since 2013.

The decline in proven reserves is driven by record-low drilling activity the last three years, according to CNH Commissioner Hector Acosta. State-owned producer Petroleos Mexicanos drilled 21 wells last year, a record low, after averaging 31 per year since 2010.
Rystad Energy estimated in July 2016, 2P reserves of 8 billion barrels for Mexico with a 2PCX of 72 billion barrels. Rystad is showing a serious problem for the Country reducing the 2P reserves to 8 billion from 9.16 billion barrels.
One general comment is that the reserves calculation is not an exact science at all, and to get a "middle way", we need to compare data from different sources, and trust mostly independent companies.
The 2PCX reserves number is based on "virtual" metrics dependent upon billions of dollars in exploration CapEx that has not been invested for the past three years. According to Rystad, proved reserves P1 represent only 18.2% of the total reserves.
Mexico is well aware of the situation, and in December 8, 2016, Mexico awarded eight offshore blocks to six bidders made up from a total of 12 different companies and BHP Billiton (NYSE:BHP), received operatorship and 60% interest of Blocks AE-0092 and AE-0093 covering Trion field as well.
On December 6, 2016, OffshoreMag announced that Mexico's deepwater bid round winners have been revealed.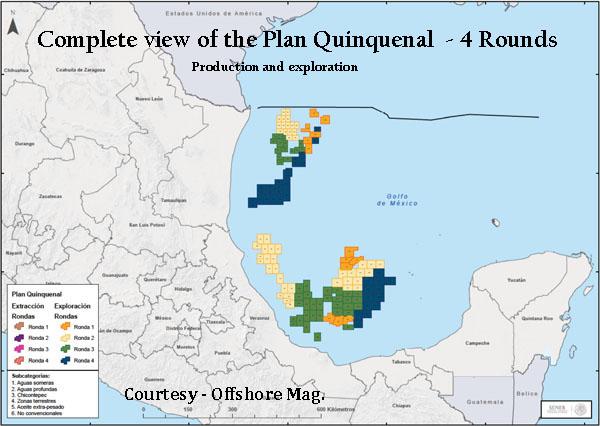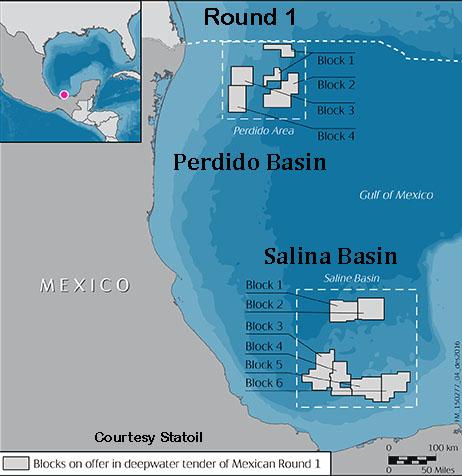 Awards Details:
Blocks
Company
More information if avail.
Perdido Fold Belt Basin - Mexican Sector.
1
CNOOC (China - Hong Kong)
2
Consortium of Total & ExxonMobil
Total will operate block 2 in the Perdido basin with a 50% interest.
3
Chevron, Pemex & Inpex
Chevron designated operator. ("1")
4
CNOOC (China -Hong Kong)
Salina Basin
1
Statoil, BP &Total
Total, Statoil, and BP are equal partners (33.4%) -
2
NO BIDS SUBMITTED
3
Statoil, BP &Total
Total, Statoil, and BP are equal partners (33.4%) -
4
PC Caligari & Sierra Offshore
5
Murphy Sur, Ophir, PC Caligari & Sierra Offshore
6
NO BIDS SUBMITTED
2 Blocks adjacent to Round 1 in Perdido Fold Belt - Trion Discovery
1
BHP Billiton Petroleo Operaciones de Mexico, a unit of Australia's BHP Billiton Ltd.
BHP received operatorship and 60% interest of Blocks AE-0092 and AE-0093 covering Trion field (see below).
Note: The winning bids for both blocks consisted of an additional royalty of 10% (on potential future revenues) and an additional work program equivalent to one biddable well per block. Each block also has a minimum work program as defined by the authorities, including a variety of geological activities but no required wells.
("1") The concession is in an area where new hydrocarbon discoveries are expected, close to the PEMEX-discovered Trion oil field and other producing fields on the US side, one is the greatwhite field (see map below).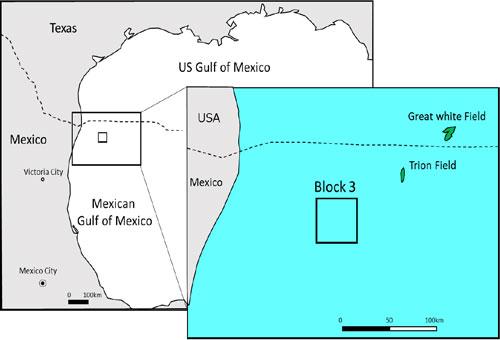 Possible impact on the offshore drilling industry:
The two first companies that come to mind is, of course, Seadrill (SDRL), Seadrill Partner (NYSE:SDLP) and Transocean (NYSE:RIG). Transocean will probably monetize this situation somehow? Its fleet is well diversified and has won basically 40% of the total contracts available the past 12-months.
However, PEMEX who has a special relationship with Seadrill and 50/50 JV SeaMex (Jack-ups) could eventually extend the relationship to the Ultra-deepwater.
Others companies that could be competing:
Pacific Drilling (NYSE:PACD) which has a good relation with Chevron and several drillships stacked actually such as the Pacific Meltem or the Pacific Santa Ana in 2017.
Noble Corp. (NYSE:NE) has two state of the Art drillship now idle after being terminated by Freeport McMoRan in the Gulf of Mexico the Noble Sam Croft and the Noble Tom Madden.
Rowan Companies (NYSE:RDC) with the Rowan Relentless, Rowan Renaissance and Rowan Reliance.
Diamond Offshore (NYSE:DO) with the Black series and the semisub Ocean GreatWhite.
Vantage drilling Inc could offer the Titanium Explorer.
Ensco (NYSE:ESV) with its semisubmersible serie 8500's and drillship DS x.
Atwood Oceanics (NYSE:ATW) with the Atwood Condor.
Conclusion:
Offshore is a crucial piece of the puzzle when it comes to reserves and production. For about three years now this segment has been totally neglected by IOC and NOC.
However, simple logic tells us that it will be a time soon when the oil sector will be forced to invest again in exploration CapEx. It is just a matter of time.
Important note: Do not forget to follow me on the offshore drilling industry. Thank you for your support.
Disclosure: I am/we are long RIG, ESV.
I wrote this article myself, and it expresses my own opinions. I am not receiving compensation for it (other than from Seeking Alpha). I have no business relationship with any company whose stock is mentioned in this article.
Additional disclosure: I basically trade and day trade most of the stocks indicated in this article. My main long position is RIG.
Editor's Note: This article covers one or more stocks trading at less than $1 per share and/or with less than a $100 million market cap. Please be aware of the risks associated with these stocks.