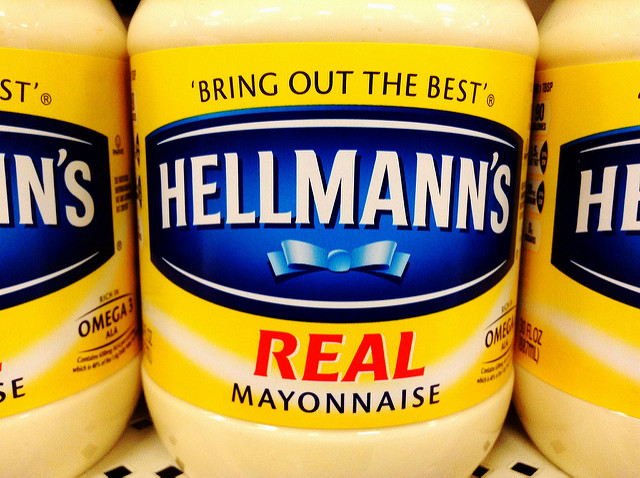 The last time I reviewed results from consumer giant, Unilever (NYSE:UL)(NYSE:UN), was for FY2016. Since then, a lot has happened.
Kraft Heinz (NASDAQ:KHC) made a failed surprise mega-bid for the company in late-February. Shortly thereafter the company announced a strategic review to satisfy investors that Unilever is better off alone.
With it came a number of dramatic declarations. They will look to dispose of their underperforming spreads business. The dividend would get a massive 12% boost. They are to review their longstanding dual-listed, Anglo-Dutch structure (which I wrote more on previously). They are going to accelerating returns through margins and cash flow expansion and build leverage levels.
Unilever's share price has therefore had a strong run. The bid naturally caused a spike. Yet since the approach was repelled, its share price has continued to grow and grow.
On the back of all this, their Q1 2017 trading results may appear something of an anti-climax. Perhaps. But they make important and interesting reading.
Top Line Strength
Overall, the global picture looked very healthy. All regions except for Europe saw total revenue figures higher than this time last year resulting in revenue lifting from €12.5 billion to €13.2 billion: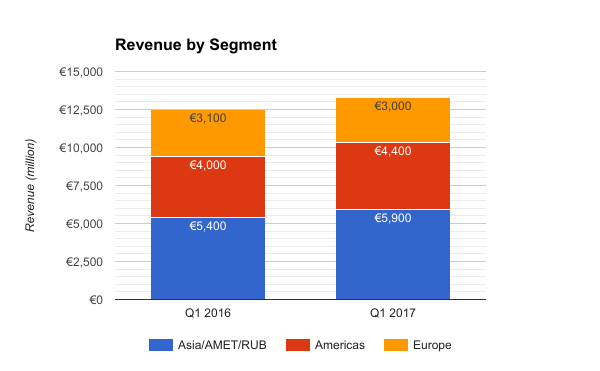 Although again currency tailwinds helped to a large extent, the largest contributor remained strong underlying organic growth: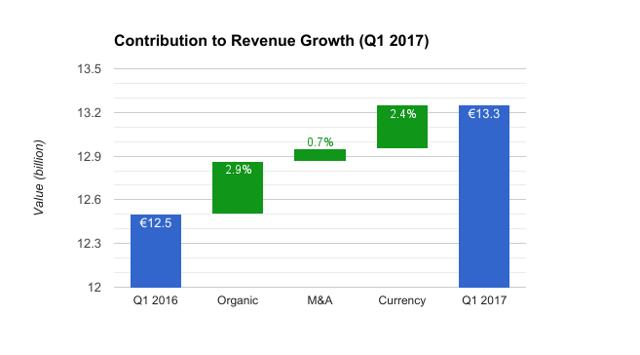 From a quick glance, therefore, there is little not to like here. Excluding currency effects, the company managed to generate about 3.6% in growth of which the vast majority was through organic rather than acquisition growth.
So does this positive view hold up to closer scrutiny? Let's take a quick look.
Turning Down the Volume?
Underlying organic growth was certainly encouraging solid with it once again outperforming its market generally.
Nonetheless, it was certainly not a perfect set of growth figures.
The company has continued to rely heavily on pricing hikes to support underlying sales growth in Q1 2017 with volumes shrinking again (following a similar trend in the recent few quarters):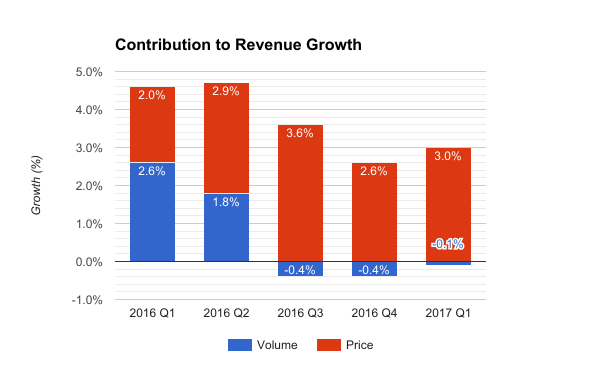 Maybe not the picture-perfect sort of chart we want to be seeing with a nice even split between volume and pricing growth. Yet, it is interesting to note the extent to which volume shrinkage case has slowed since H2 2016 where we saw volumes actually declining 0.4%. With that in mind, 0.1% declines in Q1 2017 is even more encouraging.
When it is more pleasing when guaged against the -2.6% volume growth comparator it was up against from Q1 2016.
Nonetheless, the reality is that volume growth has withered away in recent quarters: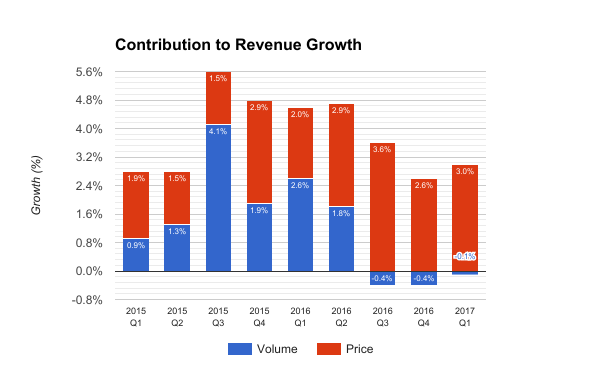 As ideal as a return to volume growth in coming quarters will be, it is hard not to accept that 2.9% organic growth remains a compelling result in what remains a tough consumer market (in which Unilever's categories generally saw value increase 2% and volumes decline up to as much as 1%). This is true even if pricing powered the entirety of this.
Fundamental Foods Shift?
This is even more the case when we dig deeper into what has driven to tough volume performance. First of all, we have to turn to a familiar focus in my Unilever analyses of late: Food.
Food remains a very large part of the overall business even if in recent years it has been becoming increasingly less so:

The fact that its saw particularly weak underlying growth in Q1 2017 is, therefore, certainly not something to be overwhelming delighted about: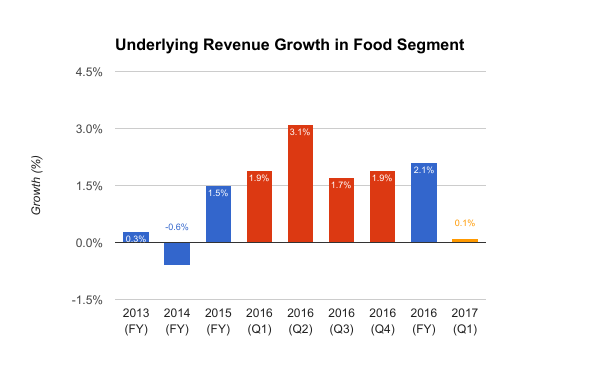 Growth was just about squeezed out at 0.1%. However, this was entirely resting on pricing as volumes (after improvements in recent quarters) took a significant dive: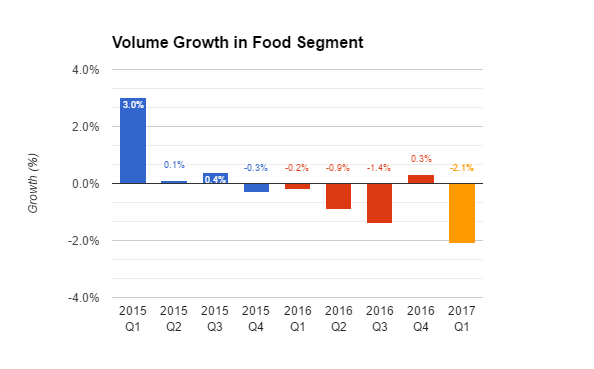 Of course, Unilever has been very clear on the fact that their spreads division-including Flora and Stork brands-has been a critical underperformer in this segment. The fact that their recent post-Kraft Heinz bid strategic review has resulted in spreads facing either disposal or demerger from the company is therefore noteworthy for those with an eye to the future.
Historically, their intention to continue holding the spreads business rarely saw them explain in detail the actual effect it was having on overall performance. Now, with spreads receiving their marching orders, they have provided this detail and it highlights the remaining appeal of non-spreads Food business: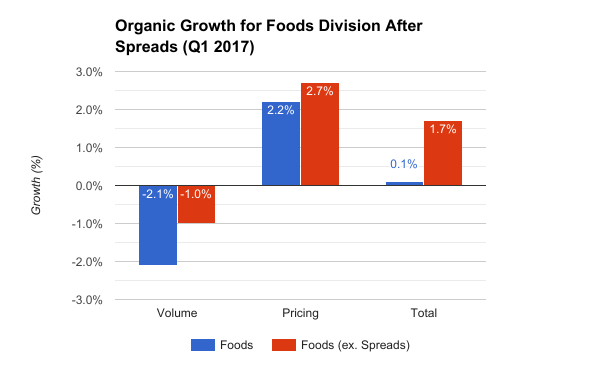 Although volumes still declined in the segment in Q1 2017, it was to a far lesser degree. What is more, generally speaking the greater the price hikes the more you would expect negative movement in volume growth. The fact that the remaining food business also saw stronger pricing growth yet saw shallower volume declines is a reminder of the pricing power that the remaining food brands hold.
The reality is that the food market remains a challenging one from a growth perspective. To see Unilever's remaining Food brands eke out growth still is immensely satisfying.
The importance of Food to overall revenue is a also highlighted by the fact that excluding spreads also has a tangible impact on overall Unilever organic growth figures: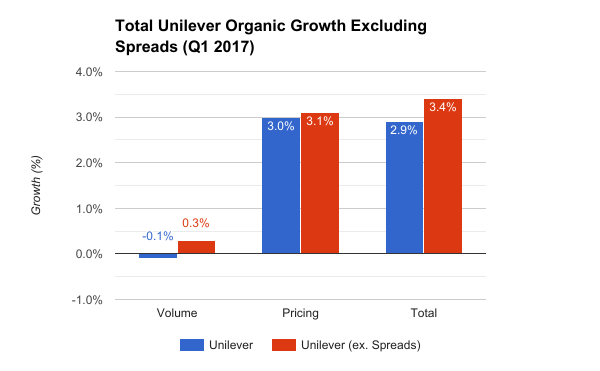 We should get an even clearer picture of the post-spreads business from H1 2017's results as the company plans to show them separately from that point onwards until their disposal or demerger.
A Struggle in the Americas?
The biggest fall from a regional perspective was in the Americas. Although Europe continued to bumble along well below 0%, it was the Americas fall from underlying growth around 6% over the last few years to just 1.2% in Q1 2016 which has really pulled down its recent comparative performance: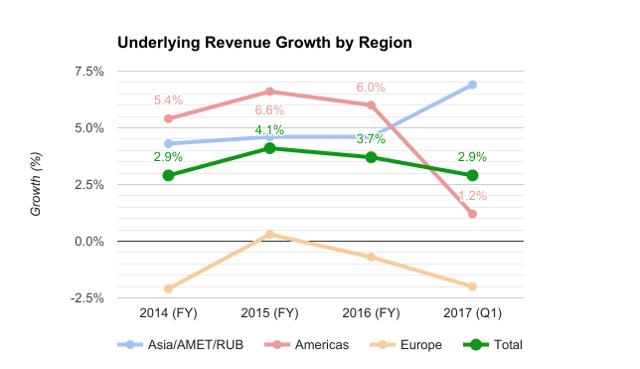 This was chiefly driven Latin America's continued economic troubles. With Latin America contributing almost half of total Americas revenue this is no small matter for Unilever: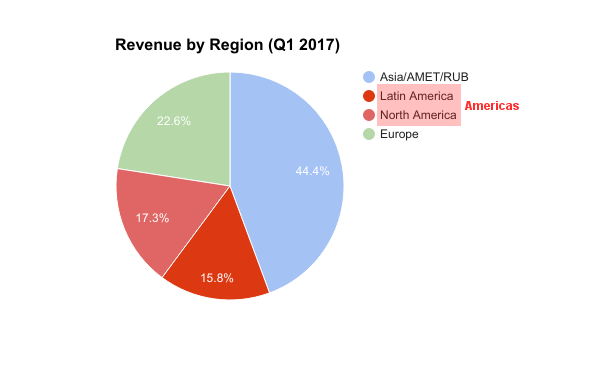 In recent times, Unilever has had to hike prices to offset additional costs created by weak Latin American currencies which have accelerated the volume declines you would expect as consumers cut back on spending in tough economic situations.
With strengthening currencies but still struggling economies, pricing hikes have slowed in Q1 2017 (from over 13% to about 7%). Yet volumes have continued to decline as consumers continue to struggle.
The result was that in Q1 2017 pricing hikes failed to counteract volumes declines: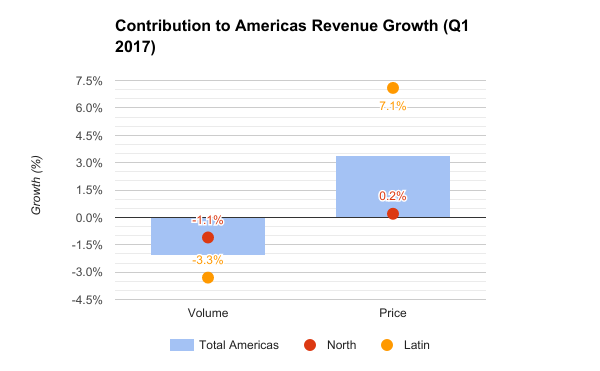 As is apparent, however, the same was also true of North America's performance which was also weaker than in 2016, though to a far more modest extent.
Important also is the fact that the main drags on growth numbers in both Europe and North America were their spreads business. Naturally, once Unilever's finds a means of detaching that business from the rest of the company, investors should expect to see a healthy bump in reported figures.
Conclusion
Overall, I think that investors can remain content with these results from Unilever. Although the trend towards relying very heavily upon pricing has continued, there are plenty of reasons to be encouraged with what to expect in the future. Regional challenges (especially in Latin America) will soften in time and the long-term secular consumer growth trends in the area will reestablish themselves. Similarly, with their intention to drop their consistently underperforming spreads business it should leave the remaining business generating a far more broadly healthy, growing set of figures.
I can understand why Unilever were keen to hold onto their spreads business in the past. Though a drag on growth figures, it remains a stable, cash flow generative business. Disposing of it, however, will be a welcome move to allow them to focus attention on those parts of the business which are both growing and cash generative. Fortunately, the same stable, cash-generative appeals the spreads business had for Unilever should mean they can attract a buyer and (hopefully) at a good price.
The Kraft Heinz bid was clearly helpful in crystallizing their view that spreads should find a new home. Similarly, it has helped to focus attention upon enhancing operating margins and cash flow generation levels.
On the latter cash flow point, they had already set in motion the means of doing this before Kraft Heinz reared its head on the scene. CapEx spending as a proportion of revenue was expected to fall back down to a 3% to 3.5% level after riding quite high in recent years (Source: Adapted from 2016 Full Year Results Presentation):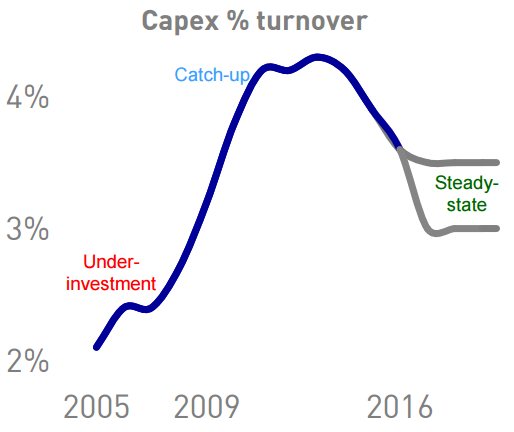 For that reason, Unilever was probably already looking at continuing its high-level of shareholder return in the near future. Nonetheless, the significant 12% dividend hike that came with their Q1 2017 results (again stimulated by the failed bid) will certainly be welcomed immediately by investors. The company had not, however, been disappointing on that front in recent years anyway: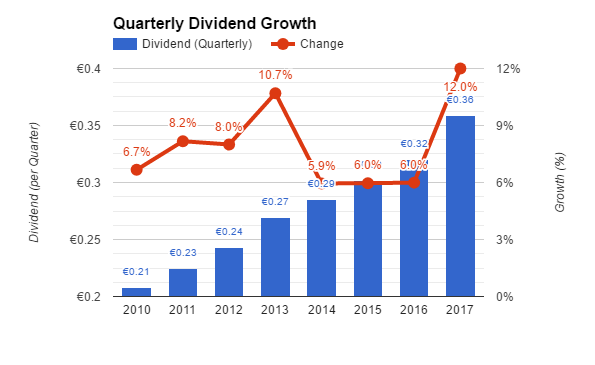 For me, therefore, Q1 2017's results (and indeed the changes after Kraft Heinz's bid) does not affect my positive long-term view of the company.
What I cannot quite yet decide is whether or not I would be tempted to top up my holding at its current price. When I last offered an estimated fair value price at FY2016, I emerged with a $42.75 (€40 for Amsterdam-listed and £34.15 for London-listed shares). Since then their share price has soared past this figure off the back of the Kraft Heinz bid and Unilever's response: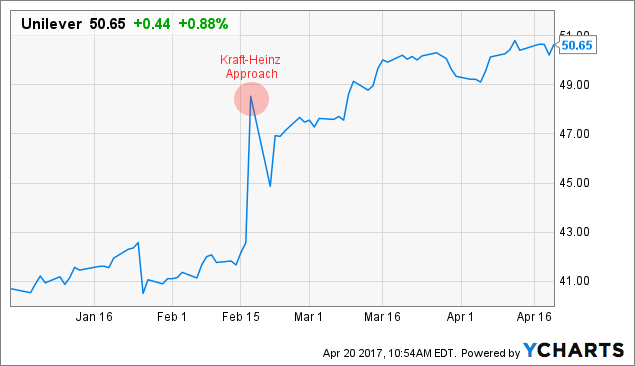 With a heightened focus on the main growth drivers in the business alongside a sharper attention on margins, cash flow generation and shareholder returns, I'd find it hard to argue against the continued appeal of Unilever at the current price. Yet, having a full position already, I still can't quite put my finger on my own fresh fair value price at which I'd be tempted to add more.
What is certainly the case is that Unilever continues to impress in what remains a challenging environment. What is more, its plans for accelerating returns to fend off any renewed takeover interest, which have driven so much of the recent share price gains, appear both attainable and attractive for long-term investors. Hopefully once we get our hands on their fuller H1 2017 results (which will also include cash flow figures) in a few months we will have more clarity on how much and how quickly they can generate that acceleration. For now, I remain a content holder of shares.
Notes
All graphs, tables and the calculations contained within them were created by the author unless otherwise noted. All data was collected from publicly accessible company filings and reports. Creative Commons image reproduced from Flickr user Jeepersmedia.
Disclosure: I am/we are long UL.
I wrote this article myself, and it expresses my own opinions. I am not receiving compensation for it (other than from Seeking Alpha). I have no business relationship with any company whose stock is mentioned in this article.