March was a month highlighted by the connected car as Intel's acquisition of Mobileye for a price of 70x enterprise value to EBITDA, on a trailing twelve-month basis (TTM), reflected the high demand for technologies in this market. But more importantly, the acquisition highlights a new world of investing strategy, where a future vision of technology and ecosystems is essential for survival.
The connected car is similar to many of the Internet of Things (IOT) ecosystems emerging between industries that have previously never held relationships. Traditionally, these companies were segmented by their verticals, like the semiconductor manufacturers or the analytics software providers, but the internet of things is quickly blurring those lines.
The IoT is forcing horizontal integration; companies are partnering and acquiring outside their core industry, in preparation for these blurred boundaries. Intel for example, has been heavily criticized for their valuation of the semi-manufacturer, but few have realized Mobileye's potential as an edge-enabled software company, or hardware-as-a-service. In the near future, analytics and communications will be processed on silicon located at the "edge" of the network, as opposed to the current process occurring in the cloud, and these chips will create massive data services for vehicles. So instead of simply expanding their chip offerings, Intel has expanded their position in the value chain by acquiring the ability to create, service, and own data.
This new world of enabling services from connected hardware and infrastructure requires more creative business models and industry-pioneering partnerships, but those who do not adapt to this dynamic will quickly become vertically-siloed and left for dead, with the likes of movie rentals, physical maps, and bookstores.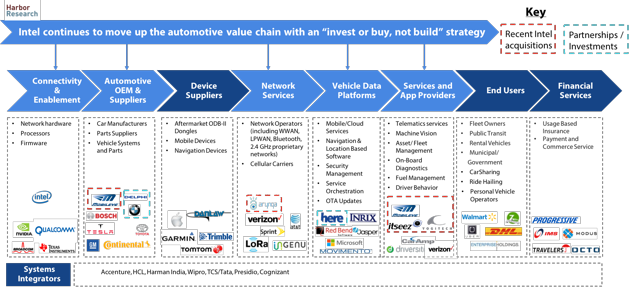 Table of Contents
Companies you should be Watching:
M&A
Fiber Networks: MetroNet / Venus Business Communications, FirstLight / Finger Lakes Technologies Group and Sovernet Communications
Water Tech: EQT Partners / Innovyze
Data Storage: HP Enterprises / Nimble Storage
Autonomous Vehicles: Intel / Mobileye
Platforms: Software AG / Cumulocity, CA Technologies / Veracode, GE / Monica Healthcare
Energy: Toshiba / Landis+Gyr
People Moving
Baidu - Head of Data & AI leaving
Intel - Former CIO and GM of IoT Kim Stevenson lands at Lenovo, and VP of IoT is tapped to lead broadband expansion for the state of Colorado
Avnet - Names a VP of IoT
Earnings
Platform: Progress Software
Enablement: Marvell Technology Group
Industrial: KMG Chemicals
Insurance: Munich Reinsurance
Private Funding
Enablement: Mythic, Innovium
Artificial Intelligence: Casetext,
Augmented / Virtual Reality: Nearpod, WayRay
Autonomous Vehicles: Autonomic, EV-Box
Network / Network Services: Filament, Cradlepoint,
Platforms: Evrthng, Borqs, Data Robot, Arable Labs, Confluent, Iconnectiv, Kensho, Flo Live, Pepper
Robotics: Casabots, BluHaptics
Going Public
MapR
Cloudera
WideOpenWest
Okta
Companies you Should Be Watching:
For Growth Investors: Axcelis Technologies (NASDAQ: ACLS) is a manufacturer of ion implanters - equipment for making semiconductors. The company is quickly taking share from the industry leader in this $1B annual duopoly market because of their proprietary technology and the increasing need for chips in connected devices.
What do they do? Axcelis makes and sells ion implanters, and they offer after-market service for this equipment. The implanters take the basic elements of raw silicon, which cannot conduct or insulate a charge, and substitute dopant atoms into the silicon, making transistors. This is a fundamental step in creating microchips.
Driven by the IoT? The IoT generates massive amounts of unstructured data which requires more storage space, and this is driving the need for more memory chips, specifically, 3D NAND chips which are a key market for Axcelis. There are 62 new fabs and lines forecasted from 2017 to 2020, and each of these will need implanters.
Competition? Axcelis held a low single digit market share from 2009 through 2014, until they released their proprietary "spot beam" technology to surpass the legacy "ribbon beams" used by the industry leader, Applied Materials (NASDAQ: AMAT). Axcelis's patented technology offers over 2x productivity, more versatility for use with diverse set of microchips, and an increased life of the equipment. Market share since has risen from 6% in 2012 to over 20% in fiscal 2016, gross margins have grown from 28.6% to 37.3%, and net income's increased from a loss of $(34mm) to $11mm.
Valuation? The company has $70.8mm in cash, $47.6mm in debt, a long list of patents, and although shares are valued at 20x EV/EBITDA , management has stated they expect to generate $2.80 in earnings over the next 18-24 months, which implies a 1.5-2yr forward price to earnings ratio of 6.4x. For comparison, Applied Materials trades at 12x EV/EBITDA and 19x P/E.
M&A
The fiber infrastructure consolidation that we highlighted last month continued through March with Metronet acquiring Venus Business and Oak Hill Partners acquiring Finger Lakes Technologies Group and Sovernet Communications.
London: Metronet acquired Venus Business Communications, a London-focused fiber network provider, with the stated goal of providing better strategic access into the London market as it seeks to launch a "disruptive" last-mile platform. The acquisition gives Metronet access to six more data centers, with the company saying that it is now connected to all key strategic UK data center locations as well as 14 Internet Exchanges.
New England: Oak Hill Partners added more fiber miles to their holdings by acquiring Finger Lakes Technologies Group (FLTG) from Trumsburg Telephone and Sovernet Communications of ATN International. FLTG's 2,500 route miles in New York and Pennsylvania and Sovernet's 4,600 route miles across New York and Vermont will be merged into the March 2016 acquisition of FirstLight which will now operate a network of approximately 12,000 route miles, from New York to Maine and in Canada.
The other big players in geographic market include Level 3 (NYSE: LVLT) and Zayo (NSYE: ZAYO), who we covered in last month's report.
Takeaway: Similar to the connected car scenario with Mobileye, this is not just a fiber-infrastructure consolidation but rather an entry into the highly profitable world data enablement and aggregation services.
Water Infrastructure software was also prominent this month as EQT Partners agreed to acquire Innovyze , a provider of software for water treatment facilities for $270mm, from consulting services provider Stantec (NYSE:STN).
What do they do? Innovyze sells software services. Established in 1996 as a subsidiary of natural resources engineering firm, MHW Global, they develop smart water infrastructure modeling and simulation software solutions for global water/wastewater utilities, government agencies and engineering organizations. MWH was then sold to Stantec in 2016 for $800mm and deemed a non-core asset, stemming the sale to EQT. Financials beyond the purchase price were not released.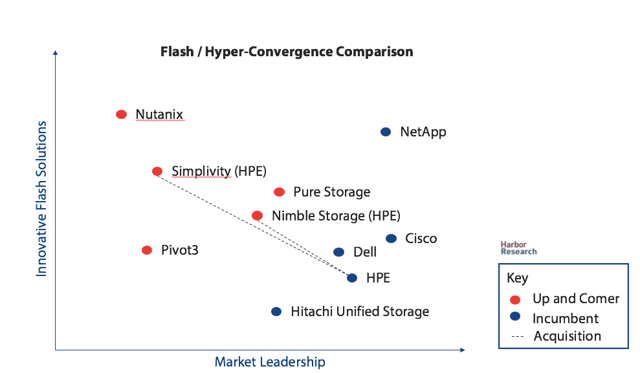 Hybrid Storage: Hewlett Packard Enterprises (NYSE: HPE) announced a $1B cash offer for Nimble Storage, a 45% upside to the company's market cap. This is an aggressive strategy by HPE to provide more flash offerings as a faster and more powerful storage option to support the growing need for faster data transmission across enterprises.
What do they do? Nimble offers converged flash storage arrays (systems) with predictive analytics for small to medium size businesses. More simply, they provide faster cloud data interactions via an engine that can predict and prepare for the bandwidth demand of hauling heavy data loads, so that the interactions with the cloud are always running at peak performance.
Valuation? Nimble's averaged a quarterly burn rate of $40mm, inclusive of employee stock options, so a takeout multiple of 3x price to sales given their deeply negative cash flow is expensive. The company has established a 65% revenue CAGR since going public in 2013, but the sales growth has been offset by expanding losses, as illustrated in the chart below.
Who competes with them? Nimble's closest competitor, Pure Storage (NYSE: PSTG) traded at 1.7x before the acquisition announcement ( now at 2.65x), but PSTG is also growing a +100% CAGR. Their revenue growth has also stemmed an increase in losses, albeit with more revenue growth. Both HPE and Cisco are vying for next generation data center technology, and Pure Storage's slightly more reasonable valuation is likely on Cisco's radar, especially with their Preferred Solution Provider Status. Further, PSTG released a product to directly compete with Nimble's predictive analytics engine, Infosight, last year, called m10. We believe there's a good chance Pure Storage could capitalize on the merger transition and eat Nimble's mid-market share of flash storage, and we would not be surprised to see Cisco put in a bid in the near future.
More detail on our take: here.
Autonomous Vehicles: Intel (NASDAQ: INTC) continues its push into the autonomous vehicle market with the acquisition of Mobileye (NYSE: MBLY), an Israeli autonomous driving sensor and software company, for $15.3B.
What do they do? Mobileye's sales are founded on the EyeQ chips, essentially these are systems on a chip (SoC) allowing for affordable and reliable automatic emergency braking, lane marking detection, and traffic sign detection.
Who do they compete with? NVIDIA (NASDAQ: NVDA) recently developed camera-based systems that use neural networks to both learn driving habits and quickly adapt to always-changing road environments. Mobileye's reinforcement learning AI technologies may match or outperform any NVIDIA AI offerings, but this competitive landscape will expand beyond transportation as Intel integrates Mobileye's technology into other markets such as manufacturing, warehouse and logistics, surveillance, drones, augmented and virtual reality, sports-entertainment and consumer-retail.
Valuation? Intel's offer valued Mobileye at 43x price to sales, or 70x EV/EBITDA versus Nvidia's valuation of 33x EV/EBITDA and 8.3x price to sales.
Intel's Strategy: Mobileye is the most recent in Intel's string of transportation-based acquisitions and investments, which include acquisitions of autonomous vehicle functional safety player Yogitech in April 2016, computer vision company Itseez in May 2016, and a 15% ownership stake in high-definition mapping company HERE in January 2017.
More detail on our take: here.
Platforms: Software AG (OTCQX: OTCQX:STWRY) Acquires Cumulocity for an undisclosed sum.
What do they do? Cumulocity was spun out of Nokia in 2010, from the Nokia Siemens Network, and it was a pioneer of simplifying M2M communications in an easy to use interface. They offer a middleware platform for connecting devices and sensors and managing them via applications from a central platform.
What's in it for Software AG? Adding Cumulocity's platform to Software AG's portfolio allows enterprises to integrate their IT applications with operational IoT devices. For Software AG, this acquisition is an expansion of its technology leadership in the IoT area. They recently acquired artificial intelligence company Zementis in December 2016.
Should you dig into Software AG? The companies have been partnered with an integrated solution for 2 years, so this acquisition won't change the competitive advantage of the business. However, Software AG has aimed its growth drivers towards IoT and Industry 4.0 with the December 2016 purchase of deep learning software Zementis and recent innovation alliances with Bosch and Dell for IoT.
Valuation: The company has $112mm in net cash and trades at 19x P/E and 9.4x EV/EBITDA. When compared to peers, such as CA Technologies, Software AG trades at a slight premium, largely due to their ability to grow earnings while competitors (PRGS, CA, SAP, IBM, ORCL) are seeing profit erosion from legacy, on premise IT spending moving to the cloud.
Platforms: CA Technologies acquires Veracode for$614mm, the latest in lengthy and aggressive M&A strategy by the software provider.
What is it? Vericode will be used to broaden CA Technologies' development and testing offerings for enterprises and app developers, with a focus on identifying and mitigating risk early in the development process.
Aggressive M&A strategy? The acquisition closely follows CA Tech's December purchase of automation software firm, Automic Holding, and earlier in the year, the offer for Israeli testing outfit BlazeMeter last year, identity management outfit IdMlogic, cloud devops supplier Rally Software, and automated testers Grid-Tools.
Why? The purpose of this strategy is CA Technologies' transition out of the declining mainframe business which represented over 50% of fiscal 2016 revenues and a majority of the company's earnings. CA is looking to move up the stack with these application layer acquisitions, and we expect these roll-ups to continue.
Is it worth digging into CA Technologies? Not yet. The company has $2.84B in cash and $2.08B in debt, revenues and earnings are both declining at a mid-single digit rate (and have been for the past ~5 years), and the company is valued at 17x P/E and 8x EV/EBITDA, both on a trailing twelve-month basis. We're neutral on the transaction due to the mix of fundamentals and the stock bumping up against 15-yr highs despite the disappointing income statement.
Energy: Japan's Toshiba Corp (OTCMKTS: OTCPK:TOSYY) is preparing a $2B divestment of smart meter and IoT infrastructure groupLandis+Gyr. The divestment is likely a consequence of Toshiba's balance sheet restructuring after a $6B loss and bankruptcy of their U.S. nuclear unit Westinghouse Electric.
What do they do? Landis is the world's largest producer of power control smart meters. Toshiba bought it for $2.3B in 2011 and soon thereafter sold 40% of the company to the Innovation Network Corp. of Japan.
Who's bidding? UBS (NYSE:UBS) has been hired to shop the deal, but rumors have circulated that there's little demand so far. Siemens, who owned Landis+Gyr from 1998 to 2002, has cited no interest in participating, but given the M&A activity in smart meters over the past half-decade, we'd be surprised if there wasn't notable interest from major buyout groups like CVC, Cinven, Advent, KKR, Blackstone, Onex and Clayton, Dubilier & Rice.
Valuation? The company expects sales to grow 5% to $1.64B for fiscal 2016, implying a multiple of 1.4x price to sales and 10-11x EV/EBITDA, if Toshiba can execute this deal near breakeven. This would be in line with the 10.7x multiple that Xylem paid for water tech company Sensus last year, but others have reported UBS presenting L+G as a Swiss Industrial like Gerberit, Belimo, or Sulzer, who garner valuations at 12-19x or $2.5B.
Healthcare: GE Healthcare (NYSE: GE) acquires fetal monitor manufacturer Monica Healthcare. A 2005 spinoff of the University of Nottingham, Monica Healthcare has been quickly acquiring market share in the connected fetal monitoring market with their devices. The purchase will improve GE Healthcare's mobile and digital offerings and will provide patients more solutions for labor, delivery and home care. Monica Healthcare had a valuation of $9.2mm in March 2016 after landing a $960,000 investment.
People Moving
Intel - The narrative of personnel exodus continued as the Intel COO of IoT leaves for a job with Lenovo (OTCPK:LNVGY) and the VP of IoT is tapped to lead technology innovation for the great state of Colorado.
Lenovo hired former Intel COO Kim Stevenson to head their newly formed data center business units, which include data center infrastructure, software-defined data centers, 'hyperscale' systems, data center services, high-performance computing and artificial intelligence applications.
Colorado named former VP of IoT, Tony Neal-Graves, as the executive in charge of the state's strategy to expand rural broadband.
Baidu - The Chief Scientist and Head of the Data and AI research division for Baidu, Andrew Ng, (NASDAQ: BIDU) has announced he's leaving the Chinese internet giant after three years. Ng is widely considered the thought leader of artificial intelligence, with publications ranging from the Harvard Business Review, Time Magazine, MIT Review, and 100s of others. He also founded the Google Brain Project, which developed large scale artificial neural networks using Google's distributed computing architecture.
Avnet - The Phoenix-based electronics distributor has announced the promotion of Lou Lutostanski to the role of VP of IoT. Lutostanski will strengthen Avnet's IoT strategy and further Avnet's reach to makers, entrepreneurs, startups and other IoT innovators.
Earnings
Progress Software (NASDAQ: ) provides enterprise software programming tools to simplify the development, deployment, and management of IoT business applications.
Earnings: The company grew revenues and earnings slightly in Q1, but they posted 75% year over year growth in free cash flow, to $37mm. The growth was driven by both lower DSOs and higher revenues, and the company also acquired DataRPM, a leader in cognitive predictive maintenance for the industrial IoT (IIoT) market.
Why should you care: Progress's strategy to provide self-learning IoT applications will be further aided by the DataRPM acquisition, and the company's free cash growth over the quarter reflects fodder to continue this path. DataRPM is used by the likes of Jaguar, Samsung, and Mitsubishi to predict and prevent asset failures, increase yield, and generate outcomes for industrial IoT.
Valuation: PRGS has $264mm in cash, $130mm in debt, and they are valued at 10.6x EV/EBITDA and 3.5x P/S, on a trailing twelve-month basis with 1.7% dividend yield. We're positive on their prospects and rate the shares a buy.
Marvell Technology Group (NASDAQ: MRVL) is a fabless communication chip vendor that sells mobile and wireless, storage, and networking silicon products, like processors, HDDs, controllers, etc. to end customers Western Digital, Seagate, and Toshiba.
Earnings: They posted flat revenues and earnings in their quarter, but management guidance indicates continued margin growth on modest revenue growth, driven by new products for enabling connectivity in vehicles and infrastructure (automotive Ethernet networking and auto grade-wifi were highlighted in the investor day).
Why should you care? The company's in the midst of a turnaround with new management after settling a$750mm lawsuit and quelling accounting fraud allegations, and their new growth initiatives are across all connected devices. They also have a clean balance sheet.
Valuation: The company has $1.66B in net cash ($3.29 per share) and based on the run rate of their $0.15 in GAAP earnings guidance for Q1, the company's valued at 25 P/E or 10x P/E (ex-cash) versus peers at 23x. We're neutral due to the premium baked into the valuation, but given their focus on networking and Wi-Fi solutions (around 40% of revenues), the IoT should be a major tailwind to their restructuring.
KMG Chemical (NYSE: KMG) is a specialty chemical company and backdoor play on the internet of things.
Earnings: Their company reported strong earnings this month, driven (in-part) by the internet of things at 12% year-over-year growth.
Why should you care? KMG supply the electronic chemicals for chip manufacturing and has over 50% share in the US market and over 20% in the European market. This is also one of the strongest management teams in our coverage.
Valuation: The company has $32mm in cash and $41mm in debt, and they're valued at 9.8x EV/EBITDA and 24x P/E, on a trailing twelve-month basis. The stock has run 100% over the past year, but we are buyers on any pullbacks, especially if they "miss" sell side estimates.
Munich Reinsurance (OTCPK: MURGY) is a leader in the reinsurance industry that's adopting the internet of things to more accurately assess risk.
Earnings: The company's stock has been tainted by low reinvestment rates in recent years, and they posted lower than expected annual guidance after facing nearly $1B in charges last year from natural catastrophes versus $158mm in 2015.
Why should you care? Management cited their "most promising" initiative is an internet of things model of using sensor-based and sensor-related services to enable risk prevention and loss mitigation. The company has also been investing in IoT tech companies via their accelerator "Plug and Play" for consumer and industrial IoT startups, and they recently acquired IoT monitoring and risk analysis platform, Meshify, in October 2016.
Valuation: The company is valued at 11x P/E on a trailing-twelve-month basis with a 4.8% dividend and $7B in excess capital above their 175-220% Solvency 2 target.
Private Funding
(Enablement) Mythic raises $9m in Series A funding. The company is working towards an anti-cloud approach by putting AI-on-a-chip and inside smart devices like wearables or security cameras. The round was led by DFJ.
Takeaway: Currently, AI neural networks require large service racks powered by numerous GPUs that handle complex algorithms. Mythic wants to bring this process into a single microchip. There are competitors, like Intel's recently acquired Movidius, but where their peers are building microchips with memory and processors, Mythic claims to have found a way to eliminate all processors and do the computation inside the memory. This will reduce response time (latency), power requirements, and increase security - the data doesn't leave the device. We're excited to watch them grow.
(Enablement) Innovium raises a $38.3mm Series C. The company is a developer of semiconductors for data centers, and they were founded last year after five employees, mostly in the Ethernet switching business, left Broadcom over a four day period to join the firm. The recent round follows the company's second series of Ethernet switch chip releases.
Takeaway: Innovium's core capabilities lie in the speed of their switch chips. Last summer, Barefoot Networks announced chip speeds that doubled the previous record holder, Cavium, at 6.5 Tb/s, and Innovium's most recent release doubles that record with 12.8 Tb/s.
(Artificial Intelligence) - Casetext raises a $12mm Series B round. The company is a provider of AI-based legal research technology for lawyers.
Takeaway: IBM Watson has seen a notable amount of adoption in the legal field, so it's logical that more companies with industry-specific offerings like Casetext will emerge. More importantly, it's widely believed that automation technology like Watson or Casetext can replace a significant portion (23%) of a lawyer's job. The opposition believes this is closer to 13%.
(Artificial Intelligence) - Kensho raises $50mm in Series B at a valuation of $500mm. Kensho's machine learning systems sift through reams of data, searching for correlations between variables and their impacts on end products. The product is seeing notable adoption with financial institutions like S&P Global and Wall Street's bulge bracket banks, all of whom participated in the latest funding round. These companies use Kensho to analyze market moving information and forecast the correlations between these events and their impact on asset prices.
Takeaway: Although Kensho seems to have plenty of room for growth in finance, their technology could be highly valuable across many more IoT applications in diverse industries where users look for forecasts based on high volumes of legacy data.
(Artificial Intelligence) - Data Robot raises a$54m Series C. Founded in 2012, DataRobot provides an enterprise machine learning platform, built to help data scientists assemble predictive models. The company previously raised a $33 million Series B round at a valuation of $122 million in February 2016 and was valued at $270mm after this round.
Takeaway: Data Robot's platform allows non-data scientists to design and interpret machine learning AI solutions, potentially commoditizing the intensive and expensive functions provided by data scientists. We expect similar software to be built until nearly all coding, developing, and data functions can be performed by any user in any industry, so Data Robot's growth is a promising step in the right direction.
(Augmented / Virtual Reality) - WayRay lands an investment from Alibaba (NYSE:BABA) for holographic augmented reality dashboard systems for cars. The company is hoping to release a commercial product within 2017, and they are working with Banma Techologies, a Alibaba/SAIC joint venture, to create a full AR navigation system for 2018 launch.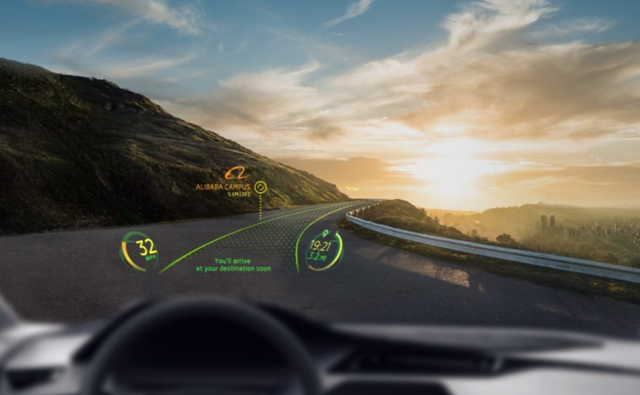 Takeaway: There are a few other companies also gaining traction in this space, including: Continential, Photonics, Visteon (NYSE:VC), and Texas Instruments (NYSE:TI), but Microsoft (NASDAQ:MSFT) has been the most successful in landing auto manufacturer partnerships with the likes of Mercedes, Volvo, and others. This is already a competitive space, so it's essential for startups like WayRay to leverage strategic partners like Alibaba for relationships with the 14 manufacturers producing 17mm vehicles annually.
(Augmented / Virtual Reality) - Nearpod books $21M funding. The company offers free headsets and lesson plans for teachers to create their own interactive lessons, virtual field trips and quizzes to be distributed live to students' mobile devices in the classroom.
(Autonomous Vehicles) - Autonomic, the stealth self-driving software startup has received a strategic investment of about $11 million from Ford (NYSE: F). Little is known about the company, beyond their self-driving software.
Takeaway: Ford has not shied from investing in autonomous vehicle software, and this investment follows a $1B investment in AI vehicle software Argo, LiDAR sensor maker Velodyne, and 3D mapping software provider Civil Maps.
(Network / Network Services) - Filament raises $15mm from Verizon Ventures and Bullpen Capital. The company provides secure hardware and software for industrial IoT, most uniquely because of their use of blockchain in a decentralized network stack.
Takeaway: The industrial IoT has seen a breadth of innovation over the past few years, but a major gap in these new offerings is security. Filament is one of the few companies targeting this weakness, and their use of blockchain is especially interesting.
(Network / Network Services) - Cradlepoint raises $89mm Series C from TCV. The company solves difficult connectivity problems and manages network and security for their customers by using overlay networks and static IP addresses, versus the traditional model of building VPNs.
(Platforms) - Confluent raises a $50mm Series C round. They are the principal commercial entity behind the Apache Kafka streaming data platform, an open source messaging system that's evolved into a real-time data transmission tool. It can move and react to data anywhere in an enterprise.
Takeaway: Before Kafka, enterprises had to use ad hoc integrations or batch processing to share data across systems, but this can now be handled in a real-time, streaming function. Companies like Uber, Cisco, Goldman Sachs and Netflix have already adopted the platform as part of their internal systems, and Confluent is paid to manage and monitor these data flows.
(Platforms) - Arable Labs closed a $4.25mm Series A funding round to expand its predictive data business for farmers. The company builds solar-powered sensors and software to help farmers produce more and accurately predict their yields.
Takeaway: Arable's sensors gather more than 40 different variables for monitoring and predicting plant health, a difference from the majority of agtech offerings of single platforms or use cases like irrigation or soil tension. The risk to their strategy is the transition to vertical farms, but this is still a long way off.
(Platforms) - Iconectiv received a $200mm investment from PE firm, Francisco Partners, valuing the communications services business at $1.2B. Iconnectiv's App-ID Registry is the most valuable aspect of the company, offering global identifiers based on common standards and allowing any IoT application to communicate and share data with any device.
Takeaway: Iconnectiv is targeting interoperability between devices and apps which has been a major pain point in a number of venues. Their App-ID registry seems like a step toward the need for unique identifiers needed for IoT devices to seamlessly communicate with each other.
(Platforms) - Borqs raised $10mm in a Series E round. Borqs is a provider of Android-based smart connected devices and cloud services, and the round was led by Qualcomm Ventures and Accel Partners, with legacy investors including Intel Capital, Norwest Venture, SK Telecom, and GSR. The company has also (strangely) entered a merger agreement with Pacific Special Acquisition, under which Borqs will become the operating entity of the combined business.
(Platforms) - Evrythng closed a $24.8mm Series B round. The company offers a smart products platform that gives "intelligent software identities" for products that have connectivity. The applications fall into three camps: tracking products through the supply chain, direct-to-consumer applications for smart packaging, and directly connected smart home products.
(Platforms) - Flo Live raises a $4.2mm round. The company offers device management, applications, analytics, and operation of cloud networks optimized for the IoT, and they partner with MNOs, MVNOs, OEM's, and chipset manufacturers to offer managed connectivity for smart devices.
(Platforms) - Pepper raises $8.5mm Series B round. This funding will drive their IoT Enterprise platform, aiding companies like insurance carriers or utilities to connect their devices (like a smart meter) to others in the pepper system.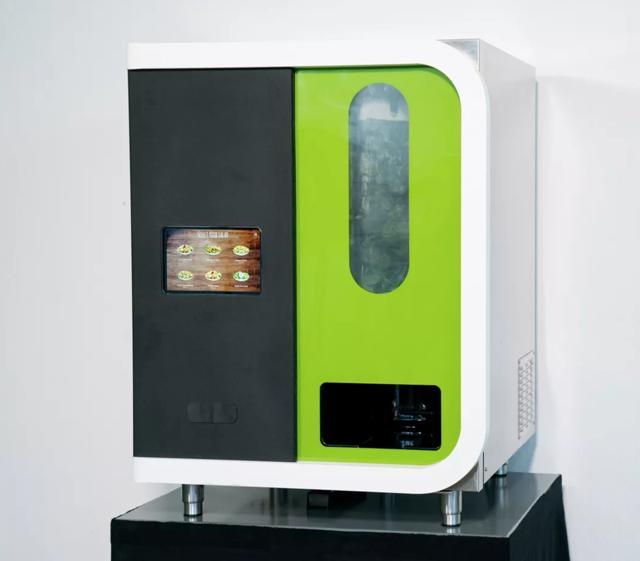 (Robotics) - Casabots raises $6.3mm round and changes its name to Chowbotics The company is a developer of robots for the food business, and their current offering is a salad making robot, called Sally, offering customizable salads.
(Robotics) - BluHaptics raised $1.4mm in Series A funding. They build software to remotely operate underwater vehicles, using haptics and VR. The early customers are mostly oil and gas companies, using BlueHapitcs for monitoring and maintenance of deep sea wells. The Series A funds will be used to launch their first commercial product this summer and expand the use of their robot control software from the deep sea to the deep space domain.
Going Public
(Platforms) MapR, the data management platform provider has chosen Goldman Sachs to lead its IPO. The company's raised about $194 million in VC funding, and it was valued at $500mm after a $50.5mm round last August.
(Platforms) Cloudera, also a data management platform and key competitor to MapR chose Morgan Stanley to lead their IPO.
IPO Race: The two enterprise Hadoop companies in a race to be first to market - unless we include Hortonworks (NASDAQ: HDP), whose stint in the public markets has been far from successful. MapR is the smaller of the two companies, with a recent valuation of $500mm, versus $4B for Cloudera. Both companies count Google among their investors, and neither has set a date to file a public S1.
WideOpenWest, the Denver-based cable and internet provider has filed for an estimated $750mm IPO.
What do they do? The company is ranked as the sixth-largest cable operator in the US, with a footprint that covers roughly 3mm homes and businesses.
Competition: They compete with other major cable providers, disclosing that 53% of their customer footprint competes with Comcast Corp (NASDAQ: CMCSA) and 39% with Charter Communications. Competitive Advantage: They boast a competitive advantage with 97% of their existing operations running at 750MHz or above.
Financials: They reported $1.24B in revenues last year, and recently received a $40mm investment from Avista Capital Partners and Crestview Partners last May.
Other deals: In January, Cable One announced their intent to acquire NewWave Communications for $735mm, and once this deal is completed, it will give Cable One the number 6 spot, pushing WideOpenWest to seven. TPG is also a close competitor, after their August acquisition of both RCN and Grande for $2.25B.
Okta, the provider of cloud-based security services to medium and large enterprises, has filed for a public offering.
What do they do? The company's platform allows businesses to control employee access to various applications, devices, and data in and easy to use format. The company has over 3.1k clients and 2mm people using their services daily.
Competition: It's heavy. Microsoft, IBM, and Salesforce offer similar services.
Competitive Advantage: Okta was the only company to be named a leader in Identify Access as a Service (IDaaS) by Gartner for three years in a row.
Financials: The company generates sales through subscription fees at a average duration of 2.4 years. Revenue grew 87% last year to $160mm, on a net loss of $83.5mm. The IPO is expected to price at $13-15 or a price to sales multiple of 8x vs peers at 5x.
As always, please let me know if you disagree or would like to add unique commentary to the monthly report. Thanks for reading!
Disclosure: I am/we are long ACLS, ZAYO, KMG.
I wrote this article myself, and it expresses my own opinions. I am not receiving compensation for it. I have no business relationship with any company whose stock is mentioned in this article.