Introduction
Philip Morris (NYSE:PM) released its earnings report earlier today. The company missed analysts' expectations in the top line and the bottom line. In both cases it seemed like a significant miss. Therefore, while the broad market is up, Philip Morris is down almost 4%. I believe that investors should avoid the short term news, and concentrate on the full year guidance, and the long term growth prospects.
PM is an important position in my portfolio. At the moment it is the largest position in it with almost 6% of my entire portfolio. I have been bullish on PM ever since it has become an independent company, and I still believe that it offers more value to its long term investors.
Philip Morris was created when Altria Group (NYSE:MO) decided to spin- off its international business. Since the spin- off, Philip Morris suffered from more hardships than Altria, mainly due to regulations in Europe and currency headwinds. However, PM managed to deal with them well so far, and it offered its investors a growing dividend together with capital gains.
The dividend growth slowed down as payout ratio got higher, and yet the company is still attractive. The management team worked and keeps working well to achieve growth, and we will see the results in 2017 and onward.
Ten Reasons to consider PM in the current dip:
1. The company issued a fantastic guidance, and it actually just raised it, reassuring investors that PM will achieve its annual goals. The management's guidance is for EPS in the range of $4.84-$4.99. It reflects 9%-12% growth from 2016, and analysts covering the stock forecast that the EPS will keep growing at roughly 10% per year in 2018 and 2019.
2. Philip Morris is a dividend growth machine. As earnings are growing again, the company will increase its quarterly payments. Since the spin-off from Altria less than a decade ago the dividend grew by over 125%. PM is devoted to returning capital to shareholders just like Altria, and therefore every dip in its price allows investors to achieve higher yield on cost.
3. PM is a as blue chip as company can be. However, it still has plenty of opportunities for global growth. It is expanding its brands worldwide, and many countries around the world are being exposed to more and more new products offered by PM. PM is not only diversified, it also has a great infrastructure to distribute new products. It is poised to grow quicker using IQOS.
4. The IQOS is the new smokeless cigarette by Philip Morris. Over the past year, sales grew at an immense pace. From less than 500 million units to over 4 billion units for all heated tobacco products. The company enjoys IQOS in two ways, smokers are transferred from traditional cigarettes to IQOS, which has better public relations and perceived as less harmful. Moreover, people smoke, are exposed to this innovative product.
5. While the growth is amazing, there is still plenty of room for additional growth. Let's take a look at the sales of IQOS in Germany, the largest country in the European Union. In 6 months, market share grew from 0.1 to 0.6 million. Take a close look at the focus area volume coverage- only 8%. Germany can be a major growth prospect, especially in the eastern part of the country, where smoking is more popular. The company is also expanding IQOS to new countries and markets. In 2017, IQOUS will be introduced to three more European countries, and one more country in Latin America.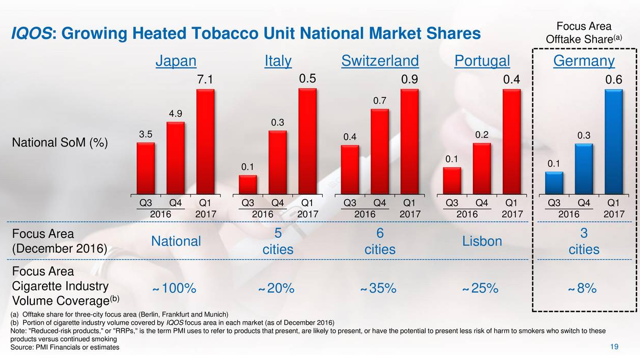 6. Japan is the third largest economy in the world based on GDP. If we can learn from PM's strategy in Japan, investors should be very optimistic. The IQOS implementation didn't come on the expense of the traditional Marlboro cigarettes, and in one year, the market share rose by almost 22% (5.4pp). PM will use the experience it achieves in implementing the IQOS in key countries, to repeat it in new markets like Colombia, Serbia and Poland.
7. While IQOS is a fantastic growth prospect, it is certainly not the only one. Philip Morris has a lot of business in the emerging markets. As these countries grow, and a middle class is being created, there is a change in smoking habits. While some do quit smoking, many take advantage of their higher income and move from basic brands to the premium brands. The premium brands are more expensive, and the profits margins are also higher.
8. PM also noted in the report released today that it has strong pricing power in all its markets. It has already announced several price hikes in key markets like the United Kingdom, Brazil and Turkey. These price increases will also help the company grow its bottom line, as margins will grow as well. Besides, the company has some more growth opportunities that are not up to PM itself.
9. PM earns all of its money outside the United States. It has to bring it back to the U.S to pay its generous dividend. If the current administration will be able to change the tax code, and the pass a tax reform that will lower the corporate tax that PM pays, it will have a major effect on the EPS.
10. When the company issued its guidance, it also clarified that it doesn't include the effect of buybacks. PM stopped repurchasing its own shares, as it needed the cash for the dividend. Now that the EPS is growing again, it might be able to utilize some cash for buybacks and support the EPS growth.
Conclusion
Philip Morris is very well positioned for the near future. It has a great new product- the IQOS, it enjoys wealthier people buying more expensive cigarettes and price increases will be raising the profit margins. Together with possible buybacks and tax cuts, PM is attractive as it dips today by almost 4%.
Investors who invest in companies for the long term, should avoid the background noises. The earnings miss has no effect on the company as it is still poised to achieve its full year goals. The growth opportunities should be more than enough to drive the company forward.
The share price declined more than 5% from the 52 weeks high, and it now offers a more decent entry point. Compared to the broad market, the interest rate environment and the dividend yield offered by peers, PM is an attractive company to consider at today's dip.
Disclosure: I am/we are long MO, PM.
I wrote this article myself, and it expresses my own opinions. I am not receiving compensation for it (other than from Seeking Alpha). I have no business relationship with any company whose stock is mentioned in this article.