Welcome to the weekly natural gas storage report edition of Natural Gas Daily!
The EIA reported a +54 Bcf change in storage, bringing the total storage number to 2.115 Tcf. This compares to the +6 Bcf change last year and +35 Bcf change for the five-year average.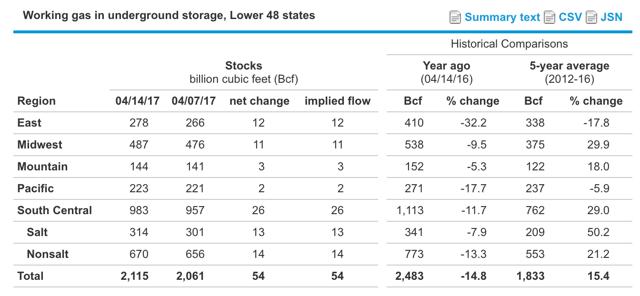 Source: EIA
Going into this report, a Reuters survey of 22 traders and analysts pegged the average at +48 Bcf, with a range between 22 Bcf and 55 Bcf. We expected 46 Bcf and were lower than the consensus. We were off by 8 Bcf on this storage report.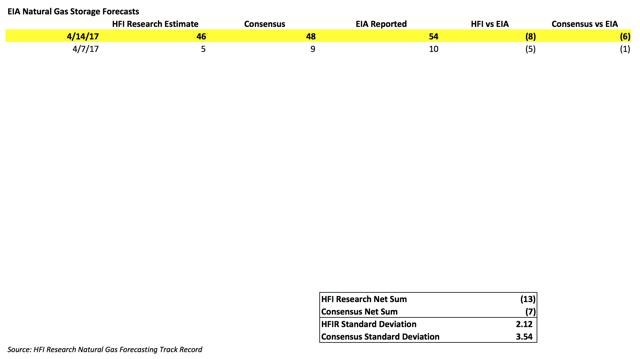 Since we reset our track record, we are currently 13 Bcf below EIA's reported 2.115 Tcf storage figure while consensus is off by 8 Bcf. This week's storage report looks to have overestimated the decrease in residential/commercial. We believe next week's EIA storage report should be below the consensus estimates. Be prepared for a bullish surprise report next week.
Looking at our injection forecasts for the next several weeks, dismal TDDs have resulted in much lower shoulder season demand. Last year, storage was subsidized by a cold finish to April, but we aren't getting that this year according to the latest weather forecast. In fact, April 2017 is expected to end the warmest since 1950.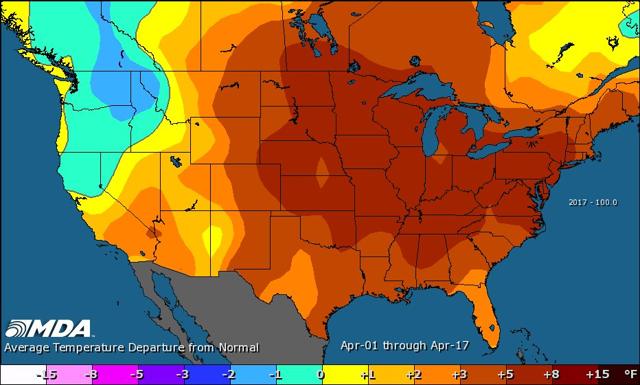 Source: MDA Weather Services
Weather has not been on the side of the bulls this winter as John Kemp reports that HDDs throughout the last six months have been 17% below the long-term average and even warmer than the bearish 2015/2016 winter.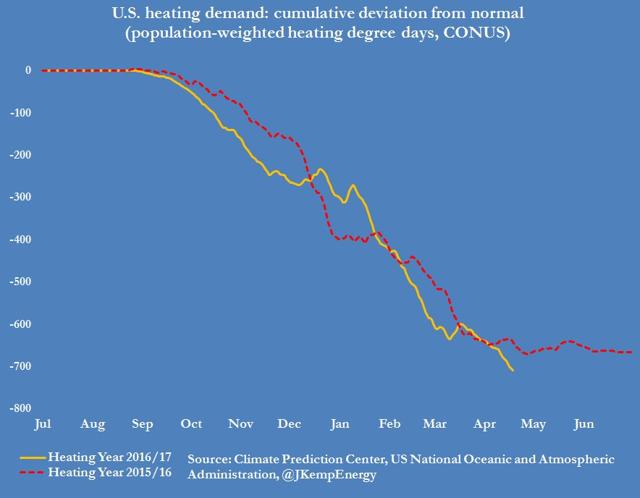 Source: John Kemp
Despite the number one driver of demand being substantially lower than historical averages, natural gas prices are still managing to hold above $3/MMBtu for the remainder of this year. This speaks to the structural deficit bull thesis we've repeatedly touted since May last year, and goes to show that in a market where structural tightness exists, fundamentals inevitably win despite volatile weather demand.
Fundamentals continue to tilt toward the bulls with US gas production dropping again today with a 0.3 Bcf/d decline from Permian. We published a sample natural gas fundamentals premium report yesterday, so be sure to check that out. If you want to start receiving these premium fundamental reports, please visit this page for more info.
If you would like to start receiving the full bundled energy research service, click here for more info.
Disclosure: I/we have no positions in any stocks mentioned, and no plans to initiate any positions within the next 72 hours.
I wrote this article myself, and it expresses my own opinions. I am not receiving compensation for it (other than from Seeking Alpha). I have no business relationship with any company whose stock is mentioned in this article.