North American Offshore (NYSE:NAO) shares recently got pounded because of plunging ship prices left it in a liquidity crisis. They did not necessarily have to issue shares as the company remained solvent but the Executive Chairman of NAO, Mr. Herbjørn Hansson is deeply conservative and led the effort to issue 41 million new shares to make NAO the only pure-play provider who is not in violation of its original debt covenants from debt issued during the boom years.
Mr. Hansson put up substantial funds of his own and says he hopes to grow the fleet. As with bank investors in 2008, most shipping investors are rightly scared and a little angry over what were in retrospect obvious capital allocation errors. Despite management not being perfect (who is?) now is a very good time to buy with my personal long-term target being $2.75.
Over the shorter-term I will just be happy to see $1.25 to $1.50 and I will remain, as always, an investor who invests not with courage and certainty but fear and even a little trembling.
The current situation for many OSV shipping companies is not unlike banks during the financial crisis. Conservative high quality banks were pounded as liquidity dried up and it became unclear who was solvent and who was not. After all, who knew that asset prices would not continue to fall in 2008 and who wants to be the idiot who invests just before the bottom falls out?
This article is not going to discuss prospects for the offshore drilling market or even the business prospects for supply vessels. Instead it will focus on the following:
Valuation and benchmarking
Restructuring of OSV competitors including non-U.S. companies
One of the great things about NAO is the simplicity of analysis. Ten similar ships, original cost around $365 million, cash of $50 million, debt of $135 million, roughly 60 million shares and an unbooked impairment of a minimum of $120 million. That leaves equity of roughly $160 million or $2.50+ per share. The difference between the $1.25 equity issuance price is what Walter Bagehot would have called the "penalty rate of interest" associated with being short liquidity in a financial crisis.
So one of the first questions to ask is why is there reason to think this might be close to the bottom? After all, it has to acknowledged that had capital continued to flee the markets after the financial crisis every single bank could have theoretically failed. It was new capital that turned things around.
There are signs that new capital is coming into the market for used ships. The NAO equity issuance for one but another transaction that can only be described as a highly distressed transaction was the purchase three large PSV's by Standard Drilling (SDSD on the Oslo Exchange). Each of the three ships were purchased for $13.5 million. They are quality ships, slightly larger than NAO's, of older vintage (9 and 10 years old) but not so old to make them completely incomparable either. Honestly, this seems like the lowest value argument one can make and say it has a high probability of not being out of line. Distressed seller (Volstad) and new investment financed by equity issuances.
By the way, that $13.5 million is lower than what NAO is carrying its ships at. I am not saying there is no risk but a reasonable range of possible values is laid out in the following table: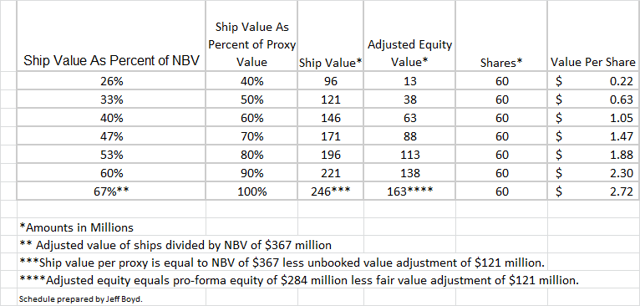 Do not forget that there are ten similar ships so dividing ship value by ten shows you what each ship's value in the analysis. The high-value scenario showed above will be examined in detail. Ships Carrying value is $367 million. Reduce by unbooked value adjustment of $121 million provided in recent proxy filing results in ship value of $246 million or roughly 67% of NBV (24.6 million per vessel). At such a value, the share value assuming good corporate management and less fear in the market could arguably be as high as $2.72 per share.
Just for kicks it is worth mentioning that Gulfmark (NYSEMKT:GLF) said in November that newer PSV vessels were receiving offers close to 80% of book. That is probably laughable but it had to be mentioned as all of NAO's vessels are five years old or newer.
If the Standard Drilling purchases at $13.5 million are fair representations of market value assuming $1.5 million in transaction fees results in $12 million per ship. At this price NAO vessels are worth $120 million which translates into share value of $0.64 The recent transaction at $1.25 seems most reasonable but one cannot discount out-of-hand the current trading price of $0.90. Sorry but this is after all bottom-fishing.
In conducting due diligence I reviewed companies other than Standard Drilling. Each one is interesting in its own right and worth a review.
Gulfmark Offshore - Expecting bankruptcy. Bonds currently trade at approximately 50% of face which assuming senior debt has 100% recovery indicates vessel values are roughly 25% of NBV. Were it not for hedge fund participation would consider purchasing bonds.
Tidewater (TDW) - Expecting bankruptcy. Equity is too risky and there is no public debt available to purchase.
Seacor (CKH) - Valuable inland marine segment makes comparisons very difficult. While not financially strong, has resources to survive and desires to expand.
Maersk Offshore Supply - Part of Maersk Group has been disposing of vessels and recording massive impairments. Interestingly, many of the sales appear to have been anchor handling vessels that are "repurposed" for other tasks. Clearly the most aggressive company in terms of disposing of ships and putting a finger to the wind I say they indicate PSV ship values are 40%-50% of NBV which results in NAO share value of $1.00 to $1.40.
Swire Pacific (HK) - Conglomerate with very strong finances. Could be a consolidator should they choose to do so.
Bourbon Corp (Paris) - Heavily leveraged in process of restructuring debt terms. Impairments that have been recorded have been extremely small and shares seem significantly overvalued.
Siem Offshore - Heavily leverage in process of restructuring debt terms. Comparable ships but not able to benchmark values.
Farstad (FAR:NO) (Combined with REM Offshore) - Heavily leveraged but in process of converting some debt to equity, raising capital and acquiring Solstad Offshore (SOF:NO) and Deep Sea Supply (DESSC:NO). Very difficult to evaluate new company.
All of the companies listed above have lost heavily. Only the companies with other business segments -- such as Seacor, Swire Pacific and Maersk -- could even begin to hope to actually acquire other companies, except perhaps via a merger similar to Farstad/REM Offshore/Solstad/Deep Sea Supply.
Two final points before summarizing:
Potential for a reverse split. Everyone knows that values below $1 can trigger reverse splits and there is no denying it can cause a very crowded trade as people panic.
Potential for violating debt covenants. Not covered in detail but NAO continues to face real risk should ship values decline further. The banks will provide waivers but only for a few years and not indefinitely. The debt covenants mean they have the potential to expand but only if additional equity is issued or ship values increase in value.
Summary
There are no guarantees when it comes to investing in distressed assets but for U.S. based investors wanting to have exposure to the OSV market, Nordic American Offshore priced between $0.90 - $1.15 constitute a reasonable bet for those with longer term investment horizons. Those who are hoping for a short-term gain, it might makes sense to stay on the sidelines and hope that share value contracts to $0.70-$0.80 on fears of a reverse split.
Disclosure: I am/we are long NAO.
I wrote this article myself, and it expresses my own opinions. I am not receiving compensation for it (other than from Seeking Alpha). I have no business relationship with any company whose stock is mentioned in this article.
Editor's Note: This article covers one or more stocks trading at less than $1 per share and/or with less than a $100 million market cap. Please be aware of the risks associated with these stocks.