AMD (NASDAQ:AMD) investors, don't panic going into this quarter! Yes, some may accuse us "AMD bulls" of delusional speculation, but we're not delusional.
As many of you are well aware, AMD has refreshed the mid-end of its GPU lineup. The performance improvements from the 400 series wasn't all that impressive, but it doesn't have to be. Given the competitive myths we can't help but publish another article on AMD this week, as it's extremely unlikely that Nvidia's price curve can readjust to match AMD's line-up of cards as we progress through FY'17.
Quoted from AnandTech:
As for the competitive landscape then, AMD's situation has improved, though I fear by not enough. Across the full spread of games in our benchmark suite, the RX 580 and GTX 1060 6GB change lead a few different times, so the RX 580 is able to best Nvidia's best in absolute performance in the right games.

The problem for AMD is that those games appear to be too few. As a result, the RX 580 trails the GTX 1060 by an average of 7% at both 1080p and 1440p. AMD has narrowed the gap somewhat - this was an 11% deficit with the RX 480 - but not by enough. And coupled with AMD's worse power efficiency, this puts AMD in a tough spot. The biggest challenge right now is that GTX 1060 prices have come down to the same $229 spot just in time for the RX 500 series launch, so AMD doesn't have a consistent price advantage.
What this basically means: AMD can reduce pricing by 7% to arrive at comparable price/performance.
Good news and here's why
We don't think Nvidia can match AMD's pricing any further because NVDA would report gross margin contraction (in that scenario) as it's heavily dependent on sustained ASP expansion when compared to AMD.
As such, we continue to reiterate our stance that Nvidia (NASDAQ:NVDA) is not only overvalued, but is priced to perfection ahead of what's likely to be a disastrous quarter for NVDA bulls.
Furthermore, we have yet to see AMD's high-end GPU variants, and it's difficult to gain reliable insights into this new card. From what we can gather, AMD's likely to present the card at its analyst day leaving some "hype" on the table.
What we do know: AMD's pricing curve will remain lower than NVDA's as AMD is managing its business to a 35% to 40% gross margin target, while sustaining OpEx efficiency in its recent turnaround efforts.
NVDA on the other hand manages its business to a 55%-60% gross margin target. This means Nvidia would need to price its cards much higher than AMD to sustain its margins, whereas AMD doesn't have to manage shareholder expectations to an aggressive gross margin target because the flow through to dilutive EPS would be better given diminished OpEx requiring less aggressive pricing.
We anticipate AMD to sustain MPU/GPU innovation that performs within a closer band to NVDA and Intel (NASDAQ:INTC) equivalents across the entire product stack, which correspondingly drives our argument on ASPs improving in both graphics and processors while sustaining price competition in both spaces.
Hence, we're not convinced by the "competition is coming" thesis. It would cause more damage to INTC and NVDA shareholders if pricing were to move any lower. While those two companies have more R&D resources dedicated to the development of new architecture, they're also not as cost competitive as AMD.
In other words, AMD is not only a lower cost provider, it can sustain that type of pricing structure because it runs a very tight ship. We've seen cases like this on numerous instances, so it's becoming increasingly less likely that AMD needs to have similar resources to scale its performance upwards, which suggests a scenario of margin ramp paired with revenue growth.
Whereas NVDA and INTC are cyclically exposed and must move pricing lower at the detriment of both revenues and margins. Hence, the conventional economic scenario for both companies? Keep burning cash as they try to out-innovate AMD, and maintain product/price positioning to sustain premium market positioning.
The problem: Both Intel and Nvidia cannot beat the laws of economics (price theory) and financial management (marginal/fixed cost).
The reality: Nvidia and Intel will lose mark share as they reduce operating costs to remain competitive. The likelihood of NVDA and INTC managing their cost structure to match AMD is near impossible over the immediate 24-month timeframe. So, operationally, both Nvidia and Intel don't have enough levers to miraculously lower price, sustain gross/operating margins, and R&D scale. Hence, both are hit by the secular nature of their business models as they've become over-dependent on sustained market share of 80%-plus in the MPU/GPU space.
Whereas AMD's margin ramp is a function of layering on expenses slower and sustaining gross margins to a reasonable range of 30% to 40%. Yes, the competition is coming, but it's coming from AMD (certainly not the other way around).
Insights from the supply chain
From what we can understand, the PC supply chain improved, which suggests that the macro environment is friendly when compared to PC market contraction from prior year. Hence, demand is trending higher for add-in-boards and MPUs this year. Furthermore, attach rates have trended higher for GPUs in general, but this disproportionately favors AMD given its supplier relationship with Apple (NASDAQ:AAPL).
So, the rising tide lifts all boats. But unequally this year, AMD has caught up on performance while sustaining a cost structure that's appealing for the next five years.

Source: Credit Suisse
As John Pitzer notes in his analyst note sent to clients of Credit Suisse on March 18, the semiconductor industry tends to report its peak in the month of May. This is driven by channel sell-in as the fabs run ahead of seasonal lift from holiday discounting/sales. Hence, the ramp gains momentum from Q2 onwards to factor in the impact from back to school shopping, where productivity-oriented users make upgrades (retail level activity), and is then followed-on by holiday season discounting (cyber Monday).
However, the typical q/q trends don't necessarily apply when pertaining to AMD as we expect product cadence to be a differentiating factor given the timing of the MPU/GPU release that's more heavily weighted in back half of FY'17, which impacts channel sell-in into 1H'18 where seasonal comps are weaker. But given AMD's diminished volumes, the impact from seasonality is offset by volume growth due to market share gains.
As such, we're certain seasonality provides some upward lift going into Q2'17, but we're expecting revenue to ramp through 2H'17 given the Xbox One refresh (implying better than expected ASP growth from its semi-custom unit lifting gross margins in Q4'17) paired with delayed Notebook MPU introductions, i.e. Raven Ridge.
AMD short interest trends higher, but on what basis?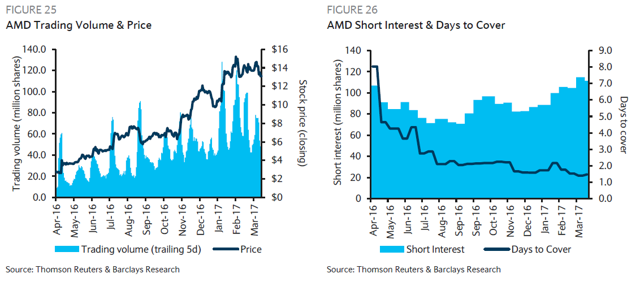 Source: Barclays America Research
So, here's where things get interesting: AMD's short interest has trended higher, whereas days to cover trended lower. This means that while shorts as a percentage of total float is higher, volume is also much higher and can absorb the turnover of shares in the event of a short cover rally.
Given these factors, we think shorts are exposed to a pricing event, i.e. earnings. So, if AMD is able to deliver outlook above consensus (extremely likely), the shorts will unwind right when bulls are willing to buy on any positive news. Hence, risk/reward favors longs and not shorts currently.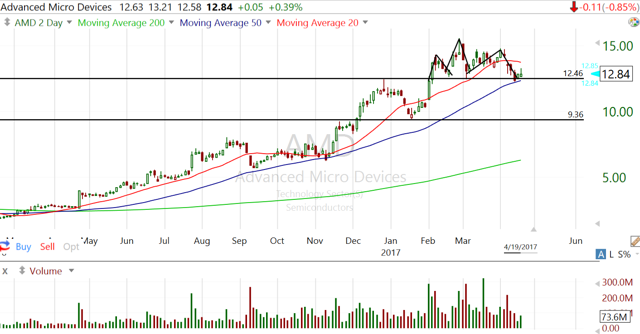 Source: TC 2000
The stock is hovering above the neckline and bounced immediately from the 50-day Moving Average. We believe this is the level where bulls can look to accumulate shares ahead of AMD's May earnings announcement. As such, the stock has disproportionate upside on both technicals and fundamentals.
AMD likely trades above its 52-week high, and we would avoid buying shares at $20-plus. And that's assuming if AMD were to experience another pop that's comparable to Q1'17 post-earnings.
Final thoughts
Disregard the recent spate of negative sentiment from media punditry/analysts. Instead, investors should buy AMD into its earnings announcement, and sell following the earnings release. The stock is exposed to a short cover rally with tangible upside to both earnings/sales above the current consensus figures.
The perfect set of circumstances have emerged. AMD makes a better investment from both a fundamental/technical framework when compared to other semiconductor names.
We continue to reiterate our high conviction buy recommendation and $22.29 price target.
About Cho's Technology Research
Cho's Technology Research is SA's premier technology research package This service comes at a low annual subscription cost of $20/month. The promotional price period will end on May 1 st, 2017! For more information click here.
Disclosure: I/we have no positions in any stocks mentioned, and no plans to initiate any positions within the next 72 hours.
I wrote this article myself, and it expresses my own opinions. I am not receiving compensation for it (other than from Seeking Alpha). I have no business relationship with any company whose stock is mentioned in this article.