Katanga Mining (OTCPK:KATFF) - Price = CAD 0.38, USD 0.29
I first wrote about Katanga Mining back on January 1, 2017, when the stock was largely unknown to many investors and trading at just CAD 0.13 (USD 0.09) per share. For a background on the stock you can read my January 1, 2017, article "Katanga Mining Is A Potential Turnaround Story."
The key takeaways are the following:
Katanga Mining's Kamoto mine has large high grade copper and cobalt reserves in the Democratic Republic of Congo (NYSE:DRC).
Katanga has a 75% interest in the Kamoto copper-cobalt mine, the other 25% is owned by La Generale des Carrieres et des Mines (GCM) and La Société Immobilière du Congo (SIMCO) owns the other 25% (DRC Government company').
The mine has 90.9Mt proved and probable reserves, with very good average grades of 4.14% copper and 0.45% cobalt. Or 207.3Mt measured and indicated resource at an estimated grade of 3.53% copper and 0.52% cobalt.
The KOV open pit and Kamoto underground mine stopped production in 2015 due to the low copper prices, and is undergoing a modernization of the processing plant to significantly lower the cost of production.
The mine was expected to re-open in 2018, ramping to 300,000tpa copper and 22,000tpa cobalt production.
Glencore are backing Katanga with a huge loan, and previously had a 75% stake in the Katanga mining share float.
KATTF 1 year stock price chart

Cobalt spot price 1 year graph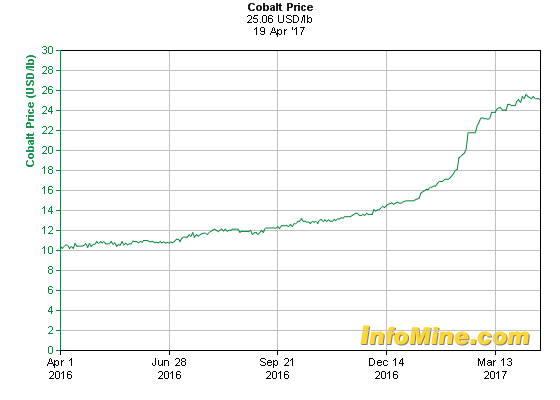 Katanga Mining update
Since my January article the following significant events have changed:
The cobalt spot price has climbed very strongly as shown in the chart above, rising from around USD15/lb to USD25/lb.
Glencore (OTC:OTC:GLNCF) (OTCPK:GLNCY) increased their stake in Katanga Mining from 75% to 86.33%.
The Mashamba East open pit PFS has resulted in a 26.3 Mt increase in probable mineral reserves.
Katanga Mining updated that the mine will now ramp to 30,000tpa cobalt (previously 22,000tpa). Copper production will ramp to 300,000tpa.
Katanga Mining updated that the mine will now re-start in September 2017 (previously 2018).
Source: Katanga Mining March 2017 Technical report (309 pages)
Katanga's copper grade of 4.14% is very high
The chart below shows global copper grades averaging in 2017 around 1% and declining. With 90.9Mt Proved and Probable reserves at 4.14% copper grade, Katanga Mining has a world-class copper resource, with grades four times higher than average. The cobalt at 0.45% also is very good, and Katanga has the world's largest cobalt reserves.
Global copper grades declining and a copper deficit forecast later this decade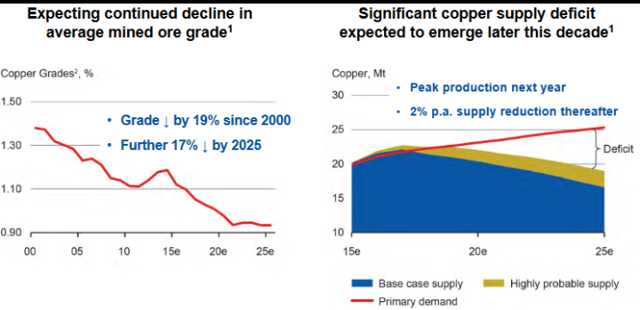 Valuation
Katanga Mining is not currently producing. Their market cap is CAD 743m. The current market cap/lbs cobalt reserves ratio is just 0.47, one of the lowest among peers. Off course Katanga Mining debt is not included in this calculation, but neither is their copper. Fortune Minerals (OTCQX:FTMDF) has the third lowest ratio at 0.56.
Based on the latest updates from Katanga Mining my model has a price target for end 2019 at full production (300,00tpa Cu, 30,000tpa Co) of CAD 2.70. This is based on a copper price of USD 2.75/lb, and a much reduced cost of production to USD 0.87/lb net of cobalt by-product credits (due to cobalt's stellar price rise). I based the 0.87/lb on comments from Glencore's CEO at the Q1 earnings call conference discussing their group wide copper cost of production. If I'm more conservative and estimate USD 1.25/lb cost of production then the price target drops to CAD 1.60. So for now my price target is a range from CAD 1.60-2.70 until I get more clarity on the forecast or actual cost of production.
Long-term debt is at CAD4.51b as at end 2016, with interest expense of CAD$483m pa.
Risks
Please refer back to my January 1 article, linked at the top.
Conclusion
Things just keep getting better for Katanga Mining and their world-class copper-cobalt mine in the DRC. The cobalt spot price has almost doubled since January, their reserves have been increased, and their planned cobalt output has been increased from 22,000 to 30,000tpa. Most importantly their re-start has been brought forward three months to September 2017.
The stock price has tripled in the past three months as a result.
Given the copper price has only moved sideways, should copper prices move higher that will help further. However, I think we may have to wait for 2019 or 2020 for copper to really boom based on the demand and supply picture.
The stock still has plenty of risk as it operates in the DRC and has a mountain of debt. However with production set to re-start in only a mater of five months, the current picture looks very bright indeed. Glencore seems to agree, having recently increased their stake in Katanga Mining.
As usual all comments are welcome.
Disclosure: I am/we are long KATANGA MINING (TSX:KAT), FORTUNE MINERALS (TSX:FT), GLENCORE (LSX:GLEN).
I wrote this article myself, and it expresses my own opinions. I am not receiving compensation for it (other than from Seeking Alpha). I have no business relationship with any company whose stock is mentioned in this article.
Additional disclosure: The information in this article is general in nature and should not be relied upon as advice.
Editor's Note: This article covers one or more stocks trading at less than $1 per share and/or with less than a $100 million market cap. Please be aware of the risks associated with these stocks.