Pfizer and its Dividend
Pfizer (NYSE:PFE) was on my watch list back in 2009 when they cut the dividend from $.32 per quarter in Q1 to $.16 in Q2. At that time I removed Pfizer from my watch list. In retrospect, PFE cut the dividend at the low point of the bear market that accompanied the Great Recession (March, 2009). Pfizer maintained the $.16 per quarter through 2009 and raised it to $.18 in Q1 2010.
From the low dividend of $.16 per quarter, PFE annually has raised the dividend by $.02 per quarter. In Q1 2017, the dividend was raised from $.30 per quarter to $.32. So it has taken Pfizer eight years to restore the dividend to the level at which it was cut in 2009.
From the Watch List to the Portfolio
Between 2010 and 2016, I was aware that Pfizer had begun to gradually raise the dividend, but I never seriously considered taking a position. I looked back at earlier spreadsheets to try to determine when Pfizer was added to my watch list. The first time was February 1, 2016, just two weeks before making the first purchase. On that date, there were nine stocks on my watch list. Here are the February 1, 2016, prices, yield, the Standard & Poor's credit rating at that time, and the number of consecutive years of dividend increases at that time:
| | | | | |
| --- | --- | --- | --- | --- |
| Company/Ticker | 2/1/16 Price | 2/1/16 Yield | S&P | CCC |
| Exxon Mobil (NYSE:XOM) | 76.29 | 3.8% | AAA | 33 |
| Apple (NASDAQ:AAPL) | 96.43 | 2.2% | AA+ | |
| General Electric (NYSE:GE) | 28.64 | 3.2% | AA+ | 5 |
| Automatic Data (NASDAQ:ADP) | 82.97 | 2.6% | AA | 41 |
| Pfizer | 30.17 | 4.0% | AA | 6 |
| Colgate Palmolive (NYSE:CL) | 66.20 | 2.3% | AA | 52 |
| Cisco (NASDAQ:CSCO) | 23.48 | 3.6% | AA- | 5 |
| Northwest Natural (NYSE:NWN) | 52.19 | 3.6% | A+ | 60 |
| Qualcomm (NASDAQ:QCOM) | 46.11 | 4.2% | A+ | 13 |
Note: Exxon Mobil was subsequently downgraded by S&P to AA+, General Electric was downgraded to AA- and Colgate Palmolive was downgraded to AA-. General Electric was dropped from David Fish's list of Dividend Challengers when GE failed to raise the dividend.
The Watch List proved to be an effective tool. I purchased shares of AAPL in September 2016 at $104.78. I made an initial purchase of GE shares in February 2016 at $27.70, an initial purchase of ADP in September 2016 at $89.76, an initial purchase of CL in September 2016 at $71.06, an initial purchase of CSCO in February 2016 at $24.50, and an initial purchase of Pfizer in February 2016 at $29.04. I made an initial purchase of QCOM in February, 2016 at $43.12. (I closed the QCOM position in November, 2016 at $68.23.) The fact that I listed the stocks on the Watch List according to their S&P credit rating indicates that by February 2016, credit ratings had become a more important part of my decision-making process.
Pfizer made it to the Watch List and soon thereafter into the portfolio for three reasons: 1) Pfizer is a blue chip in the health care sector, often mentioned with Johnson & Johnson (NYSE:JNJ) and Merck (NYSE:MRK), which were already in the portfolio; 2) I was convinced that PFE was committed to continuing to raise the dividend; and 3) PFE had a very strong S&P credit rating of AA.
My Investment Thesis
Currently, Pfizer is 3.3% of the market value of my portfolio and it provides 3.4% of the portfolio's income. Because I have a "full position" in PFE, it would take a significant price drop (relative to the rest of the portfolio) for me to add more shares. I'm happy that PFE is in the portfolio, and my intent is to hold PFE for the long term. This study shows me that PFE looks much better on an operational (rather than a basic earnings) basis.
I'm committed to Pfizer because of its strong position in the growing healthcare industry. I'm confident they (and other strong healthcare companies) will be able to manage the current political environment.
While my personal temperament prefers Merck's "bolt-on" acquisition method rather than Pfizer's "blockbuster" acquisition style (such as Warner-Lambert, Pharmacia, Wyeth and Medivation--described below), I'm impressed by their ability to integrate large scale acquisitions.
What's a Good Target Price?
On Wednesday, April 19, 2017, Pfizer closed at $33.61. The 52-week price range for Pfizer has been $29.83 to $37.39. At the current annual dividend of $1.28, that's a yield range of 3.42% to 4.29%. I've set a target price of $31.22 to possibly purchase additional shares (which would equate to a 4.1% yield).
I use Custom Stock Alerts to notify me of major changes in some of Pfizer's metrics. I'll be alerted if the dividend yield reaches 4.00% from the current 3.78%; if the price drops below $31.22 from the current $34.00; if the P/E ratio falls below 23.00 from the current 28.96; if the stock prices comes within 2% of the 52-week low price (currently, PFE is 13% above the 52-week low); or if there is a 5% daily change in the stock price.
A Blue Chip Healthcare Stock
Pfizer was founded in New York City in 1849 by cousins Charles Pfizer, a chemist, and Charles Erhart, a confectioner. Their first product was a palatable form of santonin - an antiparasitic used to treat intestinal worms. They blended santonin with almond-toffee flavoring and shaped it into a candy cone. The "new" santonin was an immediate success.
Pfizer manufactured drugs for the Union Army during the U.S. Civil War, such as iodine, morphine, chloroform, camphor, and mercurials. By 1868, Pfizer had 150 employees. In the 1880s, Pfizer supplied the growing soft drink industry with citric acid, which became its main product. In 1906, company sales exceeded $3 million.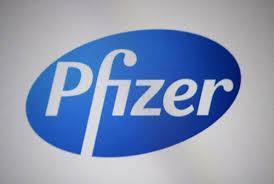 In 1942, Pfizer became a public company. During this era, Pfizer developed deep-tank fermentation, which enabled it to become a leading manufacturer of penicillin. The company also became a leading manufacturer of vitamins.
In 1950, Pfizer developed the antibiotic Terramycin (oxytetracycline), which was their first proprietary pharmaceutical product. This prompted Pfizer to hire eight pharmaceutical salesmen.
In the 1950s, Pfizer grew internationally, allowing considerable autonomy as international personnel grew from 4,300 in 1957 to over 7,000 in 1958.
In 1968, Pfizer's antibiotic Vibramycin (doxycline hyclate) becomes a top seller. A Central Research Division was established in 1971 and quickly grew to include research centers on three continents. In 1980, Feldene (piroxicam) became a top-selling anti-inflammatory medication.
Other leading products introduced by Pfizer include:
Zoloft in 1992 (sertraline hydrochloride), a treatment for depression;
Cardura in 1995 (doxazosin mesylate) for benign prostate hyperplasia;
Vfend in 2002 (voriconazole) for fungal infections;
Relpax in 2003 (eletriptan HBr) for migraines;
Caduet in 2004 (amlodipine besylate and atovastatin calcium) to treat both high blood pressure and high cholesterol;
Lyrica in 2005 (pregabalin) for neuropathic pain;
Eraxis in 2006 (anidulafungin) for infection caused by a type of fungus;
Toviaz in 2009 (fesoterodine fumarate) for overactive bladder;
Bosulif in 2012 (bosutinib) for leukemia.
In addition to these products developed by Pfizer, the company has grown through acquisitions.
Warner-Lambert
Warner-Lambert was a midsized drugmaker best known for consumer health products such as Listerine, Benadryl and Halls cough drops. In the mid-1990s, Warner-Lambert partnered with the much larger Pfizer to fund late-stage development and to market Lipitor (atorvastatin) to lower cholesterol. Lipitor was introduced in 1997 as the fifth statin on the market but it proved to be more effective than earlier statins and quickly dominated a fast-growing market. Fortunately for Pfizer, 1997 was the year the U.S. Food and Drug Administration first allowed drug ads to target consumers.
A 2011 Huffington Post article summarized Lipitor's success:
...a 1996 study showed Lipitor reduced bad cholesterol dramatically more than the other statins, from the very start of treatment and even more so over time. A striking graph of those results helped Lipitor sales representatives turn it into the world's best-selling drug ever, with more than $125 billion in sales over 14 1/2 years.

...Lipitor became the top-selling statin barely three years after it was launched. It's provided 20 percent to 25 percent of Pfizer Inc.'s annual revenue for years.
Pfizer acquired Warner-Lambert in 2000 for $90 billion to block two other companies that were trying to acquire it and to get control of Lipitor.
Pharmacia
In 2002, Pfizer acquired Pharmacia for $60 billion, which was partly driven by their desire to control the full rights to Celebrex (celecoxib), a pain and anti-inflammatory medication. Pharmacia was itself the result of several mergers and aquisitions, including Upjohn (founded in 1886), Searle (founded in 1888) and SUGEN (founded in 1991).
Wyeth
In 2009, Pfizer acquired Wyeth for $68 billion, which was the largest corporate merger since the $70 billion deal between AT&T and BellSouth in 2006. The deal made Pfizer the largest pharmaceutical company in the world, generating over $20 billion in cash annually. As part of the deal, both Pfizer and Wyeth repatriated billions of dollars to the U.S., resulting in higher tax costs. This, plus debt incurred, led to the aforementioned cut in Pfizer's dividend.
Wyeth was founded in 1860. The Wyeth purchase brought many new products into Pfizer's inventory, including:
Advil (ibuprofen)
EFFEXOR (venlafaine hydrochloride)
Lybrel (evonorgestrel and ethinyl estradiol)
Prevnar 13 (Pneumococcal 13-valent conjugate vaccine).
King Pharmaceuticals
In 2010, Pfizer acquired King Pharmaceuticals for $3.6 billion, which at the time was the 39th largest pharmaceutical company. Among King's products are:
Altace (ramipril)
Levoxyl (levothyroxine sodium)
Sonata (zaleplon)
Skelaxin (metaxalone).
InnoPharma
In 2014, Pfizer acquired InnoPharma for $225 million, thus adding 10 generic products and a pipeline of 19 products filed with FDA and more than 30 injectable and ophthalmic products under development.
Redvax
In 2015, Pfizer acquired a controlling interest in the Swiss privately held Redvax for an undisclosed sum, boosting its vaccine portfolio.
Hospira
In 2015, Pfizer acquired Hospira, the world's leading provider of injectable drugs and infusion technologies and a global leader in biosimilars, for $17 billion. Pfizer later sold Hospira's infusion systems to ICU Medical for $900 million.
Anacor Pharmaceuticals
In 2016, Pfizer acquired Anacor Pharmaceuticals for $5.2 billion, thus expanding its inflammation and immunology drug portfolio.
Bamboo Therapeutics
In 2016, Pfizer acquired Bamboo Therapeutics for $150 million, a privately-held biotechnology company focused on gene therapy.
Medivation
In 2016, Pfizer acquired Medivation for $14 billion, adding blockbuster prostate cancer drug Xtandi (enzalutamide) to the company's growing oncology roster. At the time of the purchase, Xtandi's annual sales were $2.2 billion.
These developments and acquisitions provide a glimpse into Pfizer's involvement in the dynamic and massive global pharmaceutical business.
Here were Pfizer's top 10 sales leaders in 2016 (from Statistica):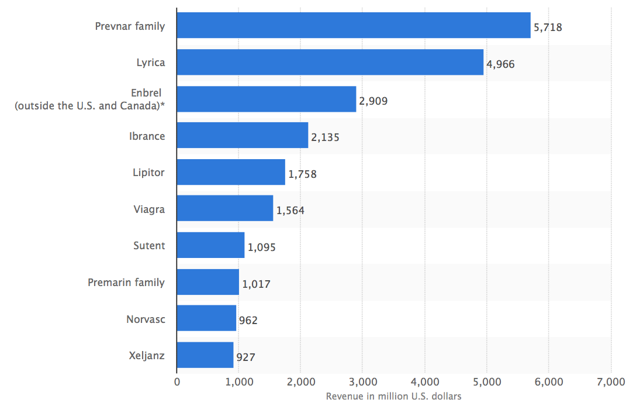 Pfizer's 2017 Proxy Statement declares its mission is To be the premier innovative biopharmaceutical company. CEO Ian Read expands this by saying the company seeks "to become the premier biopharmaceutical company in the industry by the end of this decade." As of 12/31/2016, the company had approximately 96,500 employees worldwide. Read cited these 2016 highlights:
Second consecutive year of operational revenue growth after overcoming more than $23 billion in brand patent expires between 2011-2016.
Received five product approvals, achieved six regulatory submissions and advanced 39 compounds in our pipeline.
Each of our commercial businesses grew operationally, we advanced several initiatives that expanded access to our medicines and vaccines, and we further embedded a strong culture of ownership and accountability across the organization.
We returned $12.3 billion to shareholders through share repurchases and dividends, and sustained our eight-year record of increasing our dividends.
Perhaps in response to strong criticism of healthcare companies by U.S. politicians in 2016, the 2017 Proxy Statement said the company is "Working to Improve Global Health & Earn Respect." Read named several initiatives that "are fundamental to our efforts to build public trust and support our commitment to significantly improve patients' lives through the therapies we develop. Earning public trust also requires our continued dedication to approaching everything we do with integrity. Our longstanding commitment to integrity continued in 2016 with the implementation of a company-wide campaign, "integrity is..." to reinforce a culture of compliance, integrity and accountability throughout the organization."
Leadership
Ian C. Read is Chairman of the Board and Chief Executive Officer. He joined Pfizer in 1978 as an operational auditor and was named CEO in 2010. He worked in Latin America through 1995, becoming Chief Financial Officer of Pfizer Mexico, and Country Manager of Pfizer Brazil. In 1996, he was appointed president of Pfizer's International Pharmaceuticals Group, with responsibility for Latin America and Canada. Ian became Executive Vice President, Europe, in 2000; was named a Corporate Vice President in 2001; and assumed responsibility for Canada and Europe in 2002. He later became accountable for operations in Pfizer's Africa/Middle East region and Latin America.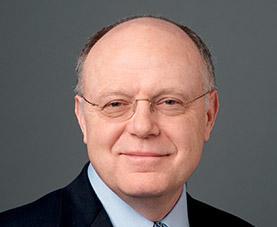 (Photo of Ian Read from Pfizer website)
2016 Big Picture Financial Overview
Pfizer's 2016 Annual Report said revenues were $52.824 billion, an 8% increase over 2015. Research and development expenses were $7.872 billion, a 2% increase over 2015. Income from continuing operations was $7.215 billion, a 4% increase over 2015. Diluted earnings per share for 2016 were $1.17, a 5% increase over 2015. Total assets were $171.615 billion and total long term liabilities were $80.660 billion. The company paid $7.317 billion in dividends and repurchased $5.000 billion of common stock.
A Relatively High Yield
The portfolio has three "big pharma" stocks: Johnson & Johnson, Merck and Pfizer. Below are some comparative data as of April 19, 2017. Pfizer's yield is considerably higher than that of JNJ or MRK. PFE's dividend growth has been stronger than either JNJ's or MRK's.
| | | | | | | | | | | | | |
| --- | --- | --- | --- | --- | --- | --- | --- | --- | --- | --- | --- | --- |
| Tick | S&P | Price | %Port | Qtr | Yr | Yld | %Inc | Basis | Gain | DGR | TDR | CCC |
| JNJ | AAA | 121.37 | 3.5% | .80 | 3.20 | 2.6% | 2.6% | 67.60 | 44.3% | 7.0 | 9.5 | 54 |
| PFE | AA | 33.61 | 3.3% | .32 | 1.28 | 3.8% | 3.4% | 29.66 | 12.4% | 8.4 | 12.2 | 7 |
| MRK | AA | 62.64 | 3.3% | .47 | 1.88 | 3.0% | 2.7% | 55.62 | 11.2% | 3.9 | 6.9 | 6 |
S&P is the Standard & Poor's credit rating; %Port is the percentage of the portfolio comprised by each holding; Qtr is the current quarterly dividend; Yr is the current annual dividend; %Inc is the percentage of the portfolio income contributed by each holding; Basis is the cost basis; Gain is the percentage gain excluding dividends; DGR is the 5-year dividend growth rate; TDR is the total dividend return or "Chowder Rule" number; CCC is the number of consecutive years of dividend increases as maintained by David Fish.
Better Investing
The following table from Better Investing provides some 5-year data from Morningstar. The general price trend has been up. PFE failed to make a higher low price in 2016, but it was close. EPS has been up and down. The P/E multiple trend has been up. The dividend trend has been steadily up, but earnings have not covered the dividend for the past two years. The high yield over the past five years has ranged from 3.8% to 4.2%. The current P/E ratio is significantly higher than the average P/E for the past five years. This table confirms that Pfizer has a generous yield, but the table also flashes multiple warning signs.

(Table from Better Investing)
F.A.S.T. Graphs
F.A.S.T. Graphs allows the user to choose several methods of analysis. The first graph below charts basic earnings. The numbers are similar to the Better Investing table (above), with the exception of 2013. The second graph below charts adjusted (operating) earnings. The basic earnings graph reveals a cyclical pattern while the operating earnings shows a gradual uptrend. Pfizer has engaged in a significant number of mergers and acquisitions, thus re-shaping the business numerous times in recent years. Operationally, however, Pfizer steadily has moved the business forward, as indicated in the second graph below.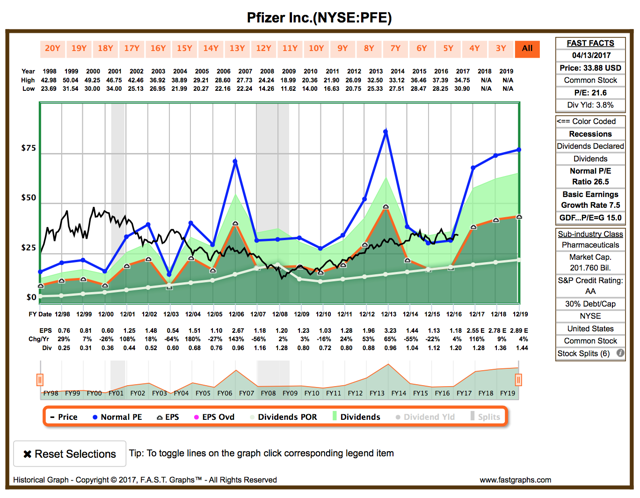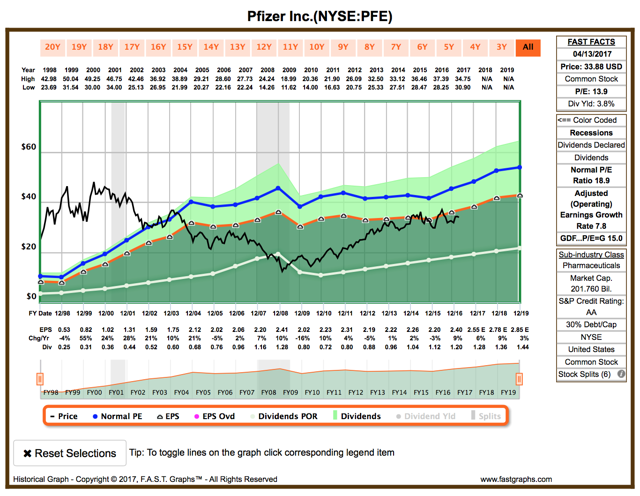 (Graphs from F.A.S.T. Graphs)
Whichever graph one chooses, the strong S&P credit rating of AA is indicated, as well as the relatively low 30% debt ratio. The market capitalization is over $200 billion. In light of Pfizer's aggressive acquisition history, I'm impressed that their debt is just 30% of capitalization.
Simply Safe Dividends
Pfizer is given a Dividend Safety Score of 61 (out of 100) by Simply Safe Dividends: "PFE has a Dividend Safety Score of 61, suggesting that the company's dividend is very safe and more secure than most other companies' dividends." PFE receives a Growth score of 52 and a Yield score of 74, confirming that PFE's growth has been roughly average.

(Table from Simply Safe Dividends)
Other Views on Seeking Alpha
There have been 3 articles about Pfizer so far in April, 2017. Dividend House compares PFE with Amgen (NASDAQ:AMGN) and while liking both (and owning both) concludes: "Due to its substantial and growing income stream, for an income-focused portfolio, Pfizer is a clear winner for those nearing retirement. Even though Pfizer has grown its dividend consistently each year only for the last 7 years, it has paid a dividend consistently for at least 20 years...."
Josh Arnold is impressed with Pfizer's efficient buybacks: "... the share count is 1.6 billion lower than it was five years ago.... PFE has reduced the float by what would amount to $54 billion in market cap for only $35.1 billion in net spending in the past five years. That's a return of $1.54 for every dollar spent, which is absolutely staggering. Most big companies have returns that are less than a dollar for each dollar spent, but PFE has managed to achieve 54% in excess benefit for its buyback spending, which is just tremendous."
Robert Riesen offers 8 reasons to buy PFE: the Medivation acquisition (which includes Xtandi's $2 billion in annual sales); a 2016 rebound in Pfizer's sales after 4 years of decline; strong cash flow; dividend growth; share repurchases; growth in healthcare spending; attractive valuation; and strong ratings by Wall Street analysts. He concludes: "Given a cheap valuation relative to peers, modest growth potential, and a significant amount of capital returned to shareholders, I'll soon be adding Pfizer to my portfolio. However, I'm going to wait until the next earnings release to pull the trigger."
Thank You
Thank you for reading this article about Pfizer. My goal is to produce about one article per week, usually about one of the holdings in my retirement portfolio. Prior to this article, my most recent article was about Procter & Gamble. You can read it here. That article included a portfolio update. The only portfolio change since that was published was the purchase of a few shares of WW Grainger (NYSE:GWW) on April 19 at $193.06. GWW is 2.1% of the portfolio.
My plan is for the next article to be about Merck. You can access a list of previous articles here.
To be notified of future articles on a real-time basis, just click "Follow" at the top of this article, then choose "Follow this author" and "Real-time alerts."
Your comments are an important part of my learning process. We are co-learners. I'm grateful for my SA colleagues and friends.
It's not my intent to advocate the purchase or sale of any security. I offer articles and blogs to provide ideas for stocks to study and to share a journal of my effort to design and build a retirement portfolio that puts a priority on relative safety, a history of dividend growth and solid future prospects. Your goals and risk tolerance may differ, so please do your own due diligence.
Disclosure: I am/we are long PFE, JNJ, MRK, AAPL, MMM, PG, WMT, ADP, KO, CSCO, GE, RY, TD, NSRGY, GWW, IBM, CL, GPC, UL, TXN, PSA, VFC, SO, WEC, PPL, DUK, BCE, BIP, AGR, EPD, VTR, O, WPC, BEP, PEGI, HASI, APLE, BIF, MRCC, VTI, VEA, VWO, VYM, VOE, VNQ, VPU.
I wrote this article myself, and it expresses my own opinions. I am not receiving compensation for it (other than from Seeking Alpha). I have no business relationship with any company whose stock is mentioned in this article.