The age old adage, "Sell in May and stay away" may prove to be the best piece of advice one can take in this period of uncertainty.
Valuations Remain High
After eight long years, it is finally looking like the current bull market may slow to an end. At around 2,350, the S&P 500 is approximately 2% off its all-time high set in March.
The current trailing twelve month PE, calculated with "as reported" earnings, is well above the historical mean of 15.65x, at 26.43x. Prior to the bubble of the late 90s-early 00's, this level had not been reached since the late 19th century.
S&P 500 LTM PE Ratio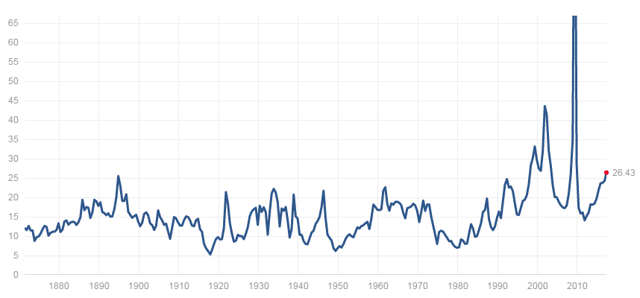 Source: multpl.com
Additionally, the Shiller PE10 Ratio, which is calculated on average inflation-adjusted earnings from the previous ten years, is likewise historically elevated. Currently reading 28.92x, it is higher than during the financial crisis of 07-08 and is nearing the 30x level seen in 1929 prior to the Great Depression.
While PE ratios by no means signal an imminent business cycle downturn, they do point to the fact that at current prices, stocks are commanding a high premium relative to actual earnings, rather than analyst estimates. As the Federal Reserve continues to raise rates, the cost of capital will increase, further pressuring the earning power of individual companies, and thus valuations should begin to normalize.
It should also be noted that according to the Global Financial Stability Report recently issued by the IMF, a sharp increase in interest rates could result in the default of around 10% of U.S. corporations, due to their already strained interest coverage ratios.
Trump Administration Ineffectiveness
After nearly three months in office, it is fairly evident that the current administration will continue to face struggles in getting new pro-business legislation through Congress. Between in-fighting in the GOP and fierce opposition from the democrats, it is unlikely that produces the wide sweeping measures promised during the campaign. Earlier this week, Treasury Secretary Mnuchin admitted that tax reform would take longer than originally planned. If the current trend continues, it is likely that the "Trump Trade" will begin to unwind, further pressuring the already tired market.
Geopolitical Risks Abound
According to South Korea's largest news agency, Yonhap, following North Korea's failed missile launch over the weekend, the U.S. has deployed two additional aircraft carriers to the region, which will arrive in the coming weeks. This move will likely further anger North Korean officials, who have labeled former similar acts as 'provocative' and have vowed to react with force. As shown in the recent missile attack on Syria, the Trump administration is willing to escalate conflicts without warning. This has further increased the risk of a surprise shock to markets around the world, should the administration decide to take similar measures against the DPRK.
Likewise, there is noted market risk in the upcoming presidential election in France, in which candidates Le Pen and Macron vie for the top spots. The election is largely regarded as a fight over the fate of the European Union, as Le Pen is vehemently anti-EU, and Macron has campaigned for remaining in the 28-member organization. If Le Pen manages victory, the implications would be the heightened risk of the ultimate collapse of the EU. The first election will be held on April 23, and the run-off election will be held on May 7.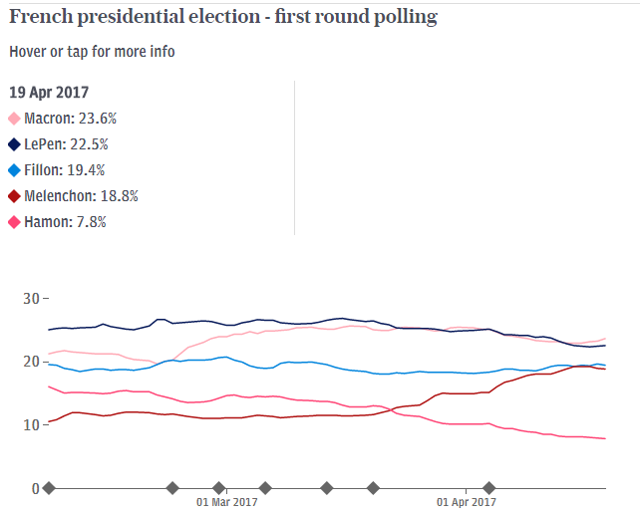 Source: The Telegraph
Areas For Opportunity
In an effort to conserving your portfolio value, seek out risk protection securities such as SPDR's gold ETF (NYSEARCA:GLD), which is an ETF that seeks to reflect the performance of gold bullion. Gold has long been seen as a safe-haven asset, and as seen in the price movement of the precious metal over the last five months, a move into the sector may very well provide a significant return in the medium term.
Even though the Utilities sector is often seen as a solution to adding stability to a portfolio, companies in this industry generally have a low interest coverage ratio (calculated as EBITDA/interest expense). As the Federal Reserve continues to raise rates, these companies could see pressure to profitability, as interest expenses increase. Steer clear of smaller utilities companies, as they will not have the portfolio strength to weather a downturn in performance.
Finally, if you hold S&P 500 ETFs such as the SPDR S&P ETF (NYSEARCA:SPY) or the iShares Core S&P 500 ETF (NYSEARCA:IVV), a fairly simple hedge would be to write call option contracts for at least a portion of your holdings to help generate additional income, while protecting yourself from volatility through the summer.
In conclusion, given the increasingly risky market environment, it may be prudent to take profits while they remain. Portfolio reallocation to reflect a more conservative balance, including U.S. Treasury bonds and gold, will help protect your portfolio from market volatility, that is becoming more and more likely. As always, continue to monitor the global market atmosphere and determine the levels of risk you're willing to take before making a significant shift to your portfolio.
Disclosure: I/we have no positions in any stocks mentioned, and no plans to initiate any positions within the next 72 hours.
I wrote this article myself, and it expresses my own opinions. I am not receiving compensation for it (other than from Seeking Alpha). I have no business relationship with any company whose stock is mentioned in this article.