Chevron (NYSE:CVX) is just over a week away from reporting earnings and the stock is in a free fall. It's not a great time to be an O&G major considering the immense pressure the market is placing on these companies in terms of high expectations, but also in terms of an oversupply for crude oil across the globe. The problem is that this company has underperformed YTD versus competitors and needs this upcoming earnings report to change sentiment on the stock, as it's been in a heavy downtrend for nearly four months. If the Q1 2017 report surpasses expectations, then a reversal could begin and investors should be looking to buy on the dip for the long term.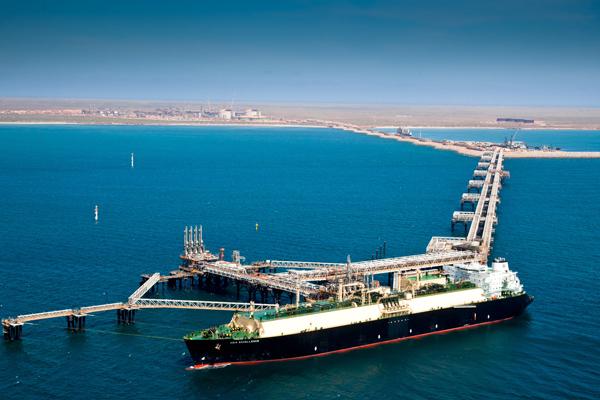 Source: Chevron
Expectations For Earnings
I expect a few key items to be addressed on the upcoming earnings report. First, in light of FY 2016 earnings being -$0.5 billion, management's plan to move out of a full year's worth of negative earnings and into a full-year of positive earnings. Right now, the market is expecting $0.924 in adjusted EPS, $0.936 GAAP, for Q1. This expectation is up slightly over the past month. What should be noted is that when it comes to Q1 earnings reports, Chevron had a solid history of surpassing expectations, as it beat on EPS in 2013, 2014 and 2015, but posted a larger than expected loss in Q1 2016. A larger than expected loss this quarter would be a signal to the market that something is wrong internally.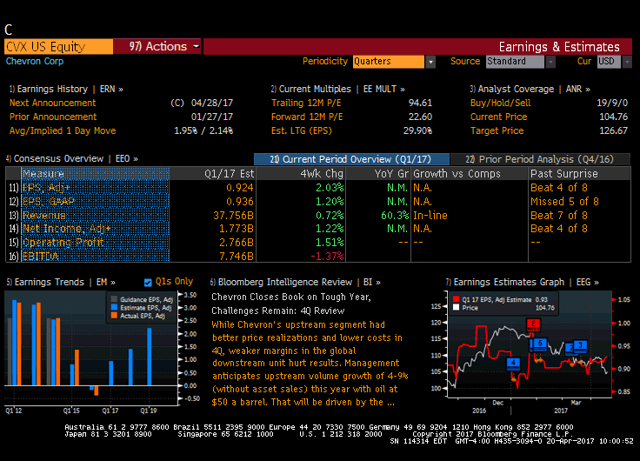 Source: Bloomberg
Like other O&G companies, the market is expecting a heavy increase in revenue YOY. Here, the market is expecting 60% revenue growth YOY. From a QOQ perspective, however, the market is expecting a 32.4% increase in revenue. That's still sizable considering the company didn't even break $30 billion in revenue in Q4 and the market, for this upcoming quarter, is expecting close to $40 billion in revenue. Chevron had quite the interesting year of financials last year, posting negative net income in both Q1 and Q2, but recovering in the back half of the year. Yet, the company's net income slid from $1.24 billion in Q3 to just $415 million in Q4 and the company posted considerably lower operating cash flow as a result.
When the actual numbers come in, it will be interesting to see how they compare with the company's cash flow guidance for the full year, seen below. That shift down in operating cash flow from Q3 2016 to Q4 2016 does concern me, especially considering the company has an ambitious plan to keep growing. I will say that this growth is much more targeted and the company is taking far more high-graded, calculated risks than ever before, which will work to the benefit of shareholders.
What we have to remember is that Chevron is like many other majors, with the exception of Exxon Mobil (NYSE:XOM), that posted negative free cash flow in 2016. The company's expectations and budget are in the right place for this year, assuming $50/barrel Brent. Right now,Brent is trading at a decent premium to that at $53.22/barrel, which could help the company report better than expected cash flow. Despite posting positive FCF in Q3 2016 of $1.25 billion, the company dipped back into negative territory in Q4 2016, posting negative free cash flow of $146 million. The average price per barrel QOQ has only shifted about a dollar and based upon the company's sensitivity of per $1 change in Brent, there's a subsequent $350 million impact on operating cash flow, there's a possibility they become free cash flow positive this quarter. A failure to do so would be viewed as highly negative, in my opinion.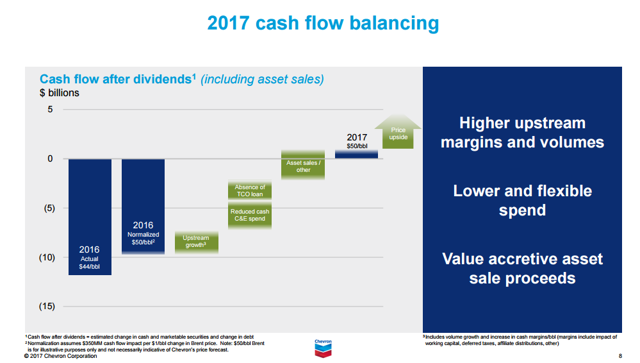 Source: Investor Presentation
It'd also be interesting to hear about the share repurchase program. Chevron repurchased a significant amount of stock from 2004-2014, in the amount of $45 billion, but this has slowed drastically as cash flow has tightened. Rather than touting the history of share repurchases, an updated repurchase program that actually delivers shareholder value in a forward-looking market environment is key. The current color on this is as follows,
In July 2010, the Board of Directors approved an ongoing share repurchase program with no set term or monetary limits. The company did not acquire any shares under the program in 2016 or 2015.

Source: SEC
The final expectation is have is to not expect any material change to the dividend. After what was nearly two years of a stagnant dividend due to operational weakness, the company raised its dividend back in Q4 2016 by one cent. It wasn't a large increase, but rather a signal to the market that the company is focused on growing its dividend and putting shareholders first. If this were to be complimented by a larger buyback program, I'd expect aggressive buying in the stock. As of now, I don't expect anything to change and that we should expect guidance revolving around the dividend that was given back in Q4 2016 to simply be reiterated.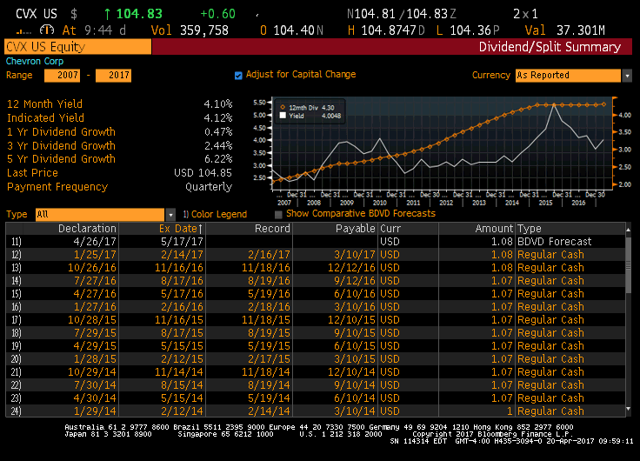 Source: Bloomberg
Performance Inadequate For An O&G Major
Perhaps investors are getting a second chance at significant capital gains potential with this stock, considering the stock is now down 11.44% YTD. The stock is nearly oversold, but crude is up today and is preventing the RSI from dipping below 30. There's a strong amount of support at $100 and that's where I see the near-term downside being, especially if this crude weakness continues to linger. The downtrend is clear and while the trend has presented opportunities to buy on the dip, the downtrend has persisted. The stock is now below its 200-DMA and rapidly approaching $100 support. If it falls below $100, I would mark this as a clear long-term buy. Even now, a position for the long-term shows enough potential for capital gains and a 4.14% current yield compliments the wait.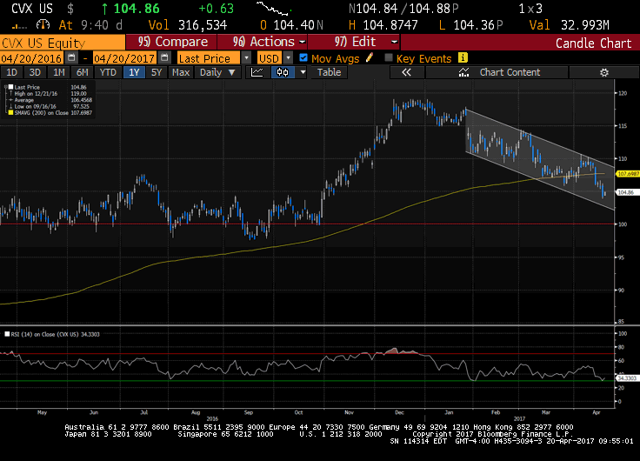 Source: Bloomberg
In terms of performance relative to competitors, we're seeing Exxon Mobil down 10.26% YTD, Total (NYSE:TOT) down 0.69%, BP (NYSE:BP) down 8.32% YTD, and Royal Dutch Shell (RDS.A, RDS.B) down 7.61% YTD. That makes CVX the worst-performing major YTD, which comes as a rather large surprise to me. I would've picked either RDS or BP to have weaker performance levels in light of their higher volatilities and riskier balance sheets, but that hasn't been the case. If CVX continues to underperform, investors will likely begin to look at the valuation of this company relative competitors and see if there is a margin of safety that can be bought into.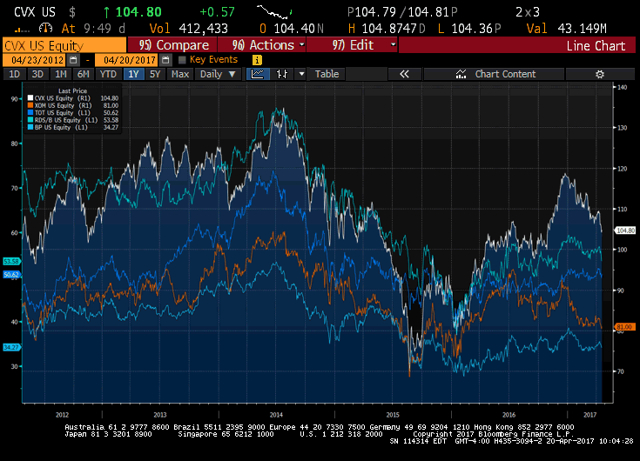 Source: Bloomberg
Conclusion
This upcoming earnings report on April 28 for Chevron is very important because it comes at a time when the stock has been sliding heavily to start the year and investors need some sort of reassurance that this company will be able to meet its full-year goals. Watching the changes in both operating and free cash flow will be key, as well as the revenue growth rate QOQ. The underperformance in the stock could present a buying opportunity, but I'd advise investors to wait until Q1 2017 results are released to see if there is a change in the fundamentals that could debunk the current downtrend.
Disclosure: I am/we are long XOM, RDS.B.
I wrote this article myself, and it expresses my own opinions. I am not receiving compensation for it (other than from Seeking Alpha). I have no business relationship with any company whose stock is mentioned in this article.