Protalix BioTherapeutics (NYSEMKT:PLX) is a biotechnology company with all the must-haves needed for a successful small biotechnology firm. These include proprietary technology platform with demonstrated results, solid clinical pipeline, and sufficient cash assets to get it through to commercialization stage.
Since majority of small biotechnology companies are loss making, I prefer to favor those with promising candidates in their late-stage clinical pipeline. Protalix BioTherapeutics ranks high on this parameter, and it currently has one investigational Fabry disease therapy in a phase 3 trial and another investigational cystic fibrosis, or CF, therapy in a phase 2 trial. There is high probability that this CF therapy will catapult PLX's market capitalization several times higher than its current level of around $130.0 million.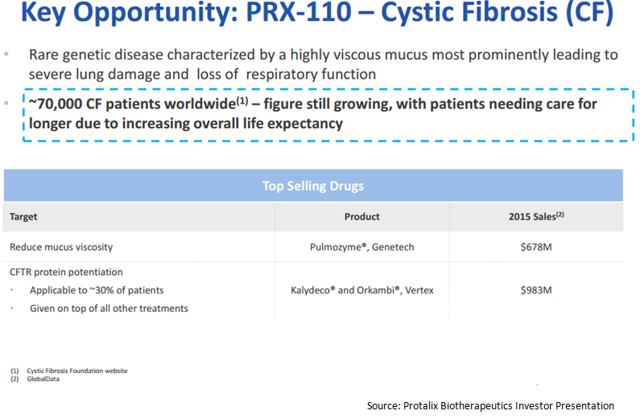 Recombinant DNase enzyme alidornase alfa has managed to demonstrate robust efficacy in phase 2 clinical trials
On April 12, 2017, Protalix BioTherapeutics announced positive results from a phase 2 clinical trial evaluating investigational inhaled therapy alidornase alfa as a treatment option for CF. The results were in sync with the interim data published by the company on January 03, 2017. Protalix has chemically modified alidornase alfa so that it is resistant to inhibition by actin and hence can be more effective for CF patients.
In this study, 15 CF patients, who had already been treated with Roche Holding's (OTCQX:RHHBY) Pulmozyme, were switched over to alidornase alfa, which is a recombinant DNase enzyme expressed by plant cell, for 28 days. To remove the possibility of Pulmozyme affecting trial results, the company had included a two-week washout period before the switch-over study.
It was seen that after the alidornase alfa therapy, the CF patients demonstrated an average absolute increase in percent predicted forced expiratory volume in one second, or ppFEV, of around 4.1 points, indicating improvement in lung function.
This result seems to have positioned alidornase alfa over the commercially available CFTR modulators used for CF, which are Vertex Pharmaceuticals' (NASDAQ:VRTX) Kalydeco and Orkambi, again a combination therapy involving ivacaftor and lumacaftor. In case of these CFTR modulators, the improvement in ppFEV was seen to be around 2.5 points. Further, in the registrational clinical trial for these CFTR modulators, around 74% of patients continued to be treated with Pulmozyme, a fact that makes it difficult to attribute the entire ppFEV treatment to these modulators.
Vertex Pharmaceuticals' research pipeline is however trying hard to bridge this gap in efficacy. On March 28, 2017, Vertex announced positive results from two phase 3 trials evaluating tezacaftor (VX-661)/ivacaftor combination therapy for CF patients. Again focused on CF patients over 12 years of age with two copies of F508del mutation, the first study has demonstrated that Vertex's investigational combination therapy's capacity to improve ppFEV by 4.0 points as compared to baseline. Being very close to alidornase alfa's efficacy and already ahead in phase 3 clinical trial stage, there is high probability that Protalix's investigational therapy may lose out on CF patients with two copies of F508del mutation.
It should, however, be remembered that Vertex's therapies target only people with certain mutations, which are seen in less than half of the total CF population. On the other hand, alidornase alfa is being developed for the entire CF population. Hence, the ability to treat those CF patients with hardly any other treatment option can be a key factor determining the market opportunity for PLX's investigational drug. The company has projected that alidornase alfa is currently targeting around 70,000 CF patients, which together constitute a market opportunity worth $2.0 billion.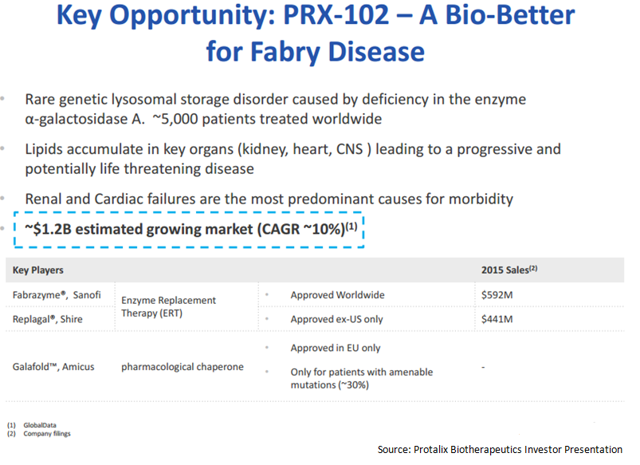 Interim data from phase 3 trial for pegunigalsidase alfa in Fabry disease expected in middle 2018
Beyond CF, the next major milestone to watch out for in the case of Protalix is the data readout from the phase 3 trial of investigational therapy pegunigalsidase alfa scheduled in middle 2018, targeting a rare genetic lysosomal storage disorder, or Fabry disease.
Currently a market opportunity worth $1.2 billion, GlobalData projects this debilitating disease to require $1.7 billion of annual spending in the next five years. Based on data from phase 1 and phase 2 trials, pegunigalsidase alfa, or PRX-102, has demonstrated superior efficacy than the current standard-of-care enzyme replacement therapy, or ERT, Fabrazyme from Sanofi (NYSE:SNY).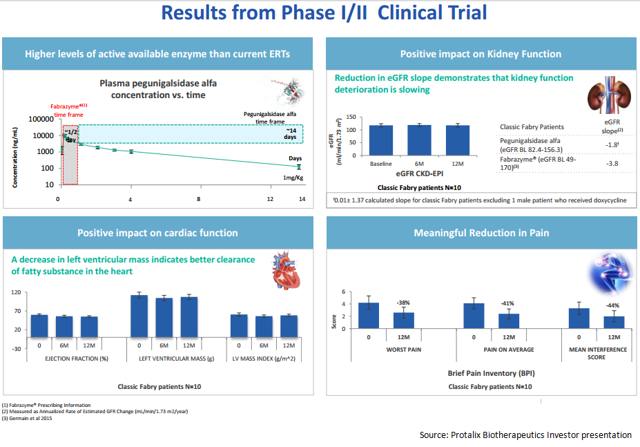 PRX-102's half-life is approximately 80 hours while that of Fabrazyme is only two hours. This ensures that the concentration of available PRX-102 enzyme in a patient's body continues to be high even after 14 days while that for Fabrazyme is at required levels only for half-day. It implies that the dosage frequency for PRX-102 can be significantly lower than that required for Fabrazyme.
PRX-102 has also demonstrated a significant decrease in eGFR values than Fabrazyme, indicative of the former's higher potential in controlling the deterioration of kidney function. Further, the investigational drug has also demonstrated only 19% antibody formation, much lower than Fabrazyme's 74%. This implies that the immunogenicity of PRX-102 may be significantly lower than Fabrazyme.
In the phase 3 trial, which involves 78 Fabry patients, PRX-102 is being compared with Fabrazyme mainly on terms of renal function, with change in eGFR slope as a primary endpoint at the end of 24 months. Interim results from this trial will be released at 12 months. Based on superior characteristics and limited existing treatment options for patients, Protalix BioTherapeutics expects PRX-102 to reach peak sales value of $1.0 billion.
In addition to the 24-month phase 3 head-to-head trial BALANCE, which compares PRX-102 with Fabrazyme, the investigational therapy is also being tested in another supportive open-label switch-over study BRIDGE. Here, the safety and efficacy of PRX-102 will be tested in those Fabry disease patients who have already been treated with Replagal over a period of 12 months. Protalix also plans to study this drug for pediatric patients in future years.
Besides these two compounds, the company has also initiated a phase 2 trial for another promising investigational compound, anti-TNF therapy OPRX-106. Being too early in the clinical trial development phase, I believe that it would be difficult to comment on the growth prospects of this compound. However, you can read a detailed explanation of this opportunity at Protalix BioTherapeutics: Exploring Ulcerative Colitis.
We can have confidence on Protalix's proprietary plant cell-based expression platform ProCellEx, as it has already produced one FDA approved therapy
Protalix differs from other small biotechnology companies with innovative proprietary drug discovery platforms. Unlike these platforms with no demonstrated success, Protalix's plant cell-based expression platform, ProCellEx, has the success of developing UPLYSO, a drug approved by the FDA for Type 1 Gaucher.
Protalix has sold the rights for this product in all geographies except Brazil to Pfizer (NYSE:PFE) for a consideration of around $36 million. Including upfront payments, milestones, and other payments, Protalix has already earned around $100 million from UPLYSO.
In November 2016, the company received pediatric approval for UPLYSO as a Gaucher therapy in Brazilian market. The company has also received a purchase order from Fiocruz, an arm of the Brazilian Ministry of Health, worth $24 million for this product. This will be shipped starting middle of 2017. Approximately $1.2 million worth of the drug has already been shipped to Brazil in 1Q 2017.
Since sales of this drug were only $4 million in 2016, it seems that there will be significant growth in UPLYSO revenues in 2017.
Protalix BioTherapeutics has cash to sustain its research programs till 2019
At the end of December 2016, Protalix had cash and cash equivalents worth $63.3 million. The company projects that this can fund its research operations till 2019.
Based on the cash flow statement for financial-year 2016, Protalix required around $27.0 million for operational and capital expenditures. This excludes one-time losses incurred due to discontinued operations. The current cash burn rate can be considered to be a good approximation for cash that will be spent by the company in the next few years. Hence, Protalix's projections related to its cash sufficiency stand good.
It should also be remembered that unlike platforms using mammalian cells, plant-based system ProCellEx requires lower scale-up and production expenses.
There are certain company-specific risks to consider before putting your money in the stock
Besides the usual risks faced by small biotechnology companies, such as excessive reliance on few key drugs and risk of a clinical failure, Protalix faces certain specific risks due to the nature of its business.
Since the company is mainly involved in developing therapies for rare diseases, it may prove to be a challenge to enroll sufficient patients to successfully conduct trials. Further, the company is also enrolling those patients who are not currently participating in trials hosted by competitors. In such a scenario, lesser-than-required number of candidates can force the company to delay or abandon its research program. The financial repercussions of such a scenario can be extremely difficult for the company.
Further, Protalix has not received an orphan drug designation or orphan drug marketing exclusivity for any of its drugs. It should also be remembered that these designations and exclusivities lose all purpose if competitors manage to produce superior drugs for these rare conditions. Targeting a very niche market, the entry of a superior competitor can have a drastic impact on sales of Protalix's products.
Protalix can prove to be a profitable investment opportunity in 2017
Currently trading at $1.04, Wall Street analysts expect the company to reach a share price of $2.90 in the next 12 months. On April 17, 2017, Rodman & Renshaw increased its target price from $4.0 to $5.0 and reiterated its buy recommendation.
About 31.30% of the company's shares are owned by institutional and mutual fund owners. Prominent names amongst these investors include Highbridge Capital Management, LLC, Ion Asset Management Limited, UBS O'Connor LLC, Federated Investors, Inc., Angelo, Gordon & Co., L.P., and CalPERS (California Public Employees' Retirement System).
Based on its fundamentals, analyst recommendations, and institutional interest, I find Protalix to be a healthy investment opportunity for a retail investors in 2017.
Disclosure: I/we have no positions in any stocks mentioned, and no plans to initiate any positions within the next 72 hours.
I wrote this article myself, and it expresses my own opinions. I am not receiving compensation for it (other than from Seeking Alpha). I have no business relationship with any company whose stock is mentioned in this article.
Editor's Note: This article discusses one or more securities that do not trade on a major U.S. exchange. Please be aware of the risks associated with these stocks.