When the Department of Labor introduced a new rule aimed at requiring financial services companies to act in their clients' best interests, some financial firms spoke out against the rules. Primerica (NYSE:PRI) was among the most vocal. The company relies on lax regulation to make often sales solicitations that may have violated the DOL rule designed to save consumers from predatory sales practices. With a new administration squarely focused on undoing the consumer protections, Primerica's stock has soared. Is the stock now too overbought? What are the chances the new administration is successful in pulling back the law?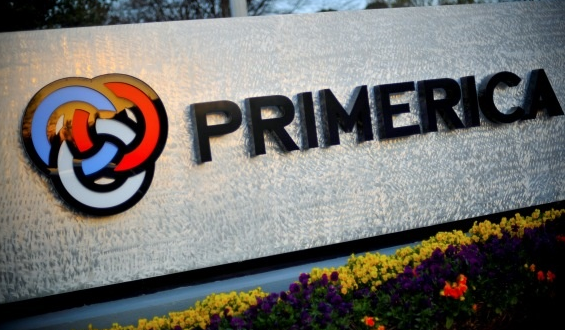 Primerica does not operate like many other insurance and financial services firms. The business model is more comparable to a multi-level marketing firm which just happens to sell some insurance and financial products. At the end of 2016, the company had 97,827 sales reps in the US. According to the most recent BLS statistics, there are a total 351,300 licensed life insurance agents in the United States. Primerica, with 97,000 life agents, has 28% of ALL life insurance agents in America but has just 1.38% of life insurance market share. As a comparison, Prudential Insurance (PRU) has 5.34% market share and 7,680 life insurance agents, or 2.2% of all agents in the US. Primerica has more agents than the top 10 largest insurance companies combined.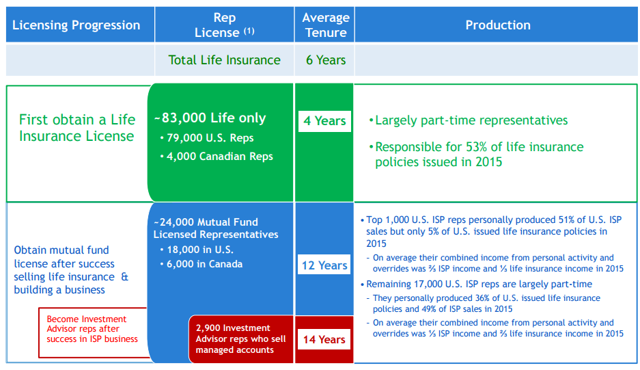 Source: PRI Investor Presentation
The company explains these odd statistics by suggesting that its agent sales force is less concerned with a career in financial services and more concerned with just selling a policy to itself and/or family and friends. That would seemingly be supported by the fact that the average Primerica agent sells just two policies per year. More confusing, however, is that these part-time agents pay $100 to join than many pay $28 per month in technology fees. Why would a rational individual pay $336 per year when they, on average, only sell two policies? The unusual numbers are not just coincidental, they are a symptom of the company's business model, recruiting large numbers of people unfamiliar with insurance to sell products to low-income consumers.
Most Primerica agents are not serious about selling insurance. The company estimates that 90% of their agents are part-time. According to Primerica's 2016 recruiting information, only 17% of recruits pass their life/health licensing exams and just 19% of those who pass will go on to pass FINRA licensing exams. Overall, just 6% of the sales force meet basic standards required by nearly every financial services company.
The new DOL fiduciary standard was squarely aimed at holding these agents to a higher standard when giving insurance/financial advice to clients. Primerica, rightly, recognized that its less experienced and constantly churning sales force would greatly suffer under higher standards. The company increased lobbying expenses to $4.3 million for the two years the rule was finalized.
Striking down the DOL rule could be harder than many investors are betting on. Over the past year, Primerica stock has risen 94% on the hope that the rule would be watered down or entirely eliminated. In February, the president signed a memo detailing instructions for the DOL to review the rule and assess whether certain changes could be made. Investors should pay closer attention to the courts on this matter. Days after the president's memo, another district court sided against insurance lobbyists looking to have the rule struck down. Of particular importance was the court's wholehearted rejection of every single argument presented by the plaintiffs (at the request of Primerica). The court found that it was well within the DOL's authority to issue the rules and that it was not a violation of the first amendment. According to the ruling, "At worst, the only speech the rules even arguably regulate is misleading advice."
Investors have bid up the stock since the November election on the assumption that Primerica agents will be held to previous standards that allowed "misleading advice." That outcome is highly unlikely. Courts have always offered deference to regulators to enact laws under their jurisdiction. The Department of Labor creating a standard for financial advisors has consistently been ruled by various courts as being under the department's authority. The judicial theory of "Chevron deference" is commonly cited and has held up time and time again. In order for Primerica (and insurance lobbyists) to get its way, the courts would need to throw out 40 years of legal theory established in the Chevron case. That expectation is astronomically unlikely, yet investors seem to believe it is a near certainty.
The DOJ has yet to stop defending the rule in court, and thus far, the rule has withstood every single legal challenge. The new administration does wish to do away with the fiduciary standard but has little ability to actually scrap it. Courts have held a stricter scrutiny standard to new administrations seeking to undo existing regulations. The DOL would quickly need to conduct an entirely new cost benefit analysis (the Obama administration's analysis took six years). That new analysis would then have to prove the old one had omitted a material cost (three federal courts have not found any material omissions). Even if the new administration could find a new material omission, it would then need to meet the strict scrutiny standard and convince a court to overrule eight previous rulings and adopt its interpretation. Frankly, the chances of this scenario playing out are very slim.
The dichotomy here creates a real investment opportunity. Primerica's business model has been materially weakened by the DOL rule, yet the stock is soaring because investors believe that rule is now going to be thrown out. Wise investors should short Primerica stock at current levels as it will begin to decline as investors realize the rule will not be eliminated.
At best, Primerica's business will revert back to normal. In the months prior to the election, the equity traded in a range from $45 to $55 per share. In the two years before the election, it traded in a $40-55 range. Historically, the company has had a P/E multiple of 12x earnings. Today, it trades at 19x earnings, 58% above its historical average. This higher-than-usual valuation is atypical among other insurers. Prudential is currently assigned a P/E of 11x and Principal Financial Group (PFG) trades at 13x this year's earnings. A reversion to historical averages would mean significant downside for Primerica investors, or upside for those willing to go short.
Primerica has seen its stock nearly double in just the past year. While the business has grown moderately, its growth rate is similar to peers. Even as it grows in tandem with peers, Primerica is trading at a significantly higher premium. The rollback of investors' protections will not be as easy as some investors are betting. In fact, it will be almost impossible for republicans to completely dismantle the rules to protect investors from predatory sales practices. Wise investors can make money but exploiting the mispricing to Primerica securities and wait as the stock reverts to historical levels as investors come to realize the legal challenge facing those who want to gut the DOL rule. Primerica should drop back into the $50 range, presenting a tangible and unique investment opportunity.