The selloff in the optical network stocks has been even more dizzying than its rise last year, especially in some names like market leader Finisar (NASDAQ:FNSR), which has had a 41% haircut in a month.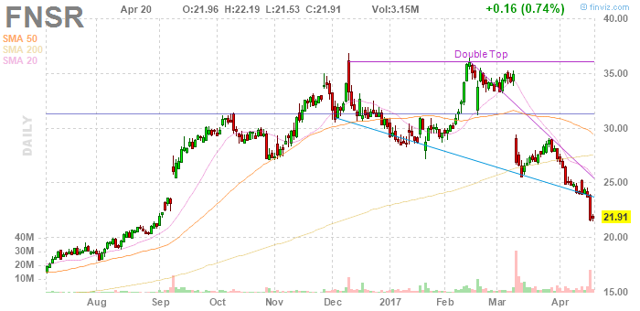 For stock moves this big, one is inclined to think that there must be big reasons behind it, so we start with a tour of all the 'negatives' we can think off, and reason from there.
The negatives for the sector in general, and the market leader Finisar in particular, we can think off:
It's a fragmented sector where few companies are able to develop some meaningful moat. But this is an issue that is hardly new.
The sector is fairly cyclical, going through bursts of demand cycles. This is also a well-known issue.
We have just been through an up-cycle and companies have seen their production and profits lifted, but their share prices have followed and valuation had become stretched.
Some companies also ran up on the expectation of selling laser diodes to the mobile industry for 3D sensing, most notably to the new iPhones from Apple. But there are rumors that these phones are delayed.
There were some execution mishaps at Finisar which produced a soft Q3 result and soft Q4 guidance.
There are rumors that the demand from China is tapering off.
A report from MKM Partners seeing softness in legacy business (10G) and other segments.
Let's start with the latter as this is what is likely to have caused Wednesday's selloff. Here is a quote from the MKM report:
The analyst voiced concern on a number of fronts, "including China, for all products and 10G Datacom and Fibre Channel/SAN in the U.S. and Europe." Genovese sees fourth quarter demand in China weak due in part to lower demand from Huawei with weakness in product demand across the board, including WSS, 10G Datacom and Telecom, and CFP2. According to the note, FiberHome and ZTE (OTC:ZTCOF) are also sluggish for Finisar.
Well, there are several answers to that. Nobody else has noticed this, beyond the soft guidance Finisar itself gave for its upcoming Q4 quarter. Indeed, in the linked article Raymond James' analyst Simon Leopold is puzzled by it. He argues that:
he has heard talk that Huawei is cutting spending, but he thinks this was built into the company's guidance; he "suspects somebody is suggesting" Finisar's legacy business is very weak, but said this has been the case for a while; and "some are claiming" the QSFP28 has issues, but his checks find it is fine and Cisco (NASDAQ:CSCO) is "buying as many as it can."
Perhaps, we should also keep in mind that MKM Partners has lowered its Q4 revenue guidance from $372M to $341M and EPS guidance from $0.53 to $0.46, but still keeps a buy and a share price target of $32 (down from $41).
So at the moment of writing, the most negative analyst on Finisar still has a price target which is a full $10+ above its current market price, a whopping 45%+ appreciation. And the negativity is based on stuff that is either already baked into guidance from the company itself or stuff that others can't confirm.
China
With respect to weak demand from China, isn't it a tad curious that a company like NeoPhotonics (NYSE:NPTN), which has a 60% exposure to China, was down just 3.6% while Finisar, with a mere 20% exposure to China was down more than 9%.
Softness in demand from Huawei? Well, not everybody agrees, here is Stifel (our emphasis):
Huawei noted that in 2016, WDM ports were up 50%-60% in China. Huawei is now anticipating 30% y/y growth in ports for 2017 despite softness in 1Q (with our conversations suggesting there were inventory issues with customers and delays in tenders). Our conversations suggest that Huawei anticipates 2Q to improve versus 1Q, with there being an even steeper ramp in 2H17. Metro is anticipated to drive this growth, with backbone port deployments expected to be relatively flat y/y
This is encouraging especially considering the fact that the Q3 problem was with Huawei, according to Benzinga:
The company acknowledged problems with its 100G transceiver CFP, while sales miss and weak outlook were attributed to issues working with a platform from historic 10 percent-customer Huawei.
That now seems behind us.
With regard to China, Stifel talked to management at the OFC 2017, the 2017 Optical Fiber Communication Conference and Exposition in Los Angeles, and it came away with a couple of data points:
Management reiterated that it has not seen any material slowdown in demand from China outside of its company-specific issue with the CFP which was responsible for the Q3 miss.
China is building out its communications networks, but given that it's new to ROADMs in networks it is no surprise the timing of tenders is difficult to predict as they have to take important decisions with regards to architecture.
There are normal inventory levels.
Management still expects tenders to come in the April-mid summer time frame.
Our take-away is still that there is a China build-out in the cards even if the timing is somewhat uncertain and the worries have been exacerbated by one-off issues. From Stifel (our emphasis):
Our research indicates that due to the size of Chinese networks (management notes 10x the number of cell towers vs. 5x the population), WSS deployments in China have the potential to double WSS/ROADM revenue, which we currently estimate at about $35 million per quarter.
That corroborates with management on the Q3CC (our emphasis):
We also believe that Chinese service providers will begin domestic deployments of ROADMs in the second half of calendar 2017.

We originally thought, go back a year, we thought that by the end of 2016, tenders would have been issued for deployments very early in 2017. Well, it didn't happen. It got pushed out. We supplied fairly large numbers of units, hundreds and hundreds of ROADMs or wavelength selective switches for, what we would call in the U.S. field trials, they would call them small deployments in China. We then thought that these tenders would be issued in right after the first of the year. That didn't happen. And then we said, we thought it would happen right after Chinese New Year. Well, that hadn't happened. And our latest input says it's probably a second half of event. And the tenders may occur between now and July, at least we're hoping for that, but we are assured by officials at the service providers and in the equipment companies that it's coming.
It isn't really a matter of if but when.
We also think the market is overlooking a number of supporting data points:
Verizon accreditation
New networks
Hyperscale data booming confirmed by Applied Opto
Valuation
Relative valuation
Oversold
Verizon (NYSE:VZ)
Here is what Finisar management announced on its Q3CC:
we expect to finally achieve qualification in the first quarter of fiscal 2018 for both our 100-gigabit coherent CFP2 ACO transceiver and our ROADM line card for use in the Verizon Metro upgrade.
Raymond James analyst Simon Leopold envisions growth from CFP2-ACOs into the Verizon initiative, per Benzinga.
New networks
While we're in still the midst of the latest network expansion, 100G data and 4G mobile, the next network buildout is already commencing. Here is Barrons:
The Street is pondering the announcement yesterday by Verizon Communications CEO Lowell McAdam that his company has committed to buying a billion dollars worth of fiber from glass maker Corning (NYSE:GLW) through 2020, to support the build-out of so-called 5G wireless services, which need fiber to support a more dense array of antenna structures. In a note to clients, FBR & Co.'s Alex Rygiel writes that competitors such as AT&T (NYSE:T) can be expected to follow suit.
While we are still in the early innings of 100G, some Chinese companies like China Mobile (NYSE:CHL), together with Huawei, are already embarking on field trials of the next standard, 400G. China Mobile is also one of the Chinese companies that is already embarking on 5G trials. We know that when one starts, the others cannot be left behind.
Hyperscale boom
We've already commented extensively on the hyperscale boom in the two linked previous articles, and the fact that this has been confirmed by the Applied Optoelectronics (NASDAQ:AAOI) pre-announcement, that guided its upcoming quarter way above what the market expects.
Hyperscale customers are good for roughly 85% of the demand for QSFP28, for which Finisar has a 30% market share and production capacity is constrained for the rest of the year.
Sales have increased to 50M in Q3 (up from 30M in Q2) and the company is aggressively adding capacity of roughly $20M in sales a quarter. The QSFP28 also carries higher-than-average margins, and the company denied there was a quality issue on the Q3CC.
VCSEL's
The 3D sensing opportunity is an entirely new market opportunity for some of the optical networking companies, like Finisar, Lumentum (NASDAQ:LITE) and II-VI (NASDAQ:IIVI).
Leopold from Raymond James quantified this opportunity: "Finisar could generate $10's of millions and by our estimate $0.10-0.35 of incremental EPS in FY18," even if Lumentum has capacity advantages working with a foundry partner.
While the shares sold off on rumors of a delay in the upcoming iPhones, which supposedly have 3D sensing, this is a matter of weeks and isn't changing the fundamental picture, as the market is much wider (per P&S Market research):
VCSELs offer reliability, high precision and efficiency in optical sensors based on scattering, transmission, absorption, self-mixing, reflection, interference, and others. For instance, VCSELs are universal in applications using reflective sensors and scattering or imaging techniques to perceive objects or moving objects. Greater precision has increased the adoption of VCSELs in medical applications, such as medical diagnostics and therapeutics, optical nerve stimulation, computed radiography imaging. Multi-element VCSEL arrays offers around 1 W of CW optical power, low facet power density while providing high wallplug efficiency. Owing to this, various applications including LiDAR, aerospace, night vision, illumination, and line-of-sight communication links operating at 3 Gbps and higher have observed increase in demand of VCSELs. Proximity is measured by transmitting light and sensing reflections from nearby objects. Superior power efficiency over LEDs has increase the adoption of VCSELs in proximity sensing applications, which is further fueling the growth of the market.
Valuation
At under $22 a share, Finisar is valued at 10x 2017 and less than 10x 2018 earnings. This is fairly cheap, but it's especially cheap compared to other stocks in the sector, like second biggest Lumentum.
We addressed this already in a couple of previous articles (here and here), but since these, the valuation gap has actually increased. In summary:
Lumentum now boasts a slightly higher market cap while Finisar's revenue exceeds Lumentum's by 50%+.
The difference isn't compensated by higher growth rates or margins at Lumentum. In fact, Finisar generally enjoys somewhat higher margins.
Finisar also has substantial net cash ($500M) on its balance sheet, in excess of requirements.
Conclusion
Finisar plunged more than 40% in fairly short order on a temporary glitch and some uncertainty about the timing of Chinese demand. But that Chinese demand is coming sooner or later and the temporary issues and seasonality are soon behind us.
On top of that, the company faces booming demand for its high margin 100G products (where it will remain to be sold out for the foreseeable future) and WSS/ROADCOM and has a new market opportunity in VCSELs that demand isn't abating anytime soon.
While we're still early into 100G and 4G mobile, the next market standards (400G and 5G) already see early movers.
We understand that asset markets have a habit of overshooting and, in this case, undershooting. The shares are cheap compared to its main rival, have sold off 40%+ in a month, and even in its bleakest scenario from MKM Partners, they have 40% upside. The shares are also heavily oversold.
Barring a catastrophe (like a general market crash), it is difficult to see how the bad news, most of which isn't confirmed and will be temporary anyway, isn't already priced into the stock price.
Disclosure: I am/we are long FNSR.
I wrote this article myself, and it expresses my own opinions. I am not receiving compensation for it (other than from Seeking Alpha). I have no business relationship with any company whose stock is mentioned in this article.