Rethink Technology business briefs for April 20, 2017.
Tesla Customers Lose Patience with Slow Autopilot 2 Delivery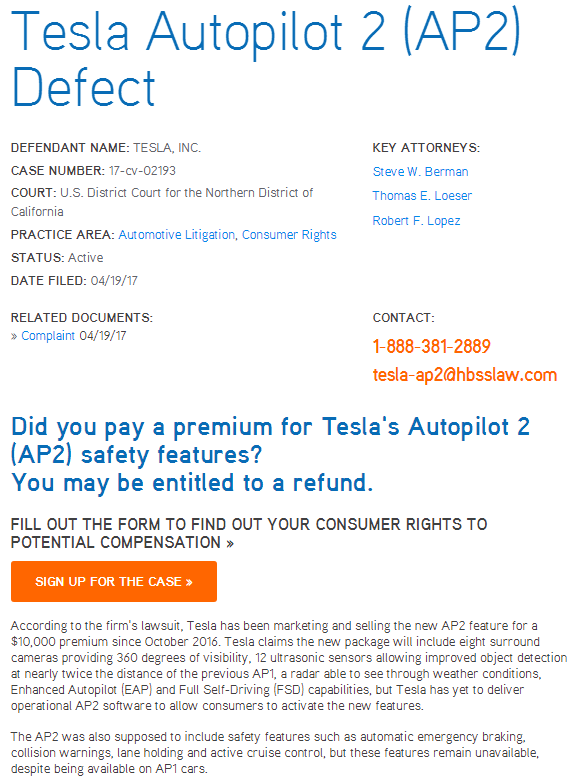 Source: Hagens Berman
Enhanced Autopilot (EA), also called Autopilot 2, is the name Tesla (NASDAQ:TSLA) gave to its suite of driver assistance features that it announced in October 2016 when it made the switch from Mobileye (NYSE:MBLY) to Nvidia (NASDAQ:NVDA) hardware processing. At the time, it was stated that all Tesla cars would be equipped with sufficient hardware to support "Full Self-Driving" capability when the software was ready.
This hardware included the Nvidia Drive PX 2, 8 video cameras, 12 ultrasonic sensors and a forward-looking radar. Tesla assured prospective buyers that Enhanced Autopilot would be delivered by the end of December.
Delivery of Enhanced Autopilot features, which were supposed to provide all the features of the original Mobileye system plus additional enhancements, has been painfully slow. It's obvious that the company overpromised on the delivery time frame for EA.
As late as the March 29 release of software update 8.1, EA still had not been brought up to parity with Original Autopilot (AP1). Autosteer functions were the main focus, with an increase in highway top speed, but Automatic Emergency Braking (NYSE:AEB) was still a no-show. Tesla's Traffic Aware Cruise Control (TACC), a new feature of EA, was also absent.
Given how long it has taken, and the incomplete state of the EA delivery, it was probably inevitable that Tesla would be sued by Hagens Berman (HB), which began soliciting for plaintiffs on March 22.
I'm not going to defend Tesla's handling of EA, because in fact, it looks increasingly like a huge blunder. However, I will correct some of the misstatements and inaccuracies contained within the HB complaint.
HB makes many of these factual errors in the context of representations of the opinions of the plaintiffs. This is so as to not damage the credibility of the attorneys themselves. For instance, the complaint represents that one of the plaintiffs, Dean Sheikh...
... learned from online sources that the driver provided input hundreds of times and that the video was simply pieced together and actually footage took days to tape. Dean came to understand that editing made it look like Tesla had a working Full Self Drive prototype that was primarily ready and just waiting for regulatory approval. But that was not true; Dean now believes that Tesla has no such prototype.
Note how cleverly this is done. We're only told Sheikh's opinion, which could be based on completely erroneous information "from the Internet" with no source attribution whatsoever.
I've looked at the Tesla self-driving video several times, and I really don't believe it is "pieced together" from many separate takes. Such a thing would be very obvious and easily detected. As such, it would make for a very poor marketing tool.
What appears to be the case, based on the California Vehicle Disengagement Reports for Tesla in 2016, is that the company did have to "practice" the drive with the car a number of times in order to train the AI to drive the course without mistakes. This is part and parcel of the whole process of machine learning that is the basis of the Nvidia system. To the extent that Tesla didn't divulge how much training was required, the video could be considered misleading.
The complaint also makes repeated references to the malfunctions and unreliability of EA's Traffic Aware Cruise Control, despite the fact that it has never been delivered. Probably what they are referring to is Autosteer, which in January or February may well have been unreliable.
The complaint focuses on three major blocks of issues: that Tesla committed fraud, that it failed to deliver promised EA features, and that EA as delivered is unsafe. The last claim is probably the weakest. The plaintiffs have not asserted any damage or injury as a result of using EA.
Also, there is no assertion that the plaintiffs attempted to call the alleged malfunctions of EA to the attention of Tesla or that the company tried, and failed, to rectify the alleged problems. But there is no denying that the company has failed to delivery EA in a timely manner, and may have misled customers and the public regarding the maturity of its EA software.
Intel's Impressive Optane
Intel's (NASDAQ:INTC) 3D XPoint technology, now branded Optane, has been extensively tested by the review site AnandTech. 3D XPoint relies on phase change material (probably a chalcogenide) to store data.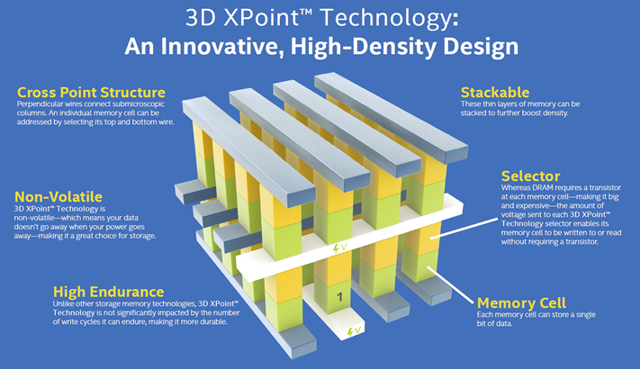 Source: AnandTech
Random read and write is considered the key strength of Optane, and AnandTech's test results show that this is the case.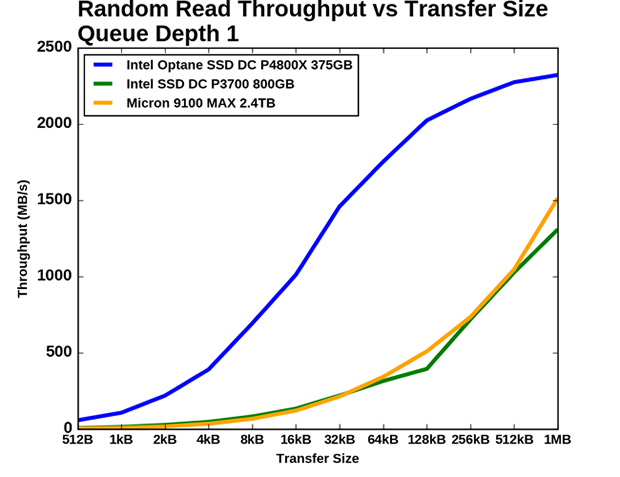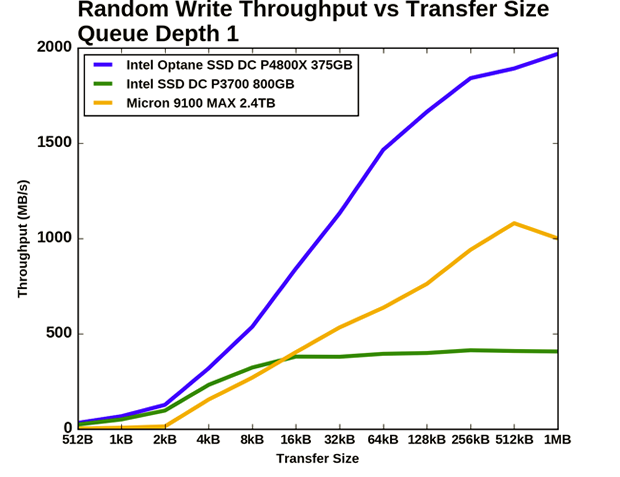 But even in sequential read and write, Optane was as good as or better than flash. AnandTech still had some questions about the technology, such as energy efficiency compared to flash, but overall, it appears Optane is off to a very impressive start.
Google Plans Ad-blocking Chrome
The WSJ has reported that Google plans to incorporate ad blocking in its Chrome web browser. The feature will block certain types of ads deemed to provide a "poor user experience". Google is expected to announce the feature in a few weeks (perhaps at Google IO?).
The ads considered undesirable are precisely those that have been developed over the past few years to make ads even more difficult to ignore as well as difficult to block. These include pop-ups, auto-playing video ads with sound, and "prestitial" ads that run before the site page opens, usually with a countdown timer.
This certainly seems like a counterintuitive move by a company dependent on ad revenue, but it may make sense in the long run. Online advertising has evolved to be ever more obnoxious and obtrusive. At the same time, Google's cost-per-click continues to decline. As advertising becomes more obtrusive, it seems to become less valuable.
Apparently, Google hopes that by incorporating an ad blocker, it will discourage undesirable advertising and ultimately increase the value of advertising deemed desirable. It's also thought that a built in ad blocker will discourage development of third-party ad blockers.
I doubt this will work. The current state of advertising is already the product of the ongoing war between advertisers and ad blocker developers. A built-in Chrome ad blocker is unlikely to change that.
Disclosure: I am/we are long NVDA.
I wrote this article myself, and it expresses my own opinions. I am not receiving compensation for it (other than from Seeking Alpha). I have no business relationship with any company whose stock is mentioned in this article.