In my upcoming newsletter, The Forbes Real Estate Investor, I plan to include a list of 10 Battle-Tested REITs to BUY right now.
As I began to research the content for my upcoming article, it became clear that many of the so-called "battle-tested" REITs are trading at premium valuations - names like Realty Income (O), AvalonBay (AVB), Prologis (PLD), Boston Properties (BXP), and PS Business Parks (PSB).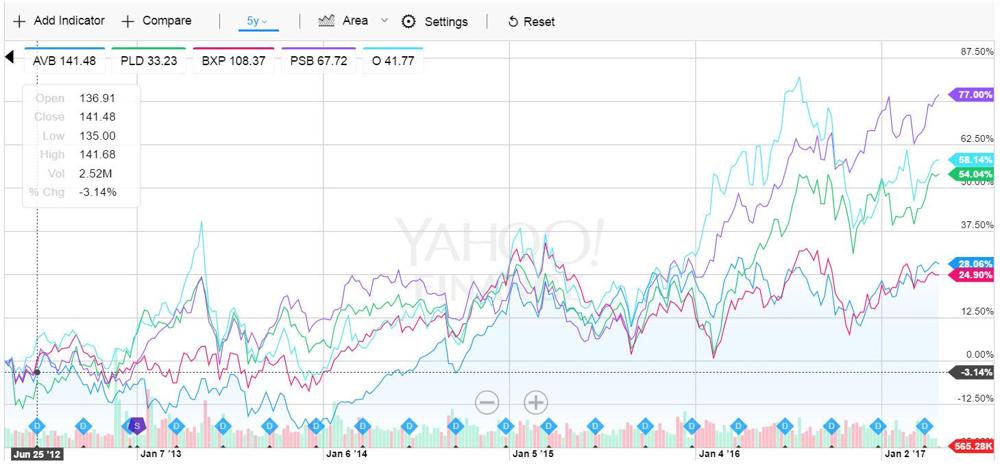 It's obvious that there are benefits to owning "battle-tested" REITs, typically they aren't as volatile as the small-cap names and they have demonstrated successful risk management through multiple economic cycles.
For the large part, battle-tested REITs have survived both macro and micro economic events, enabling investors to enjoy a healthy stream of dividend income in good times and bad. They have exceptional offensive and defensive characteristics that allow them to grow earnings while protecting investor capital preventing the potential for share price erosion.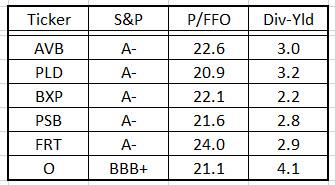 Even in chaotic times, like the Great Recession, the battle-tested REITs attempt to calm investor fears by maintaining (and growing) the dividend, without sacrificing the predictable record of dividend growth.
By and large, the battle-tested REITs are designed to help investors "sleep well at night," even during periods of volatility.
But sometimes there are bargains that are spurred by tough times or lack of esteem, as the legendary investor Benjamin Graham said:
...the market is fond of making mountains out of molehills and exaggerating ordinary vicissitudes into major setbacks. Even a mere lack of interest or enthusiasm may impel a price decline to absurdly low levels. This we have what appear to be two major sources of undervaluation: (1) disappointing results, and (2) protracted neglect or unpopularity.
As I began to ponder my Forbes article, I realized there are a handful of battle-tested REITs that are suffering from temporary tough times; that is, shares are trading at discounted valuation levels, while they are all ranked highly according to my new Rhino REIT scoring model.
As many investors may agree, dividend performance is a key indicator for corporate strength and when I see a pattern of consistent dividend growth, it implies that the company has a very durable platform. That's why I consider dividend growth to be an exceptional barometer for assessing performance and predicting price movements in the quarters ahead.
As I said, I plan to publish a list of 10 battle-tested bargains in my upcoming newsletter, and here's 3 to chew on now.
3 Top Battle-Tested REITs
A few weeks ago, I wrote on Kimco Realty (KIM), and I concluded that "when comparing KIM's balance sheet, dividend growth history, and high-quality portfolio, none of the REITs (peers) can compare. KIM is clearly trading at a discount to its closest peers (FRT 23.4x, AKR 20.7x, REG 19.9x, and ROIC 19.3x). The average P/FFO multiple for these 4 peers is 20x and KIM is trading at 14.7x."
There is no argument that retail is "out of favor" today, but KIM has pulled back beyond the closest peers, and ultimately I opted to upgrade shares from a BUY to a STRONG BUY. KIM is also one of the few BBB+ rated shopping center REITs (REG is rated BBB+ and FRT is rated A-), and it's conceivable that S&P could upgrade KIM to A- in the near term (6-12 months). KIM is up ~$1.00 /share since my article, but I find the price compelling and shares are definitely trading with a wide margin of safety.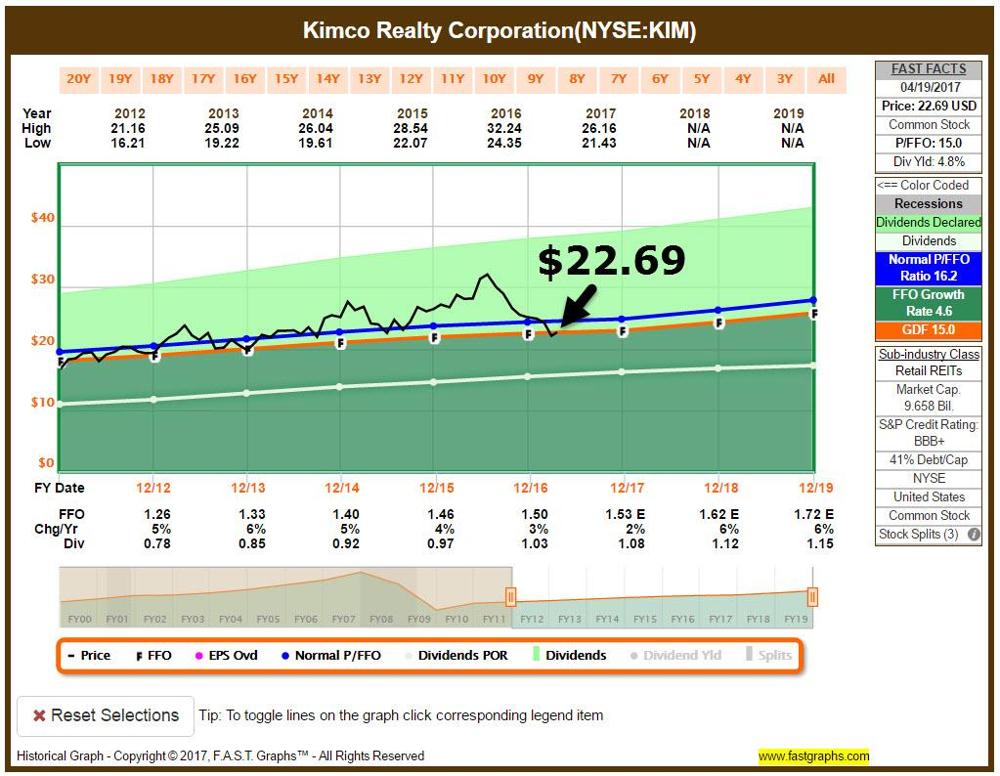 In late March, I also wrote on Ventas, Inc. (VTR). I explained that "VTR appears to have all of the levers in place to become a top performer" while the closest peers – Welltower (HCN) and HCP Inc. (HCP) - will be "wrestling with dilution with the spin [HCP] and property sales [HCN]."
VTR made great strides in enhancing its balance sheet and financial strength in 2016. This was demonstrated by the issuance of $1.3 billion in equity over the course of the year at an average gross price of approximately $70 per share.
These days, VTR is trading at $66.41/share with a dividend yield of 4.7%. Like KIM, I could see VTR becoming an "A" rated REIT, but the clear catalyst is the exceptional risk management practices demonstrated by the Chief Executive, Debra Cafaro. VTR has not cut its dividend in a long time and the more recent pattern has been nothing but outsized growth.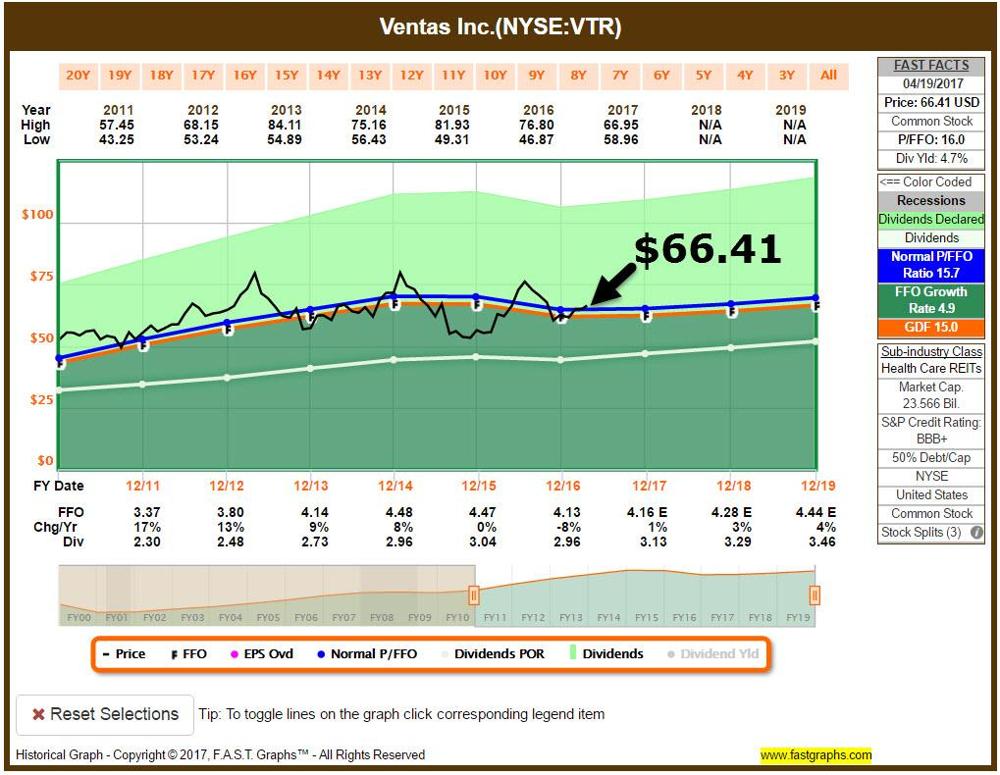 My final battle-tested pick is a topic of frequent debate.
A few days ago, Don Dion wrote an article recommending Simon Property Group (SPG) as a short idea. He was actually calling for a "pair trade" recommending Prologis (PLD) as a BUY and SPG as a short. The author writes:
Given the pressure on mall REITs and the positive market trends for warehouse REITs, we expect Prologis to increase further (or decrease less) than Simon Property Group, regardless of how the market reacts.
He goes on to say:
Despite announcements of store closings, SPG's stock price is down just 4.2% YTD versus the 5.4% increase for the S&P500. Given the significant portion of revenue at risk with these major retailers closing stores, the market has not fully reacted to the news.
I like Dion's PLD idea - this REIT is certainly battle-tested and enjoys a strong balance sheet (A- by S&P) with a strong record of dividend growth.
However, I consider the SPG short foolish. Shares have certainly been hammered as a result of the retail noise, but the market has completely missed the mark as it relates to SPG's blue chip fundamentals. I summed up my bullish commentary in an article (January 2017):
Being the low-cost leader as a retail landlord is a powerful catalyst, and we believe that SPG's diverse tenant base and impressive cost of capital will drive shares higher over the next 12 months.
I'll be taking a closer look at SPG in my upcoming newsletter, but my arguments remain centered around dividend quality and the most defensive elements that drive this battle-tested REIT.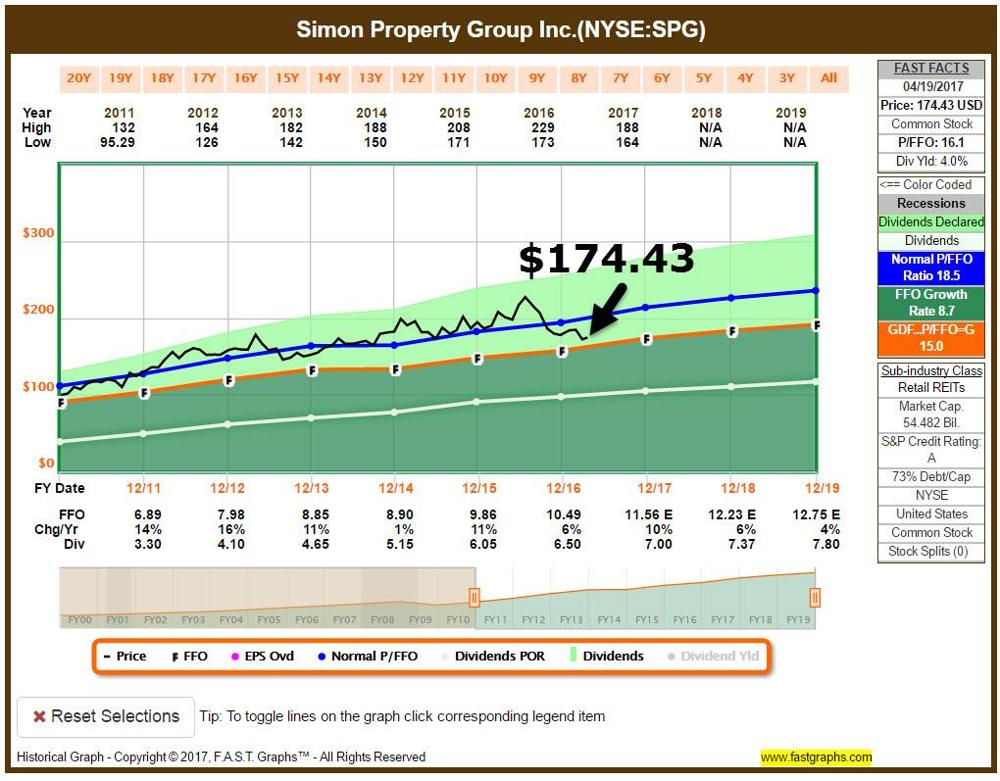 In summary, selecting sound REITs is much simpler than investors think. My advice is to simply try to pick the best REITs in each sector, that are trading at a margin of safety. You don't need to own one REIT in every property sector, it's important to understand the driving forces of the sectors and then make a determination as to whether you are comfortable with the mix of REITs within each category.
Needless to say, two of the REITs I am recommending are RETAIL REITs and clearly the discounts are priced according to the caution signals from Mr. Market. Overall, I view the shares (in KIM and SPG) as attractive based upon their battle-tested fundamentals and overall potential for above average price appreciation.
While it's impossible to eliminate all investment risk, an intelligent REIT investor can greatly minimize such risk by filtering out disadvantageously positioned securities from the outset. That's why it's important to not only pick the battle-tested REITs, but also the ones that are trading at a discount. After all, it takes only a few large losses to decimate overall investment performance, even if many other investments prove successful.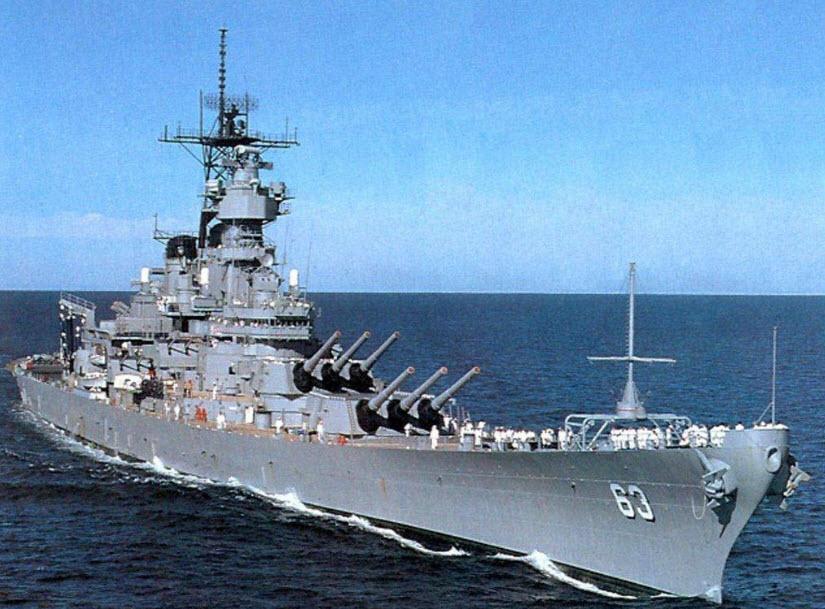 You can view all of my Rhino REIT Ratings by subscribing to REIT Beat HERE.
Author Note: Brad Thomas is a Wall Street writer, and that means he is not always right with his predictions or recommendations. That also applies to his grammar. Please excuse any typos, and be assured that he will do his best to correct any errors, if they are overlooked.
Finally, this article is free, and the sole purpose for writing it is to assist with research, while also providing a forum for second-level thinking. If you have not followed him, please take five seconds and click his name above (top of the page).
Source: FAST Graphs and Yahoo Finance.
Disclosure: I am/we are long VTR, APTS, ARI, BXMT, CCI, CCP, CHCT, CLDT, CONE, CORR, CUBE, DLR, DOC, EXR, FPI, GPT, HASI, HTA, KIM, LADR, LTC, LXP, O, OHI, PEB, QTS, ROIC, SKT, SNR, SPG, PK.
I wrote this article myself, and it expresses my own opinions. I am not receiving compensation for it (other than from Seeking Alpha). I have no business relationship with any company whose stock is mentioned in this article.