This week's jobless claims print came in slightly lower than expected and remains below 250K, providing further indication that the short-lived increase in March was more a weather-related blip than anything else. While economists were expecting this week's print to come in at 244K, a 10K increase from last week's level of 234K, the actual reading was 240K, marking the 111th straight week of sub-300K readings.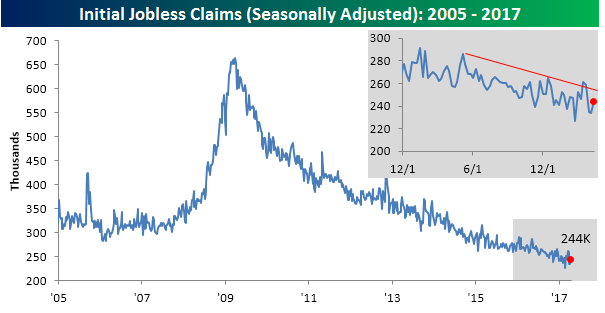 Even though weekly claims increased week over week, the four-week moving average actually ticked lower, falling from 247.25K down to 243K. That's just 3.25K above the cycle low of 239.75K that was hit eight weeks ago, back in February. If next week's print is anything less than this week's reading of 244K, that low may come into play.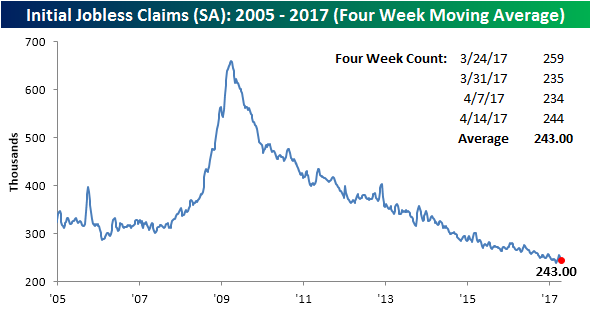 On a non-seasonally adjusted (NSA) basis, claims were just as strong. At a level of 226.7K, this week's print was the lowest NSA print for the current week of the year since 1973 and more than 125K below the average of 353.4K for the current week of the year dating back to 2000.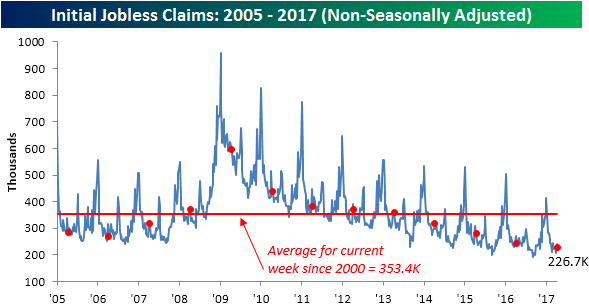 Finally, while we don't show it on a regular basis, this week's Continuing Claims report was also quite strong. At a level of 1.979 million, this week's print was the lowest since April 2000, and before that, you have to go all the way back to 1988 to find a lower print.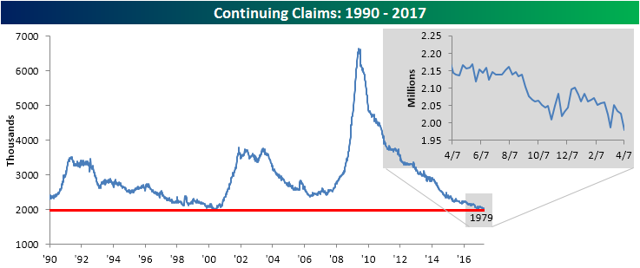 Thanks for reading the article. Follow our account to get our articles as soon as they're posted to Seeking Alpha. To get our full newsletter, sign up for Bespoke Newsletter PRO. Subscribers to that service get access to Bespoke's model stock portfolios, actionable data-driven insights, and in-depth analysis of everything that drives the markets, among other things.