Introduction
When I last checked in with an AbbVie (NYSE:ABBV) article, I addressed AbbVie's Humira situation from a generally positive viewpoint. Several quarters on, I am pleased to report that AbbVie's race to bridge any revenue lacuna posed by generic competition to Humira is proceeding apace.
The basic tension still exists to be sure. However, AbbVie's defenses and counter-strategies are holding to this point. Earnings are just around the corner; I am going to be listening carefully to the conference call to confirm that AbbVie's bridge remains sound, as I fully expect to be the case.
AbbVie's revenues are still overly dependent upon the ongoing success of Humira.
Humira brings a substantial measure of relief to patients who suffer from a devil's brew of dread diseases. It stands at the top of lists of the world's best selling drug therapies year after year. It does this despite a truly scary list of possible negative effects repeated time and again as its television ads have become the Anacin of our age.
AbbVie's haul of >$16B in revenues from Humira in 2016 out of its total revenues of ~$25.6B amounted to >62% of AbbVie's total 2016 revenues. This compared to Humira's >61% revenue share in 2015. AbbVie's efforts to lower its dependence on Humira are falling slightly astray, likely because of (i) AbbVie's phenomenal success in collecting FDA approvals for expansion in uses for Humira and (ii) its unrelenting Humira price increases.
Humira has been the Teflon drug over a 15-year span, taking on all comers, raising prices and expanding its label again and again and again.
AbbVie's predecessor, Abbott (NYSE:ABT), acquired Humira as part of its 2001 acquisition of Knoll Pharmaceuticals. Abbott's strategies in marketing Humira have been written up as a Stanford Business School case study under the title, "Abbott Laboratories And HUMIRA: Launching A Blockbuster Drug."
Humira's revenues have exceeded $10B per year since 2012, always stairstepping up. Humira continues its steady upward trend reaching >$16B in 2016. A June 2016 AbbVie press release notes that Humira's label authorizes treatment for 14 different indications globally and 10 in the United States.
Label expansion is not the only reason Humira revenues have climbed so steadily. AbbVie has also meted out an unsavory progression of Humira price jumps, more than twice a year of late. According to a Reuters article, AbbVie has pledged to limit increases to no more than 10% for 2017.
In January 2013, Abbott split with AbbVie, Humira to go with AbbVie. A Chicago Tribune article anticipating the split noted:
AbbVie will face ... challenges, including how to replace Humira, which accounts for nearly half of its sales. Humira will lose patent protection in late 2016 in the U.S. and in 2018 abroad,...
This horrid prospect of imminent Humira generic competition has haunted AbbVie ever since.
If its phase 3 trials for ABT-494 go as hoped, AbbVie may continue to dodge the Humira patent cliff for an extended period.
AbbVie's CEO Gonzalez has made it clear to all that Humira's expiring patents are far from the only ones protecting it and the patent wall is ever growing. The urgency AbbVie attaches to this is illustrated by the following in the Q&A to AbbVie's Q3 2016 conference call:
I believe HUMIRA's IP estate has increased by 30 or so patents from this point last year. Last year you gave us a very nice chart of the nature of the patents and the expiration dates. It was page 14 of your slide deck.
Of course, it doesn't matter how many patents you can claim. Rather it depends on the coverage and the expiration. More than anything, it depends on the prevailing law governing the applicable patents. The Biologics Price Competition and Innovation Act (BPCIA) is an abstruse bit of legislation from 2009 under which AbbVie is currently suing Amgen:
The complaint specifically asserts infringement of ten HUMIRA® patents, but indicates that 51 others may be infringed.
Apparently, the BPCIA poses procedural blocks on AbbVie's assertion of the other 51 patents. Who knew? Forecasting any final result out of such a dispute beyond the raw inevitability of delay is clearly impossible. AbbVie has been working diligently to assure that mere delay is enough to protect it.
The bottom line is that US generic competition to Humira is bottled up for an indefinite period. AbbVie is taking several paths to protect itself. It is fighting the aforesaid rear guard patent action.
It has generated a new formulation for Humira to reduce injection pain; it is working to reduce its over-reliance on Humira by expanding its pipeline. As noted, Humira's percentage of AbbVie's sales continues without diminishment. Humira's sales continue growing at a rapid pace... certainly not an altogether bad thing.
The particular development that intrigues me the most continues in play. If AbbVie could develop a new therapy to take the place of Humira as the standard of care for many of the indications that Humira currently addresses, this would be a win-win. It would advance patient care and it would advance AbbVie's position.
This is where ABT-494 enters the picture. Witness the slide below: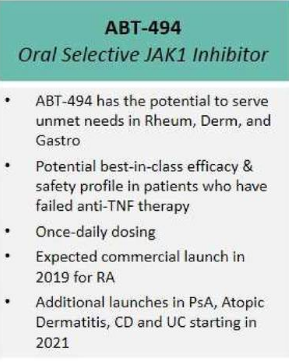 The above being a portion of a slide from AbbVie's slide deck presented at this year's JPMorgan conference. AbbVie has a new therapy, ABT-494, in phase 3 development. Data release from its stage 3 trial is expected in 2018. If all goes well, AbbVie pegs it as teed up for launch in 2019. This is significant for two reasons. At least one article envisions ABT-494 as a possible new standard of care for some indications.
Not only does this potentially keep AbbVie in the fight time-wise on the patent issue, it also deflates opponents' revenue projections for Humira bio-similars. With ABT-494 in the picture, Humira is less of a prime target. Instead of being world's biggest pharma revenue producer, it may become a second place therapy to ABT-494.
Conclusion
When Abbott cut AbbVie loose to fend for itself, Abbott was generally considered the play more likely to grow quickly. AbbVie's healthy dividend was the principal reason to hold a company likely to face revenue stagnation and looming generic competition to its principal revenue source.
As things now stand, both companies are attractive, but the thesis that Abbott would outgrow AbbVie has not panned out. As shown on SA's key data, AbbVie has revenue growth of 12.15% compared to that of Abbott at 9.36%. AbbVie has a three-year dividend growth of 14.31% while Abbott's is 13.4%. AbbVie's stock has doubled, while Abbott's has advanced from ~$30 to ~$45.
With a PE topping 17 and an attractive dividend of 4%, AbbVie does not appear to be an attractive buy in today's biotech environment. I consider it as a solid hold.
Disclosure: I am/we are long ABBV AND ABT.
I wrote this article myself, and it expresses my own opinions. I am not receiving compensation for it (other than from Seeking Alpha). I have no business relationship with any company whose stock is mentioned in this article.