There are a number of factors I really like about Principal Financial Group (NYSE:PFG) including:
Consistent year-over-year operating growth since 2011.
Market dynamics that should be a positive catalyst for PFG.
A dividend that yields 2.9% and is likely to continue growing as a result of robust free cash flow.
Despite all of those positive things I just mentioned, I won't be buying PFG right now given a premium valuation relative to peers. The stock has had a great run over the last 10 months. PFG hit a low of $38.03 at the end of last June and has since increased 65% to a current price of $62.92. I missed the boat on this one, but I'll be keeping my eye on it for a future dip.
PFG Financial Snapshot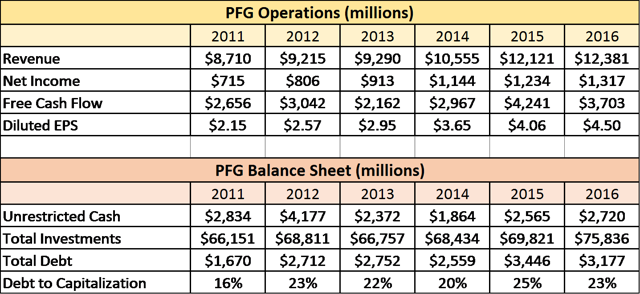 Since the financial crisis, PFG has done very well. Over the last 5 years, revenue, net income, free cash flow, and EPS have all grown substantially. Leverage has also remained low, which leaves flexibility for acquisitions in the future.
Market Dynamics
PFG should benefit from a few favorable trends in the insurance and investment markets. First, PFG has an international footprint, which includes high growth countries like China, Brazil, Mexico, and Indonesia. This is important because many countries are moving towards private sector defined contribution plans like 401ks. This means that there will be additional demand for retirement asset management and retirement income management solutions, which are PFG's specialties.
Second, there should be favorable growth and profit margin improvement in PFG's insurance business. A healthy U.S. economy, rising interest rates, and regulatory improvements are positive trends that PFG can take advantage of.
Dividend Growth - 2.9% Annual Yield
What I like most about PFG is its growing dividend. PFG has increased its dividend since 2012 including all of the last 5 quarters. However, PFG has historically been susceptible to market downturns, which affects the dividend. They have a history of growing the dividend quickly and then cutting it as needed.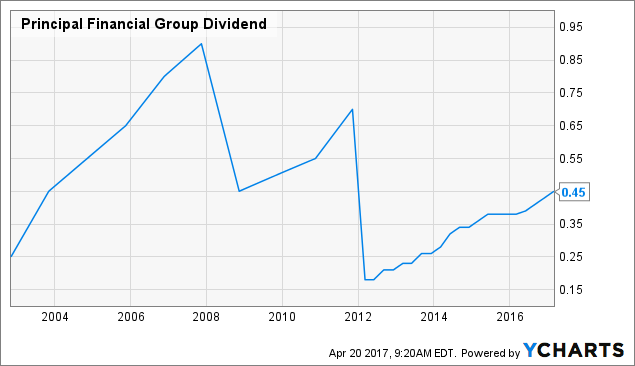 PFG Dividend data by YCharts

The good news is that PFG's dividend is safe and likely to keep growing quickly. Even with a 2.9% yield, PFG's dividend payout ratio is still at only 13% based on free cash flow (operating cash flow less capital expenditures). This is precisely why I expect the dividend to continue rising rapidly. Even if PFG experiences flat sales growth, there's still enough free cash flow to increase the dividend going forward.
PFG also has a history of returning capital to shareholders through stock repurchases. I'm generally a fan of stock repurchases because it's a form of returning capital back to shareholders, just like a dividend. Stock repurchases also increases earnings per share, even if earnings have remained flat. PFG doesn't spend a ton of capital repurchasing shares every year, but its still been enough to reduce the average diluted shares by approximately 8% since 2011.

Market Comparables Analysis - $49.27/share (21% downside potential)
Instead of using 1 comparable metric to value PFG, I blended together 5 - Forward P/E, Price/Sales, EV/EBITDA, Price/Book and PEG Ratio. I believe this is a better approach given some stocks will yield discounts or overvaluations based on which metric is used.
PFG looks to be overvalued give the stock currently trades at premiums across the board. Stocks like Metlife (NYSE:MET), Prudential (NYSE:PRU), and Lincoln National (NYSE:LNC) appear to be much better bets right now.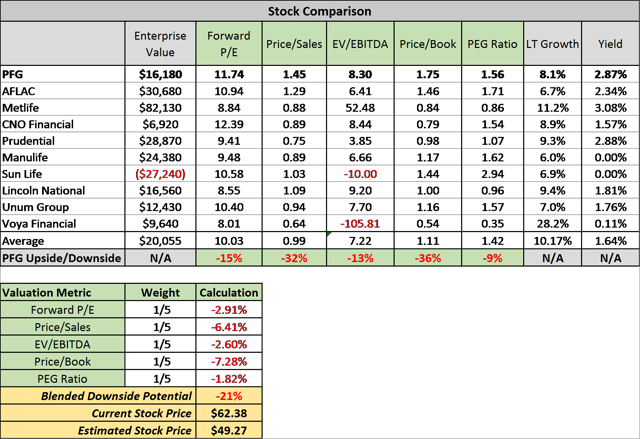 Enterprise Value, Forward P/E, Price/Sales, EV/EBITDA, Price/Book, PEG Ratio, and Yield provided by Yahoo Finance.
For Average EV/EBITDA, extreme outliers were omitted, which includes Metlife, Sun Life, and Voya Financial.
LT Growth Rate provided by Reuters.
Wall Street's Opinion
According to MarketWatch, 33% of Wall Street analysts have a 'buy' rating for PFG and 13% have it as a 'sell' (majority rate it as a 'hold'). The average target price is $62.73, which is basically right where the stock currently trades at. Wall Street analysts definitely are giving more value to the stock than I am, but their target price doesn't make for a compelling buy either.
Conclusion
While I see PFG continuing to perform well, the stock has quickly gone from undervalued to overvalued in 10 months and I'm not willing to pay a premium for it. However, the stock has a history of volatility, which makes sense given a beta of 1.68. I'll be setting a stock alert for when the price drops to less than $50, which I perceive as a fair price based on my comparables analysis.
Disclosure: I/we have no positions in any stocks mentioned, and no plans to initiate any positions within the next 72 hours.
I wrote this article myself, and it expresses my own opinions. I am not receiving compensation for it (other than from Seeking Alpha). I have no business relationship with any company whose stock is mentioned in this article.