Shaw Communications (NYSE:SJR) has seen a strong reaction in its stock price in response to its 2nd quarter earnings report that showed significant subscriber performance in its cable and wireless segments. This was especially surprising as the company had lowered expectations ahead of the quarter. However, we think that the company is currently overvalued as it trades at a premium in forward EV/EBITDA at X8.93 compared to an industry average of x7.90. We do not think that this is justified by superior growth upside as will be further discussed in the article. Additionally, we do not see EBITDA increasing to bring the company to a fair valuation as it will face adversity with increasing costs in the Cable market.
Wireless growth outlook is limited
Currently, there are two main sources on low-band spectrum which are 600Mhz auction and Quebecor's 700MHz licenses. However, we believe that many investors are overlooking the difficulties Shaw will face when attempting to acquire the spectrum. To begin, the 600MHz auction is reported to take place in 20 months as opposed to previous predictions of buying opportunities this year. Additionally, QBR has no urgency to sell its 700Hz spectrum until its moratorium expires in 2019. These long timelines will be partnered with all the Big 3 attempting to keep the spectrum away from Shaw, or at the very least make it as expensive as possible for the company. This has been reflected in Rogers Communications' (NYSE:RCI) management stating that it is not interested in entering a network sharing partnership with Shaw in the upcoming years. We believe this may lead the business to become limited to discount brands, it would face great competition as the Big 3's flanker brands will continue to crowd the market. Without sufficient spectrum, which would most likely have to include both 600MHz and 700MHz, we do not believe that management's plans for Shaw's growth outlook will be feasible. We see this as a major problem for Shaw that will continue to put downward pressure on its stock price.
Video growth may result in significant cost increases
While management has increased its outlook on video subscribers turning positive in Q3 on this year, we believe this will be offset by increased costs. X1 will continue to further drive ARPU and Cable churn, but we are not ready to view this as a positive sign as the management has not discussed any costs associated with the project. Although the costs have not yet been included in Shaw's cost structure, we believe this could have a significant impact on an already flat Consumer EBITDA. As can be seen in the graph below, we project a slight increase in EBITDA and margins, but changes will not be large enough to drive the company to a fair valuation.
(Source: CapitalIQ)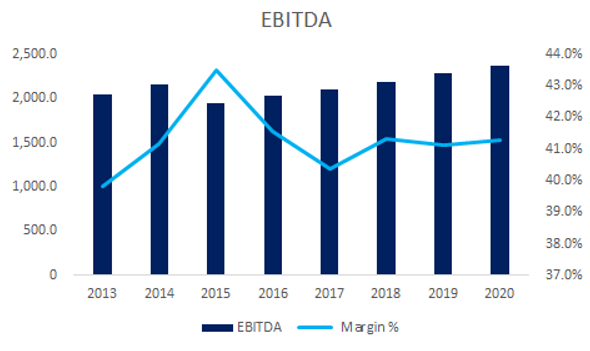 Potential Monetization of ViaWest and Corus are multiple years away
We believe that a potential redeployment of capital in ViaWest and Corus shares to the core distribution business would be a smart strategic move that will increase shareholder confidence. However, given the previously discussed limited opportunities for Shaw to acquire spectrum in the next few years, we do not believe management will be incentivized to monetize ViaWest now. We also believe it may make more sense for Shaw to begin selling its Corus shares only once the lock-up fully expires in April of 2018, to minimize the overhand. Due to these reasons, these potential positives are multiple years away and have many questions attached to their feasibility.
Our Takeaway
Shaw is currently overpriced, in our opinion, as it is trading at a premium to its peers without justified growth opportunities. While many investors are expecting continued growth in the wireless and cable segments, we believe this will not occur in the next few years. Our rating: SELL.
Disclosure: I/we have no positions in any stocks mentioned, and no plans to initiate any positions within the next 72 hours.
I wrote this article myself, and it expresses my own opinions. I am not receiving compensation for it (other than from Seeking Alpha). I have no business relationship with any company whose stock is mentioned in this article.