This report covers the week ending April 21, 2017.
Total Supply/Demand Balance
We estimate that total demand for American natural gas fell to around 433-437 bcf this week (down some 2% w-o-w, but mostly flat y-o-y). The deviation from the norm decreased from +6% to just over +5% (see the chart below). National consumption continued to get weaker amid shoulder season patterns (heating demand is over while cooling demand is yet to fully kick in). Total exports were also down due to pipeline maintenance, but still managed to post a double-digit annual growth rate thanks to strong LNG demand.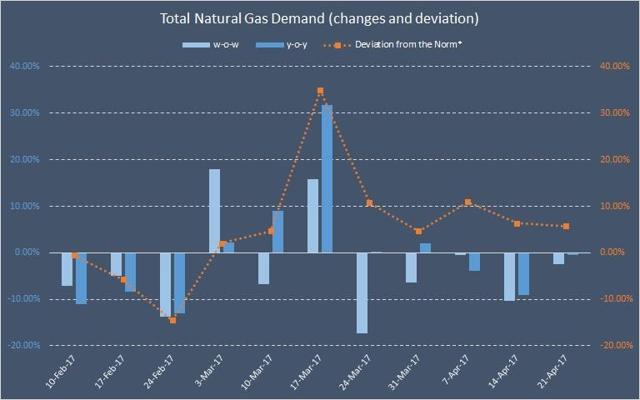 Source: GeckoiCapital
* norm defined as simple average over the last nine years
Despite pipeline maintenance, the annual decline in dry natural gas production has slowed down to around -2%. However, we do not currently expect positive y-o-y growth in natural gas output until at least June 2017. Overall, total SD Balance should be positive and is expected to reach over 100 bcf this week. The volume is just marginally higher than last week, but it is some 16 bcf above 5-year average for this time of the year (see the chart below). In absolute terms, this should be bearish for the Henry Hub contract. However, as we have been saying in our previous updates, traders seem to be less concerned about near-term weakness in fundamentals and are focused on the end-of-injection-season inventory. Also, please note, that total SD Balance does not equal storage flows.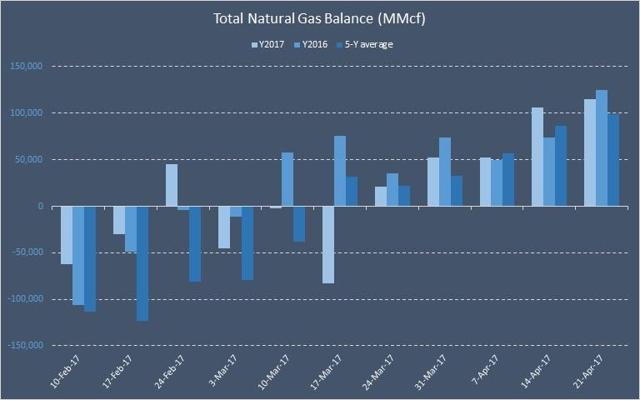 Source: GeckoiCapital
Storage
This Thursday, the EIA reported an injection of 54 bcf. We expected an injection of 52 bcf (higher than the consensus of +48 bcf). Total storage now stands at 2,115 bcf, which is 282 bcf (or 15.3%) above 5-year average for this time of the year.
Currently, we expect EIA to report an injection of 77 bcf next week (final estimate will be released next Tuesday). Our projection is 7 bcf higher than the comparable figure in the ICE's latest report for EII-US EIA Financial Weekly Index, implying a potential "bearish surprise." Overall, at this point in time, we expect flows to storage to average 72 bcf over next three reports. Natural gas inventories deviation from 5-year average should decline from +15.3% today to +15.0% on May 5. See the evolution of storage forecasts in the chart below. Notice that we have been consistently revising up our near-term storage estimates. The total for three reports went up from 168 bcf on April 7 to 215 bcf today.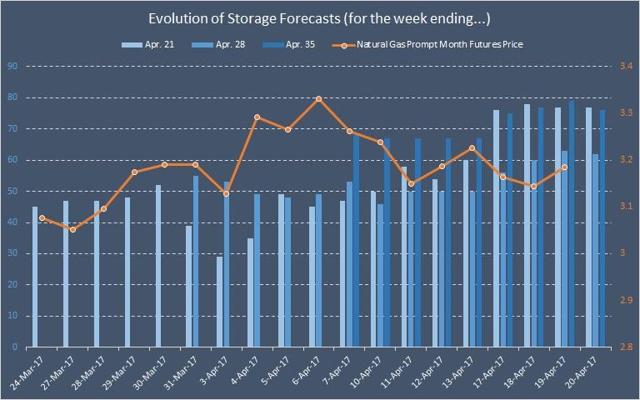 Source: GeckoiCapital
Disclosure: I/we have no positions in any stocks mentioned, and no plans to initiate any positions within the next 72 hours.
I wrote this article myself, and it expresses my own opinions. I am not receiving compensation for it (other than from Seeking Alpha). I have no business relationship with any company whose stock is mentioned in this article.