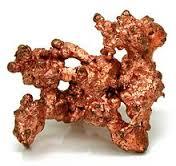 Copper prices were expected to rise in February because of stoppages at the world's two largest mines - a workers' strike at BHP Billiton's (NYSE:BHP) Escondida mine in Chile, and Freeport-McMoRan's (NYSE:FCX) export licensing issues at the Grasberg mine, Indonesia, which halted operations.
At about the same time, Jim Cramer said that copper was about to capture an important move up, but the mining issues which backed that move despite commanding huge volume, were being driven by supply, rather than an increase in demand. Both those mining situations were resolved during the course of March, and copper looks as though it's already started giving up gains.
China Influence
With Mines closing, the instinct is to expect higher copper prices with continued high demand from China based on bullish data, and there's plenty of bullishness in the market, so what's really going on? Well, inventory in China for one thing, (a subject I raised earlier this year in an article about iron inventory building in China, and its impact on container shipping). Analysts are not 'all bullish,' either. 'Investinghaven' raises the technical chart aspects here, their bearish case is based on analysts' forecasts for copper in 2017:
Financial institutions and media have a slightly consistent view as their 2017 forecasts are neutral to bearish:
Although I'm reading a bullish case too, (and Grasberg issues could re-emerge in the second half), the suggestion is that bullish copper may materialize more into the second half of 2017, which is normally seasonally weaker for the red metal. 'Investinghaven' say:
If the price of copper breaks below $2.50, it goes back in its bear market channel, in which case its tactical bull market would end.

Worst case, if copper falls till $2.00, we recall readers to check our copper price forecast for 2017 for important bear market price points and decision points.
China Data
There could be inventory build-up in China, regardless of the strong China data released in April. LME approved warehouse stocks in Asia doubled in March, which suggest an origin in China. In March CNBC reported:
Copper imports to China - accounting for nearly half of global consumption estimated at around 23 million tonnes this year - totaled 340,000 tonnes in Feb. down 10.5 percent from January and down 19 percent from a year ago. "China remains key and we project moderate demand growth this year, mainly from the power sector," Julius Baer analyst Carsten Menke said in a note.

Stocks of copper in LME approved warehouses at 288,525 tonnes have nearly doubled since last Thursday. Most of the deliveries were to warehouses in Asia, which traders say suggest the metal came from China.

However, mine disruptions in Chile, Peru and Indonesia are supporting prices. One disruption is a strike at the Escondida copper mine, the world's largest, in Chile. "After 25 days (of strikes) we can expect lower production already by some 95,000 to 100,000 tonnes, which naturally will go on rising while the strike is prolonged," Chile's Mining Minister Aurora Williams said.
So it has really been the disruptions to mining business which have underpinned copper prices, and not demand.
Mining Supply Problems Ended In March
Otherwise, Peru expected to increase copper supply overall by 20% this year. On the surface, things have returned to normal, with China inventory influencing the demand side, and the supply side being influenced by a potential rise of 20%.
Investing in Copper
As explained in more detail at 'ETF.com,' there's a lot to consider when deciding which copper ETF/ETN to trade, including product structure, rolling strategy, expenses, and liquidity. The five to consider are:
The copper ETF from Global X is tied to the Solactive Global Copper Miners Index
The US Copper Index Fund tracks the Summer Haven Copper Index Total Return Index
This First Trust fund, based on miners, tracks the ISE Global Copper Index
The iPath Bloomberg Copper Subindex Total Return SM ETNs are designed to provide exposure to the Bloomberg Copper Subindex Total ReturnSM. The ETNs are riskier than ordinary unsecured debt securities and have no principal protection.
Barclays iPath copper ETN, correlates with the Barclays Copper Pure Beta Total Return Index. And like CPER, is based on futures contracts to create its benchmark.
Expense Ratio Calculator.
Seasonal Copper
Copper is seasonally stronger during the first half, but with choppy sideways trading in May-June, reaching a mid-summer high. April has the potential to build, but May-June may not be supportive.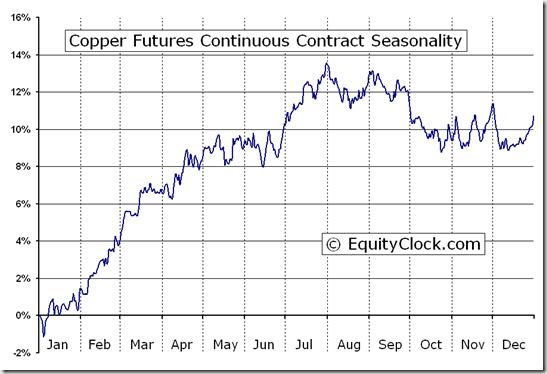 Chart source: EquityClock.com
Technical Chart And Market Direction
Most worrying, is this long-term chart for copper, which indicates how extremely overbought the Stochastic/RSI is, while the market has been overwhelmingly bullish on that high, and which in the past has resulted in a strong correction.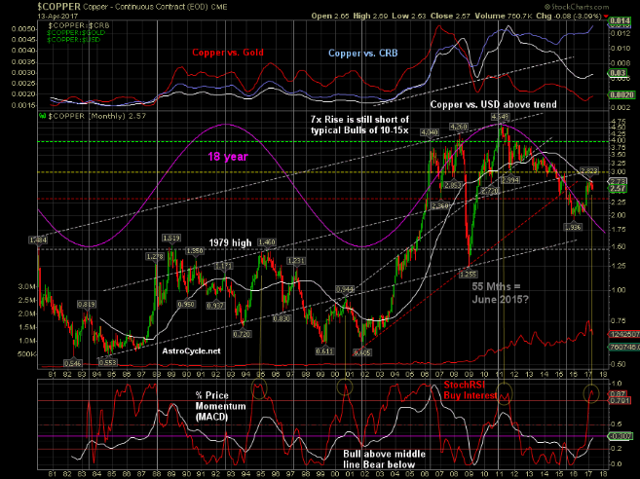 Source www.astrocycle.net
The shallowest corrections from that technical level were from 2001-2002, and 2011-2012, (a similar bear leg developed in 2015); a repeat of which, would take copper down to the rising lower trend line of 1995, and well below $2.00. (Horizontal support in the lows of 2009 can't be ruled out though, a dip below the diagonal trend is possible, (see 1998-2002). Consider the stronger relationship with the CRB (plotted at the top of the chart) too.
A bearish case for copper is building as the long-term stochastic/RSI has already started turning down. Below $2.50 and it's trading in the bear channel, below $2.00 (prior support), and consider the $1.60s.
A bullish resumption needs to reverse over the support created at $2.00
Disclosure: I/we have no positions in any stocks mentioned, and no plans to initiate any positions within the next 72 hours.
I wrote this article myself, and it expresses my own opinions. I am not receiving compensation for it (other than from Seeking Alpha). I have no business relationship with any company whose stock is mentioned in this article.