Many of you know I am something of a hard money gold bug. I usually own and recommend that investors hold a minimum 10-20% weighting in physical gold & silver, precious metals ETFs and large-cap mining companies. Hedging bouts of inevitable stock market turmoil and Federal Reserve money printing long term has proven a sound strategy, regardless of what CNBC or the Wall Street Journal may be reporting on a given day. Since leaving the gold standard backing for the U.S. dollar, government-sponsored CPI inflation rates have averaged a good 4% annually from 1969. This number is far greater than any other 50-year period in the nation's 240-year existence.
Alternatively and additionally, gold priced in U.S. dollars has risen almost 8% per year, compounded over the same span, DOUBLE the inflation rate versus government propaganda. Make no mistake, if you adjust the "hard money" gold price rise into your calculations for real estate, bonds, savings rates, or even equity market appreciation in America, it is easy to understand how the U.S. economy has stagnated on most every level for decades. Actual wealth creation, adjusted lower for changes in our currency's purchasing power, has been anemic or negative in many asset classes for quite some time.
More and more Americans are waking up to the fact incremental under-reporting of inflation has masked our stagnant economic landscape. President Trump's election is evidence the masses are becoming aware of the purchasing power downside of money printing. Less-than-forthcoming inflation reporting by Uncle Sam is critical to keeping enormous debts and deficits in the economy from pushing us into an immediate and debilitating economic depression. If you have not delved deeper into why gold bugs exist, you can read my 2014 Seeking Alpha article explaining gold's real-world performance since 1969 and the basic rationale for long-term ownership. The logic remains the same today for precious metals holdings and hedging in your financial asset portfolio.
How have the large gold miners performed of late?
Below I am charting the biggest holdings in the VanEck Vectors Gold Miners ETF (NYSEARCA:GDX) against the overall GDX and the S&P 500 index. I currently own a long position in GDX, with hedged calls written to provide income. I wrote an article on why I am employing this strategy here. The individual miners include Newmont Mining Corp. (NYSE:NEM), Goldcorp (NYSE:GG), Agnico Eagle Mines (NYSE:AEM), Franco-Nevada Corp. (NYSE:FNV), Newcrest Mining (OTCPK:NCMGF, OTCPK:NCMGY), and Barrick Gold Corp. (NYSE:ABX). I am comparing and contrasting time periods from one month to two years.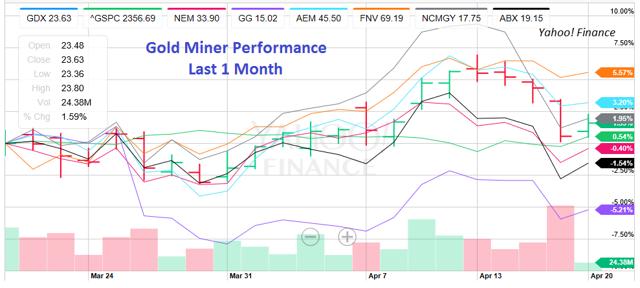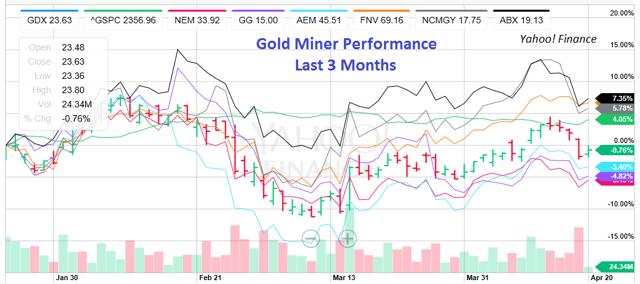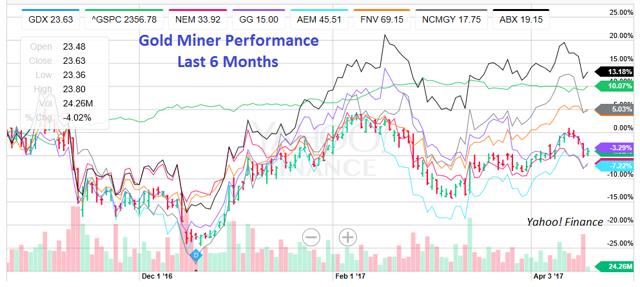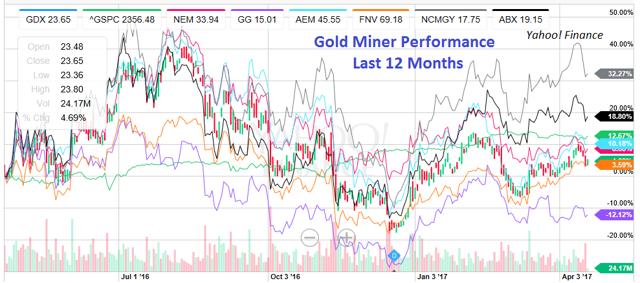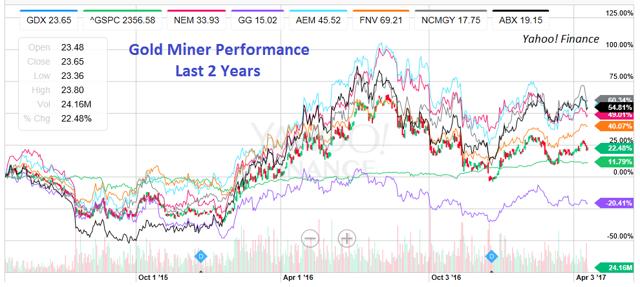 Each company holds merit for ownership.
Newmont has focused on acquiring and building its North America assets over the last 5 years. I like the company's business model and conservative balance sheet. Strong diversification and low-cost production are other highlights. I wrote about Newmont's cheap price-to-cash flow position several years ago. Today's 7x multiple on trailing cash flow is still well below its 10-year average of 9x. If gold, silver and copper prices rise further in 2017, Newmont could be selling for closer to 6x forward 12-month cash flow. It is easy to draw up scenarios where its stock price rises 40-50% into year end.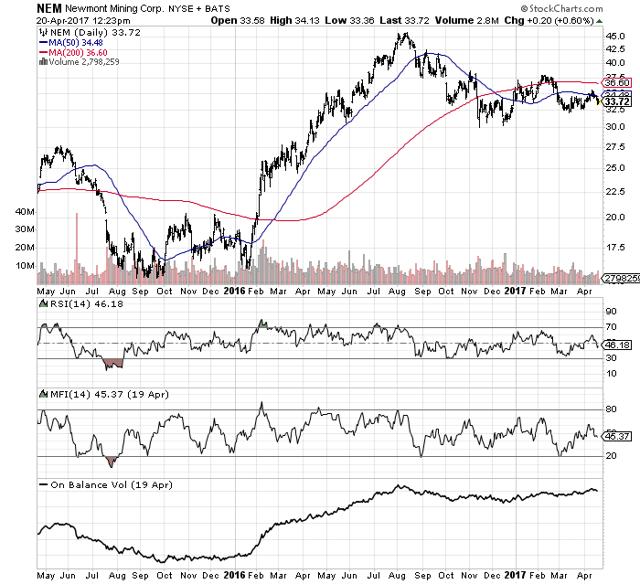 Goldcorp has had some mine operating issues and questions regarding ownership rights for the last several years. However, it remains one the most diversified, lowest-cost, North America-focused, conservatively financed miners available for public investment. Goldcorp is selling for less than 10x cash flow estimated for 2017, using Wall Street analyst consensus numbers. This compares to a 10-year price-to-cash flow ratio of 15x "trailing" annual results, a top-tier number discounting valuable gold/silver mining assets. One of the highest-quality, best risk-adjusted, margin of safety choices for investors, plenty of upside will appear given a new uptrend in metals pricing emerges soon.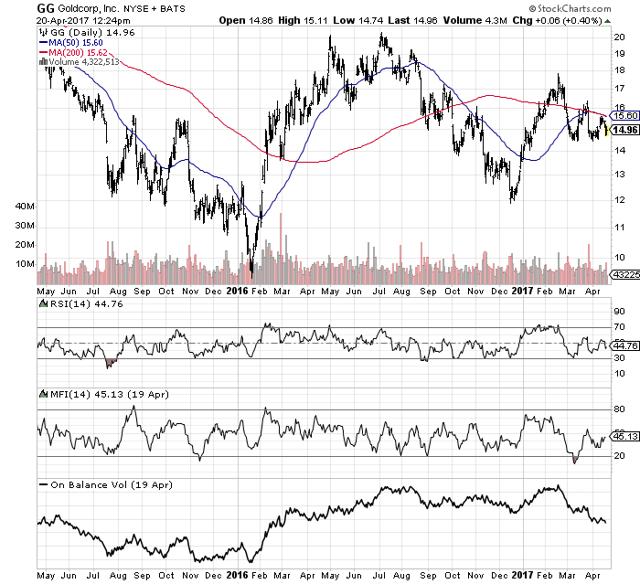 Agnico Eagle Mining has been one of the standout gold mining performers the last decade. A result of superb asset management, an ultra-conservative balance sheet and one of the lowest cost of production profiles in the industry, the company has remained profitable and growing in the face of sharply lower metals pricing since gold's 2011 peak over $1900 an ounce. Wall Street has put a premium valuation on Agnico, with today's 13x price to trailing cash flow very near its 10-year average of 12x. Again, upside in precious metals would funnel directly to the bottom line for shareholders. Any expansion in business income should bring higher stock quotes, all else being equal.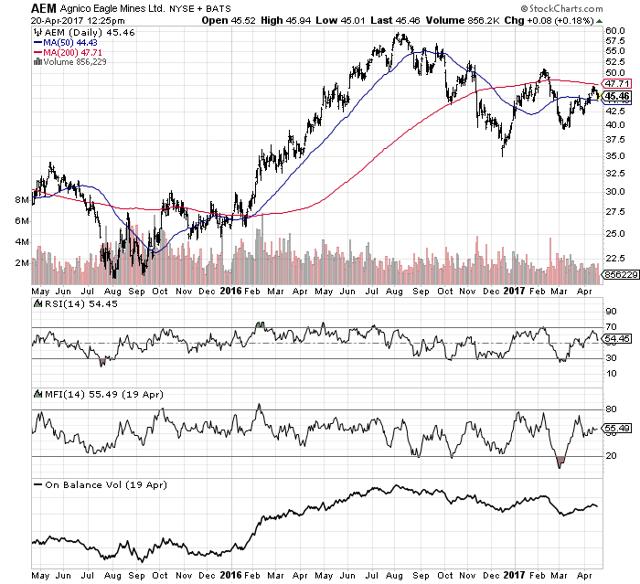 Franco-Nevada is the largest royalty and stream enterprise in the gold mining industry. It takes royalty interests and guarantees of forward sales in return for financing the construction of many small and large new mines. The company does not directly operate mines, but benefits greatly from increasing output in the industry and rising precious metals pricing. This diversified business loan model has translated into Franco-Nevada being one of just a handful of gold mining-related entities to trade higher in 2017 than equivalent 2011 gold/silver sector peak levels.
The stock is trading near its 30x trailing price-to-cash flow average in April 2017. While it is does not have the same upside as other mining selections if gold prices rise materially. The flip side is, it offers less theoretical downside if you believe gold quotes will remain stagnant in 2017. Franco-Nevada is a sound long-term, 5-10 year play on ever-rising money printing globally, pushing precious metals inflation to new heights.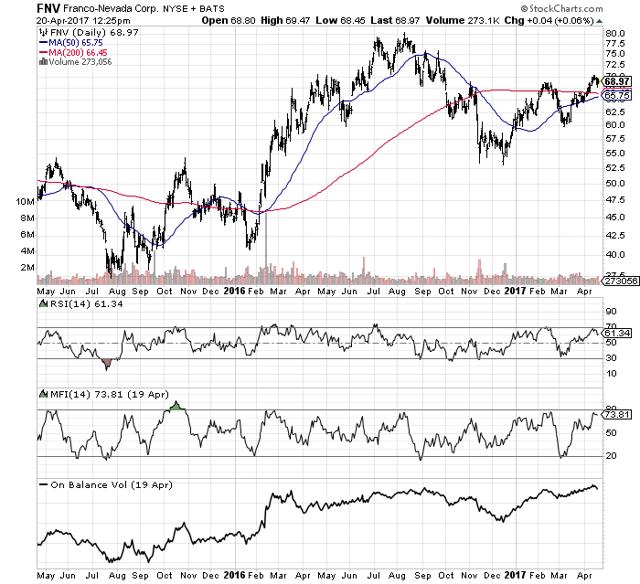 Newcrest owns the long-life estimated reserve mines of Cadia in Australia and Lihir in Papua New Guinea. 2017 production issues at Cadia have appeared, but are not projected by management to be a long-term problem. The company retains a conservative balance sheet in the capital-intensive mining industry after a multi-year downturn, and has been profitable in the last 2-3 years of low precious metals pricing. Newcrest trades for 10x trailing cash flow.
Reviewing the quality of its assets in politically stable countries, generating a 10% net profit margin in 2015-16, investors should be excited about the stock's underappreciated situation currently. Just like the other mentions in this article, gold miners are generally selling at low price-to-sales and book value multiples in 2017 versus industry norms over the last several decades. A clear result of diminished investor interest, higher gold/silver prices will cure Newcrest's undervaluation problem over time.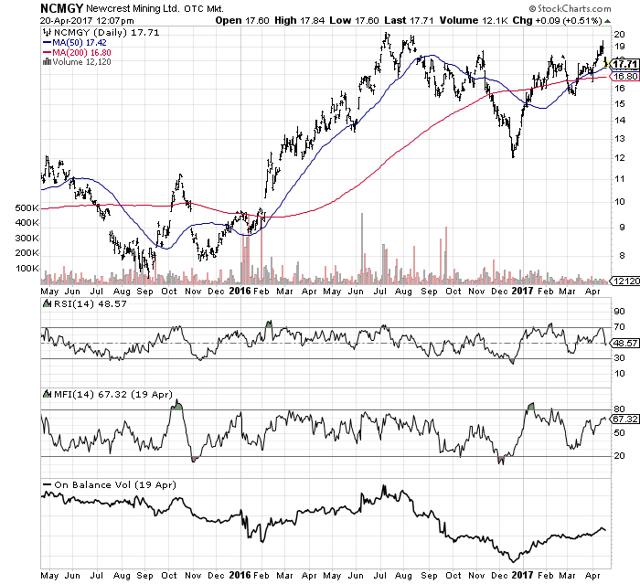 Barrick Gold rivals Newmont as the biggest gold miner on the planet. It has experienced cost overrun and overleverage issues for years, but is making slow progress on both fronts. The good news is the company is profitable at current production costs versus selling prices, and is projected to remain so. Barrick is priced at 8x trailing annual cash flow today, slightly lower than its 10-year average of 9x. With a still high level of financial leverage, it will likely rise or fall more than the GDX sector average, depending on price changes in gold/silver/copper. I expect Barrick to be the most volatile choice of the group.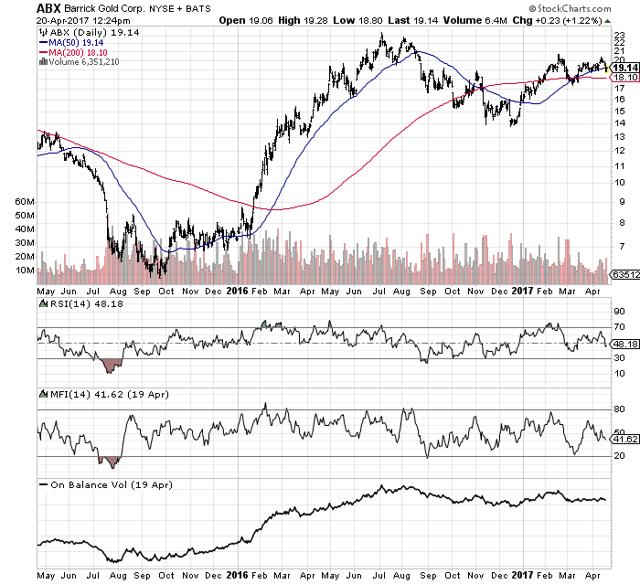 So which stock is the better buy idea?
Using my Victory Formation momentum sorting and ranking system that includes an analysis of fundamental business characteristics, Newmont is the best positioned to continue long-term gains, while limiting downside risk. The On-Balance Volume line has been exceptionally strong in the last two years pictured above. Newmont's near-50% total return in the last 24 months has bested most stocks in the S&P 500. Relative outperformance may be the new normal after four years of price decline into late 2015. The stock is trading at just 2.5x sales versus its 10-year average nearer 3.0x, and the price-to-book value is 1.7x against a decade average of 2.3x. The company's financials are improving to boot, with accounting equity greater than total liabilities at the end of 2016 for the first time in many years. A combination of margin of safety valuation analysis, income growth potential as metals prices climb over time, and strong intermediate-term equity ownership accumulation by investors translates into Newmont being my first choice.
Weakness in Newmont shares during the first part of 2017 should be viewed as a chance to buy on the cheap, especially in large hedged portfolios.
Gold and silver prices should increase materially over time, similar to the $35 to $1300 an ounce price spike since 1969. Our economic predicament is far worse than 1969, and the only path forward remains new fiat dollar creation. As the U.S. grapples with out of control debts and deficits and subpar economic growth, money printing will continue at a dramatic pace, or an economic depression will result. When the next cycle recession hits, the risk of even greater monetary inflation could propel gold prices over $5000 an ounce in a short number of years. All evidence considered, purchasing gold and silver assets when they are relatively unloved and under-owned like today may prove a wise decision.
Few sectors in the U.S. stock market have a realistic potential to double or triple in price, as valuations for the S&P 500 are near record heights, including all-time price to sales and tangible accounting book value readings in early 2017. Conversely, and perhaps because of stock market confidence, gold miners and assets are on the undervalued and unloved side of the spectrum. Since gold has proven a great counter-trend investment vehicle throughout history, it stands to reason the next recession and bear market in stocks should ignite a truly significant rise in gold assets.
Please engage in your own research and understand gold mining stocks are inherently volatile, having twice or greater the price swing beta of the typical S&P 500 investment. Oversized gains and losses are possible from any and all of the gold equities mentioned in this article.
Disclosure: I am/we are long GDX.
I wrote this article myself, and it expresses my own opinions. I am not receiving compensation for it (other than from Seeking Alpha). I have no business relationship with any company whose stock is mentioned in this article.
Editor's Note: This article discusses one or more securities that do not trade on a major U.S. exchange. Please be aware of the risks associated with these stocks.