Not all firms in the energy sector are created equal. In the low-price environment of the last two years, firms' skill at allocating capital has been laid bare in an environment where no mistakes can be papered over with high prices. In this article, I will discuss one firm in particular, Crescent Point Energy (NYSE: CPG). This is an intriguing case because many bulls cling to the stock despite its terrible performance. When I look at how badly the company's stock has performed compared to its peers, crude oil itself, and the broader market, despite continuous positive analyst coverage, my only explanation for this is a likely case of emotional investing and/or confirmation bias for many investors.
Before I begin, the share price I refer to is usually the one on the Canadian listing because there is a lot of history to deal with and the US listing only began trading at the beginning of 2014. This is a long story I want to zero in on, because I think the time has arrived to listen to the market's verdict, rather than continuing to insist that the stock is dirt cheap and mispriced as many have done here and elsewhere since 2015. Over the last eighteen months, I counted 21 articles published on Seeking Alpha about the company. Of these, 19 had bullish titles, 1 had a negative title and 1 had a neutral title. In fact, one has to go all the way back to October 2015 to find a truly negative headline on Crescent Point. I will not dwell on these headlines because you can easily find them by searching the ticker yourself; the point I want to highlight is that sentiment has been bullish all the way down.
My goal is not to single out any contributor. In fact, many of these contributors probably know more about oil and gas sector-specific economics than me. But readers deserve a deep dive, because a TSX60 constituent may be a bargain now but what good is that to people who were told the same 3, 6, 9, or 12 months ago? Why is this company the 2nd worst performer in the TSX60, the Canadian S&P 500, over that year period?
Let's start with the good news, which management repeats on every earnings call and investor presentation:
The company has continually expanded production, improved its netbacks, and lowered its costs over the past two years. It is now generating the same amount of the record operating cash flow it did in 2014, when oil prices were at 6-year highs:
Cash flow generation looks quite impressive for an $8B oil company: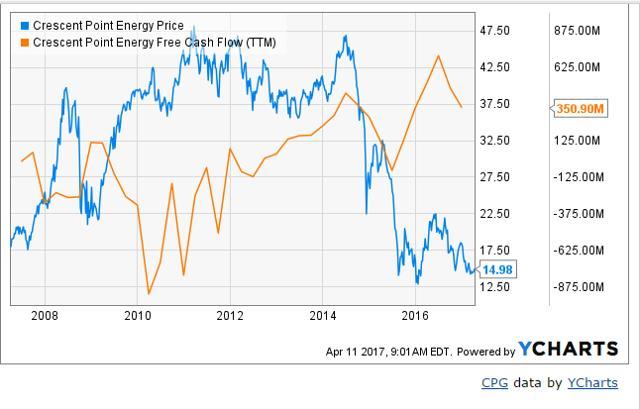 Now for the bad news: the market just doesn't care. How can an oil company be doing all the right things to adjust to the "new normal", yet hit its 52 week low on March 9, 2017, down a full 46% off its 52- week high hit in June 2016?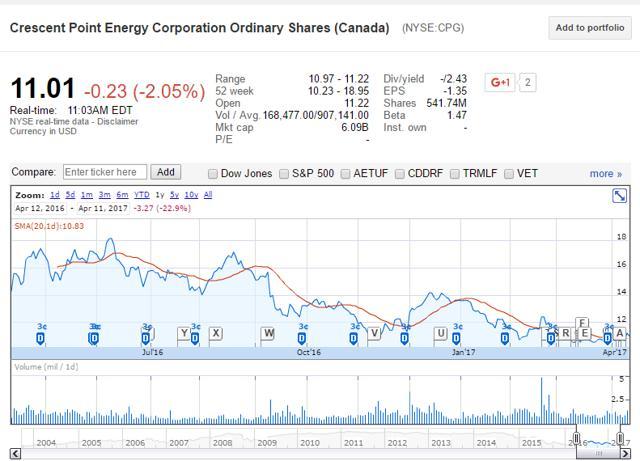 In the list of articles you can pull up, you can find one by me, written on June 1, 2016. It's called " Crescent Point Energy: Where to Now?". In it, I calculated that from 2013- mid 2016, the price of WTI crude oil was roughly a 2.5x multiple of Crescent Point's stock. Sure enough, around the time I wrote that, the stock was tracking performance of the iPath S&P GSCI Crude Oil Total Return ETN pretty closely: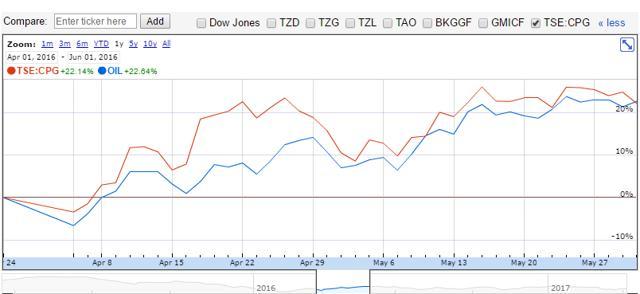 If you extend this period to today, there has clearly been a breakdown in the correlation. And coincidentally, the two securities diverge in earnest around Crescent Point's September 2016's $650M equity raise: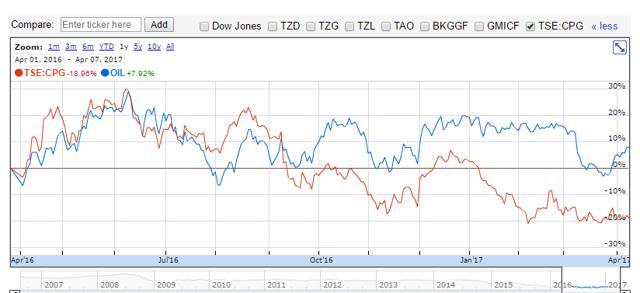 For benchmarking purposes, it makes sense to compare CPG with similar Canadian competitors. Within the Canadian energy sector, many other large cap energy firms are oil sands-focused, such as Cenovus (NYSE: CVE), Athabasca (OTC: OTCPK:ATHOF), MEG (OTC: OTCPK:MEGEF), Canadian Natural Resources (NYSE: CNQ), Husky (OTC: OTCPK:HUSKF), and Suncor (NYSE: SU). Many of these companies have underperformed because of their high cost structure and the WTI/WCS differential. Notable exceptions of Suncor and Canadian Natural, who are consolidators in the oil sands and have scale compared to the others. But Crescent Point does not operate in the landlocked, high-cost oil sands, so these companies are not relevant to our analysis.
Crescent Point is part of the group of firms focused on horizontal drilling, mainly in southern Saskatchewan. This group includes Raging River Exploration (OTC: OTC:RRENF), Whitecap Resources (OTC: OTCPK:SPGYF), Spartan Energy (OTC: OTCPK:PTORF), and Surge Energy (OTC: OTCPK:ZPTAF).
Two other firms of significance pursue the same horizontal drilling "tight oil" E&P as Crescent Point but across a wider area of Saskatchewan and Alberta: TORC Oil & Gas (OTC: OTCPK:VREYF) and Bonterra Energy (OTC: OTCPK:BNEFF). 81% of Crescent Point's plays are in Southern Saskatchewan. Here's how it has stacked up to this peer group of competitors on a 1 year basis: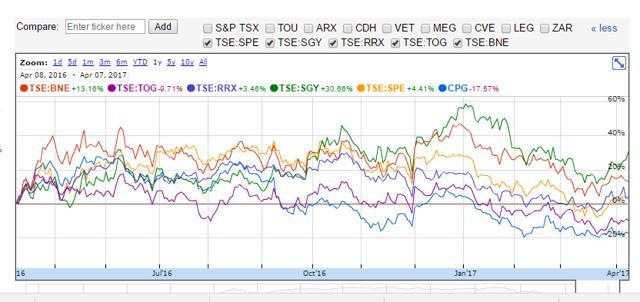 And what we have here is a fail. Dead last.
Most articles on Crescent Point include slides from the company's presentations. Record cash flow growth, record production growth. Here is one example from the 2015 AGM presentation: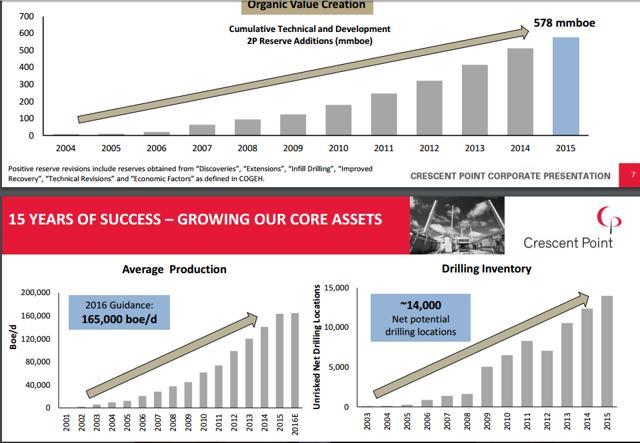 I will attempt instead to show why Mr. Market is not buying it:
First, this year's presentation showed declines on these ascending staircase charts the company loves to show, for the first time:

Two circled areas show that production and reserves per share are actually lower in 2016 and 2017 than they were in 2015. Source: Q4 2016 investor presentation.
Management's has stated its intention to "live within cash flow", with debt equaling no more than 2 times cash flow, to position itself as a safe investment. If this is prudent management, why has the equity skidded so far down?
Another figure that the company has inserted in some of its public documents, including its most recent February 2017 corporate presentation, is that long-term shareholders have a high total return because they have collected over $31/share in dividends since 2003.
But if those dividends were re-invested, it would have been a classic yield trap. For perspective, the stock was $29 when the dividend was initiated and sits at $13.82 as I write this. If you had been reinvesting dividends between 2008 and 2014, much of that value would now be destroyed, due to the effects of dilution. The company has gone from 394M to 594M shares in just 3 years. Over $4B has been paid out that could be part of the company's value today.
Relative Valuation
The bull case often revolves around how cheap Crescent Point is, both on a cash flow basis and compared to its peers. And based on the two cash flow ratios below, that appears to be true: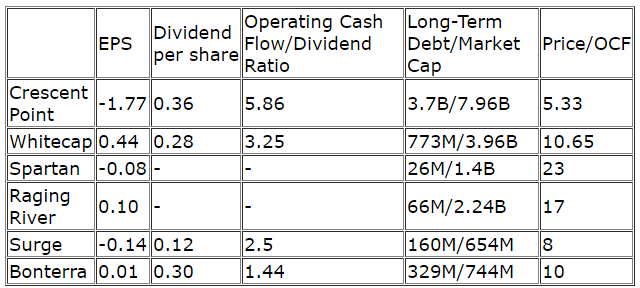 Source: my calculations from Google Finance Data
Crescent Point's dividend is amply covered by its operating cash flow compared to its peers. It only trades at 5x operating cash flow, which is less than half of what the next cheapest companies trade at. This has been repeated ad nauseum in bullish articles about Crescent Point. So why doesn't the market give it a higher multiple?
I submit that it is because of the risk. Look at the above companies. Look at Crescent Point. No earnings, no earnings in sight, and a much bigger debt load.
Look at it this way: Let's say you're a Crescent Point investor who makes an investment on New Years Eve of 2013. At that time, you're investing in a company bringing in $578M EBITDA. The company has 394 million shares outstanding worth $41 each, making the firm worth $16.5B. The firm also had $2.07B net debt giving it an enterprise value of $18.57B or 32x EBITDA. In the current era, it's not practical to value this company with EBITDA since it is negative, so we will divide total revenue by market cap to compare the 2013 valuation to today's.
If we divide 2013 enterprise value of $18.57B ($16.5B market cap + $2.07Bnet debt) by 2013 revenue (2.882 billion) the company was valued at 6.4x annual revenue.
In 2016, the enterprise value has decreased to $11.07B ($7.4B market cap + $3.67B total). This number divided by $2.184B revenue means the company is now valued at 5.1x annual revenue.
So if I was a well-capitalized energy company looking to do a strategic acquisition while prices were depressed, I would have to do my due diligence and look at some competitors' performance based on this same metric.
| | | | |
| --- | --- | --- | --- |
| Company | 2016 revenue | EV | EV/Total Revenue |
| Whitecap | $596M | $4.38B | 7.7x |
| Crescent Point | $2.8B | $11.67B | 5.1x |
| Spartan | $162M | $1.53B | 9.4x |
| Surge | $160M | $922M | 5.8x |
| Raging River | $203M | $2B | 9.8x |
| Bonterra | $160M | $1.28B | 7.5x |
Source: Each company's 2016 MD&A/Annual Report
When you look at my table and these figures, its pretty clear that the market has not priced in any gaps. Spartan and Raging River's have higher valuations because they pay no dividends and have almost no debt. Whitecap, even though it pays a dividend and has some debt, is valued as being worth almost twice as much Crescent Point, with a 7.7x EV/revenue premium valuation. Dividends and debt themselves are not what has sunk Crescent Point's valuation, but keeping them at more manageable levels and posting earnings have earned Whitecap a lot more confidence from the market.
It's not a coincidence that other firms with higher debt loads who have continued to pay dividends, even reduced ones, through the oil crisis are valued lower and round out the group: Surge, Bonterra, and Crescent Point. And Crescent Point has the most debt. There is no such thing as a free lunch. If Crescent Point was so attractive, do you think someone would have kicked the tires on it by now at these depressed prices?
Debt Maturities, Interest Expense, and Cost of Capital
Now that we know that Crescent Point values itself based on "funds flow", let's have a look at its debt. Remember, the company earned 38 cents per share in 2013 and $1.23 per share in 2014 and paid out $2.76 in dividends on each share in both of those years. In fact, in 2008 and 2009, the stock bounced between $25-$40 - almost 10 years ago, before it paid a dividend. Crescent Point was valued then as Raging River and Spartan are now. Let's see what its debt service commitments looked like in 2013, when the company had been paying the monthly 23 cent dividend for a few years and was in its fat days as a low-volatility income stock: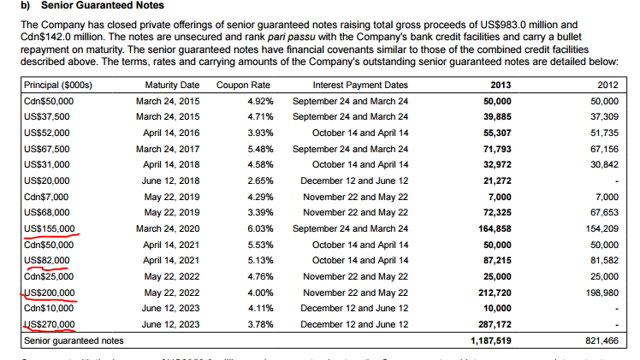 Source: 2013 annual report
At the end of 2013, the company had 3 what I will term large maturities (anything over 9 figures) to deal with in the future : $155M in 2020, $200M in 2022, and $270M in 2023. In fact, the company continually expanded production, acquired other companies, and paid the generous monthly distribution throughout the 2009-2014 period, and was considered an exciting growth story for much of that time. After all, Scott Saxberg had built this company from "nothing" to a top 10 Canadian producer in 16 years.
The problem is that most of that growth happened pre-oil crash, and now the debt and equity raises have dried up, just like the deals: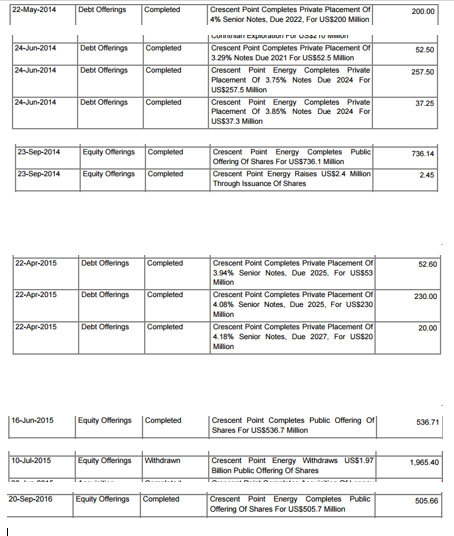 Source: Thomson One
Crescent Point's last and biggest acquisition was of Legacy Oil + Gas in July 2015.
Brian Auty called the $19.50CDN/share equity raise in September 2016 "ill-timed". At the time, $500M only represented 5% of Crescent Point's equity. Enbridge Income Fund Holdings (OTC: OTC:EBGUF) announced an equity raise for the same amount, $500M, last month. This represented one eighth of their equity, and the stock is already almost back to where it was when they announced the deal. Funny how a company like Crescent Point with so much "respect for the balance sheet" must walk on such eggshells.
Now Crescent Point must deal with six large maturities on their balance sheet down the road, double the three that they had in 2013. They've converted the 2021 note from an $82M half large maturity to a $134M large maturity and added 2 more $250M and $230M large maturities for 2024 and 2025.
The bottom line? In three years, they're going to have 9 figures plus to retire or refinance every year for at least 5 years. And they're only making two-thirds of the money now that they were making back then.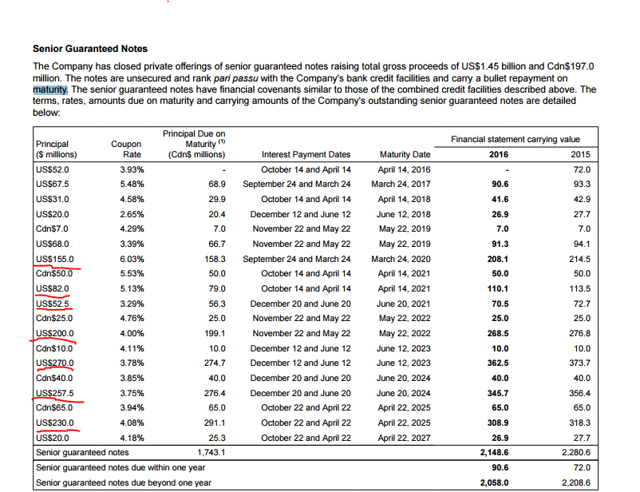 Source: 2016 annual report
Conclusion
Crescent Point's equity has lost much of its value due to share dilution and increased leverage. Its peers in the Canadian oil patch who operate in the same area are all similarly based on their leverage; in fact, it was valued similarly to its less indebted peers when it was less indebted ten years ago. These changes in the company's capital structure mean that much higher oil prices are the only way for the shares to materially rise from here. The company issued debt and equity to grow throughout the years preceding the 2014 oil crash. It is constrained in its ability to do that now and I believe the market has woken up to this and priced the stock accordingly.
For the sake of brevity, I have not discussed the impact of two other factors that I expect to impact on the stock's valuation in the coming years: carbon taxes and the company's much touted hedging program. I will discuss these in the next installment of this series.
Disclosure: I/we have no positions in any stocks mentioned, and no plans to initiate any positions within the next 72 hours.
I wrote this article myself, and it expresses my own opinions. I am not receiving compensation for it (other than from Seeking Alpha). I have no business relationship with any company whose stock is mentioned in this article.
Editor's Note: This article discusses one or more securities that do not trade on a major U.S. exchange. Please be aware of the risks associated with these stocks.