Introduction
WestJet (OTC:WJAVF) announced today that they will be adding an ultra low-cost carrier division that will offer no frills, to open up the market to more people. This puts the new division in direct competition with NewLeaf Airlines, a virtual airline that was founded in 2015, alongside two more ultra-low cost carriers that will be launching in 2017. The market has not responded much to the expansion news, which is surprising considering the additional risk the company is taking on, at a time that I think is questionable. I'm suggesting to steer clear of WestJet Airlines Ltd. until the market has digested this information some more, likely resulting in a slight decline in price.
I should warn you that this article is written very differently from most of my others. While I usually throw in a ton of charts, graphs, and numbers, this article is mostly qualitative in nature. This is because the focus is on the addition of the ultra low-cost carrier division, of which almost no quantitative data is available. Just wanted to let some of my readers know that this is not the new norm.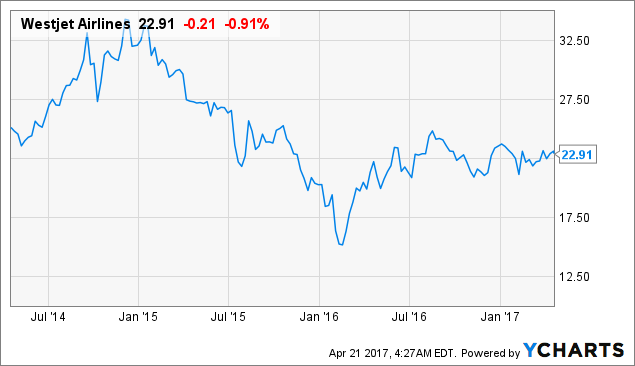 WJA data by YCharts
WestJet
I have covered why I liked WestJet (OTC:WJAFF) in the past, so feel free to do some background reading. I really love their business model, and they have found a very unique niche in our Canadian culture, that is very similar to Southwest Airlines (NYSE:LUV) in the United States. WestJet's flight attendants and pilots are non-unionized, and benefit from a generous employee stock compensation plan, which allows them to match up to 20% of their wages if they convert to shares (resulting in a 20% increase in wage via stock options). This has allowed WestJet to develop an extremely different culture from what exists within Air Canada (OTCQX:ACDVF); WestJet employees are owners who want to improve their company, while Air Canada employees have more generous compensation packages, they do not offer the same share purchase plan. The culture of Air Canada is one where the employees work for the union, and their wages are much more important than the long term success of Air Canada. I've heard many WestJet employees tell me that their stock options are the bulk of their retirement plans.
WestJet also has a much better balance sheet than Air Canada, as well as a significantly younger fleet, with lower maintenance costs. Westjet has now had 47 profitable quarters in a row (no, that is not a typo). In fact, Air Canada received a billion dollar bailout in 2009, and only recently emerged from negative equity. WestJet also has much lower fixed costs due to the lack of unionization, and the focus on the employee share compensation plan.
I first recommended a buy in WestJet, alongside Southwest, in July 2015. The timing of this recommendation was poor, and although Southwest had rallied nicely, WestJet declined below $15 per share in February 2016 as there was significant anxiety about the economy of western Canada due to the oil decline. I ended up tripling up during the decline, and selling most of my shares on the subsequent rally. I now only have a small position in the company, which is why I am not selling on this news. I also can't recommend buying at this point in time, because I suspect when the analysts reports come out, the shares may decline. However, if I did have a larger position in WestJet, I would consider reducing it a bit right now.
Ultra Low-Cost Carrier Addition
WestJet announced today that they will be adding an unnamed ultra-low cost carrier by the end of the year, which resulted in the acquisition of ten new Boeing 737-800's (the 'standard' WestJet airplane). This addition will result in WestJet having three divisions: regular WestJet, WestJet Encore, and the new ultra low carrier WestJet. Air Canada, WestJet's biggest competition, has the regular Air Canada division, Air Canada Express (regional airline), and Air Canada rouge (discount carrier). The rouge and encore divisions serve as feeder flights to the major hubs of the two airlines. Air Canada Rouge operates under a low cost model, which must be differentiate from an ultra low cost model, which WestJet is attempting. This would put WestJet into direct competition with NewLeaf and the others, rather than Air Canada Rouge.
It is important to understand the history of WestJet to put this move in context. WestJet launched in 1996 as Canada's first low cost airline. It was designed to directly compete with Air Canada. WestJet initially launched a fleet of 737-800's, and added to this fleet over time. Rather than create a large fleet of diversified aircraft, WestJet attempted to keep costs down by having a fleet of identical aircraft. This lowers the costs of pilot training and maintenance, as all WestJet staff work on the same plane. Despite the low cost and no frills model, WestJet added more services over time, and the price gap for flights between the two airlines was becoming non-existent. This model was further changed in 2015 when WestJet decided to expand their fleet to compete with the international flights, and now offers flights to Hawaii and Europe. This was a big move that showed management intentions to more directly compete with Air Canada.
Ultra Low-Cost Carrier Competition
WestJet came under more pressure over the last year as two new ultra low cost airlines were announced, Enerjet and Canada Jetlines. NewLeaf has already been launched, however, there are very few flights, and they only operate between a handful of regional airports throughout Canada. For a very select group of people, this airline is a fantastic alternative to fly where you need to for a much lower cost. However, neither of these airlines can afford to pay the fees at the bigger airports while offering the same rates, making them a minor threat to the airline industry in Canada. In addition, the small airports that NewLeaf flies to makes a subsequent transfer, especially to an international destination, extremely difficult. So let's say if you wanted to fly from Edmonton to say Hawaii, you could book the first leg of your flight with NewLeaf and fly from Edmonton to Abbotsford, but then you would need to transfer to Vancouver Airport from Abbotsford. This is not an easy task, and would take over an hour in a cab, costing a small fortune and eroding most (if not all) of the savings.
One of the second airline, Canada Jetlines (JETMD), is still in the very early stages of development. They only have $1.2 million in equity raised so far, and they likely will have a very small impact on market share. Furthermore, even if more ultra low cost carriers enter the picture in Canada, they may go bankrupt on the first economic decline, or when the price of oil rises again; both examples we have seen countless times with airlines operating under a similar model in the past. The point of this paragraph was that WestJet doesn't need to compete with these carriers, as they are simply an irrelevant threat.
Foreign Ownership Rules For Canadian Airlines To Change
If you haven't been staying up to date on the Canadian airlines, you're probably wondering why all of these ultra-low carriers are popping up all of a sudden. Well this is because the federal government has created an exemption for these airlines under the current law requiring no more than 25% ownership of Canadian airline companies; this will be upped to 49%, which has spurred the interest of foreign investors.
What is also interesting is that the federal government plans to offer the same exemption to the two major Canadian airlines, Westjet and Air Canada. I do wonder if this would result in a combination of both lower volatility (higher liquidity) and share price appreciation due to an increase in demand.
Rapid Expansion For Airlines Can Result In Disaster
Another reason why I don't like this expansion was that I felt that the company was already expanding enough. I am worried that the low oil price is misleading management's future margin expectations, and I also worry that they are expanding too rapidly when I frankly don't trust Canada's economic situation. There are far too many variables that make Canada's economy very vulnerable to a downturn right now. Some more obvious examples include the potential for an ongoing oil glut, Trump's NAFTA adjustments, a strengthening USD (could either force Bank of Canada to raise rates, and increase fixed costs for WestJet), and a decline in GDP driven by a drop in real estate prices spurred on by a foreign buyers real estate tax (Vancouver announced this a few months ago, Ontario announced this yesterday). Many analysts were very nervous about WestJet over expanding over the last couple of years. Although I shared their concerns, I still felt that WestJet had the cash flow and a clean enough balance sheet to handle most reasonable downturns. I am worried that this additional expansion may have pushed the company into a relatively more vulnerable position, and I do not believe the growth potential is worth the risk at this time.
The United Airlines Effect
Another factor that should be considered in this decision, is the recent incident with United Airlines (NYSE:UAL). We all saw how outraged the world was after seeing the video of a man being dragged off a UA flight due to overbooking, while being concussed in the process. The fact is that ultra low cost carriers will be more likely to overbook as they must keep their costs down. We have already seen the larger airlines already make changes to their overbooking policies, and I think that this may be the new norm. The problem, however, is that ultra-low cost carriers simply cannot afford to not overbook. I do worry about the possibility of an incident on the new division, or simply just a poor customer experience, that ultimately would erode the reputation that WestJet has worked so hard to refine over the last 21 years.
Conclusion
If it was just WestJet expanding, my argument would not be that strong. However, with two new airlines in Canada last year, and with Air Canada expanding its operations over the last year (almost 3 billion in capital investments alone), it could be a recipe for disaster in an economic downturn. I felt the last move to go more international was risky, but overall a good decision when considering the risk-reward payout. With this additional risk that WestJet is taking on, I can no longer call this a 'safe airline'. With Buffet's recent change of heart on the airline industry, I'm expecting more people to consider the industry, but I don't think now is the best time to move into WestJet. If the price dips below $20 I may consider adding to my position, but until then, I will continue to hold my small position in WestJet.
Disclosure: I am/we are long WJAFF.
I wrote this article myself, and it expresses my own opinions. I am not receiving compensation for it (other than from Seeking Alpha). I have no business relationship with any company whose stock is mentioned in this article.
Additional disclosure: I own a small stake of WJA.TO on the TSX. All values are in CAD unless otherwise stated.
Editor's Note: This article covers one or more stocks trading at less than $1 per share and/or with less than a $100 million market cap. Please be aware of the risks associated with these stocks.