Exco Resources (XCO) has taken a beating the last few years. The leverage has not had the hoped for advantage and now the balance sheet is very weak.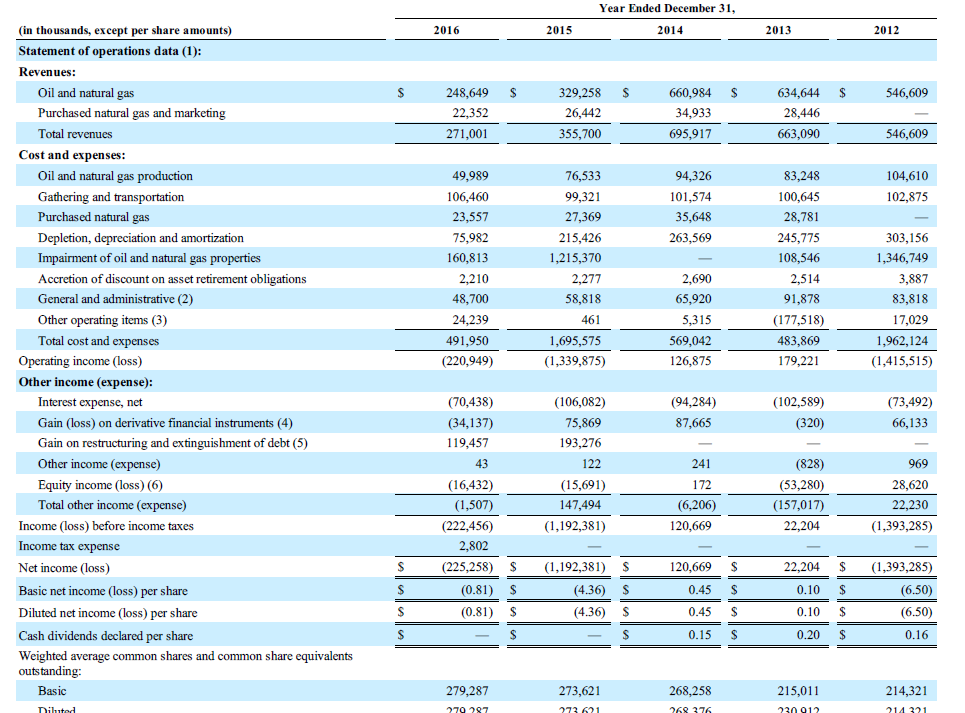 Source: Exco Resources 10-K Dated March 16, 2017
When the company was profitable (click on 10-K) it was marginally profitable. On the other hand the losses were very large. Finally financing became tight enough that no drilling activity was scheduled by management. Something had to be done. Cash flow from operations became cash flow used in operations. Plus production was declining. No new drilling meant that lease operating costs were beginning to climb. If management was going to prevent a formal court ordered reorganization now was the time.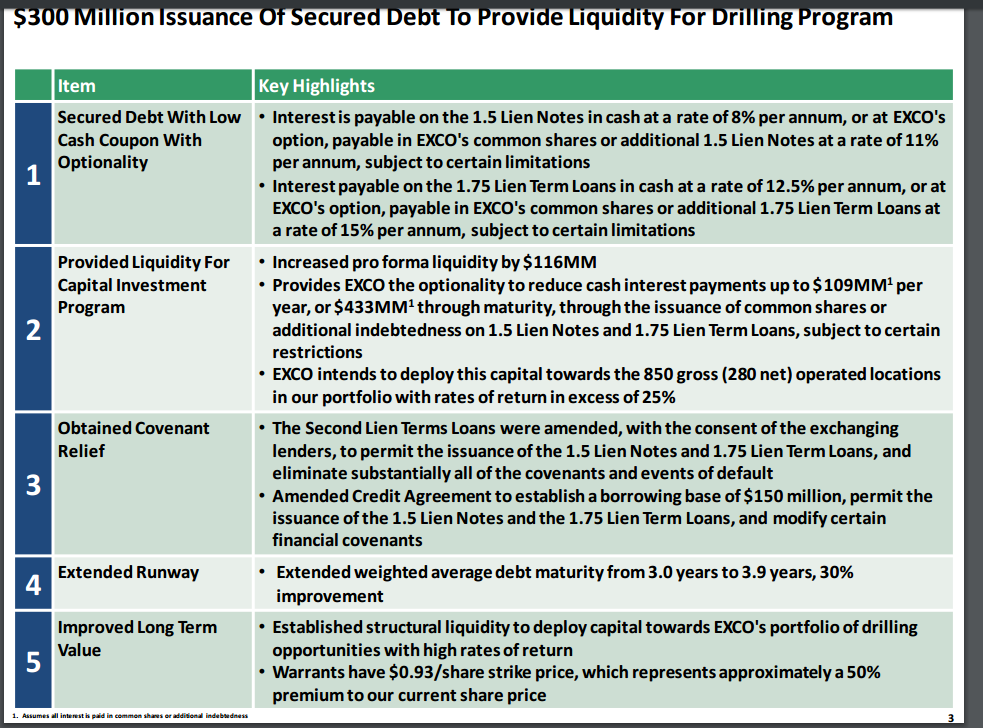 Source: Exco Resources Fourth Quarter 2016 Earnings Slide Presentation
The first step was to rearrange the financing in a much friendlier fashion. Not only are due dates pushed out, but interest payments can be made in kind or using common stock. There are now enough warrants to more than double the shares outstanding. But management had little choice. The result of these transactions is that shareholders still have a reduced ownership interest in the company. Now everything hangs on the final attempt to achieve sufficient cash flow. A failure of the latest attempts to increase profitability and cash flow could still wipe out common shareholders.
"DALLAS--(BUSINESS WIRE)--EXCO Resources, Inc. (NYSE:XCO) ("EXCO" or the "Company") announces the execution of a definitive agreement with a subsidiary of Venado Oil and Gas, LLC, an affiliate of KKR, to divest its oil and natural gas properties in South Texas. The purchase price of $300 million is subject to customary closing conditions and adjustments based on an effective date of January 1, 2017. The properties to be divested include the Company's interests in oil and natural gas properties and surface acreage in Zavala, Frio and Dimmit counties in Texas. These properties produced approximately 4,100 BOE per day (~90% oil) during December 2016. The Company expects the transaction to close in June 2017."
The company needed cash to drill. The transaction above removed the bank from the list of creditors. Since banks tend to be the most nervous of the creditors by far, paying down the loan amount was essential. Covenants were relaxed and now there is an unused line of credit available. But management surely knows that the credit line will not be available unless quarterly results materially improve. It will most likely be there unused. Banks have gotten a lot smarter and therefore will generally not lend money if a bankruptcy is imminent or likely. Since this situation is very high risk, the bank credit line is probably just window dressing for the time being.
The sale of some non-core properties provided $300 million. That should be enough to jump start cash flow if the right investment opportunities exist. No matter how good the sale looks in some metrics, it was a distressed sale. KKR (Kolberg, Kravis, & Roberts) is not in the habit of paying top dollar for anything. Consider KKR a fairly sophisticated buyer that knows what it is doing.
The proposed drilling opportunities have to be fantastically profitable. Those new wells have to pay all that outstanding debt as well as show a profit. Otherwise this company is going to be toast. Drilling profitable wells is one thing. Drilling wells that are profitable enough to delever the company are something completely different. These wells have to lead to a delevering process.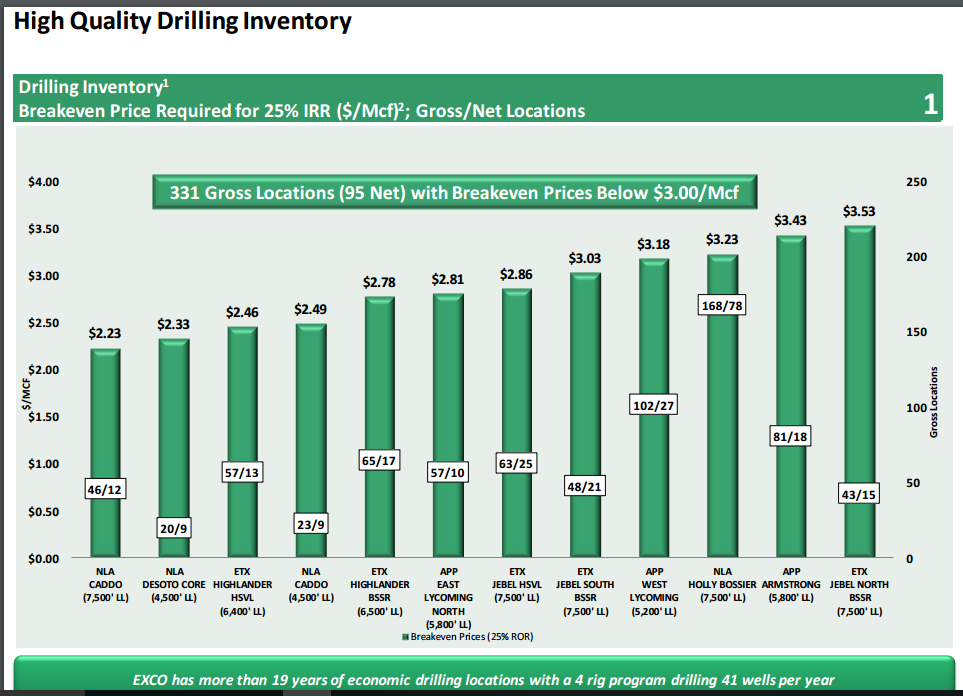 Source: Exco Resources Fourth Quarter 2016 Earnings Slide Presentation
Exco Resources management is reporting some encouraging results from the Haynesville leases. Production from newly drilled wells has doubled with more improvements still to come. These new wells will probably cash flow more than $1 million a month initially. So six to ten of these wells will cash flow enough for money to drill an additional well. Already, there are several years worth of wells if management high-grades the drilling opportunities. Since ramping up cash flow is a definite priority, the high-grading will be mandatory.
The best wells will gross the amount of the drilling and completion cost within six months. Those wells also pay back in less than a year. So management gets all of its drilling and completion money back to drill a second well with the same money while the first well is still flowing a significant amount. For wells with the best results, that initial cost to drill one well could actually fund the drilling of three wells in a fiscal year! That is very important to the cash flow build. The goal is probably to increase cash flow to an annual rate of about $400 million.
These wells appear to produce at a rate likely to add 10% to 15% to the total company production rate initially before declining production sets in. 40 to 60 of these wells are probably needed to restore cash flow to the necessary levels. After that there will be a maintenance amount of drilling. Of course if results are sub-par, then more wells are needed. In the worst case scenario the company could fail. Management is clearly banking on commodity price cooperation and repetition of some of the latest great results. In fact management wants to show significant improvement over the latest great results. So this operating plan is extremely aggressive and risky.
If the bankers see progress, they may loosen the credit strings somewhat to allow for some debt increases. But do not count on that. Management needs to hit the cash flow goal within two years. The ratio of long term debt-to-cash flow needs to be 3:1. Good execution and some operational improvements could see that rate within four quarters. So management has a viable if risky plan towards normal solvency and operations. The biggest risk is the execution risk as this solution has not been tried before.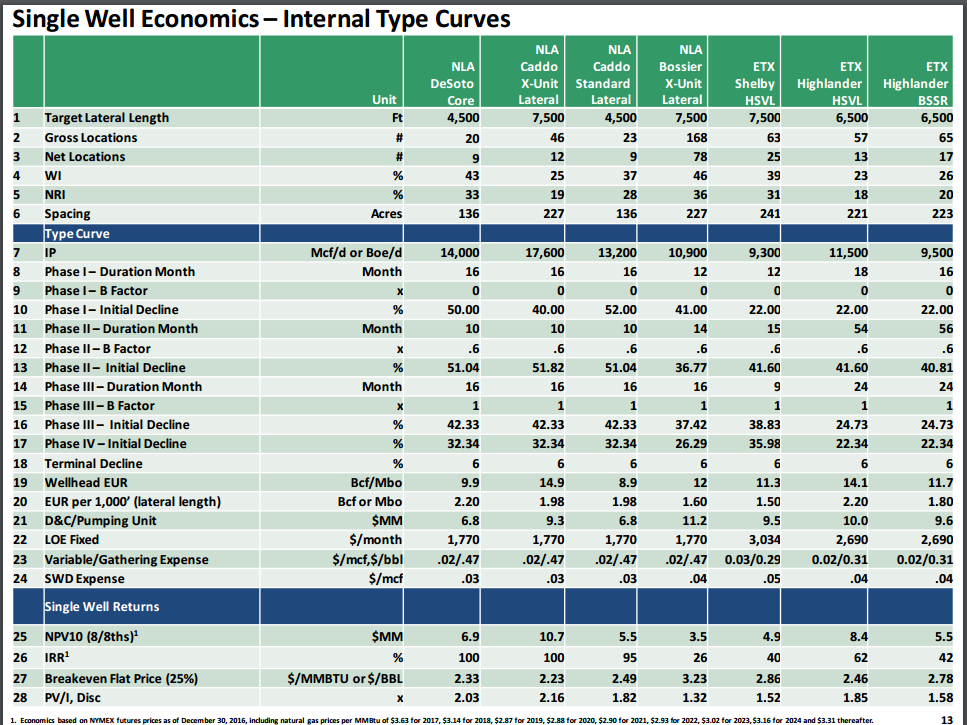 Source: Exco Resources Fourth Quarter 2016 Earnings Slide Presentation
Commodity pricing has to cooperate. Hedging will only provide so much protection. So investors could lose their total investment. But the potential for recovery exists in the prospects that show a 100% IRR. There are three groups of wells shown in the second slide that meet the criteria (or come close to it). The rest of the slide can be ignored for the time being. Operating improvements may make some of the other areas competitive, but that would be icing on the cake.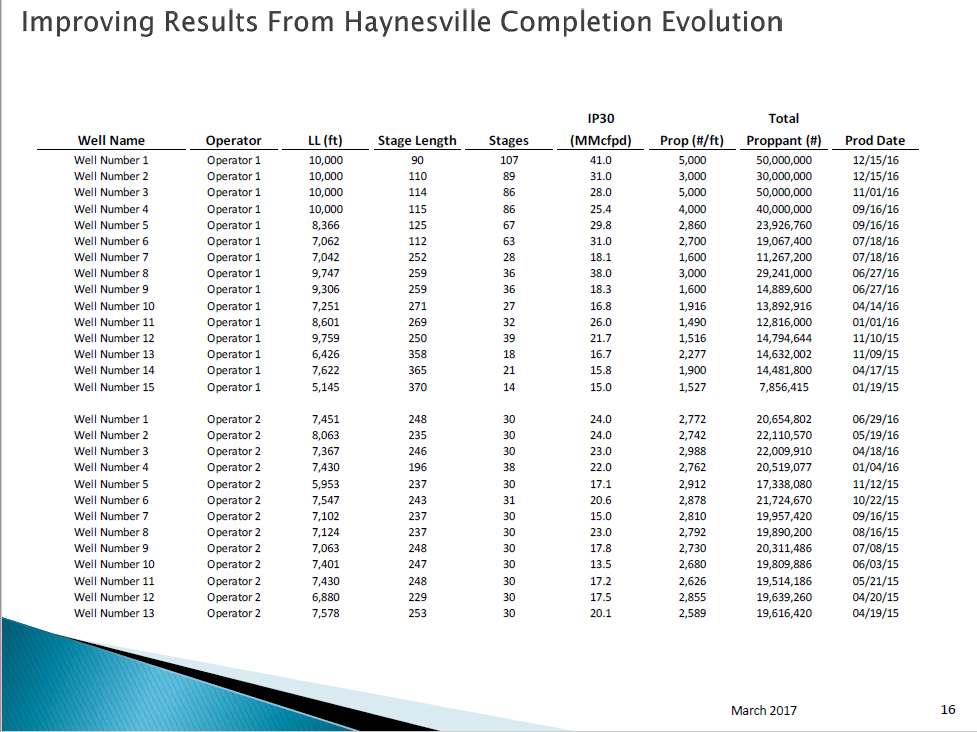 Source: Goodrich Petroleum March, 2017, Investor Presentation
The first slide demonstrates how fast the production improvements (click on presentation) happen. If those well improvements continue at the pace shown by operator 1, then initial flow rates could increase as much as 50% by year end. IF that seems impossible, recall how improbable the current flow rates were just a few months back. Management is experimenting with longer laterals and more proppant to significantly increase results. So the actual profitability could be better than currently forecast. Now some of the areas are also experiencing an increase in servicing costs which would tend to decrease IRR's but so far the two effects are netting to a beneficial improvement.
Conclusion
The financial situation is pretty dire. Management has done what they can to buy some time for some exceptional results to bail them out of the current financial straits. The company appears to have some prospects to do just that. Should management be successful, the stock holds attractive capital appreciation even with the warrants that convert at about a 50% premium to the current price. Success will involve substantial shareholder dilution as shares outstanding will double. On the other hand, the company will be in far better shape. Nonetheless, this kind of potential increase is fraught with risks. Management is depending upon the latest improvements to provide consistent results. In fact management is banking on better results from as yet unspecified improvements to beat forecasts. Investors stand a good chance of losing 100% of their investment. But outstanding operational results could lead to a quadruple from current stock prices, or possibly more. This stock is only for investors with a cast iron stomach or for very experienced speculators. Everyone else may want to watch from the sidelines.
Current gas prices above $3.00 BTU definitely help the situation. Management is locking in that price when it can. That ensures an attractive return for several potential new wells. But this is still a very high risk situation.
Disclaimer: I am not an investment advisor, and this article is not meant to be a recommendation of the purchase or sale of stock. Investors are advised to review all company documents and press releases to see if the company fits their own investment qualifications.
Disclosure: I/we have no positions in any stocks mentioned, and no plans to initiate any positions within the next 72 hours.
I wrote this article myself, and it expresses my own opinions. I am not receiving compensation for it (other than from Seeking Alpha). I have no business relationship with any company whose stock is mentioned in this article.
Editor's Note: This article covers one or more stocks trading at less than $1 per share and/or with less than a $100 million market cap. Please be aware of the risks associated with these stocks.