The last decade has been especially tough for companies focused on the production of natural gas (NYSEARCA:UNG). What is regarded as one of the cleanest fossil fuels has been caught in a prolonged slump of epic proportions since the global financial crisis of almost a decade ago.
Even the conditions that caused prices to spike over $5 per million Btu in early 2014 failed to last and natural gas plummeted to under $2 per million Btu in early 2016.

Source: EIA.
The outlook for natural gas according to some analysts remains bleak because of a massive supply overhang, growing activity in the shale energy patch and fears that demand will remain low over the short-term. Nonetheless, natural gas has firmed of late and is now trading at just under $3.19 per million Btu and should rise further over coming months with one key catalyst acting as a powerful long-term tailwind.
Natural gas is the preferred fuel for electricity generation
A major tailwind for natural gas that some analysts tend to ignore is climate change. Fears over the impact of global warming on both the environment and global economy have led to a significant push over the last two-decades to reduce greenhouse gas emissions.
The latest treaty on climate change is the Paris Agreement which came into force on 4 November 2016. The agreement seeks to strengthen the response to climate change by keeping the global temperature increase to below 2 degrees Celsius above pre-industrial levels.
It is this along with national initiatives from a range of governments that has seen the push to boost the contribution of sources of renewable energy to the global energy mix and reduce the world's carbon footprint.
This has triggered a surge in investment in renewable technologies over the last decade, as the graphic highlighting the new investment in renewable sources of energy shows.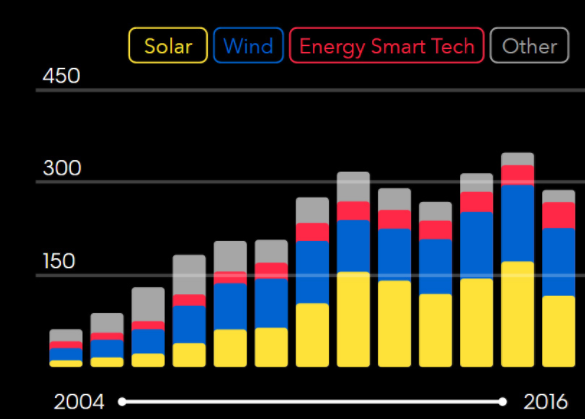 Source: Bloomberg New Energy Finance.
This culminated in a record $285 billion being invested in renewables in 2015, although investment during 2016 declined by 18% year over year. This can be attributed to a cooling of renewable energy investment in China with Beijing focusing rationalizing the national power grid and reforming the electricity market so that existing power generating plants can work to their full potential.
There is also the impact of natural gas to be considered with it fast becoming the favored transitional fuel for electricity generation.
You see, electricity generation is the single largest producer of carbon emissions globally responsible for over 40% of all carbon emissions. This is because of the reliance on coal-fired power plants which are responsible for over 40% of the world's electricity. Coal is the dirtiest of all fossil fuels and it is for this reason that globally there has been a dramatic shift away from using coal to natural gas fired electricity production.
Because of its high-energy content compared to other fossil fuels natural gas burns far more cleanly, which according to the EIA means that it produces roughly half of the carbon dioxide of coal and around a quarter less than gasoline, heating oil and diesel fuel. As the table below illustrates natural gas is the cleanest burning fossil fuel.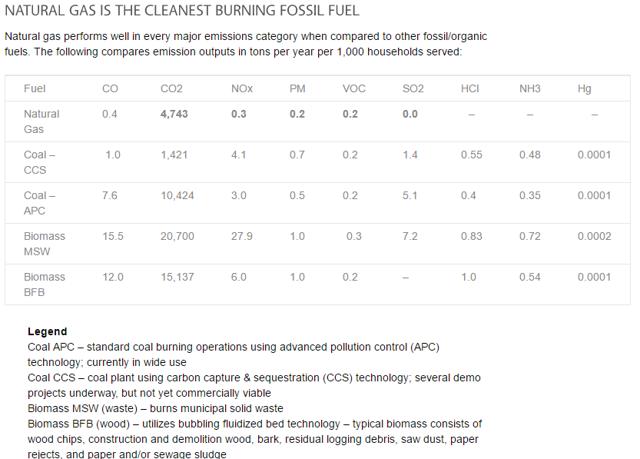 Source: Natural Gas Supply Association.
This is one of the reasons it has become the preferred fuel for electricity generation.
It should also be considered that one of coal-fired power's strengths is that it readily provides a steady source of electricity that can meet baseload demand, whereas many renewable sources of energy are incapable of doing reliably doing so. Natural gas fired plants unlike many renewables are capable of reliably meeting baseload demand as well as peak demand because of their ability to ramp-up production rapidly.
Then there are the costs associated with generating electricity.
Sharply weaker gas prices have made it an extremely economic means of power generation which is cheaper than many renewable technologies and even in many cases coal.
Natural gas has been estimated to have a cost of $64,416 per thousand megawatt hours produced compared to $90,511 to $145,939 for coal, $106,879 for nuclear and $90,561 to $319,984 for various renewables including hydro, biomass, geothermal, wind and solar.
If we turn to a chart from Lazard that sows the levelized cost of electricity production by energy type natural gas is cheaper than the majority of other fossil fuels and many renewables.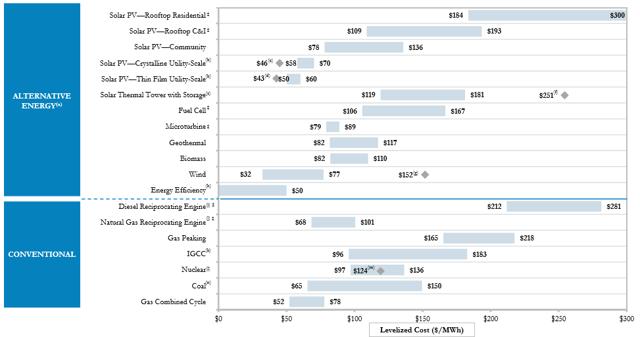 Source: Lazard.
According to Moody's the fact that natural gas is cheaper and has lower emissions than coal could lead to the large-scale retirement of coal-fired plants.
This trend is being given a solid leg-up by government legislation aimed at curbing carbon emissions across the world. As the graphic highlights the portion of electricity globally that will be produced by natural gas is expected to grow significantly between now and 2040.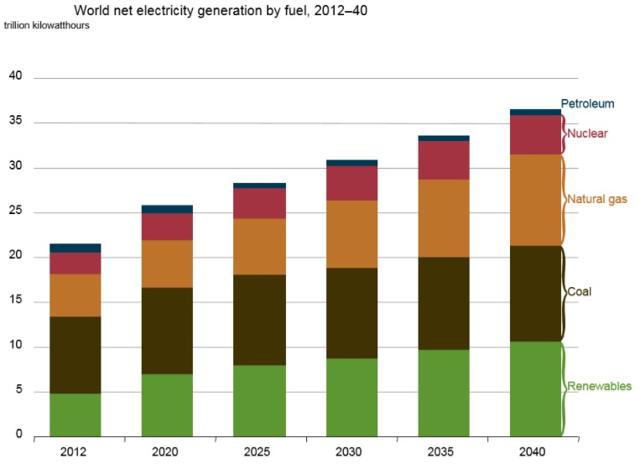 Source: U.S. EIA.
This forecast is certainly feasible and may in fact understate just how much global electricity production will come from gas.
You see, many countries including some of the largest greenhouse emitters globally as well as producers of electricity have implemented regulations aimed at sharply reducing or even eliminating coal-fired power from their energy mix.
China, which is the largest emitter of greenhouse gases globally and one of the nations that is most dependent on coal-fired power generation, will introduce a national cap and trade scheme that favors natural gas at some stage during 2017. This will fuel even greater demand in a country where natural gas consumption has exploded, quadrupling over the last decade.
Canada is poised to introduce a federal carbon tax which will increase the costs of coal-fired power generation in those provinces that haven't enacted their own regulations. The province of Alberta has mandated that all coal-fired electricity generation must cease by 2030 or coal-fired plants must have eliminated all emissions.
This and for the other reasons discussed this has sparked tremendous push among Canadian electric utilities that are reliant upon coal-fired electricity to convert those plants to natural gas. One of Canada's largest electric utilities and among the worst affected by this legislation TransAlta (NYSE:TAC) has two gas-fired plants under development and 3,0000 megawatts of coal to gas conversion in Alberta underway.
There is also a dash to gas underway in the U.S.
By the end of 2016, natural gas generators comprised the largest share of overall U.S. operating generating capacity, for the first time ever.
The rapid growth of gas-fired electricity in the U.S. can only continue. Almost 20 gigawatts of new natural gas fired capacity are expected to come on-line by 2018.
More significantly, by the end of 2016 gas-fired power generation exceeded coal-fired for the first time and will be the largest source of U.S. electricity generation this summer.
Trump's plans to roll-back or eliminate the environmental regulations implemented by the Obama administration, including those targeting coal-fired power as a means of reducing greenhouse emissions, will extend the life of coal-fired plants in the U.S..
However, it won't end the transition to natural gas. Economic and market forces will continue to support the transition, primarily because natural gas is cheaper and more abundant.
Major U.S. electric utilities such as NRG Energy (NYSE:NRG) and Duke Energy (NYSE:DUK) which are among the largest operators of coal-fired plants are expected to convert a large amount of their generating capacity to natural gas. This is in part for economic reasons but also because they are seeking to future-proof their operations because it is inevitable that coal-fired power will be phased-out even if Trump repeals existing emissions legislation.
Bottom-line
For a variety of reasons, both economic and regulatory, that the transition to natural gas fired electricity generation will continue at a rapid pace. This bodes well for higher demand and will be a game changer for beaten down natural gas producers at least for the short to medium term as supply constraints caused by a lack of drilling kick-in.
It will also be of considerable benefit to all segments of the natural gas supply chain and one segment that will benefit is midstream services particularly natural gas processing, transmission and storage. This because the natural gas produced will need to be piped to those power plants that require it and excess will need to be stored. And any marked increase in production will lead to greater pipeline throughput and possibly increased demand for storage.
The unparalleled operational footprint of Kinder Morgan (NYSE:KMI) means that it will benefit most from growing demand and supply of natural gas. It will also be of significant benefit to Enbridge (NYSE:ENB) because roughly a third of Canada's natural gas production is exported to the U.S. and it is responsible for shipping 20% of those exports. TransCanada (NYSE:TRP) which has already benefited from Trump's plans to reduce regulation for the energy industry with his administrations approval of the Keystone XL pipeline which had been blocked by Obama will gain a healthy boost.
Finally, there is Brookfield Infrastructure Partners (NYSE:BIP) which identified the long-term potential held by natural gas and the need for transmission and storage infrastructure at the height of the natural gas slump. It made a number of acquisitions in the sector at bargain basement prices because other companies were either divesting themselves of gas infrastructure assets or had severely depressed stock prices because of downturn.
Disclosure: I am/we are long BIP.
I wrote this article myself, and it expresses my own opinions. I am not receiving compensation for it (other than from Seeking Alpha). I have no business relationship with any company whose stock is mentioned in this article.