BACKGROUND
I am in the process of writing a series of articles addressing concerns expressed by Eric Parnell based on S&P 500 statistics for the period 2011 to 2016 (see here, here, here, here, here and here). These statistics suggest: (1) companies in the S&P 500 have borrowed excessively to fund buybacks; and (2) share prices have doubled while earnings have remained flat (see Eric Parnell's article, "The Beginning Of The End". The Heisenberg has added further concerns based on S&P 500 averages, as per this extract from this article, "There appears to be no direct relationship between a company's ROIC/WACC and its weight in the S&P 500. ROIC/WACC for the top 10 companies in the S&P 500 (20% of the index), on average, is lower than that of the next 70 companies." He goes on to suggest that passive S&P ETFs are creating an enormous misallocation of investor capital and causing investors to misallocate their own capital by funneling it to companies which are (relatively) bad capital allocators, and when huge amounts of money goes stomping around indiscriminately in markets, bad things (or at the very least "distortions") are inevitable.
MR. HEISENBERG, YOU CANNOT USE ROIC/WACC AVERAGES TO COME TO MEANINGFUL CONCLUSIONS
The WACC denominator
I will explain about the averages, but firstly, let us look at the WACC denominator. The lower that cost is, the higher and more favorable the ROIC/WACC ratio will be. The way to get that cost lower is to borrow heavily at the current low interest rates. In a simple example - a firm's cost of equity is 15% and its borrowing cost is 5% and it has the opportunity to invest in a new project returning 20%. If the firm chooses not to borrow, its WACC will be 15% and its ROIC/WACC ratio will be 1.33 for this project (20%/15%). If the firm chooses to fund half the project with borrowings, the WACC will be 10% ((15%+5%)/2) and its ROIC/WACC ratio will be 2.0 for this project (20%/10%). I have already established the top 20% of companies in the S&P 500 have been very conservative in their borrowings, and for the most part have increased cash net of debt and have no net borrowings (see here and here). Could it be those 70 companies, immediately below the top 20 companies, have borrowed heavily in the current low interest rate environment, and that is why the top 10 companies have a lower ROIC/WACC ratio?
The ROIC numerator
To calculate the ROIC, only funds/assets that are actually employed/invested in income producing activities are counted. So cash reserves and business assets that are not in use are excluded. The Heisenberg suggests a misallocation of funds to projects that do not earn sufficiently above the WACC is the likely cause of the top 20% of companies having a lower ROIC/WACC ratio than the next 70 companies in the S&P 500. Given the levels of buybacks by large and small companies it is fairly obvious there is a shortage of investment opportunities that meet ROIC criteria. But that appears to be the case for both large and small companies. Given the distortion inherent in the WACC denominator, whether the 70 smaller companies are doing better or worse than the top 20% can be only determined at the individual company level, making the use of averages fairly useless.
Misallocation and non-allocation
One thing that is being missed in this discussion is the non-allocation of idle cash to business investment. You will recall from above, idle cash and equipment and other business assets are all excluded from the ROIC calculation. This is of course a major concern for companies with OUS cash subject to heavy tax rates if repatriated.
TABLE 1 below shows financial details for the four companies, Apple Inc (NASDAQ:AAPL), Microsoft (NASDAQ:MSFT), Exxon Mobil (NYSE:XOM) and Amazon.com (NASDAQ:AMZN), comprising the top 10% by market cap of the S&P 500. I have also totaled the data for these companies and calculated averages for the totals to illustrate how generally useless these averages are for making investment decisions.
TABLE 1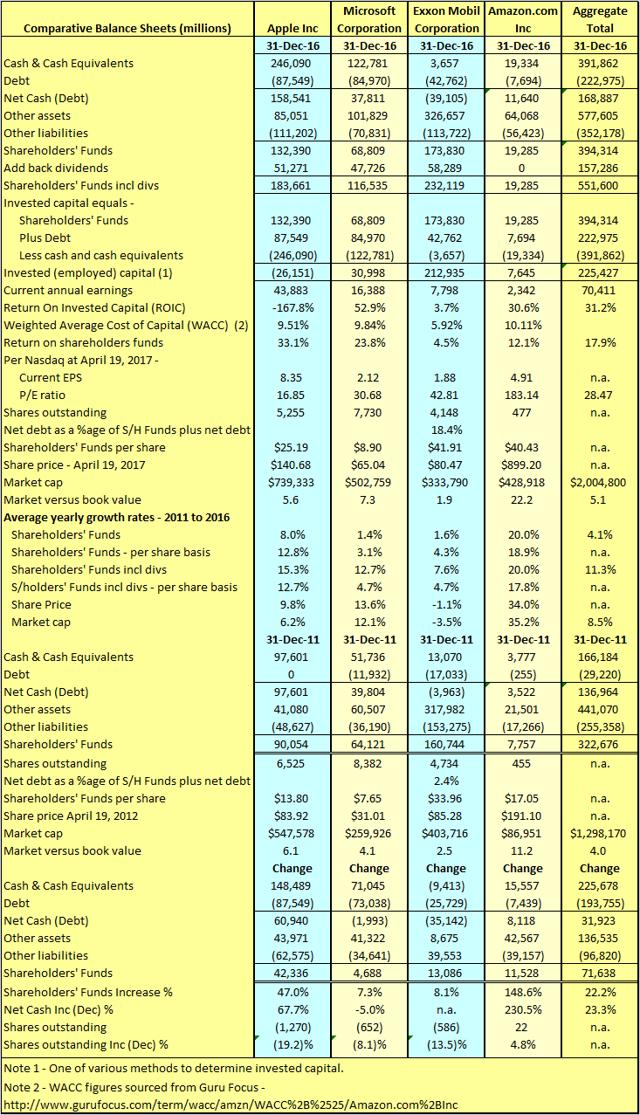 COMMENTS ON TABLE 1
Invested capital
I have used the simplest form of calculation for invested capital component of ROIC, and I have detailed the components so readers understand how I have calculated it. Note that Apple Inc has negative $26bn funds employed using this basis of calculation. A variation of the calculation would add back any liabilities such as deferred tax provisions because there is no interest cost on these items. Still if one business enjoys such an advantage [think Berkshire Hathaway (NYSE:BRK.A) (NYSE:BRK.B)] and another does not, then it is a real reduction in the cost of funding. I just mention this because it further demonstrates, to compare entails a more intimate understanding than is available with averages.
ROIC versus Return on Shareholders' Funds or Equity (ROE)
I consider ROIC most useful for evaluating whether or not to take on a new project. For judging the company and comparing to alternative investments, the return on shareholders' funds (ROE) is more relevant for a shareholder. It also is a better measure of overall stewardship by management as idle cash and other assets will dilute the return available from income earning assets.
Averages
Have a look at the averages in the aggregate total column in TABLE 1, and ask yourself if any one of those averages gives you any idea of the performance of any one of the four individual companies. Just think if you avoided those four companies and invested in the next 70 companies in the S&P 500 because their average ROIC/WACC was better than the top four companies. Would you have any confidence that such a decision based on averages would be a good decision?
SUMMARY AND CONCLUSIONS
A review of ROIC/WACC, along with ROE and other measures are useful for judging how management is performing. But it has to be done at the company level because different classes of business, early stage versus mature, capital intensive versus non-capital intensive or labor intensive, and so on, will inherently attract different ROIC. Also, different abilities to borrow and will affect WACC. Averages of statistics for groupings of dissimilar companies are next to useless. Also, remember when The Heisenberg shows statistics for the top ten companies over time they are not necessarily the same ten companies. I very much doubt the same four from TABLE 1 above comprised the top four 5 years ago.
The other really important thing to remember is two companies can have different ROEs but both can still be very solid businesses. That difference in ROE would be one factor in determining the share price payable for each company. Again, The Heisenberg has looked at a statistic in isolation and suggested, based on that isolated statistical average there is a likely misallocation of capital. I do not believe such a conclusion can be drawn based on a single statistic and definitely not on group averages.
Finally - A few words on why I wrote this article
In my opinion, The Heisenberg makes a great contribution to discussion of concerns related to the S&P 500, and the market generally. It is worth quoting these passages from this article in the Heisenberg Report from a few days ago, "Guest Post: The Next Market Crash Will Be Facilitated By ETF's"
While I am a big fan of ETF's, I worry when I see enormous growth in a security or theme and always think about unintended consequences of that growth. I hope I am wrong on my hypothesis, but I've experienced many crashes and the underlying mechanics of investor panic generally do not change. As Michael Lewis pointed out in his most recent book, "The Undoing Project" which describes the brilliant work done by psychologists, Daniel Kahneman and Amos Tversky, behavioral finance demonstrates both damagingly and conclusively that humans make irrational economic decisions under uncertainty and risk. The asymmetry of information response and how market participants interrelate with one another is why financial panics happen more frequently than we care to admit.
My concern, is the use of S&P 500 statistics for ROIC/WACC to draw "incontrovertible" mathematical conclusions that ETF's are encouraging misallocations of capital. I believe such conclusions are demonstrably without basis, as discussed above, and potentially add to any perception of uncertainty and risk from which financial panic can ensue.
Disclaimer: The opinions in this document are for informational and educational purposes only and should not be construed as a recommendation to buy or sell the stocks mentioned or to solicit transactions or clients. Past performance of the companies discussed may not continue and the companies may not achieve the earnings growth as predicted. The information in this document is believed to be accurate, but under no circumstances should a person act upon the information contained within. I do not recommend that anyone act upon any investment information without first consulting an investment advisor and/or a tax advisor as to the suitability of such investments for their specific situation.
Disclosure: I/we have no positions in any stocks mentioned, and no plans to initiate any positions within the next 72 hours.
I wrote this article myself, and it expresses my own opinions. I am not receiving compensation for it (other than from Seeking Alpha). I have no business relationship with any company whose stock is mentioned in this article.