Summary: MaxCare Rx is an Oklahoma-based PBM (Pharmacy Benefit Manager) that I believe runs the patient assistance program for a variety of Mallinckrodt's (NYSE:MNK) branded generic drugs. Based on available information I believe Mallinckrodt is the only company that uses MaxCare Rx for patient assistance distribution and I believe Mallinckrodt is a large portion of MaxCare Rx's total business. In addition, MaxCare Rx has a confusing undisclosed relationship with GCP Pharma (a "generic warehouse distribution program"). Neither MaxCare nor GCP Pharma are specifically disclosed in any of Mallinckrodt's SEC filings.
While sifting through an old list of pharma company patient assistance phone numbers I saw Mallinckrodt's and decided to look into their patient assistance program.

But, when I Googled the listed phone number "1-800-259-7765" I realized it's the phone number for MaxCare Rx.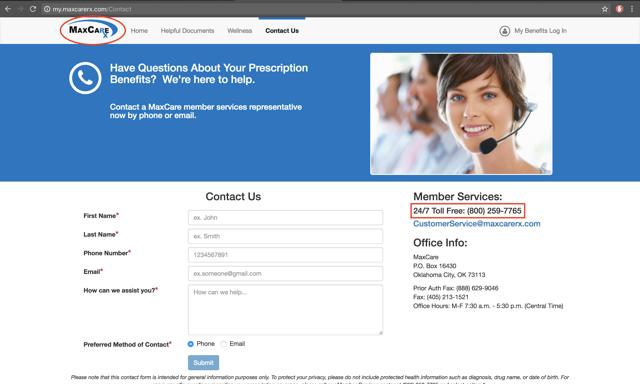 According to its website, "MaxCare is an Oklahoma-based PBM that has been providing exceptional service since 1985. As a subsidiary of PPOk, one of the nation's premier organizations of independent pharmacies, we know the ins and outs of the pharmaceutical industry, so you don't have to. We work with clients to create a customized benefits plan that works for them, all while being truly transparent and restoring a new ethical standard to our industry. Our main focus is to reduce the overall drug spend by promoting the use of generic drugs, managing factors that increase cost, and most importantly, educating our members to make the best possible decisions."
Notably, MaxCare does not mention Mallinckrodt or management of patient assistance programs anywhere on its website. But, if you call the listed phone number, 1-800-259-7765, you are told, "Thank you for calling MaxCare prescription benefit services … if you are a health plan member press one 1, if you are a pharmacy, physician, or other healthcare provider press 2, and if you are here for Mallinckrodt's patient assistance program press 3." This leads me to believe that Mallinckrodt is a substantial portion of MaxCare's business. No other pharma company listed "1-800-259-7765" for its patient assistance program and from available information I could not find a single other pharma company that uses MaxCare's patient assistance services. Why Mallinckrodt would want to be the only company to distribute patient assistance via an Oklahoma PBM is something I find odd.
Now here's where it gets a lot more confusing. On its website MaxCare Rx lists its office info as "P.O. Box 16430 Oklahoma City, OK 73113" and its fax number as "(405) 213-1521"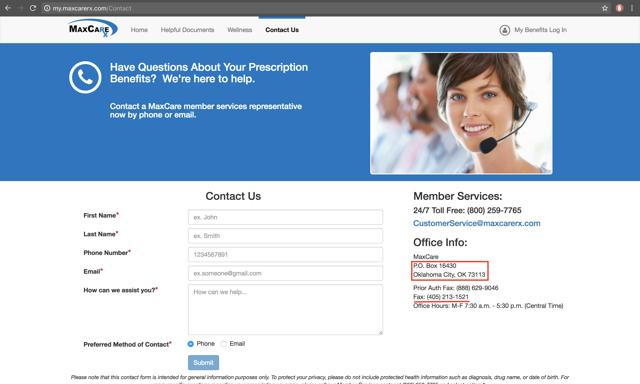 But that same P.O. Box is used by GCP Pharma a "generic warehouse distribution program" that "provides parity in pricing for generic drugs:"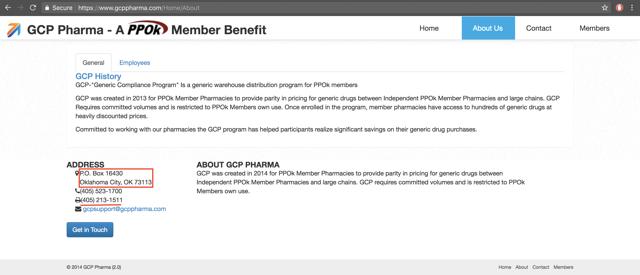 Why would two independent businesses use the same P.O. Box? MaxCare and GCP make no reference to each other on their websites. The only common factor I could find was that MaxCare is a subsidiary of PPOk (Pharmacy Providers of Oklahoma), while GCP is a "member benefit." PPOk's website lists MaxCare as a subsidiary, but does not mention anything about GCP Pharma.
Pharmaceutical facilities need to be registered with the Oklahoma State Board of Pharmacy. I entered "MaxCare" in their facility search tool and got no results. To my surprise, when I searched "GCP Pharma" two active facilities were listed.
One is at 3000 E Memorial RD:
(Registration link)
Which just so happens to be the location of MaxCare!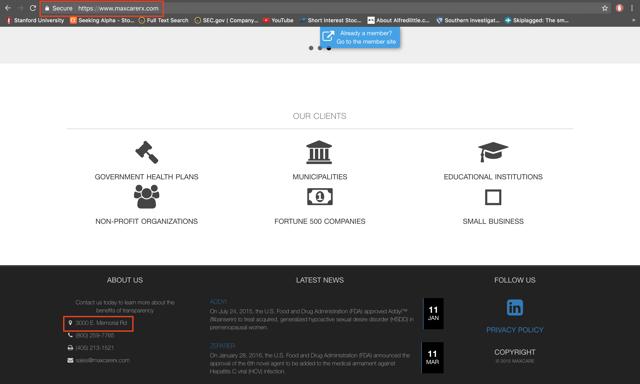 The other active location for GCP Pharma is 6807 N Robinson Ave, Oklahoma City, OK 73116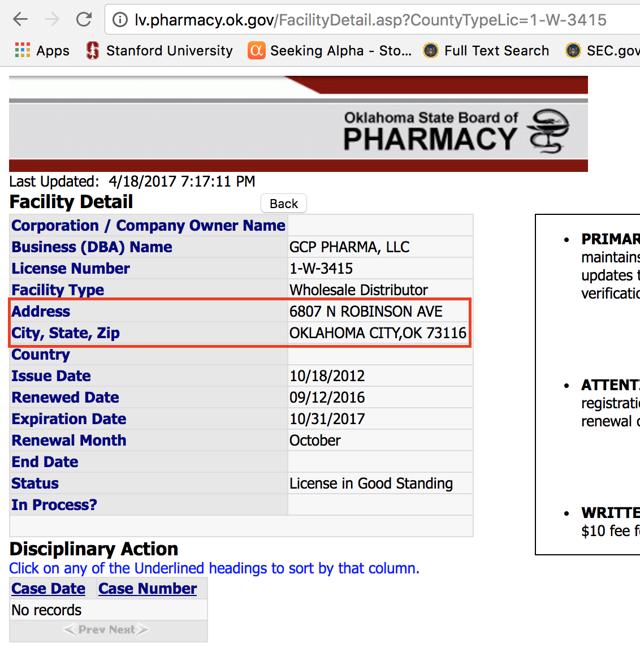 On Google Maps, 6807 N Robinson Ave, Oklahoma City, OK 73116 is an unmarked warehouse that I assume is belongs to GCP Pharma.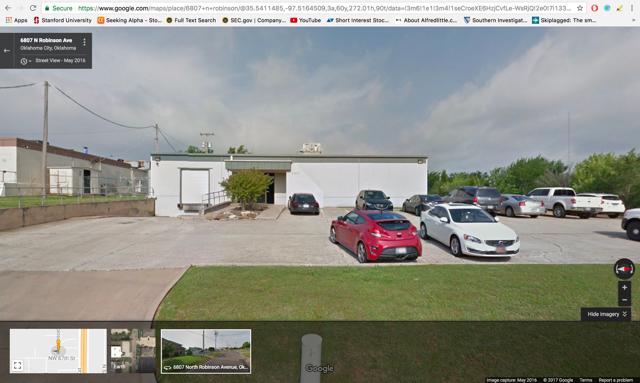 This is all incredibly confusing, so I contacted Mallinckrodt's investor relations department multiple times asking about Mallinckrodt's relationship with MaxCare. I received no answer.
As a result, I contacted Mallinckrodt's auditor, Deloitte, about MaxCare and other issues. In response, Deloitte sent this legally crafted email saying 1) we just passively gave all your info to Mallinckrodt 2) we gave Mallinckrodt your e-mail address identifying you: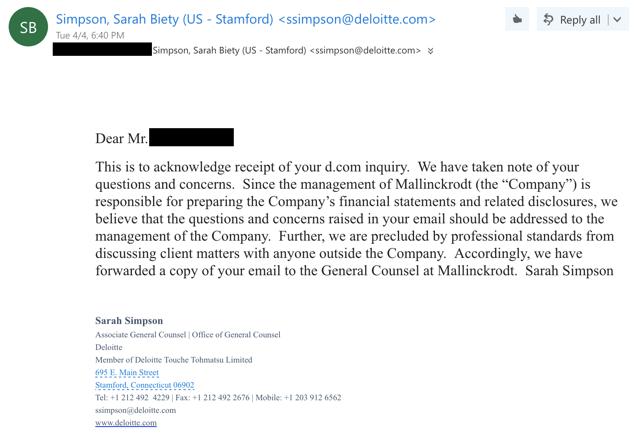 I do not believe this is appropriate behavior from a Big 4 auditor. Shortly after this exchange, Mallinckrodt updated their website information about patient assistance (for which I applaud them):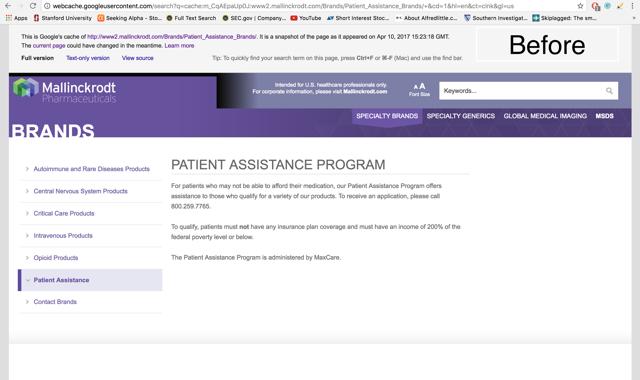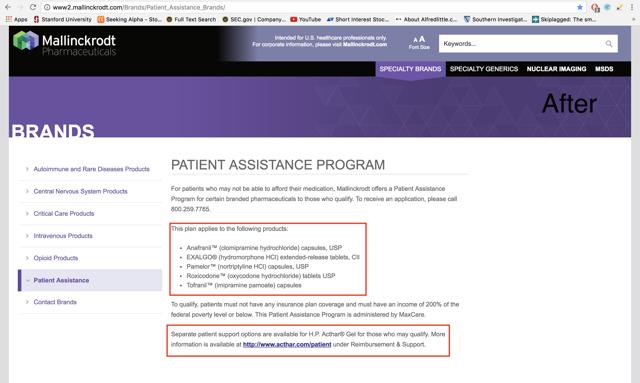 I'm not sure why Mallinckrodt would make this change to confirm that MaxCare is providing assistance for their branded generic drugs but was unwilling to answer my inquiries about MaxCare.
Conclusion
I want to be clear about what this report is and isn't. This isn't proof of wrongdoing by Mallinckrodt. This report is my observations based on publicly available information that I believe merit an explanation. Because I couldn't get an appropriate answer from the company I want to make these issues public because they are potentially significant.
Some relevant questions for investors are:
1) What amount of revenue does Mallinckrodt record on drugs where MaxCare provides any assistance or service?
2)Does MaxCare provide or help provide assistance to patients on Medicare/Medicaid?
3) What is Mallinckrodt's relationship with MaxCare and what is MaxCare's relationship with GCP Pharma?
Disclosure: I/we have no positions in any stocks mentioned, and no plans to initiate any positions within the next 72 hours.
I wrote this article myself, and it expresses my own opinions. I am not receiving compensation for it (other than from Seeking Alpha). I have no business relationship with any company whose stock is mentioned in this article.