The worst-case downside scenario has suddenly opened wide for the iPath Bloomberg Cocoa SubTR ETN (NYSEARCA:NIB). The price of cocoa hit a 9 1/2 year low in the New York market and a four-year low in the London market.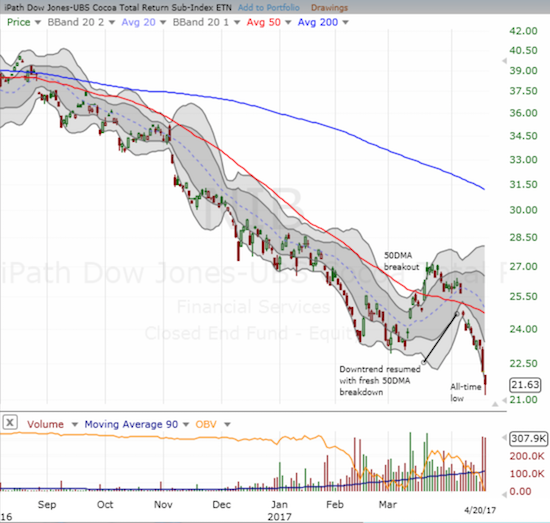 The iPath Bloomberg Cocoa SubTR ETN plunged to new all-time lows as the price of cocoa once again cratered.
Source: FreeStockCharts.com
In late February I sensed an opportunity in buying NIB on the cheap. NIB fortuitously bounced from its all-time low at that time (NIB was introduced in 2008). A little over two weeks later, a cut in the forecast for Ghana's cocoa production seemed to confirm the low for NIB. In another three weeks, I had to concede that downside risks were looming again as the International Cocoa Organization (ICCO) forecast a surplus for global cocoa production. My optimistic case was for a period of price consolidation. Yet, I recommended that short-term traders who played the bottom should lock in profits. Longer-term holders, like myself, needed to brace for the potential of a fresh sell-off. Another round of new all-time lows represents that sell-off.
Commodities tend to trend for extended periods of time. So, the breaking of the 50DMA downtrend on NIB was a significant event. The fresh 50DMA breakdown was equally significant. The acceleration to the downside upon the new low confirmed that downside dynamics are dominant once again. I am guessing a lot of stop losses were triggered, which exacerbated the selling into new lows. Per my strategy for buying off bottoms, I am waiting to add to my position for a time when buyers show some strength again. For NIB, this strategy means waiting to add to my position when the equity conquers the former all-time low with a close above $23.75. With downside risk for cocoa prices to around $1,500/ton (around 21% lower from current prices), I do not think it makes sense to chase a falling knife downward here.
In response to the persistent price downtrend, Ghana and the Ivory Coast are reportedly discussing methods for gaining more control over prices in the cocoa market (a cocoa cartel?). I have yet to see confirmation of such discussions, but 3FM did recently produce a brief story interviewing a "supply and value chain expert" who has his own proposal for Ghana and the Ivory Coast. Vincent Ebo Ocran proposed that the two countries cease export of raw cocoa and instead only export processed cocoa. Of course, this scheme just shifts the point of competition. If Ghana and Ivory Coast processors have to buy cocoa at inflated prices, then global processors might undercut at least some portion of their production by buying cheaper cocoa from elsewhere (like Indonesia and Latin America). Still, the existence of such proposals demonstrates the increasing desperation over the situation. For example, Ivory Coast had to cut its government budget by 10% as a result of the hit from falling cocoa prices.
Ironically, news of damaging heavy rains in Ivory Coast seemed to cast doubt over the ability of the Ivory Coast to contribute to a global surplus. Per Reuters:
"Heavy rain in several of Ivory Coast's main cocoa growing regions last week has raised fears of lower production during the April-September mid-crop due to falling pods and disease, farmers said on Tuesday."
One farmer went on to claim that "the trees have not produced lots of fruit. The harvests will be very weak this season." Clearly, financial markets do not currently believe these reports. If there is any truth to them, a large upside surprise to cocoa prices could be in the making in a few months as the mid-crop season progresses.
In the meantime, Ivory Coast exports may suffer from lower quality cocoa beans. The supply glut left beans from the last season sitting around and, reportedly, farmers are trying to get rid of them by mixing them in with cocoa from the current mid-season crop. Per Reuters:
"'We know they're doing this,' said the director of a San Pedro-based export firm. 'It will take at most two months to get rid of the bad quality beans and get back to normal standards.'"
The double-whammy of an over-supply is the combination of lower bean quality and the luxury of exporters to refuse to buy the lower quality mix. Perhaps the point of quality normalization may introduce another key pivot point for cocoa prices.
Be careful out there!
Disclosure: I am/we are long NIB.
I wrote this article myself, and it expresses my own opinions. I am not receiving compensation for it (other than from Seeking Alpha). I have no business relationship with any company whose stock is mentioned in this article.