This morning, it is rainy and dreary day, here in Boston, so I am going to switch gears. My Friday morning musing is about sharing a few thoughts on the future of the asset management industry and what the business may look like. At the outset, I am wise enough to know that predicting the future is tough, so these are merely a collection of thoughts and ideas. It is all about putting them "out there" and seeing what the Seeking Alpha readerships thinks about the subject. I will share my views, I could be right, I could be wrong, but it is a worthwhile topic, perfect for a Friday.
The genesis of this idea, similar to most of my ideas that randomly pop into my head out of the ether, is from my synthesizing process, which includes collaboration, reading, and observing the world. More specifically, for this idea, I tapped the collective wisdom from two very interesting conversations with two friends. One friend co-manages $1 billion of equities in NYC mutual fund land and the other friend spent upwards of twelve years moving in the elite and storied Wall Street circles, including an approximately 8 year span on the NYC hedge fund circuit.
As a wandering philosopher myself with an odd passion for the art of securities selection, I felt compelled to share these conversations. Again, these could be right, they could be wrong, but in the spiriting of sharing, which is one of my core tenets, let's get started.
Quite simply, the $16 trillion mutual fund business is an evolving landscape, where changes, disruption, and new ideas are afoot. ETFs, now a $2.56 trillion business, in the U.S., are all the rage. These instruments with the promise of lower fees and all day tradability of a common stock are en vogue. I tip my cap to the brilliant, just brilliant market campaigns by BlackRock (NYSE:BLK), Vanguard, State Street (NYSE:STT), and JP Morgan (NYSE:JPM), PNC Financial (NYSE:PNC), Bank of New York Mellon (NYSE:BK) among others, would evoke a bedazzled smile out of the great Don Draper. See this article written by Sumit Roy from the website ETF.com.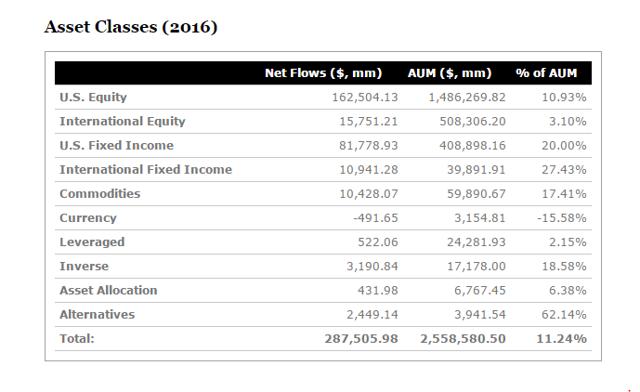 However, paradoxically, I ain't taking the bait, just as a concept of ETFs seems unstoppable and suddenly sexy, I would argue that ETFs will underperform because of when there is too much money chasing too few good stocks, and the ETF assets managers aren't doing any in depth security selection, invariably what should result is mis-allocation of capital. The high IQ hedge fund Masters of the Universe and well paid Buyside, when faced with an existential threat, will rise to the occasion and find a way to profitably exploit this mis-allocation of capital. In fact, the better shops, will welcome the migration from active management to passive ETFs with open arms. Similar to the ending of War of the Worlds, the invincible robots, weren't smart enough to realize that millions of years of evolution was the antidote to bacteria and infectious disease, and this bacteria was their kryptonite. The Masters of the Universe and Buysiders will not go quietly into the night.
Moreover, just as the infamous August 1979 cover of Businessweek, boldly proclaiming the death of equities, was actually the contra indicator, perhaps similar to today's buzz and glowing headlines about ETFs, which may look silly at some point in the future.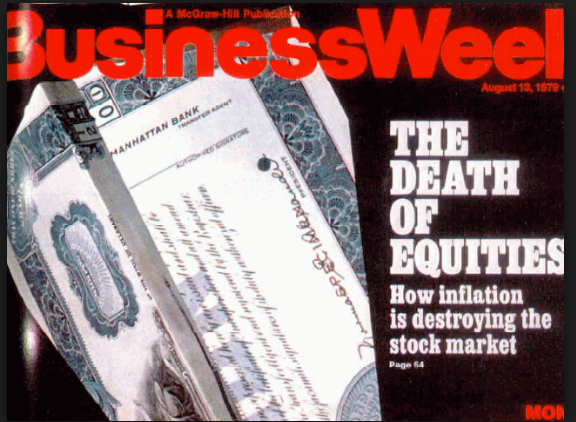 For Exhibit A - check out this July 2016, CNBC article headline below (see link).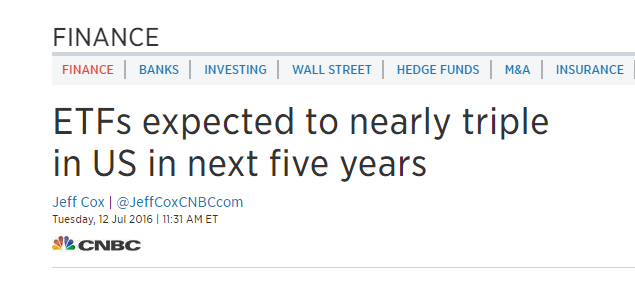 If projections from a PwC survey released this week hold up, assets for exchange-traded funds will nearly triple in the U.S. and more than double globally over the next five years. That comes after a decade of rapid expansion for an industry that has benefited from low costs and an ever-increasing array of new products in hot demand by institutional investors, and increasingly by the retail crowd as well.

The survey of more than 60 firms in 2015 showed that global ETF assets likely are going to jump from $3 trillion to $8.2 trillion, with the U.S. portion of those assets moving from $2.3 trillion to at least $6.2 trillion by 2021
Despite the impressive gains, the actively managed U.S. mutual fund market is still nothing to sneeze at. The competition from ETFs is simply the culling of the herd of the pretender mutual funds that charge high fees for closet indexing. These funds will go the way of the 8-Track, or Atari, but the love of listening to music or playing video games will simply move to a new medium. The underlying behavior of people saving and investing for their future is enduring and will stand the test of time. The competition from the ETFs industry will simply compress fees structures on the buyside.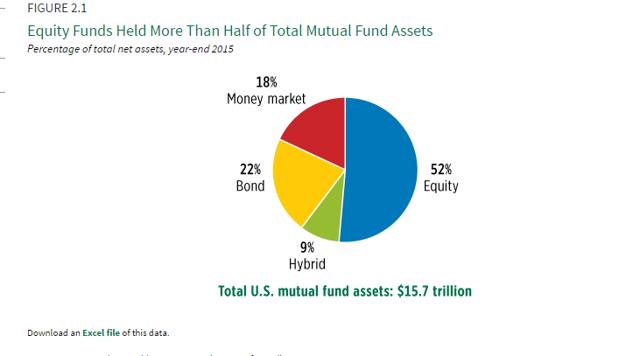 Source: Investment Company Institute
In terms of the Masters of the Universe, this industry is an easy target for criticism due to the 2/20 fee structure and the billions of dollars of wealth that have accrued to the Tier 1 elites, think Soros, Simons, Dalio, Tepper Icahn, Griffin, etc. (the list can be found here at Forbes). The rumors of the death of hedge funds are greatly exaggerated. Yes, there will be flame outs, closures, and high profile fights between the Calpers, Norway Pension Funds, Saudi Arabian Tycoons, etc., to lower their fees, but money seems to gravitate to where it gets the best return. Remember, Gordon Gekko's famous line "Money never sleeps, pal". At the wise old age of 36, I learned that: a) it never pays to bet against American, given its proven dynamism and ingenuity and b) the world's smartest and most ambitious (dare I say greedy) people will find a way to make money.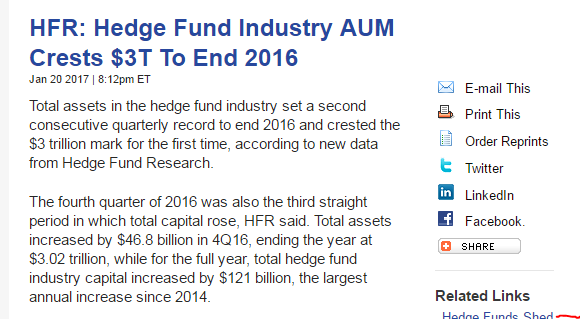 Source: FIN Alternatives
Takeaway
Oh yeah, that's right, you wanted to know what my friends had to say instead of read my scattered, and tangentially dispersed commentary.
My mutual fund friend said that I have a unique opportunity to build a business on Seeking Alpha, on Marketplace. He said, the future is about connecting the people with the capital (retail investors) directly with the analysts (me and other Marketplace authors).
Unlike in the mutual fund land, where the end customers never gains access to the portfolio manager or analyst team, the future is an collaborative process where the analyst and people with the capital connect directly, free from the tangled and fortressed layers of marketing, administration, high fees, and egos. That is the future and he said I am lucky to be small part of this pioneering adventures, riding the wave, on the unique Seeking Alpha platform.
In terms of my other friend, he said the old system is broken. No one can effectively manage a portfolio of thirty stocks. No one. The portfolio of the future is about pods of active managers that never own more than ten names, in a portfolio, and that only put capital at risk when the risk/reward is compelling. In other words, mutual funds and ETFs are mandated to always be fully invested and by fiduciary laws, there are diversification mandates. Often, you can't style drift into other sectors, even if they are super undervalued, and you generally can't have more than 5% of any security in one stock. After all, it is hard enough coming up with two or three good ideas per year, let alone thirty.
I hope you enjoyed today's musings. Please share your thoughts and feedback in the commentary section.
Disclosure: I/we have no positions in any stocks mentioned, and no plans to initiate any positions within the next 72 hours.
I wrote this article myself, and it expresses my own opinions. I am not receiving compensation for it (other than from Seeking Alpha). I have no business relationship with any company whose stock is mentioned in this article.