Generation NEXT Franchise Brands (OTCQB:VEND) has been revitalized by a new business, but whether it can deliver on promises and ultimately recognize revenue is uncertain.
Previously, I covered this business when it was called Fresh Healthy Vending. I cautioned that the company had sketchy management, cash issues, and a product that was something of a commodity, while noting positives including a trend toward healthier eating and recently secured legitimizing relationships with organizations like the American Diabetes Association.
The positive factors ended up not being enough and the share price sank as revenues never rose to anywhere near a level that would allow the company to turn a profit.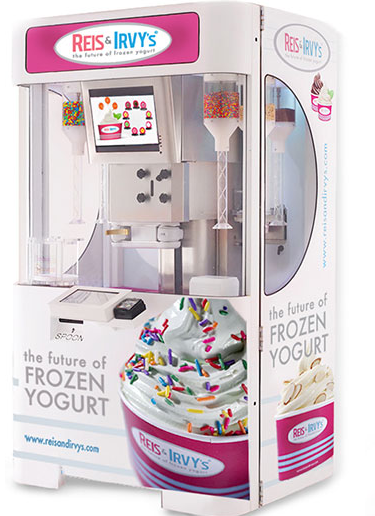 Then, just in time, management found a new product to promote. Generation NEXT now sells robotic frozen yogurt (called FroYo in most company literature) kiosks under the Reis&Irvy brand name, and franchisees are lining up. Anyone lucky enough to purchase shares near their fifty-two week lows has seen returns rocket toward 1000%.

The pitch to franchisees is essentially that the startup costs are low, and the maintenance level is even lower. Kiosks cost $40,000 each, with a minimum fleet size of four. For their $160,000 investment, owners become part of an ecosystem that "generates a higher yield per square foot than any other frozen yogurt retail model and operates 24/7." The majority of the work for the franchisee is in restocking, which may take a few short visits a week. The company has a strategic partner in Honey Hills Farms that supplies ingredients and streamlines the process.
Initially, the vast majority of Generation NEXT's revenue from this venture will come from the sale of machines, and critically as will be discussed later, recognition of these can only occur after the company has found a location for the franchisee.
The exact margin on kiosks is not known, but a very good estimate can be gained from the most recent quarter. After backing out the relatively cost free revenues of franchise fees and 'other,' which represents royalties, the remaining revenue represents kiosk sales and sales from company owned Fresh Healthy Vending machines.
Since the former makes up the overwhelming majority of the sum of the two, it's safe to say that comparing that figure to cost of revenue will yield a reliable range within which the gross margin for kiosk sales must fall. In this case, that range is between forty and forty five percent.
The dream is that eventually an installed base of FroYo slinging robots, yielding 12% royalties, will shift Generation NEXT's revenue mix and push margins upward. However, that never really happened with the Fresh Healthy Vending product so it is too soon to assume it will come to fruition here.
A January letter to shareholders from management was the first indication that the frozen yogurt concept was gaining traction. It disclosed:
Booked our first Reis & Irvy's Froyo robot in April 2016.

Booked our 100th Froyo Robot in July 2016.
Booked our 250th Froyo Robot in September 2016.
Booked our 500th Froyo Robot in December 2016.
and stated that for the year, goals included:
Booking our 1,500th Froyo Robot and 500th franchisee.

Launching our corporate-owned operating model and partnering with a national retail chain.
Turning cash flow positive.
Generating positive reportable net income.
Seeking up to an additional $10-$20 million in investment capital.
An update immediately following the close of the third quarter (the company year-end is in June) provided another crucial data point for the company stating:
Our franchise platform is completely built, we have begun securing premium locations for our franchisees and we are eager to see this technology successfully launched in the coming fiscal quarters with the intention of installing most, if not all of the 650 units sold to date, and recognizing the $23,500,000 of estimated deferred revenue on our books well before fiscal 2018 ends."
There is a lot there to talk about in those two press releases. First, it cannot be overstated how important share price is, given the amount of capital it is looking to raise. At today's prices, raising close to $15 million dilutes shareholders by 39%, but had that raise been overtaken a few months earlier the situation would have been much worse.
Potential Dilution:
| | | |
| --- | --- | --- |
| Base Shares: | 29304401 | 02/14/17 |
| Share Price | Shares for $15M | Dilution Rate |
| $0.10 | 150000000 | 83.66% |
| $0.20 | 75000000 | 71.90% |
| $0.30 | 50000000 | 63.05% |
| $0.40 | 37500000 | 56.13% |
| $0.50 | 30000000 | 50.59% |
| $0.60 | 25000000 | 46.04% |
| $0.70 | 21428571 | 42.24% |
| $0.80 | 18750000 | 39.02% |
| $0.90 | 16666667 | 36.25% |
| $1.00 | 15000000 | 33.86% |
| $1.10 | 13636364 | 31.76% |
| $1.20 | 12500000 | 29.90% |
Conversely, if a down quarter comes into the mix, suddenly Generation NEXT may be back to proposing something that looks very similar to death spiral financing.
The next item to consider is the growth rate of bookings. Are sales progressing linearly, exponentially, or flattening out? Initially, the growth looked linear, and when compared to the company's stated goal of booking fifteen hundred units by year-end (I'm assuming management meant calendar year-end as the statement was made in its calendar year in review letter to shareholders) it appears that it hopes this trend continues. However, Generation NEXT's third quarter cast doubt on the issue as the company fell off of its early pace.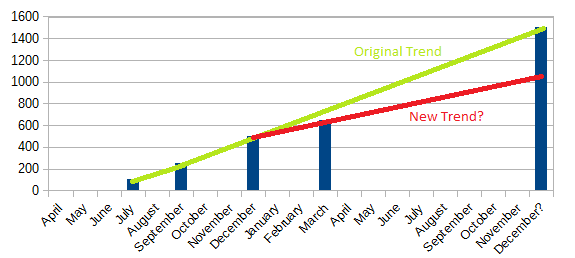 At this point, it is important to note that Generation NEXT's letter to shareholders included goals for the following year, not guidance. The numbers provided by the company are essentially the best possible outcome and, therefore, necessarily should be viewed with skepticism.
This distinction underscores the uncertainty of the operation and is especially important in light of the goal of having positive net income for the year. Growth prospects aside, Generation NEXT is certainly racking up bookings for its frozen yogurt machines; however, there is a long- possibly indefinite -delay between when bookings occur and when revenue can actually be recognized. And if revenue isn't recognized in a timely manner, there is no hope for a profitable annual report.
Recognition occurs once Generation NEXT secures a location for a franchisee and delivers the robot. A release on February 22nd updated shareholders by reporting, " Reis & Irvy's has secured over 60 premier locations to date with nearly 100 outstanding agreements going through the various channels for approval."
About a month later, the company's Q3 update stated, "we have begun securing premium locations for our franchisees and we are eager to see this technology successfully launched in the coming fiscal quarters with the intention of installing most, if not all of the 650 units sold to date, and recognizing the $23,500,000 of estimated deferred revenue on our books well before fiscal 2018 ends."
Much of the case for or against Generation NEXT comes down to the likelihood of that last claim. Can it execute on franchise placements? If bookings have leveled off, but time to revenue recognition is short, the company is in great shape. Conversely, it could have two thousand robots booked by year-end and be in terrible shape if only a few hundred have made it to the top line of the income statement.
So what does evidence suggest so far?
On the one hand, it has had a year post-launch and has only come up with sixty locations, plus one hundred more that are in progress. In the subsequent year, it needs to secure five hundred to meet its goal. Additionally, it is likely that the highly desirable low hanging fruit will be disposed of during the first wave of placements, making each successive one more difficult for Generation NEXT and potentially less profitable for franchisees.
On the other hand, it's probable that building the franchise base rather than recognizing revenue was its initial focus. Plus, deals with management that own many pieces of commercial property could rapidly boost placement figures.
The FroYo robot endeavor is still relatively young, but one item from the business segment that can be examined is the corporate partnership portion of its kiosk business called 19 Degrees. Despite the company website still touting the segment as launching in September of 2016, this was not the case, and the corporate press now states 2017.
That's one concrete example of a missed deadline from the company. Looking backwards at the Fresh Healthy Vending franchise gives additional hints on why caution may be warranted.
For June 2016 year-end, the company 10k disclosed that $1,592,591 of deferred revenue from franchise bookings had been on the books in excess of one year. Total deferred revenue at the time was over $8 million, but $3.2 million was related to the newly launched FroYo concept. This means that almost a third of deferred revenue from Fresh Healthy franchising was unrecognized and potentially never would be.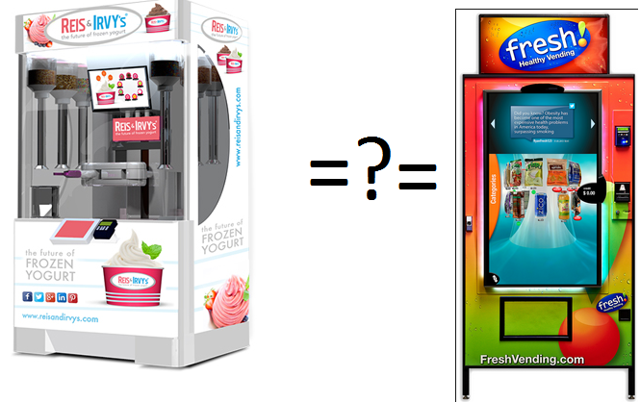 These franchises are not the same, of course. Healthy vending has many more potential placement locations. I imagine, for example, most elementary schools being open to hosting a healthy snack unit while more hesitant about a frozen yogurt dispensary.
However, the healthy vending was also more of a commodity product. Anyone can buy healthy food and put it in a box. The robotic arm and display, although hardly a major feat of modern technology, is a differentiator. As a result, FroYo kiosks may have a higher conversion rate despite their smaller base.
Third party research appears optimistic that the FroYo and Fresh Healthy Vending concepts are distinct. SeeThruEquity has a $1.50 price target on the stock, and is encouraged to the point that it is talking about the potential of the 12% royalty that Generation NEXT will be receiving from placed machines.
Mentioning royalties is putting the cart before the horse, though, as is any discussion of the company launching additional concepts based on intellectual property it recently acquired. There are no significant royalties if units aren't placed, and there's probably no money for additional concepts either. In other words, SeeThruEquity seems to be imagining a best-case scenario and is applying a reckless valuation.
If VEND still traded at a dime or even a quarter that would be low given recent developments, but the company no longer trades there. Generation NEXT's market capitalization is now around $25 million, hardly chump change for a company that has failed in a similar arena before and in a best-case scenario may squeak out a small profit this year. If you see the product in person and have to own a piece of the company, I'd wait to see the terms given to the potential capital partner since it'll reflect what someone with the ear of management is willing to pay. Until then, this one is all sizzle and no steak all sprinkles and no froyo.
Disclosure: I/we have no positions in any stocks mentioned, and no plans to initiate any positions within the next 72 hours.
I wrote this article myself, and it expresses my own opinions. I am not receiving compensation for it (other than from Seeking Alpha). I have no business relationship with any company whose stock is mentioned in this article.
Editor's Note: This article covers one or more stocks trading at less than $1 per share and/or with less than a $100 million market cap. Please be aware of the risks associated with these stocks.