You ever take a look at a company and wonder how is it surviving? That's the case with California Resources Corporation (NYSEMKT:CRC), an independent producer of oil and natural gas in California, and a 2014 spin-off of Occidental Petroleum. The spin-off arguably occurred at the worst possible time, as it coincided with OPEC's decision to compete for market share, a strategy that sent oil prices reeling from +$100/barrel to sub-$30/barrel.
CRC's management team has spent most the past year refinancing bonds and deleveraging, largely exchanging unsecured notes for senior secured notes with much lower face value. Unsecured bond investors had little choice other than to accept the new senior secured notes because refusing to do so meant potential subordination if CRC issues new secured notes to deleverage in this down cycle.
While CRC decreased total debt by close to $1.5B (from $6.7B immediately post-spin to $5.2B as of 12/31/2016), the reduction via debt swaps was largely a one-time event (you can only swap unsecured notes for senior securities only once), and the swaps came at the expense of higher interest rates (e.g., 5.5% to 8%).
By the end of 2016, CRC's debt structure was as follows:
| | |
| --- | --- |
| 2014 First-Out Credit Facilities (Sec. First Lien) | 2016 |
| Revolving Credit Facility ($1.4B Max) | $847.0 |
| Term Loan Facility ($650M Max) | $650.0 |
| 2016 Second-Out Credit Agreement | $1,000.0 |
| | $2,497.0 |
| Notes | |
| Senior Notes (Secured Second Lien) | |
| 8% Notes Due 2022 | $2,250.0 |
| | |
| Senior Unsec. Notes | |
| 5.0% Notes Due 2020 | $193.0 |
| 5.5% Notes Due 2021 | $135.0 |
| 6.0% Notes Due 2024 | $193.0 |
| Total Debt | $5,268.0 |
| Less Current Maturity | $(100.0) |
| LT Debt | $5,168.0 |
CRC shares closed at $11.74/share today, which equates to an equity value of $490M, therefore, with over $5.2B in debt, CRC's capital structure is beyond torqued at close to 10:1. On any metric, this is exceedingly high, but even more so when the commodity you're selling is at recent lows.
Currently, CRC's equity is nominally valued and at today's $52/barrel oil this company is running at a loss on a full-cycle basis. If oil continues to stay within the "shale band" of $50-$60/barrel, CRC is essentially a melting ice cube (making just enough to maintain production, but not enough to replace reserves); and if oil falls to sub-$40/barrel the bartender bank may just take your drink and those ice cubes away.
What's to Like
Undoubtedly as a commodity producer, CRC is a price taker, thus anything other than a short-term investment in CRC is a directional investment that oil prices are going up. What intrigues us about CRC though is that it sure is a big block of ice. With proved reserves of over 568MMBoe, this represents close to 12 years of drilling inventory and in the highly regulated State of California. Moreover, the company's overall decline rate is a manageable 10-12% because fracking only accounts for 15% of overall production, this explains why CRC's capex spend for 2017 is a "low" $300M to keep production flat, and even that figure includes infrastructure spend. Enhanced Oil Recover projects such as steamflooding and waterflooding accounts for the majority of completions, thus creating not only a lower decline rate, but also side-steps the issues of service cost inflation on the completion side (unlike Permian focused players). On an EV per proved reserves basis, it's also one of the cheapest among mid-cap oil E&P companies, coming in at slightly over $10 per boe.
Moreover, if oil climbs past $60/barrel, the operating leverage becomes fairly dramatic. Any dollar above $60/barrel essentially falls to the bottom line. Add the fact that CRC has only pre-sold (i.e., hedged) 45% of its oil production for 2017 (i.e., approximately 14.5M barrels out of our projected 2017 production of 32M barrels (i.e., 135 MBoe/d with 65% oil)), means its further geared to the upside on an operating basis if oil prices improve in the second half of 2017.
Real Risks - Debt
We do have to give credit to the management team, which has performed admirably in deleveraging and reducing debt by close to $1.5B while avoiding any large asset sales and minimal equity dilution (3.4M shares issued to reduce debt, 42M shares outstanding as of 12/31/2016).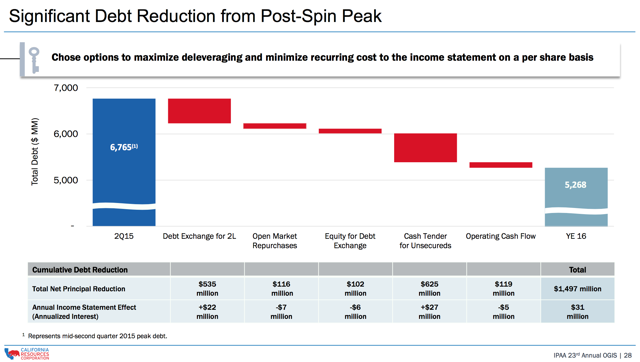 Are the credit risks real? Certainly. With projected EBITDAX this year of $450M, we believe the company will meet its covenants, but not by much. More immediate concerns involve bank covenants that "spring to life" in the first quarter of 2018. Assuming oil prices do not increase from now to the end of 2017, CRC will need to hold additional discussions with the banks, however, given that CRC has been able to modify loan terms six times already during this downturn, we believe the banks will continue to work with the company.
From a medium-term, the debt also appears to be manageable. CRC's management team has also done well by extending debt maturities out so that the next tranche is due Q4 2019.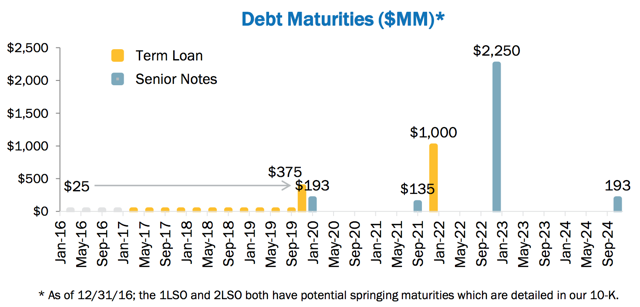 Since this debt will have to be addressed by late-2018/early 2019 the timing gives CRC breathing room to wait for oil prices to further recover. If management succeeds in terming-out the 2019 debt, then the next debt maturity is 2021 (i.e., $135M in unsecured notes), so we think it's unlikely CRC would encounter default at today's oil price levels. Worst case, the company could divest certain midstream assets, but this is a strategy the company's been hesitant to adopt these past few years.
In the end, we think the bears who fixate on the overall debt load may miss the finer point about CRC's debt profile (i.e., it's not the amount of debt, but the tenor and cadence of when the debt comes due that's important).
Joint Ventures
Lastly, CRC has recently announced two joint ventures ("JV"). A $250M JV with Benefit Street Partners ("BSP"), whose capital will be incremental to CRC's $300M 2017 capex budget. BSP will fund 100% of the capital for drilling, and CRC expects an uplift to their production exit rate in 2017 with full production upside coming in 2018. Under this JV, BSP will receive a net profit interest in the low teens. Once target returns are achieved, the profits revert back to CRC. The reversion will likely occur 18-24 months later at today's prices, so the incremental cash flow won't show-up until 2018/2019.
The second JV announced yesterday is a JV with Macquarie Infrastructure and Real Assets ("MIRA") in which MIRA has committed to fund $160M, and may increase the investment to $300M. Both JVs will focus on development opportunities in the San Joaquin Basin, and combined could lead to growing production by 10-20% once the net profits or interests revert.
Just a quick note about JVs. For all the talk of accelerating production (particularly of assets that may not be produced for awhile as they sit outside of the "core area"), a JV is really a partial sale of an asset. In exchange for the cost of drilling, you're giving up inventory that you normally would/could drill in a higher price environment and the potential profits. It's a good way to increase production and cash flow, but it does come at a cost to reserves and the potential to create even more shareholder value when commodity prices are higher. In today's environment, we view JVs like desserts, a little can help brighten the day, but too much and its simply empty calories.
Oh the Potential . . .
So now what? Well, what if oil prices really shouldn't be $50/barrel? What if this "new normal" is anything but, and that if it takes companies and countries $70/barrel to produce what's needed, $70/barrel is where prices will eventually wind-up, if not higher?
If oil prices rises to $70/barrel, CRC's EBITDAX should exceed $1.6B. Even applying a conservative multiple of 5x means the stock would trade at well over +$100/share. We're intentionally being vague about that target price because anything at that level is frankly silly. Yet, it's possible given the company's operating leverage and capital structure. What's fair to say is that if oil languishes in today's current range, CRC's stock will continue to languish, but it shouldn't be zero, which means the risk/reward ratio isn't 1:10, it's arguably higher. Ultimately, we believe CRC can weather the current environment for a few more years, sufficient time for the oil market to recover, but it will test your resolve if you're long-oil. So for the time being, pull up a chair while you wait, and have a drink, preferably one with large ice cubes.
As always, we welcome your comments. If you would like to read more of our articles, please be sure to hit the "Follow" button above.
Disclosure: I am/we are long CRC.
I wrote this article myself, and it expresses my own opinions. I am not receiving compensation for it (other than from Seeking Alpha). I have no business relationship with any company whose stock is mentioned in this article.