Transitioning Into A Downturn
Since reporting 2Q17 earnings on March 23, 2017, there are a number of reasons to believe that Micron Technology, Inc. (NASDAQ:MU) is transitioning into a downturn. This is projected to be a zigzag descent, reaching to or beyond recent highs before ultimately declining to a marked extent. As fundamental and technical issues outlined here are not yet reflected in price, this gives an attractive opportunity for a short if entry is chosen near those highs to reduce risk.
In the broader realm, the stock market as a whole has entered a pullback as the Trump trade ends, highlighted by negative divergence in the SPDR S&P500 ETF. This has wide implications for a great many stocks, as a falling tide lowers all, or at least most, boats.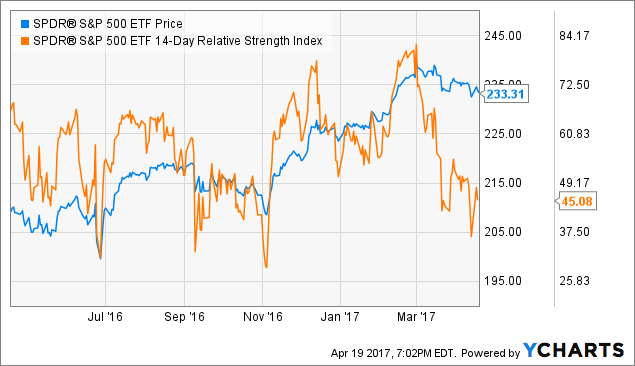 More specifically, the semiconductor sector also has demonstrated negative divergence over the past three and a half months, as shown on the iShares PHLX Semiconductor Price ETF chart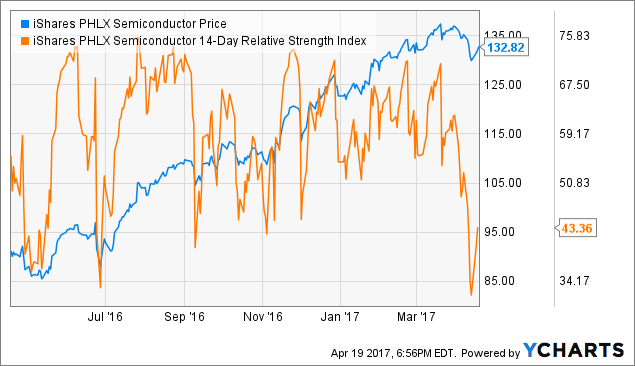 Canary In The Mine
While it is recognized that the semiconductor industry is a broad term, encompassing at least 15 subdivisions of the technology sector, the correlation of a downturn in both the overall stock market and the semiconductor sector, with the latter consistently a canary in the mine for the economy as a whole, should not be ignored. The implication for Micron is that larger market and sector trends will put downward pressure on the company's stock
With regard to remonstrations and bellicosity concerning the Korean peninsula, from where more than half of global DRAM production derives, it is likely that military action of a significant kind would exacerbate an overall market and semiconductor sector turndown.
It is to be thought in this case that an ill wind would indeed do no company any good. With South Korea a major industrial producer, there would no doubt be concomitant trade disruption on a wide scale, dragging on global stocks generally.
Micron Falls To Close Gap After Beat
Micron reported 2Q17 earnings on March 23, 2017. The stock has since fallen to close the gap after a beat to now trade back around pre-announcement levels. Revenue was $4.65 billion, with estimates at $4.58 billion. Non-GAAP EPS climbed to $0.90 from $0.32 in 1Q17, with EPS estimates of $0.73 in 2Q17.
The company's stock also has presented a negative divergence since its announcement of earnings, underscoring its correlation to market and sector, as it presents signs of weakness.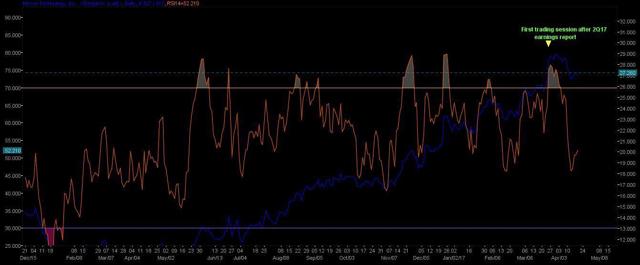 (Source: NASDAQ)
What considerations are at play to bring about a retracement in share price after a successful earnings announcement? On a corporate level, Micron is over-leveraged, and debt load and debt service need to be reduced. The attention of management to these aspects will make the stock more attractive to portfolio managers.
Changing Its Concentration
Micron is changing its concentration from DRAM to NAND, in part to reduce the DRAM market's pronounced cyclical influence on revenue. DRAM demand, as reflected in the DXI index, has shown slower growth since late January, 2017. How revenue responds to this transition will only be known in time. Furthermore, increased production capacity is anticipated this year from Samsung Electronics Co. Ltd. (OTC:SSNLF) and SK Hynix Inc., which may negatively affect prices, and therefore Micron's revenue.
The smartphone market is weakening, just as increase in demand for memory to accommodate higher volume data flows and greater storage in phones is offsetting the decline at present. Yet longer term, this is a concern for Micron in a maturing market.
Samsung owns the majority share of the mobile memory market, with Micron only presently holding approximately 10%. Micron has invested a lot of resources into the development of products in the mobile market, and the company's multichip package offers a combination of DRAM and NAND in varying formulations. To justify this research outlay fully, the company needs to secure greater market share and revenue from this segment.
Samsung May Pull Capital From Micron
Strengthening Samsung's hand in the memory market, they pay holders a 1.6% dividend, a playing field on which Micron does not compete. Additionally, Samsung has committed to paying stockholders 50% of free cash flow in 2017. This will almost certainly increase their share of capital available for investment in the memory market, at Micron's expense.
Micron sees one of its most profitable avenues of pursuit for the future to be auto applications. Yet serious revenue boost from this segment is probably two to three years away as mainstream car manufacturers gear up for autonomous car production, anticipated to be in 2020 at the earliest.
Conclusions
Micron since its 2Q17 earnings announcement has exhibited structural weakness in its share price performance, which when considered with correlations with the stock market as a whole and the semiconductor sector in particular are sufficient to indicate a coming significant fall in price.
As the company's stock is still near its highs, traders may take a profitable short if entry is made to minimize risk as price ranges near recent highs before retracing substantially.
Elsewhere on Seeking Alpha:
To follow this author and receive immediate alerts upon publication of future articles by this author, please click on the "Follow" button at the top of this page next to the author's name and icon, and then select "Real Time Alerts."
To improve mobile viewing, select "Request Desktop Site" in your browser.
Disclosure: I/we have no positions in any stocks mentioned, and no plans to initiate any positions within the next 72 hours.
I wrote this article myself, and it expresses my own opinions. I am not receiving compensation for it (other than from Seeking Alpha). I have no business relationship with any company whose stock is mentioned in this article.
Editor's Note: This article discusses one or more securities that do not trade on a major U.S. exchange. Please be aware of the risks associated with these stocks.