Weekly Review
The REIT ETF indexes (VNQ and IYR) finished the week higher by 1.1%, notching the fourth straight week of gains. The S&P 500 (NYSEARCA:SPY) also climbed 1.1%. Construction ETFs were higher on the week. The homebuilder ETFs (XHB and ITB) rose 0.8%, sparked by decent housing data. The commercial construction ETF (NYSEARCA:PKB) rose 2.2%.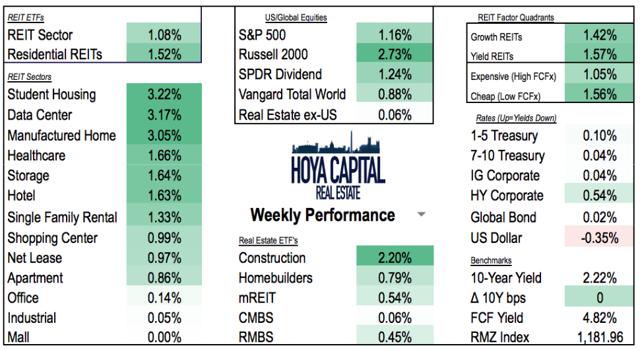 (Hoya Capital Real Estate, Performance as of 11am Friday)
Across other areas of the real estate sector, mortgage REITs (BATS:REM) finished the week higher by 0.5% and the international real estate ETF (NASDAQ:VNQI) gained 0.1%. The 10-Year Treasury yield (NYSEARCA:IEF) stayed roughly unchanged on the week, having now declined roughly 40bps from the post-election peak. Global tensions appeared to cool this week and the Trump administration boosted investor confidence tax reform.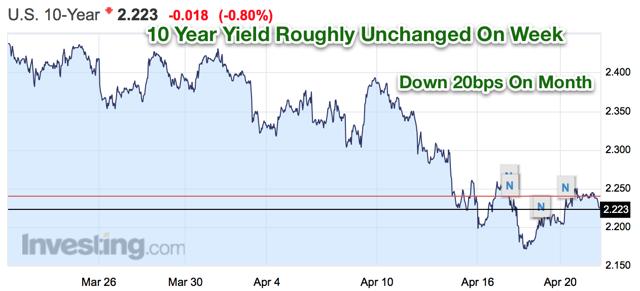 Through two months of 2017, REITs are higher by 3.1%, underperforming the S&P 500 by 200bps. REITs ended 2016 with a total return of roughly 9%, lower than its 20-year average annual return of 12%.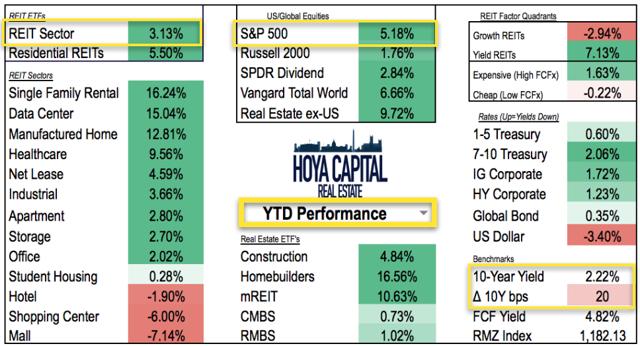 Economic Data
Every week, we like to dive deeper into the economic data that directly impacts real estate.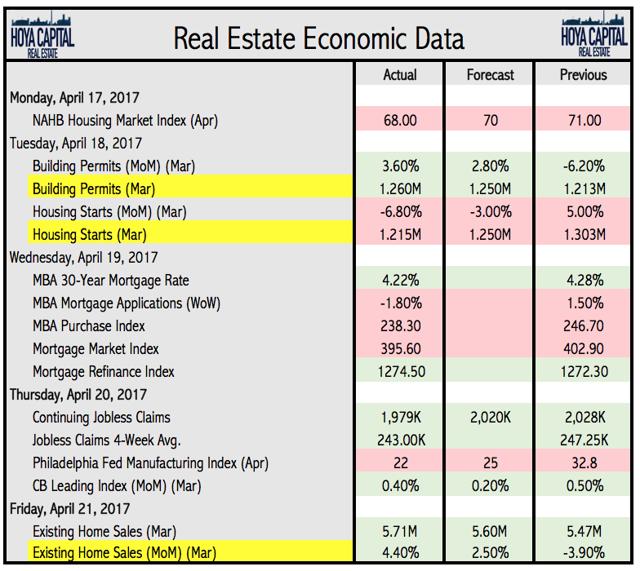 (Hoya Capital Real Estate, HousingWire)
Housing Permits & Starts: Multifamily Continues to Lead
Housing construction data was mixed in March as housing starts missed expectations, but building permits exceeded expectations. When we look at the quarterly averages, we note that Q1 2017 total housing starts were 8.8% above Q1 2016 led by continued strength in the multifamily sector. Multifamily starts averaged 405k units (annualized) in Q1, which is above the 2016 average of 380k units and the 2015 average of 384k units. This is surprising given the soft conditions already seen in the multifamily markets, which we discuss below.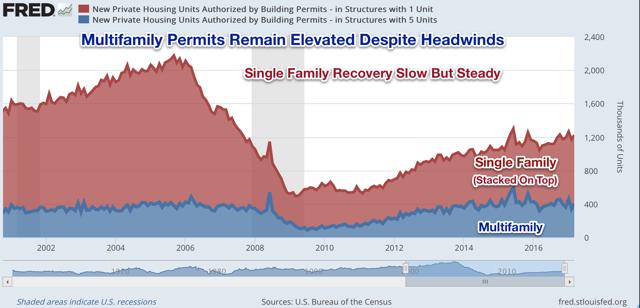 We noted a lot of talk this week about the chart below, the multifamily units under construction, which reached another multi-decade high this month. We note, though, that we should be nearing the cyclical peak on this data simply because the units started in 1H 2015 (the highest half of starts) will be completed by this summer. The preceding 18 months have seen an average of 380k starts, which should mean roughly 575k units under construction, assuming an 18-month construction time.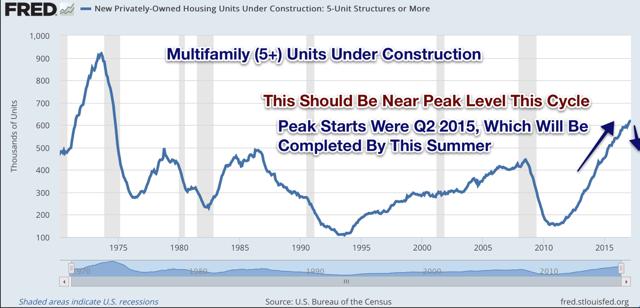 Let's keep it in context, though. When we zoom into only the post-recession period above, it appears that supply is plentiful. When we zoom out back to 1990, we see that total permitting (blue line) is only back to 1994 levels. We also find it noteworthy that the mix of permits has shifted significantly towards multifamily in recent years, which makes the seemingly sky-high levels of new supply in the MF space not entirely concerning because it is being largely offset by the lack of new supply in the single family space. In 2006, only 10% of permits were for multifamily units. In the most recent month, roughly 30% of permits are for multifamily (5+) unit structures.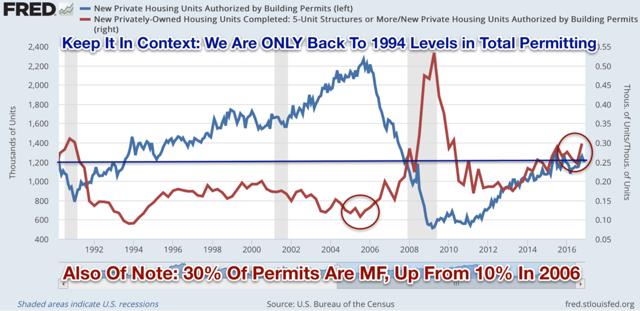 Multifamily completions over the past several months continue to be near their highest level since the late 1980s. The effects of the new supply have already been felt in the national rent growth metrics, which has showed rent growth slowing to the 2-3% YoY range. We expect this to slow further through 2017. Below we show starts and completions, noting the roughly 18-month lag between the start and the completion. We forecast that completions should approach 400k in 2017.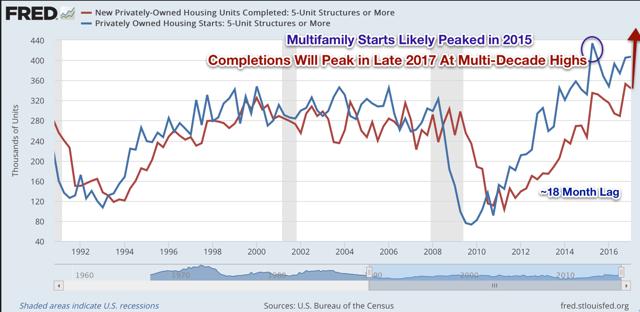 That said, it's important to remember that demographics over the next five to ten years are highly favorable to apartment demand. Rent growth will be a battle between high levels of supply and high levels of demand. Change at the margins, particularly in the propensity to rent versus own, will determine whether we are currently over-building or under-building. The 14-year generation of 20-34 year olds, currently in prime renting age, has roughly 3 million more people than the prior 14-year generation.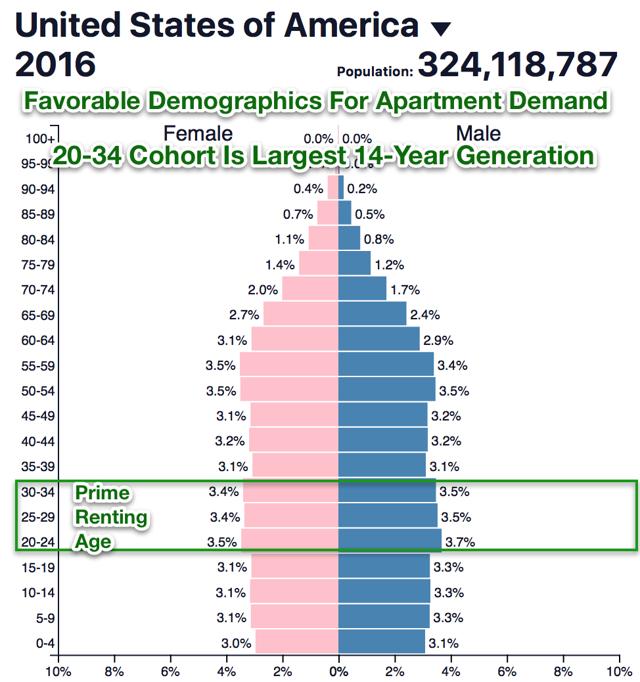 Multifamily Market Still Soft From Increased Supply
The apartment market continues to feel the effects of this increased building activity that began in 2014. All four indexes of the NMHC quarterly survey were below the breakeven 50 level, but all were less negative than last quarter.
From the NMHC, "After years of lagging behind the increase in apartment demand, new supply is finally coming online in sufficient quantity to alter this supply-demand imbalance. In particular, class A supply in many urban core submarkets has led to increased concessions to fuel lease-up activity. Even so, occupancy rates remain close to historic highs," said Mark Obrinsky, NMHC's Senior Vice President of Research and Chief Economist.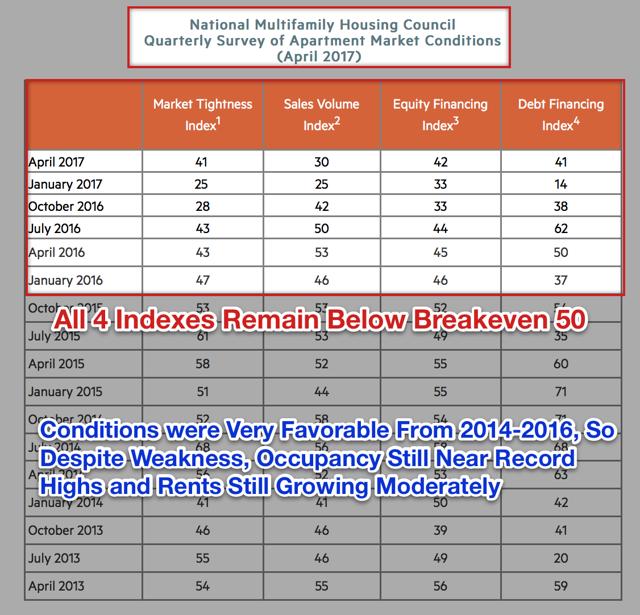 Architectural Billings Indicate Steady Growth Construction Spending
From the AIA, " Architecture firm billings bumped back up in March. That suggests that design activity is off to a solid start for the year, pointing to healthy levels of construction activity later this year and into 2018. With the recent uptick, firms in all regions of the country reported billings growth in March. Residential firms reported a strong acceleration in billings, while institutional firms reported continued healthy levels. Commercial/industrial firms reported a modest decline, rounding out a generally sluggish first quarter."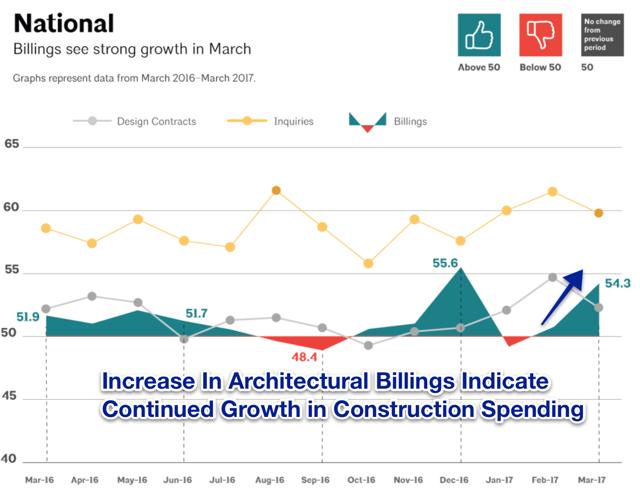 Again, the recent strength in residential architectural activity is somewhat surprising given the potential oversupply issues in the multifamily space.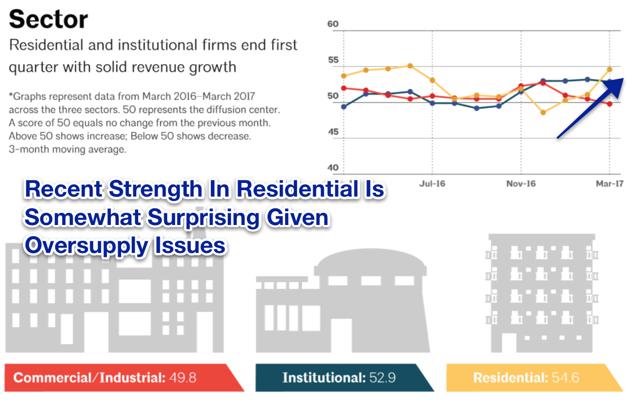 Mortgage Rates
Mortgage rates now just 50 basis points higher than the record lows in the summer of 2016 and have fallen considerably in recent weeks. The 30-year fixed mortgage rates for highly credit-worthy borrowers dipped to 3.75% this week and are nearly 40bps lower than the post-election peak.
As mortgage rates surged higher, we discussed that this would be expected to put downward pressure on home price appreciation, which has been robust over the last 5 years. As rates have moderated in recent months, though, we are more optimistic about home price appreciation in 2017.
Existing Home Sales Recorded Best Month Since 2007
Total existing-home sales climbed 4.4% in March, which was 5.9% higher than last March, and was the strongest month of sales since February 2007. The median existing-home price in March was $236,400, up 6.8% from March 2016. Inventory remained unchanged at an extremely low 3.8 months.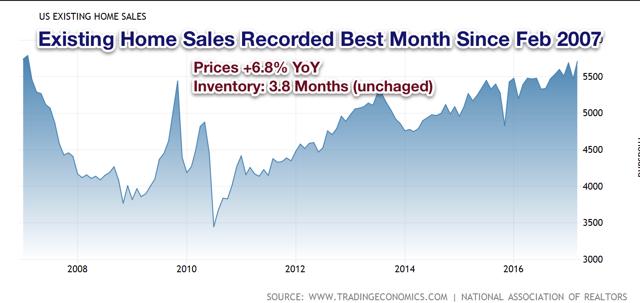 As we've discussed, low inventory is a function of several factors including the institutionalization of single family rentals and the lackluster growth in single family housing starts. Higher prices can be expected to impede homeownership affordability, which may keep renters in the rental markets for longer than past cycles.
Sector Performance
All REIT sectors besides industrials were higher on the week, led by the data center and student housing sectors.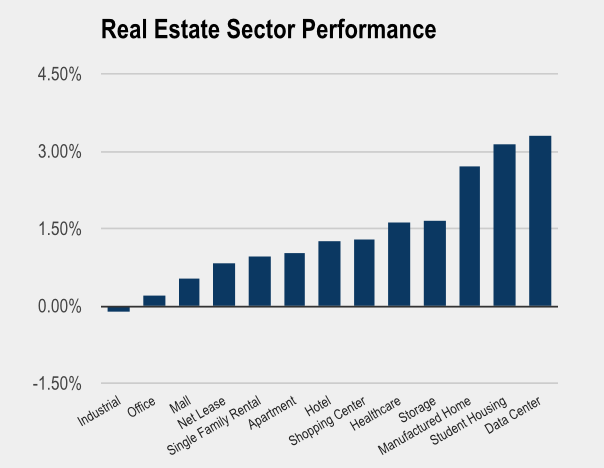 The best 5 performing REITs on the week were CBL (NYSE:CBL), Digital Realty (NYSE:DLR), American Campus (NYSE:ACC), Sun Communities (NYSE:SUI), and Extra Space Storage (NYSE:EXR).

The worst 5 performing REITs were Corporate Office (NYSE:OFC), Duke Realty (NYSE:DRE), Boston Properties (NYSE:BXP), SL Green (NYSE:SLG), and DDR (NYSE:DDR).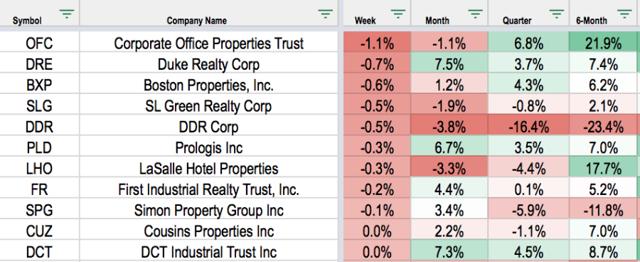 Bottom Line
REITs rallied 1.3% led by the residential sectors. Since the week ending March 10 when REITs plunged 4.5%, REITs are up 6% while the S&P 500 is down 1%. Earnings season began on a relatively high note for REITs on strong reports from Prologis and EastGroup. We continue to believe that, for most REITs, 2017 guidance was overly conservative. We suspect many executives across most REIT sectors used the backdrop of Trump-fueled political uncertainty in Q4 2016 as a "free lunch" to lower expectations in order to top forecasts in 2017.
Housing starts and permits were generally inline with expectations after accounting for seasonal volatility. Total starts are up 9% from last year, but still remain low on a historical basis. Multifamily construction is not yet pulling back despite market softness and record completions expected this summer. We reiterate, though, that demographics are highly favorable for rental demand for another half-decade. Existing home sales beat expectations and recorded the strongest month since February 2007. Prices are up 6.8% from last year and inventory remains extremely low at 3.8 months
Please add your comments if you have additional insight or opinions. We encourage readers to follow our Seeking Alpha page (click "Follow" at the top) to continue to stay up to date on our REIT rankings, weekly recaps, and analysis on the REIT and broader real estate sector.
Disclosure: I am/we are long VNQ, SPY, ACC, BXP, DLR, EXR, SUI.
I wrote this article myself, and it expresses my own opinions. I am not receiving compensation for it (other than from Seeking Alpha). I have no business relationship with any company whose stock is mentioned in this article.
Additional disclosure: All of our research is for educational purpose only, always provided free of charge exclusively on Seeking Alpha. Recommendations and commentary are purely theoretical and not intended as investment advice. Information presented is believed to be factual and up-to-date, but we do not guarantee its accuracy and it should not be regarded as a complete analysis of the subjects discussed. For investment advice, consult your financial advisor.