Verizon (NYSE:VZ) reported 1Q earnings on Thursday morning, and there wasn't too much for investors to celebrate. Not only did the company fail to meet the Street's top and bottom line expectations, wireless postpaid metrics continued to deteriorate in a trend that seems less cyclical by the quarter.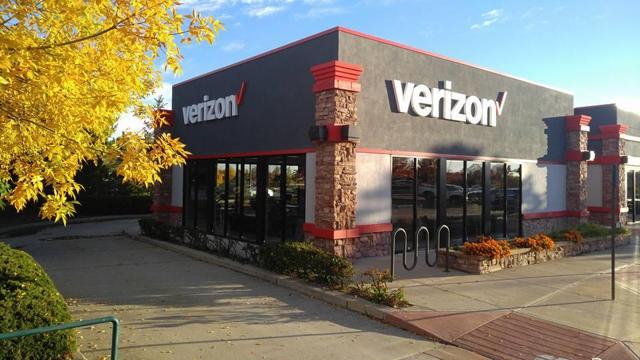 Credit: prweb.com
As the graph below illustrates, net adds dipped into negative territory for the first time. The sequential decline is the steepest since 1Q15 (and possibly ever), even though, as management made sure to present clearly in the press release, net adds were aided by "intra-quarter improvement [...] following the launch of Verizon Unlimited."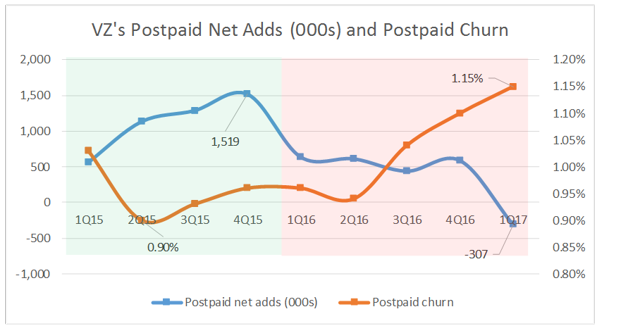 Source: DM Martins Research, using data from company's press releases
As I see it, fierce competition from traditional peer AT&T (NYSE:T) as well as incumbents T-Mobile (NASDAQ:TMUS) and Sprint (NYSE:S) continues to eat away at Verizon's market dominance and pricing power. This may help to justify Verizon's quick and largely unexpected move to bring back its unlimited data plan back in February. The program may help to slowdown the deterioration in the company's wireless business, but the solution is also likely to result in decreased per-user earnings.
Perhaps Verizon's struggles do not come as a surprise to most investors who follow the space, considering that telecom is a crowded, mature, and slow-growing business. AT&T, for example, has reacted to market pressures by acquiring Time Warner (NYSE:TWX), a bold move that, while contested by some, will at a minimum give the Dallas company quick entry into and a leadership position in the content creation and distribution business.
Verizon, on the other hand, has moved much more cautiously with the acquisitions of smaller underdogs (Yahoo and AOL). These additions to the Verizon portfolio seem much more additive than transformative, which makes it look like Verizon's success will continue to depend much more on the health of the lethargic telecom business for the next few years to come.
Outside the traditional communication services business, Verizon's presence in telematics may sound appealing on the surface. But a closer look at the numbers reveals that this segment is still too small to be a material driver of growth any time soon, and might never gain the scale to be a game-changer without the need for further acquisitions. IoT (internet-of-things) represents only about 1% of total company revenues, and grew at a reduced rate of 17% organically in 1Q17 vs. 21% in 4Q16. While I have considered Verizon's acquisitions of Fleetmatics and Telogis smart moves, they will certainly not be enough to ease investors' concerns over the deterioration in the company's wireless business.
To make matters a bit more complicated, Verizon has kept on adding to its net debt position over the past few quarters (see graph below, on the left). Cash reserves continue to be replenished by free cash generated by the business, but FCF has been in a clear descent as of late (see graph below, on the right), having turned negative in 1Q17. Being in this position means, in my view, that Verizon could be more limited in how it may reposition itself for growth outside telecom through sizable, disruptive acquisitions.

Source: YCharts
Is Verizon cornered?
As Verizon's wireless user base continues to deteriorate further, the company would probably benefit from diversifying away from the challenging telecom business. But Verizon's recent attempts at doing so (content via Yahoo and AOL, IoT via Telogis and Fleetmatics) might have been too little to move the needle.
With limited M&A opportunities that are sizable enough to "shake things up," I believe Verizon is stuck in a corner. While the company talks up the potential upside in its non-core businesses, I think Verizon has no better chance to prosper than to double down on wireless services. In hindsight, the abrupt launch of Verizon Unlimited (an open declaration of price war against competition) now makes a lot more sense to me than it did a couple of months ago.
For all the above reasons, I believe investing in Verizon poses quite a bit of risks that I am currently not willing to take, despite the high dividend yield and the low valuations. I would not be surprised to see VZ get stuck trading sideways, if not slightly down, for quite a while. In the telecom space, I continue to favor AT&T as a more compelling way to play the sector.
Note from the author: I invite you to follow me as I build a risk-diversified portfolio designed and back-tested to generate market-like returns with lower risk. I call it the Storm-Resistant Growth portfolio. The early results have exceeded my expectations, as the portfolio is beating the S&P 500 on a risk-adjusted basis despite the raging bull. Take advantage of the 14-day free trial (click here), and get immediate access to all the premium material that I have published so far, including my recent quarter-end report.
Disclosure: I/we have no positions in any stocks mentioned, and no plans to initiate any positions within the next 72 hours.
I wrote this article myself, and it expresses my own opinions. I am not receiving compensation for it (other than from Seeking Alpha). I have no business relationship with any company whose stock is mentioned in this article.