It seems to be norm these days. A financial company posts good earnings but fails to elicit a positive reaction from the market. Like Bank of America (NYSE:BAC) (read Q1 earnings analysis), Blackstone (NYSE:BX) handily beat estimates on top and bottom line, yet the stock barely budged. The market had a great day on Thursday, the S&P 500 (NYSEARCA:SPY) was up 0.76%, the S&P Financial ETF (NYSEARCA:XLF) was up 1.6%, but Blackstone's stock was up just a measly 0.53%. But instead of supporting the market view as I did with Bank of America, I am going to challenge the market's non-reaction.
In July 2016, I refuted Mr. Schwarzman's claim that the stock should be worth $50. During first quarter's conference call, Mr. Schwarzman gave us another gem, saying that the stock should be worth $100 based on the average yield of the S&P 500! Of course, this line of thinking is flawed much like the $50 argument, as Mr. Schwarzman completely ignores the fact that Blackstone is a much more risky investment than the S&P 500, thus the required yield should be higher. But enough about the CEO's overzealous price targets, the more important question to ask ourselves is whether the stock has more room to run.
Since my last article, the stock has underperformed XLF for some time before attempting to play catch up after the election. Thus far, the gap has not completely narrowed.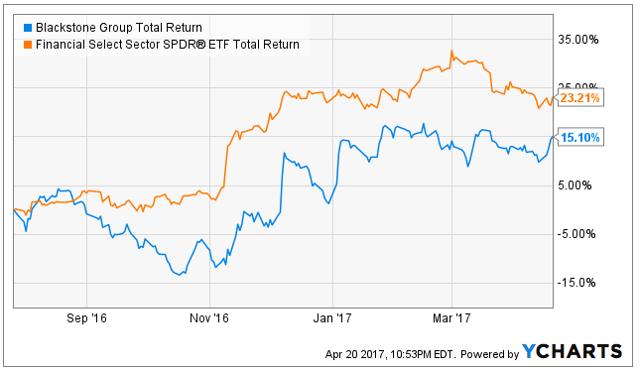 Saved by Trump?
However, I believe that the current capital market environment sets up Blackstone nicely for outperformance over the next year.
As the market strengthened, Blackstone was able to take advantage and exit some of its investments, generating higher performance fees. Realized carried interest nearly quintupled from $231 million in Q1 2016 to $1.1 billion this quarter. The net amount after taking related compensation into account also jumped from $172 million to $745 million.
While base management fee increased as well from $609 million to $642 million, the bulk of the astounding increase in Economic Net Income (ENI) from $371 million to $986 million year over year was driven by the recognition of performance fees.
Now I can assure you that these numbers are not the norm as performance in the investment industry can be fickle. This is especially true for private equity companies, who depend on market appetite to realize carried interest in lump sums. The management admitted this as well, stating on the conference call that "it would incorrect to extrapolate our first quarter results forward." However, this does not mean that performance fees can't stay in the $2-3 billion ball park on an annual basis (or $500 million to $750 million on a quarterly basis) as long as the current market conditions are maintained, which should be enough to support a robust ENI in the foreseeable future.
Just to be clear, I'm still not attracted to the business itself. The company is highly complex and it's difficult to accurately forecast the long-term earnings power of the business, since a significant portion of earnings are derived from volatile performance fees. I also don't support Mr. Schwarzman's ludicrous price targets. However, I do feel that investors could tactically allocate some capital to Blackstone. Because I believe that the company is better able to generate lumpy earnings to the upside than traditional asset managers (e.g., a mutual fund), I am giving a thumbs up to potential Blackstone longs, at least for now.
Click the "Follow" button beside my name on the top of the page to be updated with my latest insights. To learn more about the Core Value Portfolio, whose goal is to compound capital at 20% over the long term, I encourage you to read the introduction to my investment process. Premium subscribers get full access to the Core Value Portfolio.
Disclosure: I/we have no positions in any stocks mentioned, and no plans to initiate any positions within the next 72 hours.
I wrote this article myself, and it expresses my own opinions. I am not receiving compensation for it (other than from Seeking Alpha). I have no business relationship with any company whose stock is mentioned in this article.