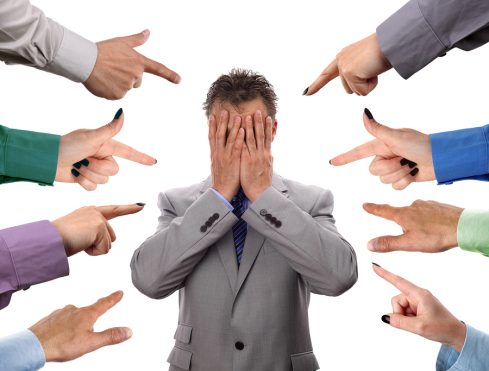 Management Decision Making
Valeant (NYSE:VRX) traded at an all time high of $260 a share. From 2013 to 2015, VRX went from $60 a share to $260, a vertical takeoff from initial rates. Interestingly, VRX is now coming down quicker than it is increasing. It may appear buying VRX at 52 weeks low is a good deal, however the stock is hitting 52 weeks low regularly, which means that there is no real bottom yet.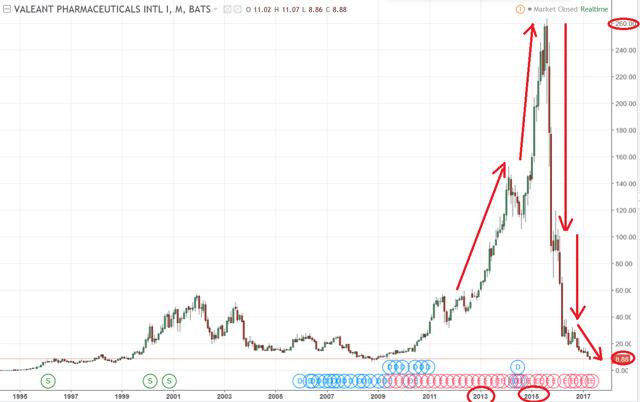 Source: Tradingview
Reason of Downfall
There is no one single reason we can point out, however there is a combination of many reasons for this downfall. The below chart describes some of the effects these events had on falling stock:
Delayed earnings report
Bad earnings
Debt issues
SEC investigation
Senate investigation (criminal probe on drug price hikes)
Slashing of its revenue guidance
Class action lawsuit
Total percent change September 2015 to March 2016: -72.5%: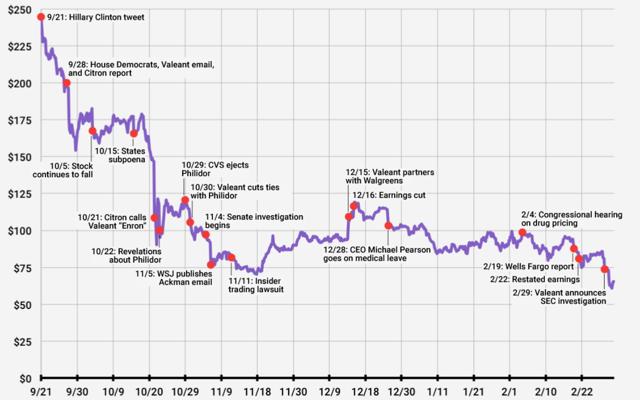 Source: Business Insider
Valeant's previous CEO adopted the strategy of acquisition fueled growth. The revenue was increased and debt was accumulated accordingly.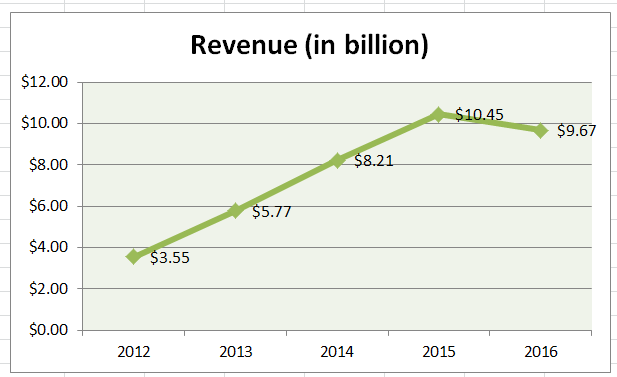 Source: Created by Author
Possible Outcomes
The new CEO plans to sell non-core assets, reducing debt by more than 5 billion within 18 months (from August 9th 2016). The progress in debt reduction is moving slowly. The company's initial plan failed and they have yet to move onto Plan B. When the share price was high, the company could have raised $5 billion from the secondary offering and it could have reduced its debt load. Since an assets sale is not as effective as initially planned, the company should move to Plan B i.e. secondary offering. If the company reduces its interest expense by $1 billion (50%) they will be profitable.
According to Chron, there are the advantages of issuing common stock over the long-term debt:
One advantage of issuing stocks instead of bonds is the ability to conserve cash. Bonds require periodic interest payments and the repayment of face value, all of which drains cash from the business. Cash dividends are optional payments to shareholders. Many companies don't pay common stock dividends, which helps them conserve cash. In addition, a company can cut or omit dividends as it sees fit without triggering a default. Missing an interest payment on debt can plunge a company into bankruptcy and liquidation.

The more debt you issue, the more pressure you apply to your company's credit rating, because of the greater likelihood of default. You maintain or enhance your credit rating by issuing stock instead, because dividends are optional. A higher credit rating enhances stock value and makes it cheaper to raise money through later debt offerings. If you would like to entertain takeover offers, a high credit rating and lack of debt might help you achieve a higher buyout price. Some customers, such as the federal government, might require vendors to have a minimum credit rating in order to bid on jobs.
Conclusion
There were many decisions that resulted in negative consequences for the company. Owing to their failure in fixing the problems effectively and in a timely manner. On Valeant crisis, Warren Buffet commented, "In my view, the business model of Valeant was enormously flawed." Quoting Ratan Naval Tata, "I don't believe in taking right decisions. I take decisions and then make them right."
In conclusion the company should raise money from the secondary offering to reduce its massive debt load.
I reiterate my rating as a SELL. It would be too risky to go with Long or Short positions without hedging (options with 3 to 6 months expiry).
Author's note: Get my articles as soon as they are published by clicking the big orange "Follow" button at the top of this page.
Disclosure: I/we have no positions in any stocks mentioned, and no plans to initiate any positions within the next 72 hours.
I wrote this article myself, and it expresses my own opinions. I am not receiving compensation for it (other than from Seeking Alpha). I have no business relationship with any company whose stock is mentioned in this article.