Realty Income (NYSE:O) is a true premier quality net-lease REIT. Nobody is going to argue against that. It has a long-lasting track record of significant outperformance over almost any benchmark and a consistent history of dividend payments. This deserves a premium valuation, and this is why despite the high relative valuation, I recently wrote that Realty Income may be fairly valued.
As such, I am by no means bearish on Realty Income, and I am not trying to convince you to sell your shares. The only purpose of this article is to present a potential alternative for higher risk seeking investors targeting maximum total returns. I have identified a smaller-cap net-lease REIT that shares many similarities with Realty Income including a retail-focused portfolio and a track record of outperformance, BUT trading at a two times smaller valuation multiple. I believe that this valuation differential is excessive and therefore expect the smaller cap to outperform Realty Income going forward.
The small-cap REIT that I am referring to is One Liberty Properties (NYSE:OLP). I recently authored a PRO article on the REIT and summarized the buy thesis in the following way:
OLP is an above-average quality REIT, but trades at a large discount to its REIT peer group.
It has a solid portfolio, a conservative balance sheet, and a very well aligned management.
OLP has grown its adjusted FFO by an average of 5% per year during the last many years and outperformed the broad REIT peer group during the last 15 years.
Its valuation is not representative of these qualities. OLP trades at about 11 times its forward FFO and a 7.5% dividend yield, which is more typical for troubled REITs.
The management today owns about 22% of the shares and is hence very well incentivized to keep on outperforming going forward.
Today, the market opportunity still exists with the share price only slightly up since the publication of the full buy thesis.
More Similar Than Different
OLP does deserve to trade at a discount relative to Realty Income. OLP is a smaller REIT, it does not have the same quality portfolio and holds more debt on its balance sheet. While this makes OLP riskier than Realty Income, this may not justify such a high valuation differential (11x FFO vs. 20x FFO) given that they also share many similarities.
First off, it is not a secret that Realty Income has historically strongly outperformed its peers. This is also the case for OLP: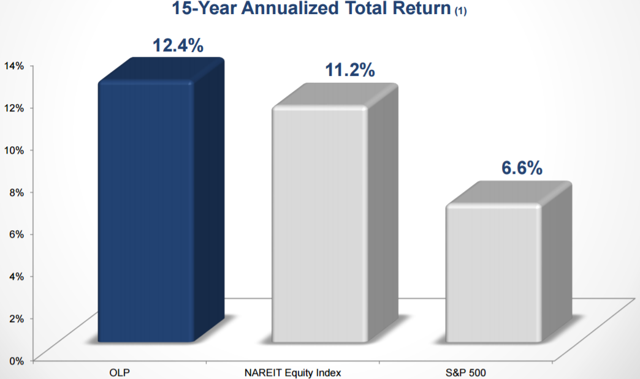 Source: OLP Presentation
Secondly, Realty Income is famous for managing to consistently increase its cash flow and dividend at a rate of around 5%. This is also true for OLP: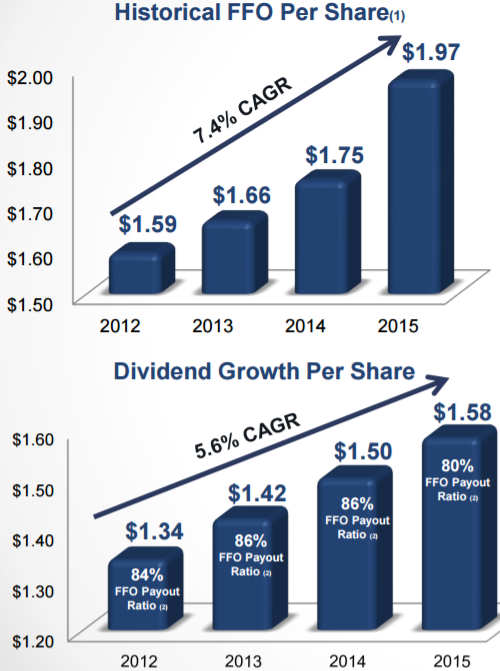 Source: OLP Presentation
Realty Income has a well-diversified portfolio that is predominately concentrated on retail properties. This is also the case of OLP: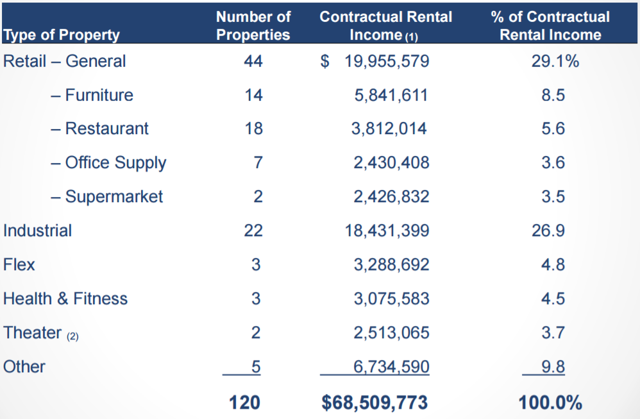 Source: OLP Presentation
Realty income has a conservative balance sheet with well-staggered maturities. OLP is more leveraged at about 45% LTV, but also has very well staggered maturities, reducing the risk of the leverage: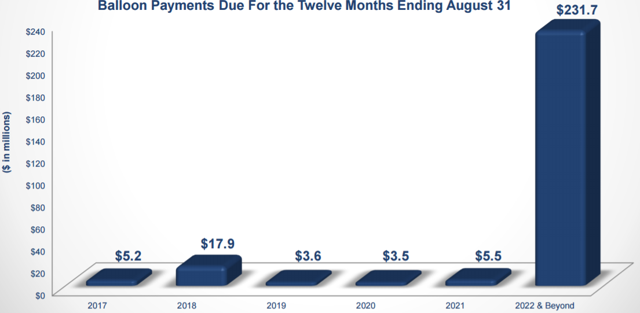 Source: OLP Presentation
Realty Income has a strong management that is well incentivized to maximize value. Here, once again, OLP shows similar traits as the management owns more than 20% of the shares. This is one of the highest insider ownership of any REIT, and it creates an environment where shareholder value creation is a priority, and conflicts of interests are eliminated.
Do you see where I am going with this? Both REITs are less different than you might first think when seeing the valuation and higher dividend yield. The real major difference is the valuation here:

Source: NAREIT
Large and popular net-lease REITs including Realty Income trade at massive premiums over smaller net-lease REITs as evidenced by the above table. The red circle on the right side shows the expected 2017 FFO multiple of net-lease REITs with an average of 17.2. Realty Income trades at a premium to its peer group at 20 and OLP at a large discount at only 11 times its FFO.
A discount is deserved to reflect the higher risk factors, but this valuation gap seems to be way out of line in my opinion. Considering that the multiple expands to more reasonable levels, you quickly see that there are lots of upside potential in OLP.

At only 15 times its expected 2017 FFO, the upside would be close to 40%. This would still represent a large discount relative to larger net-lease REITs and makes me think that it is not totally unrealistic to expect stronger capital appreciation going forward.
Final Thoughts
If you are looking to maximize returns, perhaps at the expense of higher risk, OLP is a better pick than Realty Income. In fact, it could be argued that given the low valuation, the downside of OLP may be more limited and that it may even outperform Realty Income on a risk-adjusted basis going forward. The same applies for other relatively expensive and retail dominant net-lease REITs such as National Retail Properties (NYSE:NNN) and Agree Realty (NYSE:ADC).
I believe that the lower valuation is to a large extent simply due to the smaller size of the REIT. In other property sector, you can note similar relative undervaluations of the smaller versus the larger REITs. For instance, in the case of industrial REITs, STAG (NYSE:STAG) and Gramercy (NYSE:GPT) are both significantly cheaper than larger peers including Prologis (NYSE:PLD) and Duke Realty (NYSE:DRE). Similarly, in the Office REIT space, City Office (NYSE:CIO) and Tier (NASDAQ:TIER) trade at wide discounts to Boston Properties (NYSE:BXP) and SL Green (NYSE:SLG).
Some of the discount is certainly justified, but at the end of the day, these are all real estate investments, and it is difficult to justify a 50% discount for fairly similar properties based on the size and reputation of a given REIT.
I am not bearish on Realty Income; it is difficult to be given the supreme quality of the REIT. I just think that OLP is very underrated given its many similarities to Realty Income and very low valuation.
With its 7.5% yield, OLP really does not need to achieve much growth to reach double-digit returns. If you add to that some multiple expansion, the annual return could quickly get close to 20%. The management at least is very well motivated to maximize value given its abnormally high insider ownership.
If you enjoyed this article, please scroll up and click on the "Follow" button next to my name to not miss my future articles on other undervalued REIT. I have experience working in Private Equity Real Estate and aim to identify the best risk/reward opportunities within my field of expertise. My articles are free here on Seeking Alpha, and following me will allow you to receive all my research at no cost.
Disclosure: This article is for informational purposes only. It is not a recommendation to buy or sell any security and is strictly the opinion of the writer. Readers are expected to conduct their own due diligence or seek advice from a qualified professional.
Disclosure: I am/we are long GPT.
I wrote this article myself, and it expresses my own opinions. I am not receiving compensation for it (other than from Seeking Alpha). I have no business relationship with any company whose stock is mentioned in this article.