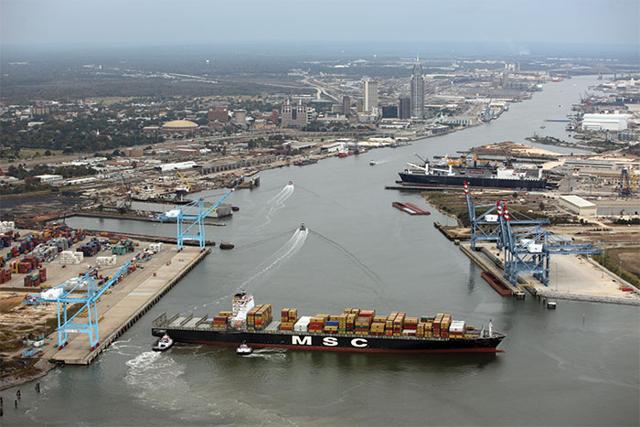 Port of Mobile (APM Terminals to the left and right bottom), Source: Google Images
According to an article published in the Journal of Commerce in late-March, Wal-Mart Stores (NYSE:WMT) has confirmed that it will construct a $135 million import distribution Center (DC). The DC is expected to be 2.5 million square feet, and to add about 25,000 twenty-foot equivalent container units ((TEUs)) per year.
Some of the challenges associated with importing more TEUs to the Gulf Coast have related to the high interest in for synthetic resin exports, which are expected to increase over the upcoming years. Wal-Mart's stance is that the TEUs arriving to the APM Terminal will be transloaded to domestic intermodal containers, providing needed capacity for exports. Wal-Mart will be ahead of the game as the DC is expected to reach full operating by the first quarter of 2018.
Since announcements as early as 2015, Canadian National (NYSE:CNI) has been marketing both Mobile and New Orleans as gateways for shipments to and from U.S. Midwest locations. The concept for these Gulf Coast ports has been to replicate the success which Canadian National has enjoyed from the Prince Rupert Port Authority, and in Halifax, more recently.
The initial challenge for Canadian National is two-fold; the desire for shipping lines to have capacity for the anticipated growth in Gulf Coast exports, and the size of shipping line vessels, which tend to be much smaller than higher capacity alliance vessels serving the West and East coasts.
Additionally, the new Wal-Mart DC will be served entirely by trucks as the location is only 15 miles from the Port of Mobile. But Wal-Mart's other DC locations near the ports of Houston, Savannah, Los Angeles-Long Beach, Virginia and near Chicago still bode well for Canadian National over time.
These seaports are at greater than 2 million TEUs per year to over 15 million for Los Angeles-Long Beach. Chicago has established itself as the premier inland port, serving as a point of convergence for North America.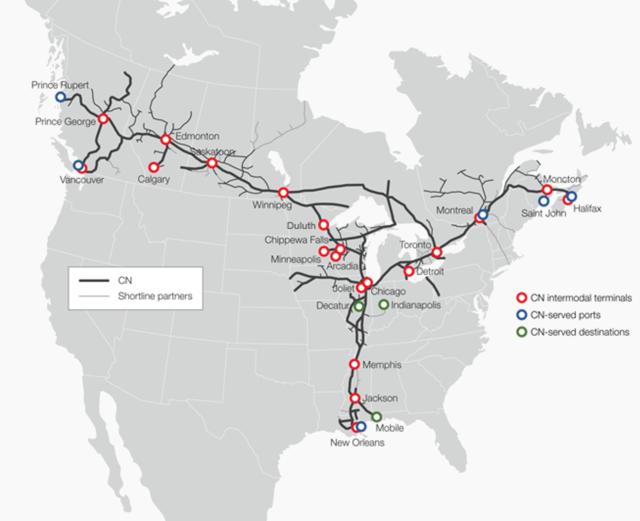 Source: Canadian National Intermodal Network
With this new Wal-Mart opening up in the near-term, the potential for more DCs to locate in this region will increase. As more demand is generated, economies of scale will allow for growth into Canadian National's network which directly connects to the Port of Mobile.
The port's channel and berth depth will serve as an impediment for the size of shipping lines, in contrast to Canadian ports which have the ability to serve the largest container vessels. Additionally, Prince Rupert's primary benefit has been to provide strong throughput of shipments to destinations in both the U.S. and Canada. This has been focused entirely with on-dock rail efficiencies, whereas Mobile will offer multi-modal benefits for DCs and rail interchanges headed further north.
Currently, Panamax and Post-Panamax vessels around 6,000 TEUs are serving the Gulf ports. Any increase in demand will likely lead to a greater number of port calls by these smaller sized vessels, with the potential for larger vessels approaching 8,500 TEUs. Just recently announced, Mobile has gained another North Europe service.
The bottom-line, is that having Wal-Mart as an anchor DC is appealing for the long-term potential for Mobile. It creates an attraction for other DCs to locate in the vicinity. Ultimately, the two phases of build out for the Port of Mobile will expand TEU capacity to 800,000. The first phase is underway with a $47.5 million investment expansion to increase capacity to 500,000 TEUs.
At these levels, Canadian National would hopefully be able to attract an incremental five to 10 percent of new business over time, based on the approximately 2.2 million annual container units carried across the network.
Investors should continue to monitor trends as they relate to increasing DC and/or other warehouse/supply chain facilities. Additionally, keeping tabs on vessel alliances and any increase in port calls to the APM Terminals will be important.
For interested investors, the premium marketplace subscription service provides detailed information covering all Class I railroad commodities. Specifically, for intermodal, relationships are provided for Class Is, North America seaports and GPS-based vessel port call information. For more information, please review this overview to sign up.
Disclosure: I am/we are long CNI.
I wrote this article myself, and it expresses my own opinions. I am not receiving compensation for it (other than from Seeking Alpha). I have no business relationship with any company whose stock is mentioned in this article.