American Express (NYSE:AXP) reported its 1Q17 results on Wednesday, April 19th. The company beat consensus for both earnings and revenue. More importantly, the results show that the company made the right decision not to keep Costco (NASDAQ:COST) at all costs. AmEx looks to be in a much better position than many had feared it would be, and that is a real wake-up call for the stock's bears.
1Q17 Recap
First things first, it is key to note that core underlying trends remain strong, with ex-Costco/FX-adjusted billed business growing +8% y/y and ex-Costco/Jetblue loan growth of +12% y/y.
Source: Company data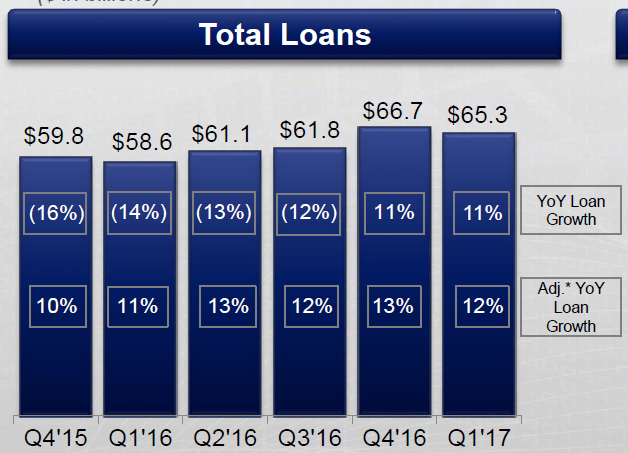 Source: Company data
The company significantly increased its marketing and promotional costs last year. The decision, at the time, was widely criticized by many sell-side analysts and several investors. However, 1Q results demonstrate that AmEx is delivering on its promotional initiatives to boost growth.
Net interest income (adjusted for FX and Costco) was up 15% y/y in 1Q17. In our view, impressive NII growth was one of the key positive takeaways from AmEx's results, marking the highest quarterly pace of growth since 4Q13. Notably, reported net interest yield printed at 10.3%, up from recent quarters, and was driven primarily by favorable shifts in the company's loan mix. It is key to note that, although loan growth is an important part of the company's strategy, higher net interest income should not have a material impact on AmEx's revenue mix.
In contrast to Discover (NYSE:DFS), American Express is not shifting to a lending model. Looking forward, we expect AmEx's net interest income to be less than 20% of total revenues. As such, American Express will still be a low-beta stock and one of the least credit-sensitive plays within US Financials.
Re-rating still has legs
Our BUY call on AmEx was largely based on the stock's re-rating potential. To recap, AXP was trading at 11x trailing earnings, nearly 25% lower than the company's historical 5-year average. Although the stock's multiple has reached its 5-year average, we believe the re-rating story still has legs.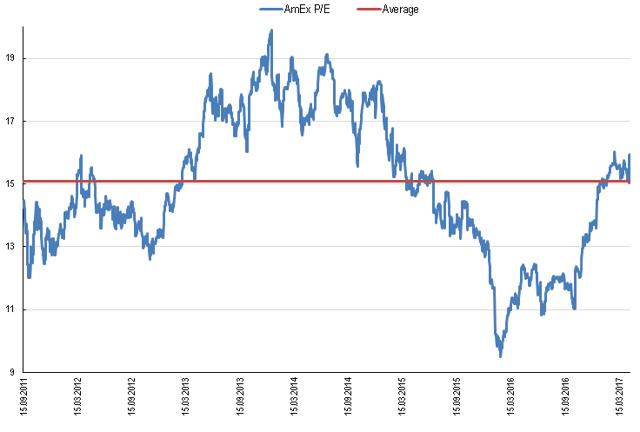 Source: Bloomberg, Renaissance Research
As the following chart shows, AmEx had been valued at an average level equal to the S&P 500 before the loss of Costco. While the spread has narrowed, AXP is still trading at a 26% discount to the S&P 500 on a trailing P/E basis.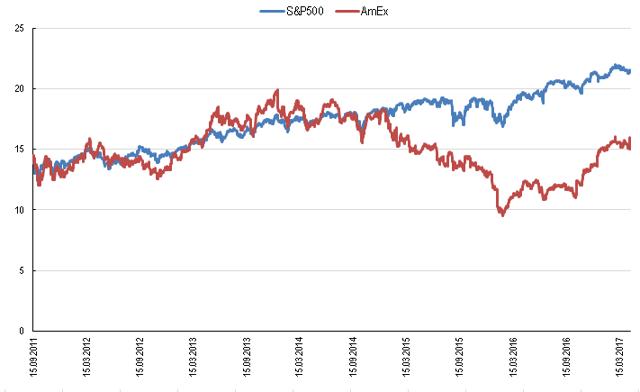 Source: Bloomberg, Renaissance Research
Bottom line
American Express remains a quality name and one of the least credit sensitive plays within US Financials. Assuming a 3% growth rate and a 25% return on equity, we get a fair P/B multiple of 4.4x, implying around 25% upside potential to the stock's current price. Importantly, consensus is finally catching up with reality as several sell-side analysts increased their target prices on the stock.
As a buy-side analyst and a deputy portfolio manager, I oversee a financials-focused fund and will be continuously providing research coverage on developments with American Express and other financial companies. If you would like to receive our articles, consider following us by clicking the "Follow" button beside our name at the top of the page. Thank you for reading.
We also invite readers to check out our recently launched subscription service. Get in-depth fundamental research, stock recommendations, trading ideas, exclusive access to professional databases, sophisticated valuation models and expert commentary on Wall Street recommendation from a hedge-fund analyst with a proven track record. Go here to learn more or to activate your free 14-day trial period, we look forward to having you on board.
Disclosure: I am/we are long AXP.
I wrote this article myself, and it expresses my own opinions. I am not receiving compensation for it (other than from Seeking Alpha). I have no business relationship with any company whose stock is mentioned in this article.