Activision Blizzard (NASDAQ:ATVI) represents another niche opportunity within a tech space that is so often dominated by brands like Snapchat (NYSE:SNAP) and Facebook (NASDAQ:FB). "Niche" hardly seems appropriate, given that the company has a market cap of $36.4B.
However, the company's main product lines, video games and their associated revenue streams, are part of a subculture across the globe that doesn't see the kind of mainstream usage and adoption that social media does. As such, I expect that the lack of coverage from major banks/investment firms coupled with the consistent loyalty of gaming fans will lead ATVI to continue its stellar performance in the market.
Both brands, Activision and Blizzard, are known for putting out consistently popular and addictive games. Respectively, their biggest franchises are Call of Duty and World of Warcraft, names that even non-gamers recognize. For well over a decade, these properties have been a big part of ATVI's revenue.
Fortunately, for enthusiasts and investors, both studios now have major new projects that will continue to push the value of ATVI up: Overwatch for Blizzard, and Destiny for Activision. With a strong foothold in a loyal, almost zealous market (the gaming community), a replenishing product cycle, and a consistency in quality, ATVI appears to be in a period of stable, secular growth.
Investors should be aware that the company has a seasonal cycle, with the first and fourth quarters typically contributing to the majority of their margin. Due to their fiscal year ending on Dec 31, a good entry point in this stock is Q4. The bulk of those sales won't be publicly reported until February, so the market won't respond with an increase in the stock price until around this time (assuming favorable sales figures).
Currently, ATVI is trading at $48.80 a share, which is within 10% of its 52-week high of $50.40. Since 2012, Activision Blizzard has beaten this high annually, and given the success of their newly introduced intellectual properties, I expect this trend to continue over the next few years.
Background
ATVI is best known for being a video game developer. It is one of the few companies in this space that is public, with EA Games (NASDAQ:EA) and Nintendo (OTCPK:NTDOY) being two other recognizable brands (note that Nintendo is not listed in the same index as EA and ATVI).
The company has sold several different video game franchises over the years, although none have been as popular as their mainstays of Call of Duty and World of Warcraft. Almost every year, ATVI puts out new versions of their popular games such as Call of Duty Black Ops (now on its third iteration) or releases new expansions (i.e. new playable content) for WoW such as the recent Legion release.
The company's main revenue driver is the number of active users (usually measured at a monthly rate) they have for each game, which can range from the mid-thousands for older games to upwards of 30 million for newer titles. ATVI records their revenue in two ways: 'product sales' and 'subscription, licensing, and other revenues'.
Typically, the individual sale of the game software and related new content is recorded under product sales, while ongoing cash flows like WoW accounts fall under the second category. Microtransactions, which involve in-game purchases of items that users can use to enhance their gameplay (e.g. cosmetic items, experience boosters), are recognized as deferred revenue, and are typically deferred from PY Q4 to CY Q1.
This kind of monetization is a new phenomenon in the gaming world; previously, if a user wanted an in-game item, they had to always play to earn it. Now, users can perform a microtransaction, usually something small like $5, and instantly acquire a new skin or player icon that they want. Generally, these are just cosmetic items, although mobile games like Candy Crush can also offer boosts or extra lives in exchange for a few dollars.
These items can extend the playtime of the user, or makes the gameplay easier in some way. Similarly, on console and PC games, if users wanted to play a new level, then they were free to do so once they cleared the previous ones. Now, a "pay-to-play" model is becoming more common: although some games won't require anything more than the initial game purchase (except mobile games, which are usually free), many AAA games like Black Ops 3 and Destiny have been releasing new content that required users to pay another fee in order to have access.
Users who don't upgrade would be locked out of new maps, weapons, and customization items until they paid up. The gaming community is split on whether this is a good or bad thing, but for investors, the move to this kind of business model has been a boon. Rather than rely on individual game purchases to underpin their revenue, which now average around $60 for AAA console and PC releases, companies like ATVI can increase the lifetime value of their users by continuing to find ways to charge them that they're amenable to.
Market Conditions & Discussion
Thankfully, Activision Blizzard competes indirectly against its two biggest rivals, Electronic Arts and Take-Two (NASDAQ:TTWO). Although each company is looking for a share of the average user's game/leisure time, the genres and populations in which they specialize are different from each other. Of the three, ATVI has the widest reach in the PC gaming world, with the majority of their revenue coming from products that are popular on this platform.
This is a key difference, as EA and Take-Two often battle for the same console users that the other is targeting. Maintaining this dominance, along with commanding a greater presence on consoles with the Call of Duty, Destiny, and Overwatch properties (the last two of which are new IP), is what ultimately separates ATVI from the others.
The success of the company and subsequent increase in the stock price since last year can be best attributed to the wildly successful introduction of Blizzard's new IP, Overwatch. Playable on both console and PC, Overwatch is a team-based objective game where users can select different heroes to play as. The game includes a reward system that gives players different customization and cosmetic items as they play.
Microtransactions are possible to help users get the items they want, which the community has responded positively to. If players want the cosmetic items, they are free to buy them. But users who don't want to spend money can still acquire the same items through gameplay, and new maps and game modes do not require an extra fee. This new Blizzard property is notable because it represents a shift in a major revenue driver for ATVI.
As the popularity of WoW begins to wane, the company has now successfully introduced a new IP that can anchor their product line. Overwatch surpassed 25M users faster than any other Blizzard game ever, a major milestone that solidifies the game's role as a new cash cow for ATVI. Key to this growth was its distribution across console and PC, rather than just one or the other. Destiny, a game released three years ago, only crossed 30M users as of 2016. The upcoming release of its sequel, which will now be playable on PC, should exceed this growth rate and boost the Activision side of the business as well.
North America continues to be ATVI's main market, comprising around half of total revenue, with the EMEA region coming in second, and Asia Pacific bringing up the rear. This last market will be a key driver in the future, as ATVI looks to expand their reach in this market. Blizzard's products, specifically Starcraft, WoW, and Overwatch, are already popular in South Korea, but mainly because they have a similar socioeconomic profile to the average gamer in the US or Europe.
The 2016 acquisition of King Digital Entertainment, best known as the creators of Candy Crush, marks an important strategic decision by ATVI to address this difference. Gaining entry into the lucrative Asian markets like China and India requires a mobile product, as consoles and high-end PCs are eschewed by this population in favor of simple (and cheap) smartphone apps.
Candy Crush also uses a revenue model that relies solely on microtransactions, a key element to Activision's and Blizzard's current approach to continuous monetization following the initial game purchase. Future upward price movements will be buoyed by whether the King deal, which is still fairly recent, will successfully pan out to fit ATVI's expectations.
Fundamentals & Technicals
As a tech company that mainly sells software, the need for long-term debt is not dire at ATVI. Even with the increase to cover the King acquisition, the company still has a healthy balance sheet. However, ATVI does carry a notable amount of goodwill, so there is this writedown risk should the company encounter any difficulty.
The value in the company lies in their intangible assets like their intellectual property. Another good sign for investment in ATVI is that since 2014, the company has been able to reverse a shrinking revenue margin, which has since increased by ~8.1% in 2015 and ~36% in 2016. This expanding sales growth looks to continue, given the success of the company's latest products.
Since the beginning of Q1, ATVI has been in overbought territory as indicated on the relative strength index. This is consistent with the increase in share price over the same YTD span. Since April, this movement has slowed down to the low 50s, a sign that the stock price is running out of momentum and will flatten out.
Again, this is consistent with historical trends of the price, with the seasonal pickup occurring in Q4 and Q1 of each year. The end of ATVI's Q1 is what I have identified to be as the best entry period, with February serving as a good month to considering buying in, with the middle of Q4 (late fall) to be a good exit point for those looking for a short holding period.
Valuation
I utilized a DCF analysis to determine my implied share price for ATVI. Specifically, I used a 'going concern value' methodology, since the company doesn't have many directly related companies to create a comparable universe with. I calculated a WACC of ~7.7%, which I used to then discount my projected cash flows, leading to an enterprise value of $44.9B and an implied share price of $57.68. At the current price, this is potentially 18.1% of value that remains to be captured.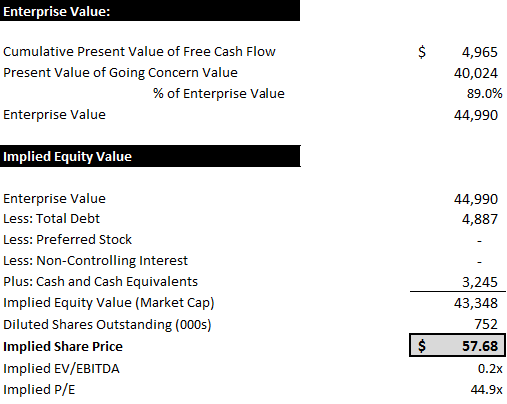 Final Thoughts
With Q1 2017 results scheduled to be released soon, Activision Blizzard should be off to a strong start this year. Bolstered by the rapid success of their brand new property Overwatch, the stock price has been trending up, with a ~35.1% increase YTD. A major upcoming release, Destiny 2, will likely continue this movement, along with a new Call of Duty entry also rumored to be scheduled for a 2017 release date.
The stock price has already begun its cyclical climb to its peak for the year, prior to the expected dip entering Q4. Assuming that this year's new releases can extend ATVI's streak of popular releases, the same price movement upward should continue through 2018.
Disclosure: I/we have no positions in any stocks mentioned, and no plans to initiate any positions within the next 72 hours.
I wrote this article myself, and it expresses my own opinions. I am not receiving compensation for it (other than from Seeking Alpha). I have no business relationship with any company whose stock is mentioned in this article.